Compare FD8166-F6 with FD8361
(2)
| | | |
| --- | --- | --- |
| | VIVOTEK FD8166-F6 | VIVOTEK FD8361 |
| Chip Inch Size | 1/3 | -- |
| Colour Type | Colour / Monochrome | -- |
| Resolution TVL | 2 MP | -- |
| Sensitivity lux | 0.18 | -- |
| Dome Type | Static | -- |
| Digital (DSP) | ✔ | -- |
| Indoor/Outdoor | Indoor | -- |
| Voltage | PoE | 12 V DC, 24 V AC, PoE |
| Focal length | 6 mm | 3 ~ 9 |
| Compression | H.264, MJPEG | H.264, MPEG-4, MJPEG |
| Back Light Compensation | ✔ | -- |
| White Balance | ✔ | ✔ |
| Electronic Shutter range | 1/5 sec. ~ 1/32,000 sec. | 1/5 ~ 1/40,000 |
| S/ N (Signal/ Noise) Ratio dB | > 53 | -- |
| Auto Gain Control | -- | ✔ |
| Built-in IR LED | -- | ✔ |
People also viewed these products
Featured security companies
Related Videos
Apollo's Orbis range smoke and heat detectors for marine and offshore environment
Panasonic's 4K glass-to-glass solution for Esports stage environments
Panasonic launches the PT-RQ35 30.000 lumens 4K laser projector VIVOTEK cameras deter shoplifting and ensure staff safety at North Africa's biggest mall
Background Situated in the largest city of Morocco, the newly finished Morocco Mall in Casablanca, at 2.7 million square feet, is dubbed as the biggest mall in North Africa - if not the entire African continent. After four years and US$260 million in the making, the sprawling complex featuring well-known designer and luxury western brands and a massive indoor cylindrical aquarium containing more than a million litres of water opened its doors to the public in December 2011. An effective and comprehensive surveillance system would dissuade shoplifting and pickpocket activities while monitor and ensure the safety of staff and customers at the same time. Solution CDVM, VIVOTEK's valued partner in Morocco, offered a complete video surveillance design with 76 pieces of VIVOTEK network cameras from different product lines to better meet specific site requirements. Installation took place at the retail stores of various prestigious, internationally-renowned brands, such as H&M, Starbucks, Mother Care, American Eagles, Pinkburry and Chocolat de Neuville. For aesthetic reasons, the cameras chosen are stylistic and pleasing to the eye in order to blend in well with the interior design. High-megapixel fixed domes and speed domes, such as VIVOTEK FD8361, SD8121, FD8134 and FD8134V, were selected for both the exterior and the interior of the complex. The cameras feature high picture quality and resolution, streaming videos at 30 fps with immaculate image details. In particular, six pieces of FE8171V fisheye fixed dome cameras, the first of its kind from VIVOTEK, boast 3.1-Megapixel resolution and fisheye lenses for 180 panoramic view for wall mount and 360 surround view for ceiling/floor/table mount with zero blind spot. Connected by VIVOTEK ST7501, an equally powerful video management platform, the cameras provide flexible and cost-effective surveillance options for the mall by ensuring that all activities are duly recorded and monitored by the security staff. Customer feedbacks "Feedback from employees of Morocco Mall has been positive as they are greatly satisfied with the quality and design of the cameras from VIVOTEK, as well as the user-friendliness of the implemented software," said Simohammed DOURAS, Technical Director at CDVM. He believes that under the protection of VIVOTEK cameras, Morocco Mall will continue to attract regional visitors to the jewel of the African retail scene. VIVOTEK CCTV cameras offer maximum coverage and security to the Doltone House
A total of 86 pieces of VIVOTEK FD8134 indoor cameras and 16 pieces of the FD8361 outdoor cameras were installed Background The Jones Bay Wharf marina, developed in the early twentieth century in Darling Harbour, offers spacious berths for commercially registered super-yachts. The wharf is located right by one of the busiest entertainment districts in Sydney, Australia, where convention centres, aquarium, museums and attractions are within close proximity. In particular, the Doltone House Jones Bay Wharf is a grand heritage venue situated on the Wharf overlooking the city skyline, the Harbour Bridge and the entire Darling Harbour precinct. The Doltone House is one of the most favoured local venues for meetings and conferences, events and weddings, food and wine emporium, cooking classes and casual dining and catering. Solution For extensive video surveillance coverage and maximum security on the premises, the Doltone House required new indoor and outdoor camera installations. To make guests feel comfortable, the indoor cameras had to be discrete, versatile, elegant in design and "easy on the eyes". The outdoor cameras also had to be aesthetically and visually pleasing in order to blend in with the architectural design of the building. Furthermore, the outdoor cameras needed to be 100 percent water resilient and weatherproof, withstanding harsh environmental elements like wind, rain and salt air. In addition to performance, cost was a major factor of consideration for this project. A total of 86 pieces of VIVOTEK FD8134 indoor cameras and 16 pieces of the FD8361 outdoor cameras were installed for this project. Both models come with 3-axis mechanical design built in. The 3-axis mechanical and industrial design is highly sophisticated and enables very flexible, simple hardware installation for either ceiling or wall mounting. The FD8134 thus becomes versatile and is able to easily accommodate individual site requirements. In this case, the FD8134s were installed both ways. On the other hand, the 2-Megapixel FD8361 comes with weatherproof and vandal-proof housing. For this specific project, most of the FD8361s were wall-mounted. Both FD8134 and FD8361 come with IR illuminators for day/night surveillance. The cameras are administered with VIVOTEK ST7501 management software The cameras are administered with VIVOTEK ST7501 management software, which supports powerful features like real-time 32-channel video monitoring and simultaneous 16-channel playback, easy-to-use snapshot capability, dual-stream live viewing and recording, event-triggered or scheduled recording modes and seamless interoperation with all VIVOTEK cameras. The extensive surveillance coverage offered by the FD8134 (indoor) and the FD8361 (outdoor) ensures that the Doltone House compound is safely and effectively secured against any threat or danger. Customer Feedback Syscon Solutions, the installation partner responsible for this project, is extremely pleased with VIVOTEK's cameras and software management program. The products are not only installer-and user-friendly but also highly competitive in terms of the cost and performance.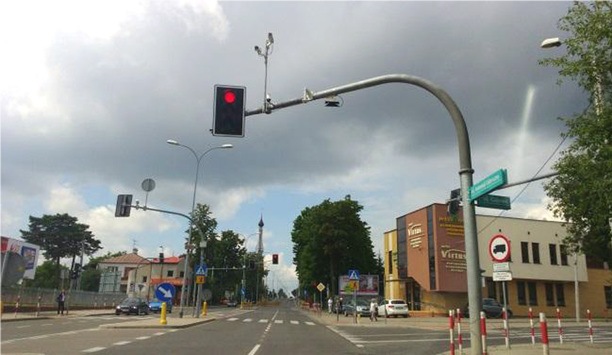 VIVOTEK fisheye network cameras help Bialystok update municipal traffic monitoring system
Bialystok, a beautiful historic city of 300,000 in the northeast of Poland, is one of the nation's major population centres. Devastated in World War II and languishing for a long period afterward, the city has seen a renaissance in recent years, with restoration of its beautiful architecture and modernisation of infrastructure as the Polish economy has boomed. One particular change that has come upon this serene city with unexpected rapidity is the increase in car ownership, which has more than tripled in Poland since 2005. Over the last decade, the growing need for an up-to-date, comprehensive traffic monitoring system has become increasingly apparent. Surveillance enhancement for traffic surges The growing need for an up-to-date, comprehensive traffic monitoring system has become increasingly apparent Cameras were the most costly item within the traditional traffic surveillance system originally deployed in Bialystok. To capture as many angles as possible, large numbers of cameras were required, often several at each intersection. As well as being an eyesore, this also meant that the cost of linking and synchronising the array of cameras to the central surveillance system was exorbitant. To avoid impacting traffic, which is heavy during the daylight hours, installation and construction work was usually carried out at night. The restricted hours for installation caused long delays in camera setups. Worse, the system itself no longer met the needs of the rapidly developing city. Despite the large numbers of cameras, the field of view of individual cameras was too narrow and when accidents happened it was difficult to try to piece together footage from several cameras in an attempt to reconstruct the incident. Often, there was no way to determine from the footage just who was at fault. A better solution was needed. Seamless collaboration to seamless implementation Zarzad Dróg Miejskich (ZDM), the municipal unit responsible for the road system in Bialystok needed to revamp, simplify, and upgrade their inefficient traffic camera system, so they worked with systems software manager Siemens and engaged VIVOTEK's local distributor Suma Solutions to come up with an answer that would meet their needs. Siemens developed the system software around technology provided by VIVOTEK, a provider of IP surveillance solutions, offers dedicated traffic surveillance and management solutions, and has recently released its remarkable FE8174V H.264 5-megapixel fisheye network camera.The hemispherical images captured on camera can be automatically retooled to conventional projection specifications for easy viewing The FE8174V is VIVOTEK's fisheye network camera. This vandal-proof, WDR-enhanced, day/night camera features a detailed 5-megapixel resolution sensor with superior image quality. Its fisheye lens captures a 180° panoramic view when wall-mounted, and a stunning 360° surround view with no blind spots when mounted overhead. With its choice of display layouts—surround view, panoramic view, and regional view—it is the perfect solution for those who need coverage of wide, open areas as well as a high degree of flexibility. With the advanced image processing capabilities, the hemispherical images captured on camera can be automatically retooled to conventional projection specifications for easy viewing. As the camera's primary application is outdoors and demands reliability in all conditions, a weather-proof IP66-rated and vandal-proof IK10-rated housing keeps the camera body clear of rain and dust and maintains functionality in all types of weather. The VIVOTEK FE8174V features a removable IR-cut filter, which is unquestionably the best choice for those who need a hardy, all-weather, 24/7 system with a full range of coverage. Enhanced resolution means better traffic safety ZDM installed 130 VIVOTEK FE8174V cameras at intersections throughout Bialystok. Now, with far fewer cameras, traffic controllers can get a clear, sharp overview of the whole field without any blind spots. VIVOTEK's fisheye camera dewarping capabilities allow monitors to adopt different presentation modes A single VIVOTEK FE8174V provides the coverage of four outdoor bullet cameras in one image, and has resulted in cost savings at the same time as providing more complete coverage. Fewer cameras has also meant a decrease in costs associated with the backend management platform, network communications equipment, and storage equipment; it has also protected the aesthetic properties of the city by decluttering the skyline. Further, VIVOTEK's fisheye camera dewarping capabilities allow monitors to adopt different presentation modes. Now, Management Center operators can easily monitor and verify traffic incidents and use the image recognition software to increase traffic control efficiency. The city of Bialystok has finally achieved a traffic management and surveillance system that can keep pace with its rapid growth while remaining in harmony with the local culture and architecture.
Featured white papers
How to drive B2B security & operations with smart surveillance
Download
Wireless security: Cut costs without cutting corners
Download
Hybrid hyperconverged systems benefit growing storage and retention needs
Download