Compare DS-2CD2112F-I(S)(W) with DS-2CD2112-I
(2)
| | | |
| --- | --- | --- |
| | Hikvision DS-2CD2112F-I(S)(W) | Hikvision DS-2CD2112-I |
| Chip Inch Size | 1/3 | 1/3 |
| Colour Type | Colour / Monochrome | Colour / Monochrome |
| Resolution TVL | 1.3 MP | 1.3 MP |
| Sensitivity lux | 0 | 0 |
| Dome Type | Static | PTZ |
| Digital (DSP) | ✔ | ✔ |
| Mount Type | Wall, Ceiling | -- |
| Voltage | 12 V DC | 12 V DC, PoE |
| Focal length | 4mm | 4 mm |
| Rotation Angleso | 355 | -- |
| Compression | H.264/ MJPEG | H.264 / MJPEG |
| Back Light Compensation | ✔ | ✔ |
| Auto Gain Control | ✔ | ✔ |
| Electronic Shutter range | 1/3 ~ 1/100,000s | 1/25s ~ 1/100,000s |
| Built-in IR LED | ✔ | ✔ |
People also viewed these products
Featured security companies
Related Videos
Security and Safety Things advices developers to develop apps for security cameras through one OS
MRB introduces DVR fisheye waterproof 1080P camera with night vision
Platinum CCTV releases PT-AS7213X-T1 thermal IP camera to help identify the initial symptoms of COVID-19 virus Hikvision DS-2CD2112-I and DS-2CD2012-I surveillance cameras secure Uka Tarsadia University's Maliba campus in India
Hikvision DS-2CD2112-I network dome and DS-2CD2012-I IR bullet cameras were installed at new campus Recently, Hikvision's assistance was enlisted to secure Uka Tarsadia University's newer Maliba Campus in India. This solution was notable for a number of reasons. However, first and foremost, providing a secure environment for the 4200 students and 200 faculty members on this campus was paramount. Uka Tarsadia University is located in India's northwestern coastal state of Gujarat. Due to the location, historical footnotes, and other environmental factors, Gujarat is one of India's primary economic hubs. Since Uka Tarsadia University is considered one of this state's elite centres of learning, it was vital for this facility to be safe. In this vein, Indian-based installer Master's Mind Technologies was contacted to help the university: Build a state-of-the-art CCTV system Future-proof the solution Provide an easy learning curve for university IT administrators Provide top-shelf support for the solution No existing CCTV solution Ketan Patel, owner of Master's Mind Technologies noted, "This solution was unique in the sense that the Maliba Campus was a blank slate - the campus did not have any existing CCTV solution when we began." Mr. Patel explained that generally in large-scale projects such as this, it is often a case of upgrading an existing solution - not building one from scratch. "This presented both opportunities in the calibre of solution we could offer, as well as potential drawbacks. Namely, the costs associated with building a solution from the ground-up and cost of hardware provided," furthered Mr. Patel. Ultimately, both Mr. Patel and the university's IT department determined that, despite the size, instead of a more economical analogue CCTV system, an IP solution would better serve the university's overall needs. Additionally, it would help future proof the solution in coming years. This was due to a number of factors. High-tech components and performance Due to the massive distances between academic departments and outdoor surveillance points, fibre-optics were run between these locations and connected to each other using PoE switches. While fibre-optics are expensive, multiple PoE switches helped reduce the costs associated with installation. Importantly, this setup allows state-of-the-art video transmission, as well as providing an easy platform for any future upgrades that the university may request. Citing a need to both reduce the learning curve for the university's IT department (the operators of the CCTV system), as well as reduce costs, Mr. Patel used Hikvision's iVMS software to create a PC-based solution However, the lynchpin of the solution is a pair of Hikvision camera models: the DS-2CD2112-I 1.3MP IP66 network mini dome camera and the DS-2CD2012-I 1.3MP IR mini bullet camera. The DS-2CD2112-I IP66 network mini dome camera was primarily tasked with the interior of the campus. Mr. Patel stated, "This camera's 720p real-time video is much better than analogue, which obviously serves the school's security goals to a higher degree. Furthermore, Hikvision's support really allowed us to customise this camera to our specific needs." Mr. Patel was referring to Hikvision's ability to help modify the camera's lens. Out-of-the-box, the DS-2CD2112-I is equipped with a 4mm standard lens. This 4mm lens provides 75° of coverage. However, due to the specific dynamics of many of the school's classrooms, a wider field of coverage was needed. In conjunction with Hikvision engineers, Mr. Patel instead placed a 2.8 lens on the DS-2CD2112 to provide 90° of coverage - enough for the entire classroom. Furthermore, while some indoor facilities are lighted overnight, the majority of classrooms are not. In this instance, "the up-to 30m of IR visibility is invaluable for proper surveillance in off-hours," added Mr. Patel. Ironically, outdoors, the vast majority of the environment is lighted, thus reducing the need for the DS-2CD2012-I 1.3MP IR mini bullet camera's identical 30m IR range. However, the unit's 1.3 megapixel high resolution is vital for university IT personnel to quickly identify a possible threat, regardless of time of day. Additionally, the DS-2CD2012-I's IP66 rating is critical to withstand India's notoriously punishing weather conditions. PC-based observation system Citing a need to both reduce the learning curve for the university's IT department (the operators of the CCTV system), as well as reduce costs, Mr. Patel used Hikvision's iVMS software to create a PC-based solution. Instead of NVRs, IT administrators are able to view up-to 135 cameras per PC, allowing the entire network to be fully viewed on 4 PCs. Mr. Patel again cited Hikvision's exemplary product support as a boon for the growth of his company. With Hikvision engineers quickly and efficiently addressing any issues that arise, Mr. Patel is excited for the future of this solution and the prospects of his own company.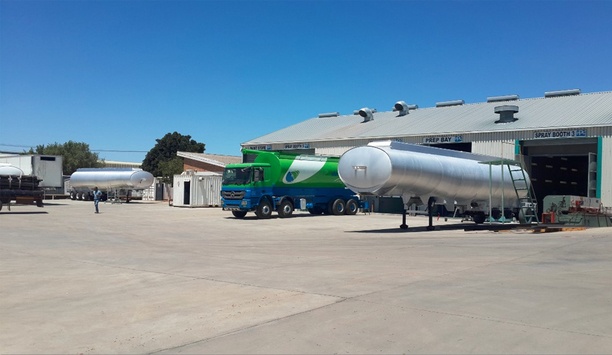 Hikvision IP CCTV system secures perimeter and enables remote monitoring of workshop for GRW, South Africa
GRW is one of South Africa's leading providers of sophisticated road transport trailers; designing, manufacturing and servicing a wide range of bespoke vehicles, each configured to provide a solution to the unique transportation needs of an individual client. GRW has now invested in a state-of-the-art IP CCTV system to protect its premises against unauthorised access and monitor the large, modern production facilities, and is already reaping the benefits from the integration of analytics with the IP cameras. GRW transport operations Founded in South Africa in 1996, GRW's operations have always revolved around the transport of commercial goods. Whether it's carrying petroleum, chemicals, temperature-controlled perishables, FMCG, pallets or bulk general cargo, the trailers manufactured by GRW are specifically designed to meet the individual transportation requirements of customers throughout Southern Africa, the Middle East, Australia and the UK. All the company's products emerge from its large, ultra-modern manufacturing complex in Worcester, in South Africa's Western Cape. As well as housing the extensive production facilities and spare parts department, the facility is also home to GRW Services and GRW Financial Services, which are responsible for worldwide customer care and after-sales contract servicing and the supply of rental units. Surveillance of the perimeter of this large facility and protecting the plant from unauthorised access was a key security concern for the company. However, manned patrols of the perimeter proved ineffective and Sensor Security was tasked with designing a solution that would automate the process of securing the boundary and eliminate the possibility of human error. At the same time, GRW recognised that an intelligent camera infrastructure might enable remote monitoring of the production process and Sensor Security was asked to investigate.Surveillance of the perimeter of this large facility and protecting the plant from unauthorised access was a key security concern for the company Integration of analytics with IP cameras "From the outset we knew that the proposed CCTV system should successfully serve a dual purpose, helping supervisors and managers monitor the workshop operations during opening hours and securing the perimeter 24 hours a day," says Edmund Casaleggio, Sensor Security's Sales Executive. "There was also a need to make the combined system as simple and easy to operate as possible, ensuring that operations staff had unrestricted access to the workshop video feeds while not being distracted by the security cameras and vice versa for the security officers, who are best served by complete concentration on securing the premises." Following extensive consultations with GRW staff, the final design of the dual-purpose system involved a total of 18 Hikvision cameras, eleven on the perimeter and seven in the workshop area, all feeding in to a 32-channel Hikvision NVR at GRW, and to Security Sensor's control room. "GRW was actively involved in the whole consultation and design process, right from day one, with suggestions on key sites needing monitoring and protecting and information and advice on the flow of work and personnel around the workshop area" continues Edmund Casaleggio. "This was hugely beneficial and one of the main contributory factors in the successful installation. In my experience it is always more challenging, risky even, to install any security-related system without sufficient input and collaboration from the end-user client." A smart perimeter Perimeter patrolling with guards having proved ineffective, GRW was also keen that the introduction of cameras did not mean that an individual would have to be assigned to constantly manage the CCTV system around-the-clock. Therefore, the Hikvision DS-2CD4012F-A Smart 1.3MP low-light box camera was selected to monitor the perimeter of the plant, with active use of the cameras Smart Analytics intrusion flags ensuring that GRW's security officers and Sensor Security's control room are pro-actively notified of any unauthorised movement around the premises. According to Edmund Casaleggio, "The integration of analytics with the Smart IP CCTV cameras is a significant added advantage, flagging alarms only when intrusion occurs within the specified range. We do not have to use alarm inputs and outputs to connect passives and actives on the DVR/NVR, which saves significantly on maintenance of the system. It also reduced installation time significantly. What's more, the accuracy of these Smart cameras with analytics is far better than beams, as long as the cameras are correctly calibrated when installed. In this regard, the Auto Back Focus on these Smart cameras greatly assists the installation technicians to achieve the best possible viewing quality." As well as the Smart Intrusion Detection, the Hikvision DS-2CD4012F-A also features Smart Codec, Smart Focus, Smart VQD, Smart Face Detection and Smart Audio Detection. They also benefit from 3D DNR and Digital WDR, and the Day & Night IR cut filter allows successful video operation down to 0.001 Lux. Remote monitoring of perimeter and workshop Seven Hikvision DS-2CD2132-I 3MP Mini Dome Cameras keep watch over all operations in the workshop area, assisting the supervisors and managers to remotely monitor processes on the floor. This process is made much easier and more efficient for these staff due to the integration of the Hikvision DS-9632NI-ST 32-channel NVR with a PC, ensuring that operational staff are only presented with images relevant to the production area.GRW is already reaping the benefits from the integration of analytics with the IP cameras and is set to continue for many years" "The full HD, 1080p real-time video is a huge asset for the supervisory staff and the camera itself, protected within its IP66 vandal-proof housing, has withstood the rigours of a harsh industrial environment really well," continues Edmund Casaleggio. "True day/night operation thanks to its 30m IR range and Digital WDR and 3D DNR also contribute to the high-quality video at all times." A real success "This newly-installed state-of-the-art IP CCTV system automates the process of protecting GRW's premises against unauthorised access and monitoring the production facilities while eliminating the possibility of human error," says Edmund Casaleggio. "GRW is already reaping the benefits from the integration of analytics with the IP cameras and is set to continue for many years. "At the same time, they are benefitting from the user-friendly nature of Hikvision's technology. This deceptively "simple" platform helps GRW staff to operate the software easily with minimal training while Smart features, such as ABF, aids our technicians to achieve the best possible video quality. "However, the quality of Hikvision's hardware and software does not come with an unaffordable price tag. In fact, since Hikvision's iVMS-4200 software allows for the integration of analogue and IP cameras free-of-charge, this serves to increase the affordability of their products. What's more, the free Hikvision software allows the feeds from analogue and IP cameras to be integrated on one screen. "In conclusion, Hikvision's huge range of cameras, NVRs, DVRs and software allows us to propose unitary solutions to their security needs and to more successfully back-up and service the installation over many years. Quite simply, it is easier to provide post-sales service and support with a single, reliable brand."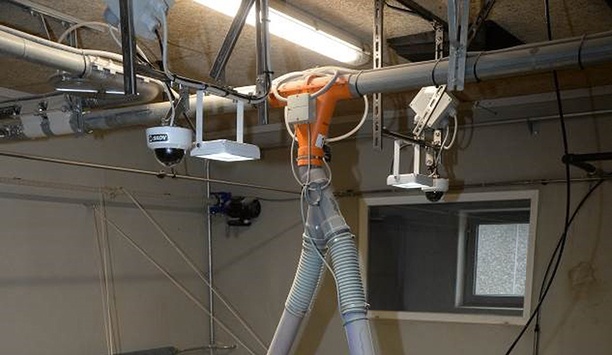 Hikvision partners with SKOV to create smart farm management solutions
Hikvision cameras and a specially designed SKOV VMS allows handlers to monitor the pigs Hikvision worked with farm management solutions provider SKOV to bring the art of weighing pigs into the 21st Century, with the help of mini-dome cameras and a bespoke VMS system. The pig is one of the most populous large mammals in the world, with an estimated 986.6 million pigs at any one time. This also means, of course, that piggeries are big business, as pork is the most commonly meat consumed worldwide. Part of managing a piggery is to ensure that each pig is able to grow to its full potential. The average weight of a pig at market is 275 lbs, but keeping an eye on the weight of individual animals can be tricky. If a pig is smaller than it pen-mates, it is likely to be pushed away when it comes to feeding time. This means it will not grow to its full size. In this situation, pig farmers may move the smaller pigs into a separate pen, so they can get to the food and 'catch up' with their larger brothers and sisters. Methods and challenges But how do you weigh a pig? Traditional methods involved a tape measure and many hands and were, of course, very time consuming to complete. And that was without the math part at the end! Later methods saw farmers installing weighing apparatus, which was costly, and also time consuming with handlers needing to 'persuade' individual pigs onto the scales. Another issue with this system was that accuracy could be affected, as it was hard to tell if the scales had just one pig on them. "The pig handlers need to drag the pigs physically to the scales, which is not only very hard, time-consuming work, but also stresses the pig out", said Kasper Ronn Christensen, Strategic Purchaser at SKOV. "Stressed pigs don't eat, which also affects their growth rate." Hikvision cameras and SKOV VMS solution Enter a whole new innovative solution, using Hikvision cameras and a specially designed SKOV VMS. After testing various cameras, SKOV approached Hikvision because of the competitive price and clear, reliable pictures even at only 2MP resolution. That, combined with the ability to build a firmware specifically for their needs, persuaded SKOV to work with Hikvision. Between four and eight 2-line mini-dome cameras (DS-2CD2142FWD-I (4mm)) are placed in the pigpens, to allow handlers to see what's going on and to monitor the growth progress of the pigs. These specific cameras were chosen because of the low amount of spare space in a pigpen and the importance of an affordable solution. Weight calculation and monitoring "We were looking for a solution that could be used by piggeries all over the world", says Kasper Ronn Christensen. "That meant we needed to make it simple, practical and affordable. The fact that, even at a relatively low resolution of 2MP, clear actionable pictures were consistently available made these cameras a smart choice." Connection to the SKOV VMS means that the pigs' weights can be calculated and so monitored. The VMS also gives alarms if a pig doesn't follow the required growth rate, so steps can be taken. The success of the project in Denmark means it can be replicated all over the world to help piggeries to manage their pigs and make sure they maximise their potential. SKOV is offering the solution to all regions with piggeries, including in Thailand, where they have a subsidiary. Digitalised smart farming systems "The cameras are integrated and working as expected, so we can look to the future", says Kasper Ronn Christensen. "We are really impressed with the way Hikvision adapted their firmware to our needs. I also love the innovative approach - who would have thought that a technology that was designed to help spot intruders could be used to ensure pigs grew to the correct weight!" Peter Guan, Channel and Marketing Director at Hikvision Europe, said: "We are heading to a future where traditional farming is digitalised into smart farming, where surveillance cameras are not only used for crime prevention at the farms, but also as useful tools for farmers. Hikvision's ecosystem partner program allows easy software and hardware integration so that end users can benefit from an innovative and more powerful complete solution."
Featured white papers
How analytics engines mitigate risk, ensure compliance and reduce cost
Download
11 considerations for embedded system RFID readers
Download
Thermal cameras: Can they accurately detect body temperatures?
Download