Compare FD7160 with FD8169 
(2)
| | | |
| --- | --- | --- |
| | VIVOTEK FD7160 | VIVOTEK FD8169  |
| Chip Inch Size | 1/3 | 1/3 |
| Colour Type | Colour / Monochrome | Colour / Monochrome |
| Resolution TVL | 1600 x 1200 | 2 MP |
| Sensitivity lux | 0.6 @ F2.0 | 0 |
| Dome Type | Fixed Focus | Static |
| Voltage | PoE | 12 V DC, PoE |
| Compression | MJPEG, MPEG-4 | H.264, MJPEG |
| Back Light Compensation | ✔ | ✔ |
| Auto Gain Control | ✔ | ✔ |
| White Balance | ✔ | ✔ |
| Electronic Shutter range | 1/5 ~ 1/40,000 | 1/5 ~ 1/32,000s |
| Digital (DSP) | -- | ✔ |
| Indoor/Outdoor | -- | Indoor |
| Focal length | -- | 2.8mm |
| S/ N (Signal/ Noise) Ratio dB | -- | <53 |
| Built-in IR LED | -- | ✔ |
People also viewed these products
Featured security companies
Related Videos
Apollo's Orbis range smoke and heat detectors for marine and offshore environment
Panasonic's 4K glass-to-glass solution for Esports stage environments
Panasonic launches the PT-RQ35 30.000 lumens 4K laser projector
VIVOTEK VAST used in successful IP surveillance project at Varun Beverages Ltd.
VIVOTEK has extended its IP surveillance services by improving the efficiency of daily operations at soft drinks franchise Varun Beverages Ltd. Prior to this, Varun Beverages had experienced a number of different issues, despite being under analogue surveillance. These issues included everything from theft to the operational inefficiency of workers. By helping Varun Beverages to realise the shortcomings of analogue surveillance, VIVOTEK brought the plant on par with the evolving security landscape. Along with its partner Network Technology, VIVOTEK changed the analogue video surveillance solutions to IP surveillance solutions for improved video and image quality and enhanced Field of View (FOV). Complete end-to-end solution Commenting on the success of the project, Sanjeev Gulati, Country Manager, India & SAARC, VIVOTEK Inc. commented: "Despite existing security surveillance arrangements, Varun Beverages reported a number of thefts. Adding to their distress was the poor image quality and limited coverage area of their existing analogue surveillance solutions. Their daily operations suffered due to these drawbacks. After having analysed the situation, along with Network Technology, we suggested altering their analogue surveillance solution to an IP surveillance solution. We gave them a complete end-to-end solution; from general surveillance to various checkpoints in the plant. The deployment of VIVOTEK solutions transformed operations to be more productive and secure. They are now satisfied with the video and image quality of their security surveillance system." Robust security solution A spokesperson for Varun Beverages commented: "We were very concerned about the issues that we were dealing with; be it security, operational or employee disputes. VIVOTEK's IP surveillance system worked with us step by step to not only provide the robust security solution we were looking for, but also to help us navigate through all our key plant requirements. The IP surveillance system has significantly improved control over the entire production process and administrative areas of all our production facilities. "The solution enables an efficient and centralised security through which the manager can monitor remotely anytime and anywhere" The solution enables an efficient and centralised security through which the manager can monitor remotely anytime and anywhere, promptly and effectively. VIVOTEK has been extremely helpful during the planning stage and in providing technical support, which exceeded our expectations. We are looking forward to working with them in the future as their business expands." VIVOTEK VAST video management software The video management software used to operate the IP surveillance solution is VIVOTEK VAST, which is connected to various camera models, including 5-megapixel 360-degree surround view fisheye camera FE8180, the robust Full-HD speed dome camera SD8363E, the 3-megapixel outdoor ready 180-degree view fisheye camera CC8370-HV, the 2-megapixel 15-metre IR illuminator fixed dome camera FD8169, and two bullet-type cameras IB8369 and IB8367. VIVOTEK and its associate partner also segregated the cameras on the basis of lens types, such as fixed lens camera and varifocal lens camera for different applications. After the installation of the new IP surveillance system, Varun Beverages has managed to prevent thefts in its warehouses and plants. The workers and operation staff, being well-aware of the new enhanced security surveillance, stick to company protocol and uphold company standards in terms of hygiene and effective and efficient operations. VIVOTEK's bullet CCTV cameras are an integral part of VIP Casino's security set-up
The IP7361 is a network bullet camera tailor-made for outdoor environments with an auto-iris lens and IR cut filterVIP Casino is a popular chain of premium casinos in Germany. Systems integrator MB-PC developed a solution customised to VIP Casino's surveillance needs at two of its locations in Germany, Oehringen and Bad Friedrichshall in Baden-Württemberg in southern Germany.A challenging environmentIt goes without saying that an effective surveillance infrastructure is essential for gambling establishments, where the risk of disputes and even criminal activity is high. MB-PC Account Manager Marco Brueck adds: "The casino needed cameras that could give them video and images clear and detailed enough to easily identify individuals they might be interested in." At the VIP Casino in Oehringen, MB-PC's solution combined VIVOTEK's 5 IP7361s and 34 FD7160s. At this site, the casino wished to implement a surveillance system inside the casino as well as in the parking area and entrance area to the adjoining shopping area that many customers visited before or after time spent in the casino. For the outdoor areas-parking and shopping centre entrance, MB-PC recommended the IP7361, a high-end network bullet camera tailor-made for outdoor environments with an auto-iris lens and IR cut filter to ensure superior video quality whatever the lighting conditions night and day. Inside the casino, MB-PC urged the casino to use VIVOTEK's FD7160. Like the IP7361, the FD7160 produces high-resolution 2-megapixel video, essential for a usage scenario like the casinos.Seamless interoperabilityRecordings of the surveillance video were archived using the go1984 Enterprise package from German software vendor Logiware. Brueck explains: "go1984 is popular worldwide, but especially here in Germany. VIVOTEK hardware works especially well with go1984, which was another reason we advised the casino to use the IP7361 and FD7160." Yet another point in the VIVOTEK cameras' favour was their PoE support, according to Brueck: "We just plugged the cameras into PoE switches, providing electrical power and the LAN connection the casino's security team needed to manage everything. That made for a really clean, clutter-free setup."At a second facility in Bad Friedrichshall, MB-PC helped the casino set up another VIVOTEK camera-based surveillance system, this time consisting of 4 IP7361 cameras outside and 49 FD7130 cameras inside. The system was largely similar to the one in Oehringen, with one major twist: one of the IP7361 cameras had to be installed on a completely separate building, a dilemma that MB-PC resolved by using a wireless LAN bridge. The camera has performed flawlessly, enabling the casino to seamlessly manage it along with the other VIVOTEK cameras on their network, demonstrating its suitability as part of a wireless LAN-based surveillance installation.The VIVOTEK-based surveillance has been so effective, and cost-effective, that VIP Casino is set to implement similar systems at an additional three to five casinos later this year.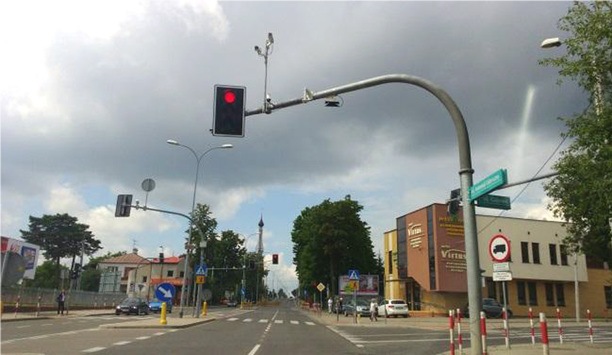 VIVOTEK fisheye network cameras help Bialystok update municipal traffic monitoring system
Bialystok, a beautiful historic city of 300,000 in the northeast of Poland, is one of the nation's major population centres. Devastated in World War II and languishing for a long period afterward, the city has seen a renaissance in recent years, with restoration of its beautiful architecture and modernisation of infrastructure as the Polish economy has boomed. One particular change that has come upon this serene city with unexpected rapidity is the increase in car ownership, which has more than tripled in Poland since 2005. Over the last decade, the growing need for an up-to-date, comprehensive traffic monitoring system has become increasingly apparent. Surveillance enhancement for traffic surges The growing need for an up-to-date, comprehensive traffic monitoring system has become increasingly apparent Cameras were the most costly item within the traditional traffic surveillance system originally deployed in Bialystok. To capture as many angles as possible, large numbers of cameras were required, often several at each intersection. As well as being an eyesore, this also meant that the cost of linking and synchronising the array of cameras to the central surveillance system was exorbitant. To avoid impacting traffic, which is heavy during the daylight hours, installation and construction work was usually carried out at night. The restricted hours for installation caused long delays in camera setups. Worse, the system itself no longer met the needs of the rapidly developing city. Despite the large numbers of cameras, the field of view of individual cameras was too narrow and when accidents happened it was difficult to try to piece together footage from several cameras in an attempt to reconstruct the incident. Often, there was no way to determine from the footage just who was at fault. A better solution was needed. Seamless collaboration to seamless implementation Zarzad Dróg Miejskich (ZDM), the municipal unit responsible for the road system in Bialystok needed to revamp, simplify, and upgrade their inefficient traffic camera system, so they worked with systems software manager Siemens and engaged VIVOTEK's local distributor Suma Solutions to come up with an answer that would meet their needs. Siemens developed the system software around technology provided by VIVOTEK, a provider of IP surveillance solutions, offers dedicated traffic surveillance and management solutions, and has recently released its remarkable FE8174V H.264 5-megapixel fisheye network camera.The hemispherical images captured on camera can be automatically retooled to conventional projection specifications for easy viewing The FE8174V is VIVOTEK's fisheye network camera. This vandal-proof, WDR-enhanced, day/night camera features a detailed 5-megapixel resolution sensor with superior image quality. Its fisheye lens captures a 180° panoramic view when wall-mounted, and a stunning 360° surround view with no blind spots when mounted overhead. With its choice of display layouts—surround view, panoramic view, and regional view—it is the perfect solution for those who need coverage of wide, open areas as well as a high degree of flexibility. With the advanced image processing capabilities, the hemispherical images captured on camera can be automatically retooled to conventional projection specifications for easy viewing. As the camera's primary application is outdoors and demands reliability in all conditions, a weather-proof IP66-rated and vandal-proof IK10-rated housing keeps the camera body clear of rain and dust and maintains functionality in all types of weather. The VIVOTEK FE8174V features a removable IR-cut filter, which is unquestionably the best choice for those who need a hardy, all-weather, 24/7 system with a full range of coverage. Enhanced resolution means better traffic safety ZDM installed 130 VIVOTEK FE8174V cameras at intersections throughout Bialystok. Now, with far fewer cameras, traffic controllers can get a clear, sharp overview of the whole field without any blind spots. VIVOTEK's fisheye camera dewarping capabilities allow monitors to adopt different presentation modes A single VIVOTEK FE8174V provides the coverage of four outdoor bullet cameras in one image, and has resulted in cost savings at the same time as providing more complete coverage. Fewer cameras has also meant a decrease in costs associated with the backend management platform, network communications equipment, and storage equipment; it has also protected the aesthetic properties of the city by decluttering the skyline. Further, VIVOTEK's fisheye camera dewarping capabilities allow monitors to adopt different presentation modes. Now, Management Center operators can easily monitor and verify traffic incidents and use the image recognition software to increase traffic control efficiency. The city of Bialystok has finally achieved a traffic management and surveillance system that can keep pace with its rapid growth while remaining in harmony with the local culture and architecture.
Featured white papers
RFID and smartphone readers in physical access control
Download
Access control & intelligent vehicle screening
Download
How plate reader technology increases your perimeter security
Download