IP cameras Comparison: IndigoVision, Axis Communications
(4)
| | | | | |
| --- | --- | --- | --- | --- |
| | IndigoVision Fixed IP Camera | Axis Communications AXIS P1354 | Axis Communications AXIS M3204 | Axis Communications AXIS M1011 |
| Chip Inch Size | 1/4 | 1/3 | 1/4 | 1/4 |
| Colour Type | Colour / Monochrome | -- | Colour / Monochrome | Colour / Monochrome |
| Resolution | 540 | 1 MP | -- | -- |
| Specialist Type | Infrared | Network | Network | Network |
| Sensitivity Lux | 0.05 | -- | -- | 1 |
| Auto Iris | ✔ | ✔ | -- | -- |
| Direct Drive | ✔ | ✔ | -- | -- |
| Voltage | 24V AC/DC | -- | 4.9 ~ 5.1 V DC | 4.9 ~ 5.1 V DC |
| Lens Mount | CS | -- | -- | -- |
| Focal Length mm | 5 ~ 50 | -- | 2.8 ~ 10 | 4.4 |
| Mount Type | Wall, Ceiling | -- | -- | -- |
| Picture Elements HxV | 752 x 582 | -- | -- | -- |
| Image Frame Rate | 25/30 fps | -- | 30 fps | 30 fps |
| Back Light Compensation | ✔ | -- | ✔ | ✔ |
| Auto Gain Control | ✔ | -- | -- | -- |
| White Balance | ✔ | -- | ✔ | ✔ |
| Gamma Correction | 0.45 | -- | -- | -- |
| Electronic Shutter Range | 1/50 ~ 1/100,000 | -- | 1/24500 ~ 1/6 | 1/5,000 ~ 1/4 |
| Synchronisation | Internal | -- | -- | -- |
| Signal Mode | PAL, NTSC | -- | PAL, NTSC | PAL, NTSC |
| Digital (DSP) | -- | ✔ | -- | -- |
| Motion Activated | -- | -- | ✔ | ✔ |
People also viewed these products
Featured security companies
Related Videos
3M Scott V320 Thermal Imager
vcore 1.5 lets users bookmark and share videos securely
Ajax security systems display how protecting a property from attacks is an art IndigoVision's integrated IP security system secures premises of Vancouver Island mall
Vancouver Island's leading fashion focused shopping destination has invested in an IndigoVision integrated IP video security system, in what is believed to be the first mall in Canada to deploy a surveillance solution with 100% IP cameras. The 93-camera system, which covers the public areas inside the mall as well as the car parks and surrounding areas, was designed and installed by IndigoVision's approved partner Laser Star Systems Ltd in partnership with Hoffman & Company Security Management Consultants Inc. "One of the benefits of the new surveillance system is that it has helped us create an excellent partnership with local law enforcement," explains Barry Greening, the centre's Operations Manager. "Due to the exceptional quality and easy accessibility of the video, the local police force has shown an increasing interest in recorded footage from the system. They often analyse the system to see if 'known individuals' have been in an around the mall and have used exported evidential video in a number of investigations."When planning for the new surveillance system the shopping centre realised that an IP networking solution was the future of video security and ensured budget was made available for IT projects that would support the required network infrastructure. This forward thinking in combination with IndigoVision's low-bandwidth technology allows the IP video system to share network resources with access control, HVAC, Voice-over-IP and general IT traffic. One workstation with four monitors running 'Control Center', IndigoVision's security management software, is used in the central control room to monitor and analyse live and recorded video. Commenting on its use Greening said: "It is remarkably good and inherently intuitive. The site plan is amazingly simple and easy to use and you can just drag and drop cameras into view. The ability to synchronise cameras and quickly access historical video is invaluable to us and the local police. IndigoVision also took on board our ideas for new features and included them in a future release of the software free-of-charge!"All cameras are continuously recorded for a minimum of 30 days using IndigoVision's Windows Network Video Recorder (NVR) software running on a custom built iSCSI server with 26TB of Raid 6 storage. IndigoVision's class-leading compression technology in combination with a unique feature called Activity Controlled Frame rate (ACF) helps reduce the overall storage requirement. ACF, which is built into IndigoVision's IP cameras, has been deployed on a number of cameras located in hallways and storage areas. When the scene is inactive the camera streams video at a lower frame rate and instantaneously ramps to maximum configured frame rate when motion is detected. This feature is also enabled on many cameras based on time of day, e.g. when the centre is closed. IndigoVision's technology allows the IP video system to share network resources with access control, HVAC, Voice-over-IP and general IT traffic A combination of 26 PTZ and 67 fixed IndigoVision IP cameras were installed inside and outside the mall. The fixed cameras are Power-over-Internet (PoE) compliant allowing them to be powered from the network. This helped reduce the overall installation costs as only a single CAT-6 cable was required to connect the camera to the network. Mayfair is now considering using the surveillance system for more than just security. Retailers are increasingly harnessing the power of high-quality video for marketing purposes. This can be an invaluable tool for analysing merchandising and promotions and monitoring the total number and movement of customers visiting the centre and individual stores. Khartoum International Airport installs Axis network cameras for round the clock security
Axis network cameras are connected to the existing computer network of Khartoum International Airport Axis network cameras help Sudan's largest airport to be secured round the clock.MissionKhartoum is home to the largest airport in Sudan, Khartoum International Airport. The airport was originally built at the southern edge of the city; but with rapid growth and consequent urban sprawl, it is now located in the heart of the city. With a growing number of passengers every year going through customs, a surveillance solution had to be flexible and scalable in order to keep pace with the growing operations while maintaining the highest level of security. The system also needed to be easily integrated into the existing airport infrastructure.SolutionBased on the needs of the airport and nature of the site, Gitech Investment Company, an Axis partner in Sudan, designed and implemented the video surveillance solution. To monitor the activities at the customs areas and ensure the safety of passengers, AXIS 207MW and AXIS 211W Network Cameras were installed. AXIS 207 Network Camera was also selected and connected directly to the existing computer network of the airport.It offered excellent image quality even in poor lighting conditions. "The cameras had to accommodate the privacy concerns of travellers. With that in mind, I proposed two models to the customer, each of which offered very high image quality combined with a very discreet design. In addition, they were unobtrusive," says Eng Haithem, General Manager of Gitech Investment Company.To safeguard the areas most at risk, which included the baggage control and check-in areas, apart from passenger surveillance, AXIS 214 PTZ Network Cameras and AXIS Q6032-E PTZ Dome Network Camera were implemented. These are high quality colour network cameras with the flexibility of remote pan/tilt/zoom through operator control. The compact design makes them ideal for conducting discreet surveillance and identifying persons and objects, thanks to 18x optical motorised lens with auto focus. It is also possible to zoom in on a small or distant object with exceptional clarity.AXIS 207MW features compact design and high quality imageThe AXIS 207MW Network Camera was selected as it could connect directly to the airport existing computer network. AXIS 207 Network Cameras offer the best image quality in their class, providing excellent image quality also in poor lighting conditions. The location of these network cameras is not obvious to passengers, who might have felt uncomfortable with the obtrusive design of traditional cameras. These cameras, on the contrary, feature a discreet and non-obtrusive design.ResultThanks to the network cameras, the customs department at Khartoum International Airport can now instantly review images of incidents or fraud. "The video surveillance system fully supports the security personnel in their daily work. The Axis cameras have been instrumental in delivering the best IP solution in addition to reducing the time factor and costs for effective surveillance," says Colonel Anwer Abdalla Ali from Customs Sudan owner of Project in Khartoum International Airport. The surveillance cameras act both as a deterrent and an instant eyewitness. "Unlike videotape, network video lets us pinpoint the event in a couple of minutes and determine what really happened," continues Colonel Anwer Abdalla Ali. "We would like to thank Eng. Haitham Elsir Osman from Gitech Investment Company, the Axis partner in Sudan as well as the consultant, Nadus Solution."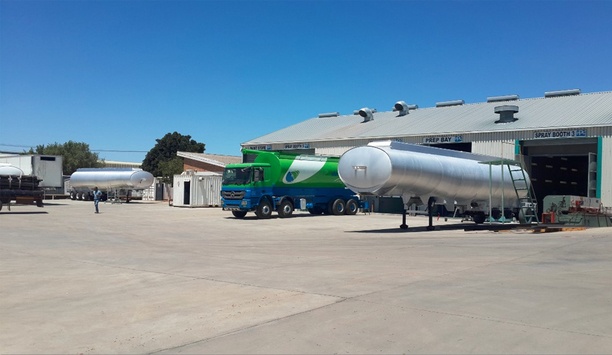 Hikvision IP CCTV system secures perimeter and enables remote monitoring of workshop for GRW, South Africa
GRW is one of South Africa's leading providers of sophisticated road transport trailers; designing, manufacturing and servicing a wide range of bespoke vehicles, each configured to provide a solution to the unique transportation needs of an individual client. GRW has now invested in a state-of-the-art IP CCTV system to protect its premises against unauthorised access and monitor the large, modern production facilities, and is already reaping the benefits from the integration of analytics with the IP cameras. GRW transport operations Founded in South Africa in 1996, GRW's operations have always revolved around the transport of commercial goods. Whether it's carrying petroleum, chemicals, temperature-controlled perishables, FMCG, pallets or bulk general cargo, the trailers manufactured by GRW are specifically designed to meet the individual transportation requirements of customers throughout Southern Africa, the Middle East, Australia and the UK. All the company's products emerge from its large, ultra-modern manufacturing complex in Worcester, in South Africa's Western Cape. As well as housing the extensive production facilities and spare parts department, the facility is also home to GRW Services and GRW Financial Services, which are responsible for worldwide customer care and after-sales contract servicing and the supply of rental units. Surveillance of the perimeter of this large facility and protecting the plant from unauthorised access was a key security concern for the company. However, manned patrols of the perimeter proved ineffective and Sensor Security was tasked with designing a solution that would automate the process of securing the boundary and eliminate the possibility of human error. At the same time, GRW recognised that an intelligent camera infrastructure might enable remote monitoring of the production process and Sensor Security was asked to investigate.Surveillance of the perimeter of this large facility and protecting the plant from unauthorised access was a key security concern for the company Integration of analytics with IP cameras "From the outset we knew that the proposed CCTV system should successfully serve a dual purpose, helping supervisors and managers monitor the workshop operations during opening hours and securing the perimeter 24 hours a day," says Edmund Casaleggio, Sensor Security's Sales Executive. "There was also a need to make the combined system as simple and easy to operate as possible, ensuring that operations staff had unrestricted access to the workshop video feeds while not being distracted by the security cameras and vice versa for the security officers, who are best served by complete concentration on securing the premises." Following extensive consultations with GRW staff, the final design of the dual-purpose system involved a total of 18 Hikvision cameras, eleven on the perimeter and seven in the workshop area, all feeding in to a 32-channel Hikvision NVR at GRW, and to Security Sensor's control room. "GRW was actively involved in the whole consultation and design process, right from day one, with suggestions on key sites needing monitoring and protecting and information and advice on the flow of work and personnel around the workshop area" continues Edmund Casaleggio. "This was hugely beneficial and one of the main contributory factors in the successful installation. In my experience it is always more challenging, risky even, to install any security-related system without sufficient input and collaboration from the end-user client." A smart perimeter Perimeter patrolling with guards having proved ineffective, GRW was also keen that the introduction of cameras did not mean that an individual would have to be assigned to constantly manage the CCTV system around-the-clock. Therefore, the Hikvision DS-2CD4012F-A Smart 1.3MP low-light box camera was selected to monitor the perimeter of the plant, with active use of the cameras Smart Analytics intrusion flags ensuring that GRW's security officers and Sensor Security's control room are pro-actively notified of any unauthorised movement around the premises. According to Edmund Casaleggio, "The integration of analytics with the Smart IP CCTV cameras is a significant added advantage, flagging alarms only when intrusion occurs within the specified range. We do not have to use alarm inputs and outputs to connect passives and actives on the DVR/NVR, which saves significantly on maintenance of the system. It also reduced installation time significantly. What's more, the accuracy of these Smart cameras with analytics is far better than beams, as long as the cameras are correctly calibrated when installed. In this regard, the Auto Back Focus on these Smart cameras greatly assists the installation technicians to achieve the best possible viewing quality." As well as the Smart Intrusion Detection, the Hikvision DS-2CD4012F-A also features Smart Codec, Smart Focus, Smart VQD, Smart Face Detection and Smart Audio Detection. They also benefit from 3D DNR and Digital WDR, and the Day & Night IR cut filter allows successful video operation down to 0.001 Lux. Remote monitoring of perimeter and workshop Seven Hikvision DS-2CD2132-I 3MP Mini Dome Cameras keep watch over all operations in the workshop area, assisting the supervisors and managers to remotely monitor processes on the floor. This process is made much easier and more efficient for these staff due to the integration of the Hikvision DS-9632NI-ST 32-channel NVR with a PC, ensuring that operational staff are only presented with images relevant to the production area.GRW is already reaping the benefits from the integration of analytics with the IP cameras and is set to continue for many years" "The full HD, 1080p real-time video is a huge asset for the supervisory staff and the camera itself, protected within its IP66 vandal-proof housing, has withstood the rigours of a harsh industrial environment really well," continues Edmund Casaleggio. "True day/night operation thanks to its 30m IR range and Digital WDR and 3D DNR also contribute to the high-quality video at all times." A real success "This newly-installed state-of-the-art IP CCTV system automates the process of protecting GRW's premises against unauthorised access and monitoring the production facilities while eliminating the possibility of human error," says Edmund Casaleggio. "GRW is already reaping the benefits from the integration of analytics with the IP cameras and is set to continue for many years. "At the same time, they are benefitting from the user-friendly nature of Hikvision's technology. This deceptively "simple" platform helps GRW staff to operate the software easily with minimal training while Smart features, such as ABF, aids our technicians to achieve the best possible video quality. "However, the quality of Hikvision's hardware and software does not come with an unaffordable price tag. In fact, since Hikvision's iVMS-4200 software allows for the integration of analogue and IP cameras free-of-charge, this serves to increase the affordability of their products. What's more, the free Hikvision software allows the feeds from analogue and IP cameras to be integrated on one screen. "In conclusion, Hikvision's huge range of cameras, NVRs, DVRs and software allows us to propose unitary solutions to their security needs and to more successfully back-up and service the installation over many years. Quite simply, it is easier to provide post-sales service and support with a single, reliable brand."
Featured white papers
Designing video management systems using H.265
Download
Making sense of today's security camera options
Download
Sinaloa, Mexico: Connected cities are safer cities
Download