Honeywell Security Intruder Alarm Accessories
(19)
Browse Intruder Alarm Accessories
Intruder alarm accessory products updated recently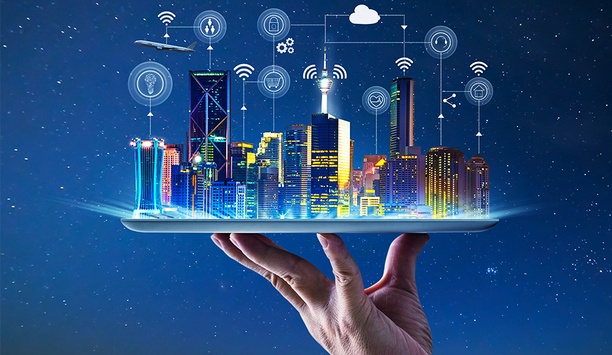 Security and safety drive smart building strategies for the future
Johnson Controls recently unveiled the findings of its 2018 Energy Efficiency Indicator (EEI) survey that examined the current and planned investments and key drivers to improve energy efficiency and building systems integration in facilities. Systems integration was identified as one of the top technologies expected to have the biggest impact on the implementation in smart buildings over the next five years, with respondents planning to invest in security, fire and life-safety integrations more so than any other systems integration in the next year. As advanced, connected technologies drive the evolution of smart buildings, security and safety technologies are at the center of more intelligent strategies as they attribute to overall building operations and efficiencies. SourceSecurity.com spoke with Johnson Controls, Building Solutions, North America, VP of Marketing, Hank Monaco, and Senior National Director of Municipal Infrastructure and Smart Cities, Lisa Brown, about the results of the study, smart technology investments and the benefits of a holistic building strategy that integrates security and fire and life-safety systems with core building systems. Q: What is the most striking result from the survey, and what does it mean in the context of a building's safety and security systems? The results show an increased understanding about the value of integrating safety and security systems with other building systems Hank Monaco: Investment in building system integration increased 23 percent in 2019 compared to 2018, the largest increase of any measure in the survey. When respondents were asked more specifically what systems they we planning to invest in over the next year, fire and life safety integration (61%) and security system integration (58%) were the top two priorities for organisations. The results show an increased understanding about the value of integrating safety and security systems with other building systems to improve overall operations and bolster capabilities beyond the intended function of an individual system. Q: The survey covers integration of fire, life safety and security systems as part of "smart building" systems. How do smarter buildings increase the effectiveness of security and life safety systems? Hank Monaco: A true "smart building" integrates all building systems – security, fire and life-safety, HVAC, lighting etc. – to create a connected, digital infrastructure that enables individual technologies to be more intelligent and perform more advanced functions beyond what they can do on their own. For example, when sensors and video surveillance are integrated with lighting systems, if abnormal activity is detected on the building premise, key stakeholders can be automatically alerted to increase emergency response time. With integrated video surveillance, they also gain the ability to access surveillance footage remotely to assess the situation. When sensors and video surveillance are integrated with lighting systems abnormal activity on the premise can automatically be detected Q: How can integrated security and life safety systems contribute to greater energy efficiency in a smart building environment? Hank Monaco: Security, fire and life-safety systems can help to inform other building systems about how a facility is used, high-trafficked areas and the flow of occupants within a building. Integrated building solutions produce a myriad of data that can be leveraged to increase operational efficiencies. From an energy efficiency standpoint, actionable insights are particularly useful for areas that are not frequently occupied or off-peak hours as you wouldn't want to heat or cool an entire building for just one person coming in on the weekend. When video surveillance is integrated with HVAC and lighting systems, it can monitor occupancy in a room or hallway. The video analytics can then control the dimming of lights and the temperature depending on occupant levels in a specific vicinity. Similarly, when access control systems are integrated with these same systems, once a card is presented to the reader, it can signal the lights or HVAC system to turn on. In this example, systems integration can ultimately help enable energy savings in the long run. Security and life safety systems contribute to help enable greater energy efficiency and energy savings in the long run Q: What other benefits of integration are there (beyond the core security and life safety functions)? Hank Monaco: Beyond increased security, fire and life-safety functions, the benefits of systems integration include: Increased data and analytics to garner a holistic, streamlined understanding of how systems function and how to improve productivity Ability to track usage to increase efficiency and reduce operational costs Enhanced occupant experience and comfort Increased productivity and workflow to support business objectives Smart-ready, connected environment that can support future technology advancements Q: What lesson or action point should a building owner/operator take from the survey? How can the owner of an existing building leverage the benefits of the smart building environment incrementally and absent a complete overhaul? Lisa Brown: Johnson Controls Energy Efficiency Indicator found that 77% of organisations plan to make investments in energy efficiency and smarter building technology this year. This percentage demonstrates an increased understanding of the benefits of smart buildings and highlights the proactive efforts building owners are taking to adopt advanced technologies. There is an increased understanding that buildings operate more effectively when different building systems are connected As smart buildings continue to evolve, more facilities are beginning to explore opportunities to advance their own spaces. A complete overhaul of legacy systems is not necessary as small investments today can help position a facility to more easily adopt technologies at scale in the future. As a first step, it's important for building owners to conduct an assessment and establish a strategy that defines a comprehensive set of requirements and prioritises use-cases and implementations. From there, incremental investments and updates can be made over a realistic timeline. Q: What is the ROI of smart buildings? Lisa Brown: As demonstrated by our survey, there is an increased understanding that buildings operate more effectively when different building systems are connected. The advanced analytics and more streamlined data that is gathered through systems integration can provide the building-performance metrics to help better understand the return on investment (ROI) of the building systems. This data is used to better understand the environment and make assessments and improvements overtime to increase efficiencies. Moreover, analytics and data provide valuable insights into where action is needed and what type of return can be expected from key investments.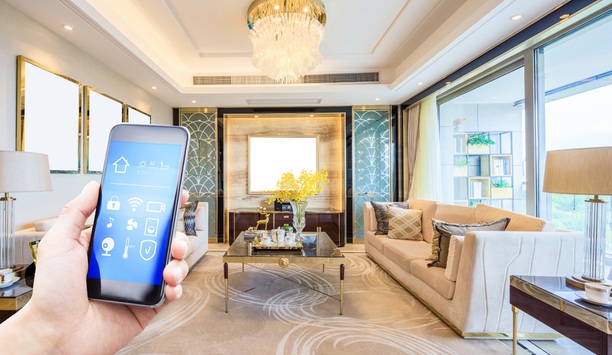 Smart home trends: Combining professional security with the DIY approach
The smart home market has seen significant growth since 2010. Specifically, less than 0.5% of homes in the American region had connected home devices such as thermostats, lighting, security and entertainment in 2010; by the end of 2017, nearly 12% of households in the region will have connected home devices, an average of six devices per home. The success of smart homes started with professional security providers offering bundled packages, focused mostly on security monitoring. However, due to the cost of professional contracts, consumers began to embrace the do-it-yourself (DIY) approach. Despite the challenges and opportunities that come with professional and DIY approaches, the momentum of smart home growth depends on these two approaches working symbiotically. Smart home technology partnerships A few recent examples include the relationship with Vivint and Best Buy and Vivint with Sprint. In most cases, Best Buy is a competitor to Vivint because a consumer can buy point devices and ecosystem and install it themselves or enlist the help of the Geek Squad. Even more recently, Nest announced optional professional monitoring with its Nest Secure products in partnership with MONI. Although this approach isn't new, Scout Alarm, LiveWatch and SimpliSafe already have similar approaches, it continues to stress the need to combine multiple channels and approaches to the smart home market. Moreover, these are examples of symbiotic partnerships that will help the total market. In 2017, there were about 122 million smart home devices shipped globally. The retail channel represented about 62 percent of all device shipments in 2017 and will represent about 70 percent in 2021. Despite the increased demand for professional installation, the do-it-for me approach, most the volume remains with ad-hoc purchases. This includes a consumer video camera or a smart thermostat purchase from a retailer or when a consumer wants to add devices to an existing professionally installed system, they often will buy products from retail. There is a growing needto combine multiplechannels and approachesto the smart home market Furthermore, the multiple-system operator (MSO) and professional security provider channels will be evenly split in 2017; however, by 2021, the MSO channel is expected to be double the market size of the security provider channel. The primary reason for this rapid change over five years is the lack of professional security providers in EMEA and APAC; as a result, MSOs will dominate the professional channels in these regions, while across North America, security providers will maintain a strong market presence. Top trends in smart homes A few of the top trends in smart homes to watch out for over the next 12-24 months include user interface, flexible services, cyber security and adjacent markets. The user interface trend continues to evolve for the smart home. Although voice commands are trending towards becoming the new user interface beyond 2017, the voice will not be the only means to control and interact with the smart home. Mobile phones or tablets will still be required to configure most devices. This means that although the Amazon Echo can control a WeMo plug, the consumer will still be required to download the WeMo app and configure the device. However, after the device is added to the same network as the Echo, the app is no longer needed on a day-to-day basis. Displays will also become increasingly popular throughout homes because the smart home is becoming increasingly isolating. Mobile phones or tablets will still be required to configure most devices in future smart homes DIY ecosystems such as Wink or SmartThings or Philips Hue lighting are often limited to one person with one mobile device. As a result, other members of the household would need access to that mobile device or would need access on their own device after being authorised by the primary user (all assuming a smart speaker is not being used). This is very limiting and the user experience is negatively affected. (Voice assistants like Google Home have added a feature to allow multiple accounts using voice recognition, which will help personalise smart homes.) However, displays in the home are a way to access all devices for anyone in the home. Smart home equipment cost Flexible service offerings and pricing is already taking shape across smart home offerings. DIY installed smart home systems such as Scout Alarm already offer no contract monitoring. Professional monitoring companies are already offering no contract pricing and providers such as Comcast are looking to pilot programs for just video monitoring bundled with Internet for a low monthly fee. Options for financing are also going to become commonplace. Smart home equipment is expensive, especially when attempting out outfit a modest size home (2,500 square feet +). Immediate access to services is becoming more critical. This means consumers should be able to access on-demand service options directly from a mobile device to activate or deactivate professional monitoring. Lastly, pricing still needs to come down for many smart home devices but there is a threshold. Since many smart home devices today do not have a recurring monthly fee, the cost of maintaining mobile apps, platforms and support services must be propped up by higher device prices. However, companies can look to offset some cost by sourcing different material. According to the IHS Markit Teardowns Team, the cost of the metal ring on the Nest 3rd Generation thermostat is $10, which is more expensive than the LCD display which comes in at $9. In comparison, the Ecobee3's most expensive part is the LCD screen at about $4.00. As a result, the Ecobee3 costs nearly $20 less to manufacture compared with the Nest 3rd Generation thermostat. Smart home security Securing the smart home will be a hot topic over the next 12 months. One method of change will be manufacturers requiring consumers to change default passwords. Manufacturers need to start requiring consumers to change passwords before a product can be used. Home routers, for example, often use 'admin' as the username and 'password' as the password and most users never change these. For elder care, door/window sensors and motion sensors could be used in combination with software to monitor routine The challenge that many consumers and suppliers face today is that many passwords are built directly into the firmware and the consumer has no way of making changes. As a result, the integrity of the device comes down to the supplier. As threats become more severe with ransomware and other botnet attacks, manufacturers will need to implement additional thresholds of threat assessments to keep consumers safe. One method involves two-factor authentication. IHS Markit expects the monetisation of cyber-security for residential customers to start appearing in 2018. This means that security service providers would monitor network traffic for the consumer. The software would not be monitored or implemented directly by the consumer; instead, the service provider will take care of all the monitoring of network traffic. What this means is that the software or router would monitor network traffic for patterns and manage which servers are pinged by IoT devices such as consumer video cameras. Care homes and insurance companies Although the compound annual growth rate (CAGR) for smart home device revenue is set to exceed 50% through 2021, the growth could be much higher with support from adjacent markets such as elder care, construction/developers and insurance companies. For elder care, door/window sensors and motion sensors could be used in combination with the software to monitor routine. If an elderly person suddenly changes their routine, this would alert caregivers. This same premise can be used in professional elderly care settings to help staff prioritise patient needs. IHS Markit expects the monetisation of cyber-security for residential customers to startappearing in 2018 Working with insurance companies is another method of reaching the customer with smart home devices; however, the use of insurance is highly fragmented across regions. As a result, North America is the best opportunity as of 2017 to partner with insurance companies. Furthermore, insurance companies are mostly interested in managing the entire ecosystem. Blending professional and DIY smart homes While offering subsidised equipment (smoke detectors and water leak detection) can reduce claims, insurance companies need to have full access to the data – as a result, they are more interested in creating their own platform from scratch or working with a provider to support data analysis. Working closely with builders will also continue to gain traction, especially across EMEA and APAC. By working closely with builders, this reduces the challenges associated with B2C channels and the overall cost of the system can be masked by the mortgage payment, resulting in more system installations with less distribution expense. Overall, the line between professional and DIY smart home is blending. CEDIA and Amazon recently announced a collaboration and Netgear Arlo announced the first wire-free and battery-operated ONVIF compliant camera. With the combination of voice-control, consultations from Amazon and Best Buy, the reduction in the pile of smart home hubs in the basement as more protocols are embedded in gateways/routers, and no further need for the special Apple chip for HomeKit compliance after iOS 11, smart homes are becoming easier to achieve both for consumers and professionals.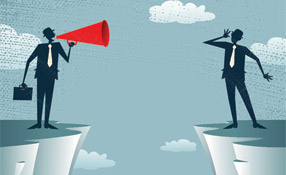 Despite benefit of more efficient 911 responses, ASAP-to-PSAP implementation lags
ASAP-to-PSAP technology automates communications between alarm monitoring companies & PSAPs and dispatches emergency service In April 2015, Cary, N.C., adopted a technology called Automated Secure Alarm Protocol to Public Safety Answering Point (ASAP-to-PSAP), but currently they are among only a handful of emergency 911 call response locales that use ASAP-to-PSAP technology in the United States. Commander Scott Edson of the Los Angeles County Sheriff's Department, speaking to a seminar gathering at ISC West, emphasised the importance of rolling out more implementations of ASAP-to-PSAP. The technology benefits residential and commercial alarm monitoring companies and their customers by eliminating dispatching errors and speeding dispatching times. There are 6,500 PSAPs that respond to emergency 911 calls in the United States. They take more than 250 million 911 phone calls per year from the public and from central station alarm monitoring companies. PSAPs then route the information from 911 calls to the right emergency service and then dispatch police or fire services. ASAP-to-PSAP technology automates the communications between alarm monitoring companies and PSAPs and dispatches the emergency service. The Central Station Alarm Association, the Association of Public Safety Communications Officials and Vector Security developed the software technology back in 2009. So what's the implementation hold-up? "As always, funding is the issue," says Ron Lander, CPP, principal with Ultrasafe Security Specialists in Norco, Calif. "The cities don't want to spend the money. The central stations want to implement it. They say it will reduce personnel needs." Replacing central station phone calls with data entered by a central station operator offers three major benefits, according to a PowerPoint presentation developed by Bill Hobgood, project manager with the Richmond, Va., Public Safety Team. First, it eliminates telephone calls between alarm monitoring companies and PSAPs, which take up time that could be spent with individual 911 callers, who might be in immediate physical danger. It eliminates the inevitable miscommunications between two human beings talking on the telephone – "Speak up, I can't hear you." "Was that Fourth Street or Fifth Street?" "Oh, Fifth Avenue, sorry." Then there are also communications problems related to language in our increasingly multi-cultural society. Finally, and perhaps most important, it speeds the processing and response times by crucial minutes. Research shows that an ASAP communication takes 15 seconds or less to dispatch police or fire units. By comparison, a telephone communication takes 1.5 to 3 minutes or more to dispatch units. Upon implementing ASAP-to-PSAP, there was a 13 percent drop in the number of police alarms handled by telephone An ASAP application carries out three tasks. It translates data from the alarm monitoring company into a format that the PSAP technology can read and process. Second, it updates the alarm monitoring company on the status of the alarm — message accepted and referred to the right emergency service or rejected for one reason or another. Finally, an ASAP application provides continuing updates including cancellation notices from the alarm monitoring company, notices that emergency service has been dispatched, notices that emergency responders have arrived at the scene and notices that events have been closed out. Houston implemented the technology in 2011 and has reaped enormous benefits. According to Bill Hobgood, Houston encompasses 634 square miles, has a population of 2.3 million people and runs the nation's fourth largest PSAP. The city receives more than 2,600 police alarms weekly from 43,000 alarm systems monitored by three alarm companies. Upon implementing ASAP-to-PSAP, there was a 13 percent drop in the number of police alarms handled by telephone. Non-emergency telephone calls declined by 15 percent. The PSAP estimates that it is saving $1 - $2 million annually. What about accuracy and response times? Hobgood studied results in his own city of Richmond as well as York County, Va., in the Tidewater region, both of which implemented ASAP-to-PSAP in 2011. Hobgood's study found that when the system eliminated call-taker involvement, it eliminated spelling mistakes and accidental transposition of street address numbers. It also eliminated problems related to low-volume headsets and accents. Those are impressive business and performance improvements, which is driving Commander Edson's interest in rolling out more implementations.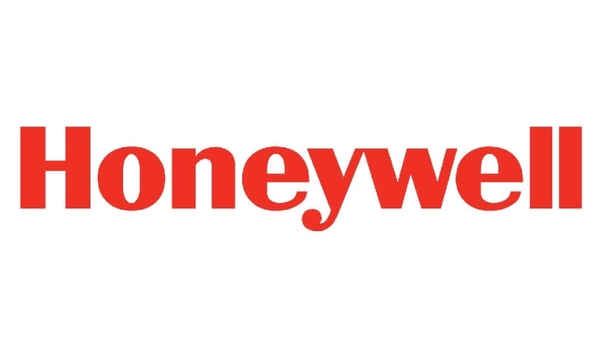 Honeywell launches Forge enterprise performance management software for better data enhancement
Honeywell announces the launch of new category of software, Enterprise Performance Management for Operations Technology, that will improve the way a variety of companies collect, analyse and act on data from their operations. The software solution, called Honeywell Forge, will leverage the company's more than 100 years of expertise in asset and process control technology and will transform the way work gets done by owners and operators of buildings, airlines, industrial facilities and other critical assets and infrastructure. Honeywell Forge converts massive quantities of data from equipment, processes and people into intuitive, actionable insights that enable monitoring of enterprise operations from a single screen. In turn, this helps customers optimise the efficiency, effectiveness and safety of their business. Derive business intelligence The company is developing Honeywell Forge to incorporate the latest cybersecurity protections Honeywell Forge is designed to be quick and cost-effective to implement, with a hardware- and software-agnostic approach that allows for use of existing systems. Honeywell Forge leverages predictive analytics to help identify maintenance issues before they happen; enable workers to be more productive, proficient and safe; reduce costs; and increase productivity. The company is developing Honeywell Forge to incorporate the latest cybersecurity protections. "Large enterprises around the world consistently lack top-to-bottom visibility into how their operations are performing, and most lack the ability to derive business intelligence from their disparate data sources. Their existing systems are disjointed and have shortcomings that slow growth and cut into profitability," said Que Dallara, president and chief executive officer of Honeywell Connected Enterprise. "Honeywell Forge can provide leaders of complex businesses with the visibility they need to transform their operations quickly and efficiently, at every level and with minimum disruption, enabling users to focus resources on innovation and achieving business objectives." Helping business owners According to a recent Honeywell survey, more than 80 percent of C-suite executives and senior decision makers believe it is important to implement a holistic solution as companies look to digitise and better connect their operations. The same survey shows key decision makers believe better enterprise management will offer superior predictive information, leading to safer and more secure facilities, enhanced efficiency and profitability in the supply chain, more efficient use of resources, and better real-time decision making to avoid downtime. Honeywell Forge offers these advantages and more to customers looking for quick adoption and fast payback. Honeywell announced the wide availability this week of Honeywell Forge for Buildings, which is intended to revolutionise the management of building portfolios by helping business owners and operators decrease operating expenses, improve energy consumption and manage space optimisation across an entire building portfolio while also enhancing the individual occupant experience. Transforming building operations Currently, many building portfolio owners have multiple disconnected systems in each building "Buildings house incredible and powerful data on the performance and usage of the building; however, if that data is difficult to access, interpret or use for meaningful insights, it doesn't help drive a customer's business. We are transforming building operations via enterprise software that allows owners and operators to get more out of their building data in order to drive significant business results," said David Trice, vice president and general manager, Honeywell Connected Enterprise, Buildings. "Honeywell Forge for Buildings is open, extensible, intelligent and easy to use. You can turn on a building in a day or less and review the operations of a building from anywhere – including your favourite coffee shop." Currently, many building portfolio owners have multiple disconnected systems in each building. Often these systems do not communicate with and are not compatible with each other, leading to manual maintenance, data trapped in proprietary systems, disconnected teams and systems, over- or underutilised space, and poor occupant experience. Enterprise management system More than 90 percent of building management decision makers surveyed agree that a better enterprise management system can help improve resource management, avoid unplanned downtime and provide enhanced predictive information to make facilities safer and more secure. When fully deployed, Honeywell Forge for Buildings aims to help reduce the operating expense of a building portfolio by up to 25 percent by providing visibility, monitoring and control of all building systems and processes across an entire portfolio of buildings. Honeywell Forge for Buildings easily integrates with other systems" "With more than 50 buildings in our global property portfolio, implementing next-generation building management systems enables us to make sound strategic decisions that will deliver improved capacity and space management, more agility and increased energy efficiency," said Martin Frohock, head of facilities UK & EMEA, Arm, a multi-national semiconductor and software design company. "Honeywell Forge for Buildings easily integrates with other systems and allows us to gauge performance across the entire enterprise at any given time from a central location." Protect critical operations The family of Honeywell Forge offerings will continue to expand across a wide range of sectors over the coming months: Honeywell Forge for Industrials (launching in June) monitors process performance and leverages digital twins to help optimise production and increase throughput; Honeywell Forge for Airlines (launching in June) provides insights and analytics to help save airlines money; Honeywell Forge for Inspection Rounds (launching in June) digitises the deskless worker and helps improve efficiency, productivity and compliance; and Honeywell Forge Cybersecurity (launching in the fourth quarter) helps protect critical operations from ever-evolving cyber threats.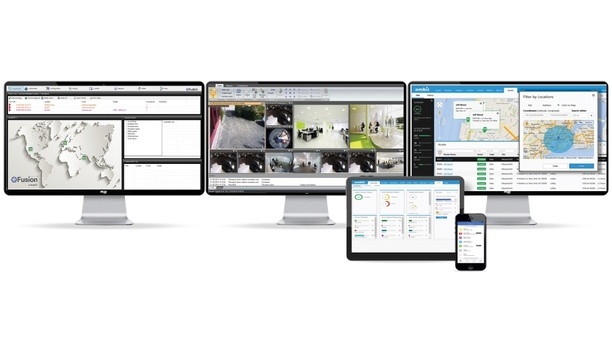 Maxxess eFusion technology ensures enhanced security and safety at some of Dubai's elite 5-star hotels
Guests at some of Dubai's newest hotels will enjoy more efficient and memorable service thanks to eFusion technology from Maxxess. Improving control The eFusion solution is being used for comprehensive streamlining of security and safety – tying together front-of-house and back-of-house operations – at a number of landmark hotel developments in Dubai. The result will be a smoother check-in experience for guests, with minimal queuing, no cumbersome paperwork, and more attentive service. By integrating front and back of house operations at busy hotels, eFusion reduces problems with inefficiency and human error and improves situational awareness and control capability for management teams. Among the latest five-star destinations to adopt eFusion, the Taj Exotica Resort & Spa on Palm Jumeirah, which is due to open later this year, comprises seventeen floors with 200-plus rooms and suites, along with recreational and dining facilities. The Taj Jumeirah Lake Towers, another development by the Indian Hotels Company due to open this year, will also benefit from Maxxess integration technology. Seamless integration eFusion allows rapid integration - off-the-shelf - with a wide choice of security, safety and business-critical technologies eFusion allows rapid integration – off-the-shelf – with a wide choice of security, safety and business-critical technologies. It provides an umbrella management system and allows the highest level of service efficiency by removing the need for operators to continually switch between systems. The systems and IT integrator for the new-build project, PACC Information and Communication Technology LLC, says eFusion was specified because it met requirements for the most robust solution and one that would be easy to adapt going forward. Delivering guest satisfaction "Guest satisfaction is the hotel's top priority and the eFusion system will let them focus their efforts on delivering it," says PACC spokesman Shantanu Mukherjee. "Visitors to these new hotels will really notice the difference." At the Taj Exotica, eFusion will integrate the front of house system from ASSA ABLOY; the Honeywell Simplex fire system controls; the Honeywell Building Management System connected via a Bacnet gateway; and a combination of 403 Hanwha Technwin Wisenet IP internal and external cameras, installed by ISS CCTV and operated through SecureOS video management software (VMS). ASSA ABLOY VingCard access control The ASSA ABLOY VingCard access control system, securing almost 300 doors, will be managed from the eFusion platform alongside other key services due to be added, including the OTIS elevator controls. eFusion will allow the hotel's management to define events of interest – such a particular door being unlocked, or alarms being set or unset – and provide transactional information to improve security for guests, and accountability. The solution also enables centralised management of room safes, mini-bars and cupboards, and the control of all alarm transactions. Integration with access control system Using eFusion off-the-shelf integration modules, ID badging and building management systems are also fully integrated Cameras linked to door access will allow video pop-up to be triggered by pre-defined events, and operators will have complete PTZ control, playback and video functionality. Using eFusion off-the-shelf integration modules, ID badging and building management systems are also fully integrated, allowing easy operation and control of a wide range of functions including heating, ventilation and air conditioning. A further 300 rooms are expected to be added to the Taj Exotica Resort & Spa system in a phase-two development scheduled for 2021. Modular, building block approach "The eFusion platform was chosen for these major projects because it offers the advantages of a modular, building block approach and gives IHCL maximum freedom to integrate, customise and adapt to future needs," says Lee Copland, Managing Director EMEA, Maxxess Systems. He adds, "This success positions Maxxess as a clear leader in linking front-and-back of house operations to enable seamless facilities management, safety and security operations in often complex and busy hotel environments. Visitors to IFSEC International will have the opportunity to see the power of eFusion integration on our stand IF2120," added Copland. As well as the new IHC Taj hotels, Maxxess eFusion is also being implemented at six upcoming Dubai developments, including major hotel, leisure and retail destinations, with several other projects underway in the wider region as well as in London, UK.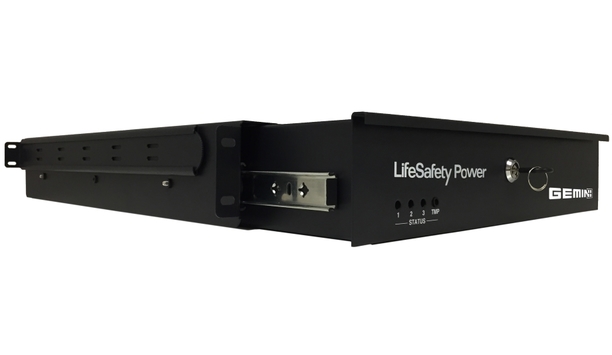 LifeSafety Power enhances renowned rack mount solutions line with Honeywell ProWatch and FlexPower Gemini integration
LifeSafety Power Inc. continues to expand its popular rack mount solutions, now adding the integration of Honeywell ProWatch to the FlexPower Gemini line. The Gemini RGH rack mount power management system supports seamless hardware integration of Honeywell ProWatch door controllers and centralised power in a single, space-saving design. Rack mount power management Gemini RGH is a compact, 19-inch rack-mounted enclosure engineered for data centers, IT closets, server rooms or other areas where space is limited. It integrates ProWatch door controllers and power controller boards in a pull-out, easy-to-access mechanical housing, giving systems integrators the convenience of a tiered drawer configuration for their Honeywell access control specifications. RGH is the continuation of LifeSafety Power's award-winning Gemini line. Gemini covers the most widely specified access controller configurations, with rack mount designs for Mercury, SWH, AMAG, HID and Honeywell controllers, as well as 'power-only' rack mount footprints recently made available with the newly released RGL. Gemini Series carry UL and ULC listings, as well as other certifications. Compact housing for door controllers "The Gemini line continues to expand in response to our customer's requests for compact, integrated housings for the most popular door controllers along with power," said Larry Ye, President and CEO of LifeSafety Power. "As space for technology and equipment becomes increasingly limited, Gemini meets the need for access control and power integration in an abbreviated, yet easy-to-service footprint."
Featured white papers
5 steps to finding the right access control system for you
Download
Why outdated access control systems are a big problem
Download
Five things to consider for AI with video technology
Download