Motion detection is a key feature of security systems in residential and commercial environments. Until recently, systems have relied heavily on closed circuit television (CCTV) and passive infrared (PIR) sensors, which both require significant investment and infrastructure to install and monitor.
Developments in wireless technology are increasing home security possibilities. Few years ago, these developments led Cognitive Systems to discover that the wireless signals surrounding oneself can be used to detect motion. Known in the wireless industry as WiFi sensing, this technology brings many benefits that other motion detection solutions have not been able to provide.
The working of WiFi sensing
At Cognitive Systems, the company has used WiFi sensing technology to develop a motion detection solution called WiFi Motion™, which measures and interprets disruptions in RF signals transmitted between WiFi devices. When movement occurs in a space, ripples in the wireless signals are created. WiFi Motion interprets these ripples and determines if an action, such as sending a notification, is needed.
Enabling this functionality in a space is incredibly simple. With a software upgrade to only one's WiFi access point (or mesh router), motion sensing capabilities are layered into one's WiFi network. Existing connected WiFi devices then become motion detectors without detracting from their original functions or slowing down the network.
Using artificial intelligence (AI), WiFi Motion establishes a benchmark of the motionless environment and learns movement patterns over time, which could be used to predict trends. This allows unusual movement patterns to be detected with greater accuracy while decreasing the potential for costly false alerts.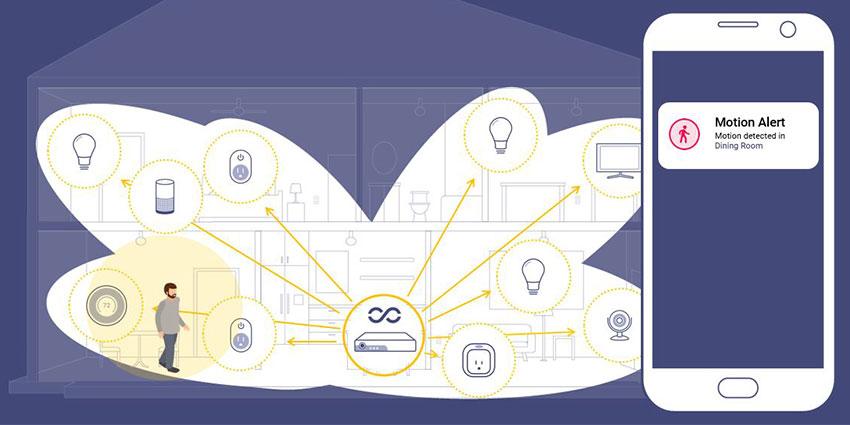 WiFi Motion requires no line-of-sight or installation
WiFi sensing and other home monitoring solutions
All of these capabilities are made possible by WiFi sensing and together create a motion detection system that provides unparalleled accuracy, coverage, privacy and affordability compared to other solutions on the market. PIR integration is far more complex and imposes electronic and physical design restrictions compared to WiFi sensing.
In terms of placement, PIR systems are difficult to install, requiring line-of-sight and a device in every room for localisation. WiFi Motion requires no line-of-sight or installation and is also a scalable solution compared to PIR.
Much like cameras, PIRs can only cover so much space, but WiFi Motion can cover the entire home and even detect motion in the dark and through walls, without adding additional devices to the home. WiFi Motion detects less distinguishing context than cameras and microphones, but more context than regular PIR sensors for the perfect balance of privacy and highly accurate motion detection.
Privacy solution
While cameras have been the security solution for years, WiFi Motion offers a more affordable solution that can rival the privacy and coverage capabilities of even the most high-end cameras.
With such a wide coverage area, one might think that WiFi sensing infringes on privacy, but actually, the opposite is true. With WiFi Motion, the contextual information collected cannot be used to identify a specific individual, unlike cameras which can clearly identify a person's face or microphones, which can identify a person's voice.
It is different from other smart home security options that use cameras and microphones because it only senses motion using WiFi signals - it doesn't "see" or "listen" like a camera or microphone would. This provides opportunities for added security in spaces where privacy might be a concern and installing a camera may not be a comfortable solution, such as bathrooms and bedrooms. The data collected is also anonymised and highly encrypted according to stringent industry privacy standards.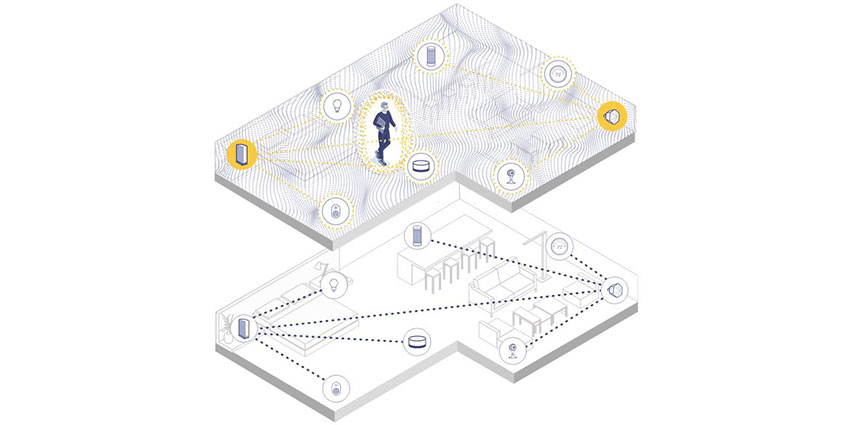 Existing connected WiFi devices then become motion detectors
Additional WiFi sensing applications
Since WiFi sensing technology requires no additional hardware or subscription fees, it is much more affordable than other motion detection solutions. It can be used as a standalone solution, or it can be easily layered into more complex systems. This ease of integration, scalability and relatively low cost brings a lot of potential for various applications.
Motion detection can trigger other smart devices in the network to turn lights on or off
In eldercare, for example, WiFi sensing can be used to help seniors live comfortably in their homes for as long as possible. With the increasing aging population and high costs associated with care homes, the market for this application is considerable. Caregivers can use an app to monitor movement in their loved one's home and be alerted about unusual movement patterns that could indicate a concern.
For smart homes and other environments that have a network of smart devices, the artificial intelligence (AI) component of the technology allows for improvements to automated features. Motion detection can trigger other smart devices in the network to turn lights on or off or make adjustments to the temperature in a room.
Security for the commercial sector
For office buildings and other commercial properties, it is easy to see how all of these features could be scaled up to offer a highly accurate and cost-effective motion sensing and smart device automation solution.
Cognitive Systems is closely involved with the development of WiFi sensing technology, working with various industry groups to establish standards and help it reach its full potential. WiFi Motion is merely the tip of the iceberg in terms of motion sensing possibilities, but its applications in the world of security are undeniably compelling. It is an exciting time for the wireless industry, as one works with stakeholders in the security space to explore everything this technology can do.
Download PDF version
Download PDF version