Numbers tell the story of security at the Euro 2016 football tournament which begins on 10th June in France. Here are some of the figures that reflect the robust level of protection and security in place across the country:


90,000
The total count of police, soldiers and private security agents who will be deployed throughout France to ensure the safety of the tournament.



77,000
How many police, gendarmes, and riot-control officers will be deployed.



13,000
The number of private security agents augmenting the police.



10,000
The count of soldiers who are already stationed throughout the host cities as part of ongoing anti-terrorism efforts. They will be given extra responsibility to provide security during the tournament.



1,000
The number of volunteers who will also join the security effort.



2.5 million
Projection of how many spectators will attend matches in the tournament.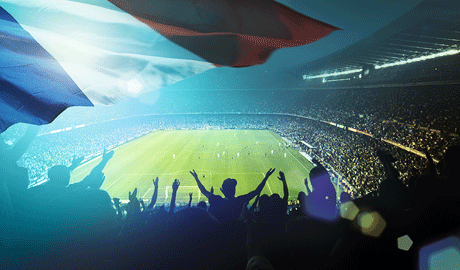 8 million people are expected to gather in so-called "fan-zones", which will
require stringent security protocols

24

The number of teams who will compete – an increase from 16. The hotels and training grounds of each team will have a heavy police presence, including 17 officers and two agents from France's elite special forces at each venue, specialising in counter-terrorism and hostage situations. Albania, Iceland, Northern Ireland, Slovakia and Wales have joined previous participants such as England, France, Spain and Germany. Additional participants are Austria, Belgium, Croatia, Czech Republic, Hungary, Italy, Poland, Portugal, Romania, Russia, Sweden, Switzerland, Turkey and Ukraine.



51
The number of matches in the month-long tournament, continuing into July. In addition to concerns about terrorism, the main threat is hooliganism. Attendees at each match can expect more rigorous body searches and ID checks; large bags will be confiscated permanently.



10
The number of stadiums where matches will be held – in 10 different cities throughout France: Bordeaux, Lens, Lille, Lyon, Marseille, Nice, Paris, Saint-Denis, Saint-Étienne, and Toulouse.



8 million
How many people will gather in the so-called "fan zones." These locations present some of the most difficult security challenges since they are public spaces. The strategy is to contain them with an "adapted and stringent security protocol."


1 million
The total number expected to gather over the course of the tournament at the largest "flagship" fan zone, in Paris at the foot of the Eiffel Tower. The public site, designed to accommodate 100,000, would offer a tempting target for terrorists.



125 kg
The amount of TNT discovered last month, along with guns and detonators, after a French man was arrested at the Ukrainian border with Poland. The 25-year-old man was allegedly planning 15 attacks during the Euro 2016 football tournament, likely targeting bridges, motorways, a mosque and a synagogue. It was not clear if he planned to target the tournament directly.



130
The number of people who died in Paris at several sites during terrorist attacks last November. The specter of those attacks will be felt throughout Expo 2016, reminding the organisers and security personnel of the need to be perpetually vigilant. In France, additional law-enforcement powers have been granted under a "state of emergency," which has been in place since the Paris bombings and was recently extended a third time. Measures include tighter border controls and bans on public gatherings.



100 versus 0
"One hundred percent caution does not mean a zero percent risk." So says French Interior Minister Bernard Cazeneuve, commenting on security efforts aimed at protecting Euro 2016.


Download PDF version