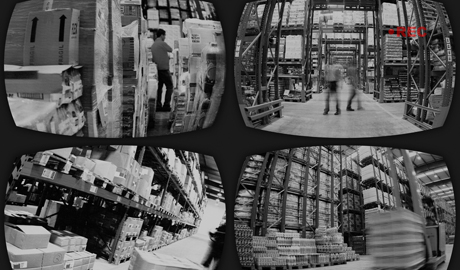 Multiple trends point to a maturing video analytics market that is
poised to meet or even exceed customer expectations
Systems that use video analytics, also known as video content analysis, have a chequered history in the security market. Since the technology was introduced amid much fanfare a dozen or more years ago, opinions about video analytics have sometimes been undermined by systems that did not live up to the initial hype. In fact, early failures continue to taint perception of video analytics even today.
It's time to take another look. Multiple trends point to a maturing video analytics market that is poised to meet or even exceed customer expectations. There are new systems and new applications on the horizon – and new ways to work with other systems.
Here are some of the positive trends in the video surveillance market we have reported at sourcesecurity.com (with helpful links if you want to read more.)
More system choices for greater flexibility
More video surveillance cameras now offer video analytics "at the edge," and server-based systems are also expanding their capabilities – it's a technology wealth of riches for integrators and end users.
Analytics work outdoors as well as indoors
At one time, video analytics were considered largely restricted to indoor applications because variable lighting and stray movements of outdoor environments were too problematic. Not anymore. Choosing the right equipment and installing it correctly now enables video analytics to be effective in uncontrolled outdoor environments.
The number of false alarms is not prohibitive
The false alarm problem hasn't been totally "solved" – but it can now be managed in a way that allows video analytics to be a workable solution.
Analytics work well with thermal cameras
The prices of thermal cameras are coming down, and thermal cameras work well with video analytics. Thermal images are based on temperature "colours," so a lot of extraneous detail (which can be a challenge to video analytics) is eliminated.
Uses are expanding beyond big jobs
Once more likely used in enterprise-level and mission-critical installations, the technology is now finding its way into everyday applications like retail stores.
New analytics and new applications are emerging
Analytics today can be used as a tool to monitor "behaviour anomalies" or variations from normal behaviour – whether it's walking the wrong way down a hall or counting cards in a casino. In the gaming market, video analytics can bridge the gap between video surveillance of the casino and the physical security department.
Analytics complement license plate recognition (LPR) technology
Video analytics can identify the colour and type of vehicle and even make and model – great information when combined with license plate readers to monitor vehicle traffic. Video analytics can also follow an identified vehicle through various camera views.
Even given the positive trends, customers may still not understand enough about video analytics. Time for a reality check. End users need a better understanding of the capabilities – and limitations – of video analytics systems. They need to understand what's happening inside the system and the overlap between the user intentions and the software's interpretation of those intentions.
Download PDF version
Download PDF version