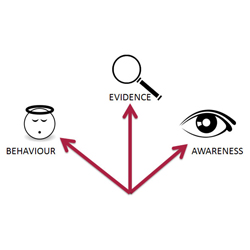 Ballantyne has created the "Three Vectors of Value" for video surveillance - Awareness, Evidence and Behaviiour
The annual global expenditure in new video surveillance systems is currently estimated at about 20 billion USD and grows at a rate of better than 15% per year. To those of us in the business, these figures both encourage and validate. The expenditure is impressive, but only because commensurate value is delivered. That is, we expect expenditure and value to balance.
But as someone who makes a living creating advanced video technology, I've wanted to answer a very important question: what are the fundamental reasons why customers pay for video surveillance systems? In other words, I wanted to articulate the value proposition.
Value space
To help answer my question, I created what I call the "Three Vectors of Value". These correspond to the three most basic reasons I could imagine users would value video surveillance: Awareness, Evidence, and Behaviour. Taken together, these vectors form a value space. Video cameras extend a user's awareness of large and potentially complex areas and thereby enhance their understanding of unfolding events. Video recordings provide accurate and objective evidence about incidents that can be used for investigation and prosecution after-the-fact. Finally, the perceived presence of video cameras affects the way people behave; "bad" behaviour is deterred, and "good" people feel more secure. To the extent that one or more of these vectors is amplified via technological enhancements, the value space will grow. For almost any example of a video surveillance installation, we can recognise value along one or more of these vectors.
With the idea of value space in mind, we can see how traditional CCTV created value. This diagram to the right shows how the basic building blocks of a CCTV system map to each of the value vectors The live-view monitor provides awareness, the recorder provides evidence, and the camera's physical presence affects the behaviour of those who are under its watch.
CCTV technology, based on the analogue video standards known as PAL and NTSC, incrementally and steadily improved during the decades from the early 1960s to the late 90s, and in fact, its legacy and momentum have continued to the present day. The technological improvements led to an increase in each of the value vectors, and hence, growth of the value space over time.
Disruptive rise of IP security technology
More recently, a disruptive change occurred with the application of Internet Protocol (IP) technology to video surveillance. The potential impact of IP on each of the value vectors is enormous.
The revised diagram shows how each and every functional element in the surveillance system has changed. IP paved the way for breakthroughs in image quality, system scalability, storage capacity, control, and accessibility – each pushing the value vectors well beyond the limits of CCTV.
However, while IP-based surveillance technology opens up vast new value potential, the traditional security supply ecosystem of manufacturers, consultants, integrators and installers found it challenging to cope with the increased technological complexity that comes with IP. Why? The Information Technology world is filled with a bewildering array of communications and control protocols, data exchange mechanisms, file formats – and an alphabet soup of acronyms by which to label them. Security integrators and installers typically did not have strong IT skills. As a result, there was a somewhat slower uptake of IP-based surveillance than many were predicting a decade ago.
ONVIF streamlines integration
Fortunately, a few equipment manufacturers understood the need for more streamlined and effective ways of integrating devices and software into systems. They created the Open Network Video Interface Forum (ONVIF) in 2008. Their goal was to ensure interoperability between IP-based physical security products regardless of manufacturer. Soon thereafter, they were joined by developers from several other interested companies who volunteered countless hours through committees and working groups to collaborate on technical specifications and testing. The industry acceptance of ONVIF has been spectacular, with a current roster of over 500 member companies and thousands of conformant products listed. The market share growth for IP-based surveillance over traditional CCTV and other HD CCTV technologies recently is not merely coincidental – there is no doubt the existence of ONVIF has had a major influence in the market.
We have entered the age of
connectedness, when
"the Cloud" and "the Internet
of Things" offer fantastic
opportunities for new value
creation
IP-video surveillance, helped by ONVIF standards, has created new value, but has only just begun to fulfil its potential. Not only has it overcome virtually all the technical limitations of traditional CCTV, it promises to reach beyond the sphere of security surveillance to many other applications, security and otherwise. This is because IP has emerged as the predominant means of interconnectivity in virtually every domain: Transportation and logistics, building automation, retail management, manufacturing, and e-commerce – to name a few. This is often referred to as "convergence". We have entered the age of connectedness, when "the Cloud" and "the Internet of Things" offer fantastic opportunities for new value creation. But make no mistake; the challenges of integrating systems across domains will be staggering. And just as it took an industry-led organisation like ONVIF to emerge to tame the complexities of IP-based surveillance for the benefit of security industry practitioners, it will take similar leadership and collective will to create standards for those who will to create value on the new frontiers that exist beyond traditional security applications. The question is, will the security industry lead or follow?
Download PDF version
Download PDF version