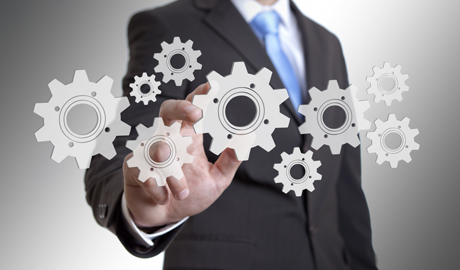 IP hardware is enabling customers to break free from proprietary security systems,
to embrace the system integration available on open platforms
Proprietary, closed systems are the bane of security. Yet they still exist. Robert (Rob) G. Lydic, Global Vice President of Sales for ISONAS, Boulder, Colorado, addresses the importance of open platforms in access control and what it means to systems integration in this exclusive Q&A.
Trends in access control technology
SourceSecurity.com: What's occurring with regards to trends in access control technology?
Robert Lydic: Access control is growing at a rate greater than video surveillance, intrusion and fire systems. Most industry analysts forecast the access control industry to grow from a market of $6.24 billion to $8.3 billion by 2018. However, within those numbers, there is a different story. The industry is undergoing the same transformation to IP technologies that the video surveillance world underwent for the last five years. IP access control is forecast to grow at a rate of 34 percent for the next six years, and at ISONAS we are realising rates even higher at this time. Most access control systems have historically trapped the end user into only using their products with limited interface abilities and made it painful to escape their proprietary world. Customers see that the move to IP allows them more options and frees them from proprietary restrictions.
SourceSecurity.com: Why is it important for installers to have a solution that ultimately removes their dependence on hardware?
Robert Lydic: We believe strongly in the power of choice and open platforms while maintaining strong security. We believe that the proprietary panel-based access control systems that have a high product cost and installation time do not benefit the integrator, or the end user. Ultimately, the customer has a limited budget to spend on access control. Due to the traditional cost model of panel-based systems, both the integrator and the end users are making decisions not to deploy access control on the numbers of doors that they wish to have.
IP access control solutions allow for greater integrations to other systems and can increase scopes of work for contractors to grow their businesses
IP hardware enables customers to free themselves from that costly proposition. They can use less expensive structured wiring infrastructures, utilise PoE and deploy more doors less expensively. Contractors can then procure more work and spread the risk of labour, materials and any unknowns over a wider scope. At the same time, the IP access control solution allows for greater integrations to other systems and can increase scopes of work for contractors to grow their businesses.
Embracing ONVIF profile
SourceSecurity.com: Why is it taking the security industry in general so long to adopt open platforms?
Robert Lydic: This is a really interesting question, one riddled in technology, politics and finance. There is a strong reality of technology and ideology of how to make people safe using security products. As a result, manufacturers created software and hardware solutions that are aimed at proliferating their ideology of safety within a proprietary system. For the manufacturer it ensures that all of their products work ideally to provide a fully functional system, while at the same time ensuring profitability and margins when a customer chooses their solution. It can be a win/win situation for the customer and the manufacturer; however, it can have significant downsides as well.
Today's world of open systems creates an opportunity for the choice of "best of breed" products. This applies to both hardware and software and has great upsides and downsides to the consumer. The positives for the customer are that the individual products tend to be more advanced and offer newer unique features that solve unique problems in addition to allowing open comparison to other products and therefore driving down costs. You can see this in the IP video space where the ONVIF standard was developed, was slow to be adopted and today is being used by many camera and VMS manufacturers. This has been a win for consumers on product choice, price, and interoperability; however, it has created some technical "holes" in safety and security of the systems. The access control market has begun to slowly move towards an ONVIF profile; however, it has been very slow to develop due to the points of view already discussed as well as the reality that access control is strong physical security and is even more conservative. At ISONAS, we strongly believe in open platforms and feel that we can thrive in an open platform world, while providing strong physical security. We have an open API, encourage other manufacturers to incorporate our products into their open and proprietary systems and today have several manufacturers using our hardware on their software platforms. We see this proliferating rapidly in 2016 and beyond.
Download PDF version