When comparing specifications among a range of similarly featured video surveillance cameras, NVRs or monitors, it can be difficult to ascertain which of the devices truly has the best performance and/or quality. John Grabowski, National Sales and Marketing Manager of JVC Security Division, poses some questions for consideration: Can the human eye actually see a difference in image quality between one camera that offers 700 lines of resolution and another that offers 600 lines? Or can it see the difference in image quality between a 3 megapixel camera and a 5 megapixel camera? What about performance characteristics such as latency or colour accuracy? In determining these specifications, one must also ask what has influenced or interfered with the measurement.
Performance measurement through MTBF
Today's video surveillance components use highly advanced technology, making the evaluation process even more difficult. While impartial testing of the equipment on oscilloscopes and wave form monitors, shoot-outs or other side-by-side comparisons can help bring clarity to the evaluations, one solid metric for quality and performance is MTBF (mean time before failure) figures with failure rate (FR) data. These figures can help provide a clear guide for product lifetime expectations. For example, a surveillance camera with a published MTBF figure of 90,000 hours has more than 10 years of 24/7 usage.
Engineered to a higher standard
MTBF can be viewed as a quality standard as well as a planning metric. Although many companies build security products to meet specific price points, the best companies engineer their video surveillance products with robust designs that will endure and address the specific needs and conditions of the surveillance market. To a great extent, the longevity of key components such as integrated circuits and capacitors determines the MTBF of the products in which they are used.
However, better parts only provide part of the key to better reliability. The internal temperature of products significantly affects MTBF as well. As electronic components have become more compact, the temperature of smaller, more constricted circuits and other components has become almost impossible to measure. Preventing thermal issues through thermal analysis and design requires careful electronic and mechanical engineering. This is accomplished early in development which makes it easier to visualise heat in every part of every component, thereby enabling engineers to prevent thermal issues and create products with significantly greater reliability.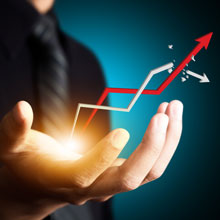 The best video surveillance products are designed to endure the specific needs of the surveillance market
Companies that publish MTBF specifications generally arrive at those figures through extensive product testing, valuing the MTBF of individual components and by past experience with similar products. Some manufacturers elect to calculate MTBF based on strict military standards.
Life-Cycle costs
The initial cost of a video surveillance system is only a portion of the total cost of ownership (TCO). While a low price and warranty may make a camera with a lower MTBF seem attractive, this can be a mistake. Should the product fail within the warranty period, rather than repair the device, many manufacturers will simply replace a relatively low-priced item like a video surveillance camera. However, the process of replacing that camera can be very expensive for the end user or the system integrator. The cost of sending a technician up a ladder to replace a failed video surveillance camera often costs more than the camera itself. Plus, it is important to consider the potential damage or theft during downtime while the camera is not providing surveillance.
High rated MTBFs can help reduce these replacement and maintenance costs over the life of a video surveillance system. The robust equipment can better withstand shock and vibration, extreme temperatures, moisture and dust, power fluctuations and offer significantly lower life-cycle costs through reduced down time. High rated MTBF products also create an improved overall value and a better return on the investment. For example, cameras can account for anywhere from 30 to 50% of the initial cost of a system and therefore should be selected with care. A camera's proven reliability can help defer costly replacements during the system life cycle and improve utilisation. In short, product reliability can optimise capital, operations and maintenance expenditures while improving the safety and security of the environment.
Today, there is an abundance of information available to help users make the best selections for their needs. By providing MTBF data, video surveillance manufacturers can make it easier for the user to make decisions.
Download PDF version