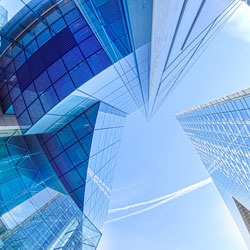 One alternative purpose for a 360-degree
camera is the ability to provide a panoramic
view in a wall-mounted orientation

Surveillance cameras that capture 360-degree images are unique. However, cameras with technology that enables a user to retrospectively track an incident back in time are even more unique. This combination provides customers with total situational awareness—a field of view much larger than the capability of narrow-field, fixed-view cameras. In this article, Richard Pineau, CTO and Executive Vice President at Oncam, explains how 360-degree surveillance technology is enhancing security, particularly in the areas of retail, gaming and public areas.
Traditional security cameras, with a narrow field-of-view and pan-tilt-zoom (PTZ), need to be dispersed throughout a location. This requires much higher infrastructure and installation costs because of the number of cameras needed. Standard PTZ cameras are positioned only to cover key areas (such as doors, passages, sitting areas, counters, tills, etc.), and will only record where the PTZ is pointing, leaving blind spots and an inconclusive evidence trail.
Even though a PTZ can be programmed to respond to an event trigger, recording will start after the event has taken place, and the cameras need to be looking in that direction. Wouldn't it be nice to see what happened before the alarm?
Cameras with 360-degree views can provide a solution to this surveillance problem. 360-degree security cameras can create a floor-to-ceiling bubble effect around the area of interest. Any event or activity, taking place within this bubble, is visible to the camera, which is providing total situational awareness. This may be replicated by using a number of narrow fields of view, but the use of multiple cameras adds both cost and complexity that a single, multi-megapixel 360-degree view camera removes.
To get the very best 360-degree solution, it is important that the sensor is matched to the lens so that the resolution is maximised
Suitable for both indoor and outdoor surveillance
To get the best possible situational awareness, you must have the camera mounted in an area that is open and away from obstructions. Outdoors, 360-degree security cameras work well when mounted on the corners of buildings using a parapet mount. When placed on an external corner of a building, the camera will give the ability, in effect, of being able to see around corners. When mounted on a light post in a parking lot, the field of view could be upwards of 300 feet in any direction. When mounted indoors, the ability for a 360-degree camera to show all four directions of a cross hallway, or three directions of a "T" hallway, is superb.
One alternative purpose for a 360-degree camera is the ability to provide a panoramic view in a wall-mounted orientation. With a panoramic view, two 180-degree views are displayed side by side to show both directions of a street or hallway with just one camera.
Ceiling-mounted fisheye cameras are strategically positioned in the centre of a scene to maximise the video coverage of large areas. Since the camera sees a complete 360-degree picture, 100% visual coverage with no blind spots is obtained and can provide a conclusive evidence trail.
Maximising megapixel resolution
To get the very best 360-degree solution, it is important that the sensor is matched to the lens so that the resolution is maximised. For example, cameras using a 5 megapixel sensor which crops it first to 2144 x 1944 and then matching the lens to the diameter of 2144 could give these cameras a true resolution of 3.5 megapixels. Such high true resolution will help provide a clear image and improved situational awareness.
Image resolution and de-warping
360-degree cameras are developed to provide the best possible match for every customer application or client requirement. Ultimately customers have the choice of de-warping on the camera or on the client application, a decision made to benefit the end-user.
Experience has proven that there is a significant advantage when the de-warping is performed on the client-side application vs. doing the de-warping in the camera.
De-warping on the client side
De-warping on the client side allows for retrospective viewing, which enables the user to go back in time to view the total scene in its original form and then pan, tilt, and/or zoom within the 360-degree image as desired. Leading solution providers approach de-warping using the GPU/OpenGL which significantly reduces the impact on the processing required by the CPU, and gives a seamless user experience with zero latency.
An additional advantage of de-warping on the client side is the ability for multiple clients to view the same image, with different perspectives, concurrently; there is no time slicing required as with traditional PTZ cameras or 360-degree cameras with de-warping on board the camera.
De-warping on the camera
De-warping on the camera lets the customer create virtual views or narrow-field windows that create blind spots similar to conventional cameras. The windows may be moved using PTZ commands over the network, and will then have latency similar to what is currently associated with mechanical PTZ cameras. De-warping on the camera does not allow the ability to retrospectively view the 360-degree image, which is one of the biggest advantages of using 360-degree cameras. In addition, and similar to a conventional PTZ camera, all users need to view the same image at the same time or request a time slice to control the camera, severely limiting its usefulness for remote viewing by different clients at the same time.
Applications of 360-degree security cameras
There are really no limits on how 360-degree video surveillance technology, coupled with the best de-warping technology and integrated with the VMS, can add value. With retrospective de-warping and analysis, customers have the best forensic tool available on the market today. That being said, the following customer examples illustrate where customers are installing 360-degree technology to provide added value to their business or operation.
Retail surveillance solutions
360-degree technology can revolutionise the way cityscapes are surveyed by providing situational awareness like never before
This first example demonstrates where a retail group, with more than 10,000 retail franchises, is successfully utilising 360-degree technology to provide additional marketing and business intelligence. Customers are using the technology for two main reasons: first, for situational awareness because 360-degree technology provides the end user with coverage that has no blind spots and retrospectively analyses a scene with speed and accuracy that no number of traditional cameras could accomplish.
Secondly, customers get marketing intelligence; they are no longer limited to counting people as they come through the front door because it can also provide path analysis, queue counting and dwell time. This is all valuable data to anyone efficiently running a retail business and trying to maximise ROI. The ability to put this intelligence into a report that makes sense and is easy to work with is a major advantage of video analytics, and the ability to place "eyes" over an entire store has led global interest to grow exponentially during in the last 12 months.
Gaming security
There are a many national and state regulations in the gaming industry, and to become a critical part of the security solution in a casino requires a thorough understanding of these laws. A 360-degree technology solution can be installed across the gaming floor, integrated right into the VMS and can be used for forensic purposes, it is, as Ted Whiting, Surveillance Director at MGM Resorts International, says "the best forensic tool ever," and has become an integral part of the MGM Aria's surveillance operations.
As Whiting explains, the cameras replace traditional surveillance methods used by some casinos, in which hundreds of pan/tilt/zoom (PTZ) cameras are deployed. "The 360-degree cameras record at four frames per second. That actually works out well. We couple this technology with what I call choke-point cameras [for entrances, exits and other areas]," Whiting says.
He continues: "For us, 360° camera exists for one reason — it's a chase camera — but chasing someone in the past. The PTZ is a live chase camera. Someone is walking through the casino; you follow them with the PTZ. But let's say they stole somebody's iPad yesterday. The 360° allows me to chase them through the casino back in time. At some point when we're chasing them, they walk through a choke-point camera, and then we get a perfect ID shot of them." Not only that, the recorded video from the 360-degree camera allows Whiting and his team to track a criminal back in time, enabling identification. The two surveillance cameras work in tandem to achieve the common goal—identification.
City centre surveillance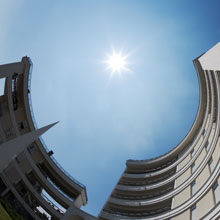 With retrospective de-warping and analysis, customers have the best forensic tool available today
360-degree technology can revolutionise the way cityscapes are surveyed by providing situational awareness like never before. With de-warping software integrated into the VMS, users can create as many views, and have as many controllers—live or retrospective—as they need. In other words, they are not limited to the four, six or eight traditional cameras, or to the four virtual cameras you get from on-board de-warping.
Installing 360-degree cameras
A big consideration regarding the mounting and installation of 360-degree security cameras concerns light variations in a given scene with such a large field of view. Extremely bright lights often blow out a scene or create lots of shadows, and many 360-degree cameras cannot pick up information because the image is either too dark or too bright. Leading cameras technology provides wide, dynamic-range (WDR) processing in which the brightest lights as well as the shadows in a given scene are analysed by the camera, and proportioned. WDR processing lowers the brightest of the lights so they do not over-saturate certain parts of the scene.
Tomorrow's technology today
Since 9/11, security cameras have become ever more ubiquitous and, with time, more sophisticated. The Boston Marathon bombings' investigation revealed the critical value video surveillance brings to the world. Going forward, it will be imperative for security professionals to create a surveillance solution comprising a real-time, 360-degree view combined with de-warping software that will provide the best opportunity for forensic analysis. Retrospective viewing will be mandatory. This is what the world will require, and this is what leading 360-degree technology companies are bringing to the marketplace today.
Download PDF version