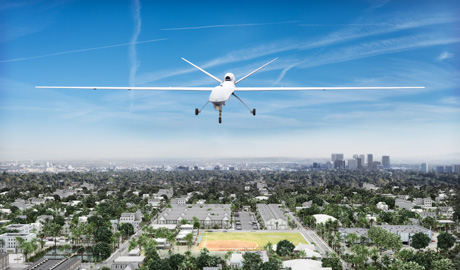 Drones can satisfy five commercial needs, today: surveillance, patrolling,
incident response, mapping and site assessment
The military uses drones. So do the police. Drones serve as weapons and surveillance tools.

Today, businesses and institutions are applying drone technology to a variety of private security surveillance challenges. Private uses include patrolling facilities and installations such as pipelines from the sky. To be sure, private contractors sometimes weaponise drones, but more often use them as flying surveillance and tracking cameras.
Then again, surveillance drones have developed useful add-ons. Among the newest applications, for instance, is a Japanese technology that enables drones to detect and follow intruders. Drones can also carry licence plate recognition systems and motion detection technology.
"Drones also patrol remote areas that are dangerous or hard to reach," says Bernard Gollotti, CPP, founder and owner of LARGO Consulting Services, a Philadelphia-based firm that consults on security issues with higher education facilities, businesses and institutions.
Jobs for drones
According to Gollotti, drones can satisfy five commercial needs, today: surveillance, patrolling, incident response, mapping and site assessment.
"The size of a drone
can go from a bug that
fits into your hand to a
good-sized aircraft"
"But the technology is constantly changing and adding capabilities," says Gollotti. "Cameras are improving. Systems can provide GPS tracking today. Biometrics are improving and developing tools like air sniffers for drones.
"Drones can also connect to the Internet and integrate with fixed video surveillance systems and access control systems. At this point, drone technology can do pretty much what you can imagine."
How big does a drone have to be?
Drones come in all sizes and capabilities. "The size of a drone can go from a bug that fits into your hand to a good-sized aircraft," says Gollotti. "Hobbyist drones might have a single blade propeller. These are called copters.
"Some drones have four propellers. These can carry cameras and other security equipment. Hexacopters have eight blades. As the number of propellers grows, so does the size of the drone."
Military style drones might be jet propelled, which goes beyond the needs of commercial security, adds Gollotti.
Drone safety
In recent years, hobbyists have garnered plenty of bad publicity for drones by flying too high and interfering with private or commercial aircraft.
"There are no regulations about training to fly drones," Gollotti says. "But you do have to register a drone with the FAA, and when you go to the FAA website to do that, you'll find a list of do's and don'ts."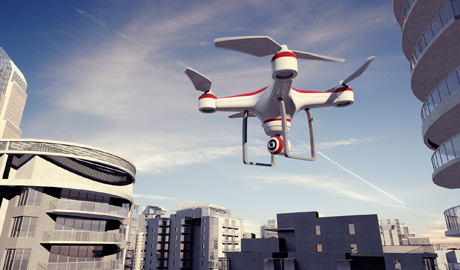 Although you must register drones with the FAA, there are no regulations
about training to fly them
Gollotti goes on to note that it is important to consider privacy issues. It can be upsetting for someone working in his or her backyard to see a drone hovering overhead. In addition, operators need to be aware of the safety of individuals on the ground and in the air where a drone is flying
"Last year, during the wildfires in California, drones interfered with planes trying to deliver fire retardant," Gollotti says.
Do you really need a drone?
Some security directors have brought in drones because they can and not because of a real need. Before buying a drone, determine if there is a real need, advises Gollotti.
What is a real need? A large open campus with a lengthy perimeter exemplifies a need. A single drone with a camera could patrol an entire campus much more efficiently than a handful of security officers in vehicles.
"You must also develop policies and procedures directing how the drones will be used," Gollotti says. "For example, a policy might describe how a drone will provide surveillance for a remote pipeline connection or a cell tower. How often will patrol? What parts of the facility will it monitor?
"If you are deploying it on a college campus, what is the goal? For instance, the policy may say that the purpose of the drone is to monitor the perimeter for unauthorised entries – and not to people watch over the swimming pool."
Restricting drones from spying
Finally, Gollotti notes that you have to protect your facility from other drones. A competitor may want to spy on a manufacturing facility. A company can use microwave and radar systems to track drones approaching its property – especially critical infrastructure — and use radio signals to disrupt them.
"In the end, though, using drones for commercial security has only just begun," says Gollotti. "You can expect to see constant change as the idea evolves and matures."
Download PDF version