With rising concerns over organisations' physical security and potential network vulnerabilities, it has become more important now than ever for security professionals and other decision makers to take actions that will guard against potential problems and help prevent system failures. One specific area of heightened focus is the implementation of advanced power solutions to ensure the reliability and consistency of every surveillance, access and security system within the organisation.
To make informed decisions, system integrators and end users alike should consider industry trends and technology advances that may affect their choice of power solutions.
1. Integrated IP based systems

As the trend from analogue to IP continues to progress, more and more security devices are IP-enabled for seamless network integration. By transmitting vast quantities of data, these products provide higher levels of security by enabling better overall networked system performance and cost-efficiency along with trending functionality such as analytics and system diagnostics. In fact, the ability to network, control and monitor all the core power and transmission devices that make up the foundation of a user's surveillance and security system completes the IP network communications chain enabling truly networked systems.
Systems designers and installers can
achieve higher levels of integration
that provide comprehensive remote
monitoring, diagnostics and control
In addition to the proliferation of products with advanced firmware that enables greater network throughput, the system integration process is also benefiting from innovative hardware-based solutions such as smartly designed equipment enclosures that easily integrate power with access controllers and accessories from leading manufacturers. These integration enclosures simplify board layout and wire management, greatly reducing installation and labour costs, and provide the versatility and scalability installers need to easily configure multiple products. The simple yet highly pragmatic design of enclosure backplanes makes this otherwise cumbersome aspect of integration faster, easier and extremely cost-efficient – all of which are tangible benefits for both users' and installers' alike.
2. Functionality

Today's power solutions are a far cry from conventional power products that have been the mainstay for years. With the addition of network communications now available in foundation power and transmission products, systems designers and installers can achieve higher levels of integration that provide comprehensive remote monitoring, diagnostics and control. Early intervention, preventative maintenance and service calls can be handled with higher degrees of accuracy, which improves overall security at users' locations. The tangible benefits of power and transmission products with network communications provide a much more comprehensive networked system solution for the professional security industry at large.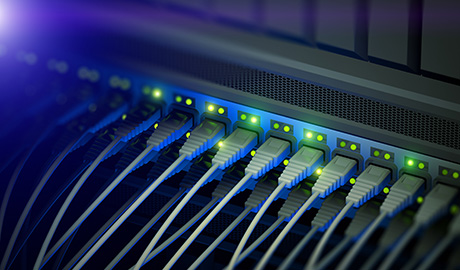 Simple tasks such as rebooting devices remotely can be easily accommodated with new smart power and transmission solutions
For example, consider a scenario where there is a network failure involving a single device or group of devices such as cameras and/or electronic locks. Typically, power supplies are the first point of failure to be checked, but are most often not the source of the problem. Power solutions with embedded communications however can help to easily pinpoint the cause of the problem by monitoring all the devices they are connected to. The information provided by advanced power solutions with network communications reduces system downtime, helps eliminate service calls and provides faster response times when issues are detected.
In addition to improving overall reliability, these capabilities can also significantly reduce end-users' total cost of ownership through more efficient service management. Simple tasks such as rebooting devices remotely and scheduling back-up battery replacements can be easily accommodated with new smart power and transmission solutions.
3. Remote monitoring as an additional service

Per a recent industry report from industry analyst IHS Markit, the global market for security systems integration reached $60.3 billion in 2015, including video surveillance, physical access control and intruder alarm systems, as well as the costs of installation and maintenance services. Going forward, the report forecasts the service industry to be the fastest growing sector of the overall market.
The ability to monitor real-time
diagnostics from virtually anywhere
allows integrators to offer remote
monitoring as an additional service
As evidenced with new power and transmission solutions with network communication capabilities, new business opportunities for dealers, installers and integrators are being created in the service sector. The ability to monitor real-time diagnostics from virtually anywhere allows dealers and integrators to offer remote monitoring as an additional service, providing them with a new source of recurring monthly revenue (RMR). The data and alerts these solutions provide make it possible to quickly identify and mitigate potential and actual system issues prior to dispatching technicians, which saves time, reduces expenses, increases efficiency and improves overall security.
4. Infrastructure flexibility

Surveillance and security installations almost always vary from project to project. Design builds must consider existing infrastructure and budgets in addition to the security issues they are intended to resolve. Among the new available solutions that address these issues are Ethernet over Coax (EoC) adaptive transmission solutions, which allows the upgrade of analogue infrastructure to IP. This equates to huge savings in eliminating the need for ripping and replacing existing cabling. An additional benefit is the ability to transmit both power and data for multiple devices over a single coax cable. For instance, deploying an all-in-one multi-port EoC receiver with integral PoE+ switch requires less individual pieces of equipment while providing a cleaner installation with a smaller footprint and for less costs.
PoE midspans/endspans also continue to evolve offering more flexibility for today's more advanced IP systems. For example, new outdoor versions include Hi-PoE to provide up to 60W to IP devices, and include SFP ports to accommodate fibre optic cabling for long distance applications. New managed midspans have also hit the market recently, providing more power along with network communications, greater bandwidth and integral battery charging capabilities. These solutions are designed to meet the demands created by devices such as multi-sensor megapixel cameras and illuminators while also offering higher transmission rates.
High performance at low costs
Power supplies and transmission devices with network communications and management capabilities are quickly becoming the new foundation for today's advanced integrated surveillance, access and security systems. It's time well spent for resellers and end-users alike to familiarise themselves on these new solutions as they can increase overall performance while actually reducing both short and long term expenses.
Download PDF version