Fermax Electronic Keypads for Access Control Systems
(2)
Browse Electronic Keypads for Access Control Systems
Electronic keypad products updated recently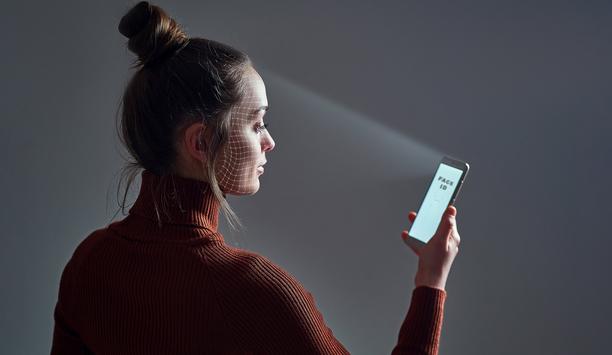 Why face recognition as a credential is the ideal choice for access control?
In the field of access control, face recognition has come a long way. Once considered too slow to authenticate people's identities and credentials in high traffic conditions, face recognition technology has evolved to become one of the quickest, most effective access control identity authentication solutions across all industries. Advancements in artificial intelligence and advanced neural network (ANN) technology from industry leaders like Intel have improved the accuracy and efficiency of face recognition. However, another reason the technology is gaining traction is due to the swiftly rising demand for touchless access control solutions that can help mitigate the spread of disease in public spaces. Effective for high volumes Face recognition eliminates security risks and is also virtually impossible to counterfeit Modern face recognition technology meets all the criteria for becoming the go-to solution for frictionless access control. It provides an accurate, non-invasive means of authenticating people's identities in high-traffic areas, including multi-tenant office buildings, industrial sites, and factories where multiple shifts per day are common. Typical electronic access control systems rely on people providing physical credentials, such as proximity cards, key fobs, or Bluetooth-enabled mobile phones, all of which can be misplaced, lost, or stolen. Face recognition eliminates these security risks and is also virtually impossible to counterfeit. Affordable biometric option Although there are other biometric tools available, face recognition offers significant advantages. Some technologies use hand geometry or iris scans, for example, but these options are generally slower and more expensive. This makes face recognition a natural application for day-to-day access control activities, including chronicling time and attendance for large workforces at construction sites, warehouses, and agricultural and mining operations. In addition to verifying personal credentials, face recognition can also identify whether an individual is wearing a facial covering in compliance with government or corporate mandates regarding health safety protocols. Beyond securing physical locations, face recognition can also be used to manage access to computers, as well as specialised equipment and devices. Overcoming challenges with AI So how did face recognition become so reliable when the technology was once dogged by many challenges, including difficulties with camera angles, certain types of facial expressions, and diverse lighting conditions? Thanks to the emergence of so-called "convolutional" neural network-based algorithms, engineers have been able to overcome these roadblocks. SecurOS FaceX face recognition solution FaceX is powered by neural networks and machine learning which makes it capable of authenticating a wide range of faces One joint effort between New Jersey-based Intelligent Security Systems (ISS) and tech giant Intel has created the SecurOS FaceX face recognition solution. FaceX is powered by neural networks and machine learning which makes it capable of authenticating a wide range of faces and facial expressions, including those captured under changing light, at different resolution levels, and varying distances from the video camera. Secure video management system A common face recognition system deployment begins with IP video cameras that feed footage into a secure video management system connected to a video archive. When the software initially enrolls a person's face, it creates a "digital descriptor" that is stored as a numeric code that will forever be associated with one identity. The system encrypts and stores these numeric codes in a SQL database. For the sake of convenience and cost savings, the video server CPU performs all neural network processes without requiring any special GPU cards. Unique digital identifiers The next step involves correlating faces captured in a video recording with their unique digital descriptors on file. The system can compare newly captured images against large databases of known individuals or faces captured from video streams. Face recognition technology can provide multi-factor authentication, searching watchlists for specific types of features, such as age, hair colour, gender, ethnicity, facial hair, glasses, headwear, and other identifying characteristics including bald spots. Robust encryption SED-compatible drives rely on dedicated chips that encrypt data with AES-128 or AES-256 To support privacy concerns, the entire system features an encrypted and secure login process that prevents unauthorized access to both the database and the archive. An additional layer of encryption is available through the use of Self-Encrypting Drives (SEDs) that hold video recordings and metadata. SED-compatible drives rely on dedicated chips that encrypt data with AES-128 or AES-256 (short for Advanced Encryption Standard). Anti-spoofing safeguards How do face recognition systems handle people who try to trick the system by wearing a costume mask or holding up a picture to hide their faces? FaceX from ISS, for example, includes anti-spoofing capabilities that essentially check for the "liveliness" of a given face. The algorithm can easily flag the flat, two-dimensional nature of a face mask, printed photo, or image on a mobile phone and issue a "spoof" alarm. Increased speed of entry Incorporating facial recognition into existing access control systems is straightforward and cost-effective Incorporating facial recognition into existing access control systems is straightforward and cost-effective. Systems can operate with off-the-shelf security cameras and computers. Users can also leverage existing infrastructure to maintain building aesthetics. A face recognition system can complete the process of detection and recognition in an instant, opening a door or turnstile in less than 500ms. Such efficiency can eliminate hours associated with security personnel checking and managing credentials manually. A vital tool Modern face recognition solutions are infinitely scalable to accommodate global enterprises. As a result, face recognition as a credential is increasingly being implemented for a wide range of applications that transcend traditional access control and physical security to include health safety and workforce management. All these capabilities make face recognition a natural, frictionless solution for managing access control, both in terms of performance and cost.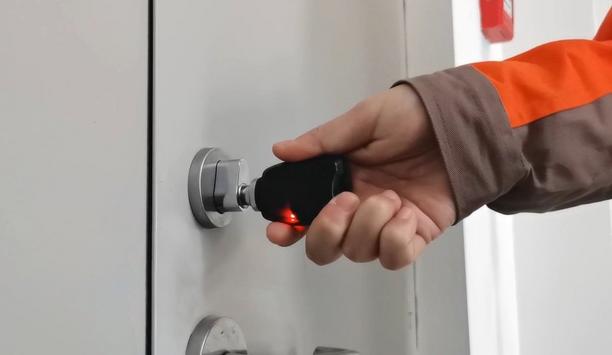 Key-centric access management system: providing the highest possible levels of security
In daily work and life, various locks have always played the role of protecting asset safety. In different usage scenarios, the most appropriate lock must be selected to maximise benefits. In the past applications, the difficulties encountered by managers are as follows. Unlocking authority is difficult to control, unclear access records, emergency unlocking, and troublesome upgrade and installation. Through the following points, how the key-centric access management system solves such problems. Access management system The key-centric access management system, also known as intelligent passive electronic lock system, which is based on three elements: electronic keys, electronic cylinders and management software, can provide powerful and traceable access control. Each smart key is unique and cannot be copied, and in the event of loss or theft, these keys can be quickly disabled. Each smart key is unique and cannot be copied, and in the event of loss or theft, these keys can be disabledIn the process of using traditional mechanical locks, it is not difficult to find that it is quite complex to realise the access control of unlocking. The difficulty is that the keys can be copied at will, the use records are not clear, and the credibility of employees cannot be guaranteed... etc. For managers, this is a safety issue that cannot be ignored. Mechanical lock system And through the key-centric access management system, we can accurately assign access authority for each user, and set different access authority for locks in different areas. For example, we can set the XX user to have access to the archive room (A) from 10:00 on May 1, 2021 to 17:00 on June 1, 2021, within this time range. Outside this time range, there will be no unlock authority. The flexibility of the traditional mechanical lock system is insufficient. There is no clear record to determine who entered the area. It is usually a simple paper record that records the unlocking records of the employees. The authenticity and validity of the system need to be examined. In the key-centric access management system, when an employee unlocks the lock, the unlock record will be synchronised to the management terminal. Remote authorised unlocking With the key-centric access management system, remote authorised unlocking can be realised Through secondary records, managers can easily track employees and supervise employees' visits to each area. In daily work, there are often emergencies that require temporary visits to certain specific areas. If you encounter a situation where the distance is extremely long, and you don't have the key to that area, you can imagine how bad this is. The process of fetching the keys back and forth is time-consuming and laborious. With the key-centric access management system, remote authorised unlocking can be realised. You can apply for the unlocking authority through the mobile APP, or you can temporarily issue the unlocking authority for the area on the management terminal, which saves time and effort. When faced with the failure of ordinary mechanical locks to meet management needs, some managers can already think of upgrading their management system, that is, the intelligent access control system. Passive electronic locks But before making this decision, the manager will inevitably consider the various costs brought about by the upgrade, including installation costs (cable cost), learning costs, and maintenance costs. Since most of the universal intelligent access control systems on the market require wiring and power supply, the cost of transformation and upgrading is quite high for managers who have such a huge amount of engineering. The key-centric access management system is the 'gospel' for managers. Since passive electronic locks and ordinary mechanical locks have the same size, they can be directly retrofitted to existing hardware, and they can be replaced step by step simply and easily. At present, the key-centric access management system is being known and applied by more and more managers and enterprises. Application industries include, such as power utilities, water utilities, public security, telecommunication industry, transportation, etc.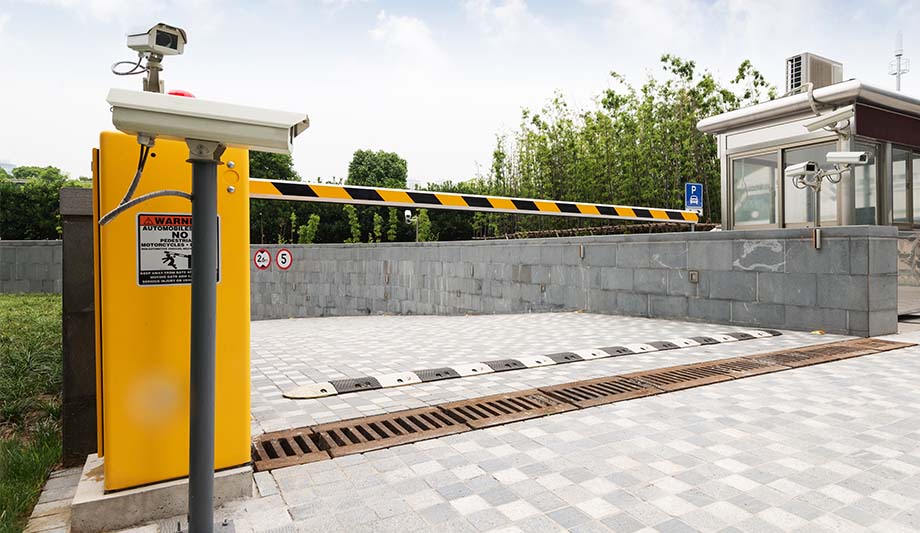 Automatic gates: Making the right investment for access control
The experience of the COVID-19 pandemic has made us all more conscious of who is coming and going from our property. Whether it is a family home, business premises or public building, property owners want full control over access for protection and peace of mind. As a provider of access control technologies, we are seeing a growing demand for automated gates with a variety of access control systems. There are a number of considerations that buyers need to make when investing. And as an installer, there is advice that you can offer to help your clients make the right choice for their property. Here are some of the key considerations you'll need to make and discuss with your client. Whomever you buy from, you should be offered more than a simple instruction manual. Electronic locks, magnetic locks and code security In the first instance, you'll need to advise on the type of lock and access control available. Electronic locks release on the operation of the automation system to allow the gates to open. Locks are required for all non-locking (also known as reversible) operators and are recommended for any gate on a multi-user site or any gate over 2.5m. Apply the same logic to an automated gate as you would to a domestic door – for example, you wouldn't fit your front door with a lock on the same side as the hinges or a drop bolt at the hinge end of a manual gate so why dispense with this logic when the gate is automated? Electronic locks release on the operation of the automation system to allow the gates to open There are a number of locks on the market including magnetic locks, drop locks that "shoot" a bolt into the ground and side latching locks. These are all designed for external use. While the gate itself will provide physical security, the customer will want to feel in control of who enters their property, when and for what purpose. Consider access for post and deliveries, waste disposal and visitors arriving on foot etc. There is a range of options available. Intercom systems will allow the user to vet visitors, keypad entry can allow remote access for visitors with a specific code, remote controls allow an oncoming driver to open the gates without getting out of the vehicle, and a timer control can be used to open or close the gates at certain times of the day. Vehicle detection loops can be installed discreetly under the tarmac allowing the presence of vehicles to exit the gates and prevent closing whilst obstructed. Sliding gates versus swinging gates There are a number of locks on the market including magnetic locks, drop locks that "shoot" a bolt into the ground and side latching locks Gates can be automated to either swing or to slide open and in the case of swinging gates, the opener may be concealed underground or gate mounted. The most suitable opener for your installation will depend on the space available and the type of gate selected. Concealed underground automation is ideal for highly ornate gates. However, where gates are fully infilled (typical of many timber designs), gate mounted openers are concealed from the front of the gate by the gate leaf and present a cost-effective option. The choice between slide and swing is largely down to space - swing gates require a clear space for their opening arc whilst sliding gates require space to one or both sides of the gate. Sliding gates are perhaps the best choice where the drive slopes or when drive space is limited, as they use the least space when opening. Voltage Most swing gate and sliding systems are available in 24v or 230v. The 24v systems still need 230v mains power – there is a transformer built into the 24v control panels. Deciding which voltage to use can include a combination of factors such as the material of the gates, the location of the system and the safety features you want. Concealed underground automation is ideal for highly ornate gates With wrought iron gates, the wind can pass through them whereas with fully boarded wooden gates (popular because they give full privacy) the wind has nowhere to go, so they act like sails. For commercial or industrial applications with larger entrances and a heavy gate, you may need 3 Phase 400v power (sliding gates only). Installing gate motors in confined spaces The environment in which you are fitting may well influence which gate and motor you recommend. Will it be in an exposed area which is subject to the elements? Will it be positioned on a slope? Sliding gates are perhaps the best choice where the drive slopes or when drive space is limited Installers have always faced the challenge of installing gate motors in confined spaces. When fitting a pedestrian gate, there is often limited space in which to work – potentially making an installation time consuming and technically demanding. If this is the case for you, consider a gate operator which is designed specifically for installations with limited space for manoeuvre. An example of this is the E5 compact gate operator. The operator is not only small but has an optional slide lever attachment designed for installations where there is extremely limited space, meaning that just 8cm of the pillar is needed for installation. What's more, improved fixing points and a simple 'hook and fasten' process means assembly is safe, quick and straight forward. Ultimately, you'll be looking for a good quality, reliable product with good service. Work with a supplier that offers more than just a manual. If they are happy to offer training, their time and advice when you buy, the chances are you'll get their support long term.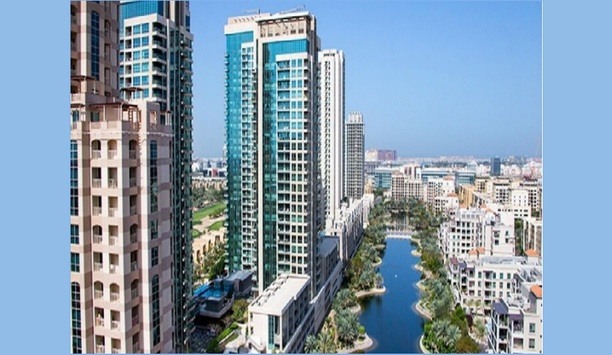 Fermax DUOX 2-wires video door entry system installed at The Links luxury residential project in UAE
The Links is an exclusive design twin 34-story residential construction that features great views across Emirates Golf Club. The Links residential project's details include: Number of homes/users: 645 Number of accesses: 8 Country: United Arab Emirates End date: 2020 Promoter: Emaar CCTV surveillance and video door entry This project combines high and low rise living in the form of the East and West Towers along with three smaller buildings: Canal Apartments, Golf Apartments, and Golf Villas. There are 645 apartments in total. The amenities of the residential complex include concierge service 24/7, avant-garde video door entry and access control systems, CCTV system, swimming pools, gym, barbecue areas, playgrounds for children and parking for visitors among other facilities. DUOX 2-wires video door entry system Fermax installation at The Links is mainly composed by a complete range of DUOX 2-wires video door entry, including 8 digital video panels with extra display and keypad, a MARINE outdoor panel (1/W), 6 DUOX audio guard units, 660 VEO monitors (DUOX monitor with handset) and 1 VEO-XS monitor (DUOX hands-free monitor). The installation of FERMAX intercom solution was successfully completed by Regal Technologies Co. LLC, Fermax distributor and systems integration in the UAE.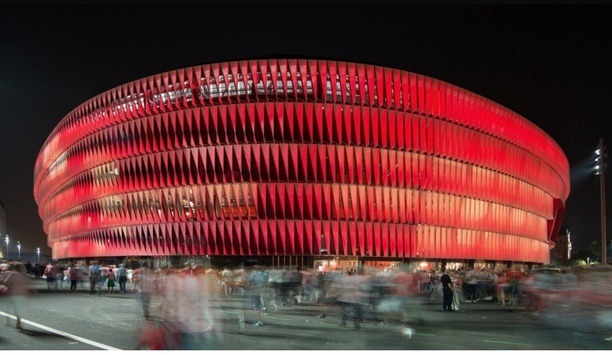 Bilbao's modern San Mamés stadium equipped with Fermax's MEET IP video door entry system
The combination of design, comfort, security, access and services offered by San Mamés stadium, the home stadium of Spain's the Athletic Club in Bilbao has led the UEFA to classify it as an elite stadium, the highest classification that enables the building to host major national and international football events. In fact, the stadium has been chosen to host the Euro Cup 2020 in Spain. The Stadium of Athletic Bilbao is already a reference point in the football world. With a capacity of 53.332 people, 3.000 premium and VIP seats, and a built-up area of 116.760 square metres, the new San Mamés stadium is more than just a sports location. It is a space with multiple complementary uses: it has a museum, a shopping area, restaurant, cafeteria, event rooms, meeting and conference rooms. MEET IP video door entry system For Fermax, this project demonstrates the high capacities of MEET IP video door entry system For Fermax, this project demonstrates the high capacities of MEET IP video door entry system, which can be integrated into large commercial security projects. The project has 11 single-line MILO panels (ref. 9533) in the stadium's underground accesses, to facilitate access for suppliers, sponsors. All the MILO panels connect to the MEET concierge (ref. 9539) located at the stadium's security control point. The installation of the Fermax product began from end of 2019. San Mamés Stadium has been designed and built in a Design and Construction Management contract format, with the involvement of IDOM, an independent professional services company since the first stages of the project, which continues to evolve. Fermax's MEET IP technology The location of the stadium, overlooking the Bilbao Estuary, makes this infrastructure a unique architectural piece that stands out in the city, integrating itself into the surroundings and giving added value to the area. The incorporation of state-of-the-art technological equipment, such as large windows with LED technology, EFTE panels that make up the stadium's façade or IP video door entry and access control systems such as Fermax's MEET IP technology, have given answer to the club's needs. Since the beginning of the construction, the new stadium's project has received several awards, including the WAF Award at the 2015 World Architecture Festival in Singapore, the Stadium of the Year Award at the 2015 World Stadium Congress Awards in Qatar, and the first prize in the Long Span Structures category of the 2017 Structural Award, among other prizes.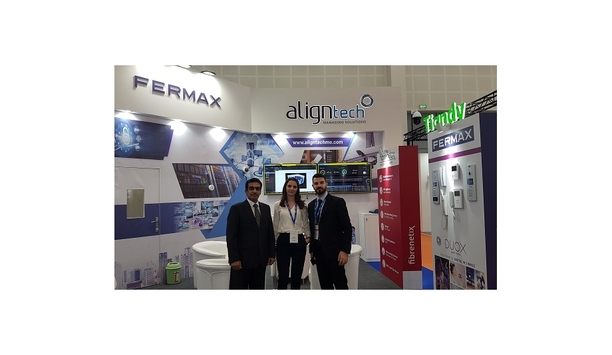 Aligntech showcases FERMAX video door entry systems at Intersec 2020
FERMAX Video Door Entry Systems present at Intersec 2020 were showcased by its distributor AlignTech. The company Aligntech exhibited at Intersec 2020 the innovative features of MEET IP System product range and the integration of Fermax IP solution with Genetec software. The stand was also an opportunity to show Fermax best-sellers DUOX VEO and VEO-XS monitors as well as SKYLINE outdoor panels.
Related white papers
10 top insights in access, cloud and more
Protecting dormitory residents and assets
Top 5 ways to ensure visitor safety and security