Compare DH-HAC-HDW1100RP with DH-SD59220I-HC
(2)
| | | |
| --- | --- | --- |
| | Dahua Technology DH-HAC-HDW1100RP | Dahua Technology DH-SD59220I-HC |
| Chip Inch Size | 1/3 | 1/3 |
| Colour Type | Colour / Monochrome | Colour / Monochrome |
| Resolution TVL | 1 MP | 1000 |
| Sensitivity lux | 0 | 0 |
| Dome Type | Static | PTZ |
| Digital (DSP) | ✔ | ✔ |
| Voltage | 12 V DC | 24 V AC |
| Focal length | 3.6 mm | 4.7 ~ 94 mm |
| Back Light Compensation | ✔ | ✔ |
| Auto Gain Control | ✔ | ✔ |
| White Balance | ✔ | ✔ |
| Electronic Shutter range | 1/50s ~ 1/100,000s | 1/1 ~ 1/30,000s |
| Synchronisation | Internal | -- |
| Signal Mode | PAL | -- |
| Built-in IR LED | ✔ | ✔ |
| Pan Speed o/ sec | -- | Preset : 400 |
| Tilt Speed o/ sec | -- | Preset : 300 |
| Rotation Angleso | -- | 180 |
| Presets | -- | 300 |
| S/ N (Signal/ Noise) Ratio dB | -- | > 50 |
People also viewed these products
Featured security companies


Related Videos
Hikvision's HiWatch video surveillance solutions for small-to-medium sized enterprises
Hikvision smart mobile transportation solution secures vehicle and passengers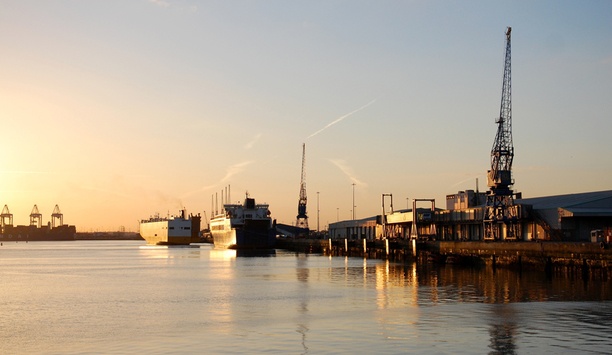 Vicon secures the Port of Southampton with complete surveillance solutions
As the UK's busiest Cruise Port, and home to the second largest container port in the UK, the Port of Southampton believes it is imperative to provide relevant video surveillance across its large property portfolio. Every day, a huge volume of passengers and cargo pass through the Port, including travellers on some of the world's largest cruise ships and the majority of motor vehicles exported from the UK, which arrive at the Port by train and transporter. VIcon expansion throughout port facilities The installation of Vicon cameras and ViconNet video management solutions began with the installation of high-performance Surveyor PTZ domes at the port's fourth cruise terminal, and the subsequent request of the Port's security team for software that could maximise the video quality obtained from these cameras. The success of this initial project has resulted in the expansion of Vicon solutions through much of the port facilities, including over 200 cameras and over 20 hybrid DVRs located across the port, including the cruise terminals, the dock gates, car parks and to monitor marine traffic. The installation also includes software for capturing license plates and drivers' faces at the dock gates and alarm-triggered recording of video to monitor the rail crossings. Sony HD network cameras enhance security at Bank of China's Shanxi branch
SNC-RH124 Network HD Rapid Dome Cameras are installed at the entrances Background: The Shanxi branch is headquartered in Taiyuan, the capital city of Shanxi Province. Opened in 1977, the branch has expanded to include 10 second-level branch offices and five sub-branches, with a total of 305 locations serving 11 Shanxi cities. It currently employs about 9,000 people. Services may be accessed in person at branch locations, or by using self-service facilities, telephonic banking, and online banking. Challenges With its business base expanding, the branch moved its headquarters into a newly constructed building in 2011. To support its growing business, the branch deployed an advanced security system that is superior to conventional analog systems, as it offers better image quality, centralised management and maintenance, and superior scalability. This system uses HD network cameras on a broad scale to achieve high-quality surveillance. Sony's solutions The network at the new office incorporates 500 HD network cameras, 200 SD network cameras, and Sony's analog cameras deployed in elevators and other small spaces. Sony's SNC-CH140 Network HD Fixed Cameras, featuring wide dynamic range, are deployed at counters and in the consumer credit area, overseas services area, and ATM and safety deposit box areas. SNC-RH124 Network HD Rapid Dome Cameras are installed at the entrances, and SNC-DH140 Network HD Mini Dome cameras – featuring wide dynamic range and high sensitivity – are installed in offices and underground parking areas. Low-cost, compact SSC-N11 cameras are installed in elevators. Results Sony's HD network cameras equipped with View-DR technology, featuring wide dynamic range and backlight compensation, deliver clear images in low-light and high-contrast areas. These cameras are equipped with a DEPA™ Advanced intelligent video and audio analytics capability, and include two-way audio, advanced audio detection, and voice alert – they quickly generate an alarm when detecting use of a forged bank card. Criminals may commit various illegal acts at ATM sites: stealing money; making money transfers; and damaging or destroying machines by hitting them, breaking them in half, or even digging them up. Sony's cameras are very helpful in recording the details of these offenses both visually and audibly, in real time. Hanwha Techwin Europe provides a customised video surveillance solution for retailer Ryman Stationery
Ryman required smart video surveillance to deter shoplifting and provide business intelligence The recent installation of tailor made video surveillance systems at 51 Ryman Stationery stores perfectly illustrates how Open Platform technology can elevate video surveillance from just being a security system, to a smart solution that can deliver so much more. The client: Ryman Stationery Ryman was established in October 1893 when a young Henry Ryman flipped over the 'Open' sign to his brand new shop on Great Portland Street, London. Since its conception, Ryman has been a specialist stationery store. Over the years, it has grown and extended what it sells to include office supplies, technology and office furniture as well as stationery, and a typical store's inventory has 5,500 different types of products. The company, which is now chaired by Theo Paphitis, one of the UK's most high profile businessmen, has over 220 stores throughout the UK.Smart video surveillance Seeking a cost-effective solution, Ryman wanted to replace old CCTV systems at 51 of its stores and replace them with a video surveillance solution that could help them achieve a number of objectives. In addition to deterring and detecting shoplifters, Ryman required a solution that could help them better understand the buying patterns of their customers and the effect of advertising and other promotions activities. Ryman also wanted authorised staff such as marketing and merchandising personnel, as well as regional Loss Prevention Managers, to be able to access live or recorded images of any activity at the stores. The stores were equipped witha four channel SRD-476D or eightchannel SRD-876D DVR Integrated retail security Axminster, Devon based Selec Systems, one of the UK's leading specialist providers of integrated retail security solutions, was awarded the contract to install the new systems. "The key to the success of any video surveillance installation if of course the careful selection of the most appropriate camera for each element of the project," said Ray Self of Selec Systems. "With such a wide range of models to choose from, including both analogue and Open Platform IP network cameras, Hanwha Techwin Europe were ideally placed to support us on this type of intricate project. Although we had to design a solution which would help Ryman achieve all its objectives within a limited budget, the keen pricing of the Samsung cameras meant that we did not have to compromise on quality." Hanwha Techwin Europe's solution Depending on shape and size of each store and in order to deter, detect and record any incidents of theft, the 51 stores have been equipped with a number of Beyond Series SCV-5083 1280H dome cameras together with a four channel SRD-476D or eight channel SRD-876D DVR. Footfall analysis In addition, a WiseNetIII SND-6084 Open Platform dome camera with the FoxCounter people counting Application from Foxstream on board, has also been installed at each store to provide Ryman's management with an accurate analysis of customer footfall. The SND-6084 perfectly supports the FoxCounter Application, as do many of the other cameras in the WiseNetIII range, as it features P-Iris which optimises the iris function when multiple lighting conditions exist in a single scene. This results in images with better contrast, clarity, resolution and depth of field, making it easier for FoxCounter to recognise customer flow direction. Plus, thanks to the SND-6084's WDR, image quality is enhanced and motion blur is reduced, enabling FoxCounter to provide accurate counting data even when several people simultaneously cross the counting area threshold. The SND-6084 dome camera is equipped with the FoxCounter people counting Application from Foxstream Close-up detail A SCP-2270 PTZ dome has also been installed at each store. This enables Ryman's Loss Prevention Managers and marketing personnel member to remotely view any activity via the iPOLiS Mobile app. The SCP-2270 PTZ has a 27x optical zoom capability which can provide authorised users with the option to view close up detail of people and objects. The images captured by the SCP-2270 and SND-6084s are recorded locally onto DVRs via the dome cameras' analogue outputs.Remote access In order to fulfil the requirements of this project, a bespoke firmware upgrade version of the iPOLiS Mobile app was developed specifically for Ryman. The upgrade allows for a large number of sites to be remotely monitored by a smartphone or tablet. Hanwha Techwin Europe's design engineering colleagues in Korea were able to respond quickly to this requirement to the complete satisfaction of Ryman and the award of the contract to supply the cameras and recorders was not delayed.The future is out-of-box Following the successful completion of the installations at the 51 stores by Selec Systems, who sourced the cameras and recorders from Akess, a Hanwha Techwin Europe distribution partner, an order has been received to provide a further 132 Ryman stores with the same tailor made solution.Discussions with the client are at an advanced stage in respect of supplying WiseNetIII Open Platform cameras with a number of pre-loaded Applications which, in addition to people counting, will help them identify other opportunities to increase sales and productivity. Providing Applications out-of-box will reduce installation time, and because Hanwha Techwin Europe has worked very closely with the respective developers of the Applications, Ryman can be assured of a seamless integrated solution that is easy to configure.
Featured white papers
5 steps to finding the right access control system for you
Download
Why outdated access control systems are a big problem
Download
Five things to consider for AI with video technology
Download