Cwmbran-based Access Security Specialist, Bewator, has assisted one man and his team of supporters in a charity fundraising motorcycle expedition to the Arctic Circle.
Managing Director of Bewator Ltd, Robert Cotterill, lent his support to close friend, John Foster, in a 2,200 mile trip in aid of the British Heart Foundation, a charity John shares a personal affiliation with.
Six years ago John, a keen motorcyclist, was diagnosed with incurable congestive heart failure. Although his condition can be managed with medication, John had to make a number of lifestyle changes, including giving up work. Since his diagnosis John has become increasingly interested in the British Heart Foundation and the assistance it provides for those living with heart problems, and is now doing his part to fundraise for this cause.
Bewator supported John in his quest to organise this fundraising trip and his efforts to raise thousands of pounds for the charity by sponsoring his ferry fare, helping him to make the first steps on his trip to his destination. John was accompanied by the 'Vulture Squadron', which included Robert Cotterill, and five other motorcycle enthusiasts on the trip. The Squadron, named after the Wacky Races characters, rode motorcycles, accompanied by a support vehicle, on a return trip from England to the Arctic Circle.
Robert said: "I know that the British Heart Foundation and the work that it does is extremely important to John and other people living with similar conditions. I am delighted to be able to help a friend with such a good cause and I am pleased that Bewator is showing its support as well."
The 'Vulture Squadron' started its journey by taking the ferry from Newcastle to Gothenburg, Sweden, on 3 July. From there, they rode 1,000 miles along the west coast of Sweden, crossing into Norway at Moi I Rana. The fundraisers then continued north to the Arctic Circle, which is extremely close to the North Pole, and returned via the same route arriving back in England on 13 July.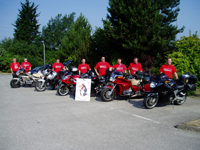 In addition to the support Bewator UK provided, a group of Swedish motorcyclists, lead by Sales Director of Bewator AB, Ulf Carlsson, met up with the British contingent along the way after travelling in a North West direction from Stockholm.
John said: "I've travelled around Switzerland before but none of us had travelled to the Arctic Circle, let alone by motorcycle. This was an exciting and challenging experience for all of us. Hopefully we will be able to change the lives of those that the British Heart Foundation supports with the funds that we can raise."
"I am really appreciative to all my friends for joining me on the expedition and am extremely grateful for the support Bewator and its staff have given me for this worthy cause."
Haulage firm Joseph Merritt Group plc, which previously employed John as a long distance lorry driver, sponsored the cost of his petrol for the duration of the trip.
In addition to raising funding from local businesses, friends and family, John and his team of supporters appealed to the general public to raise as much as possible for the charity.
More on Bewator
Download PDF version
Download PDF version