Suprema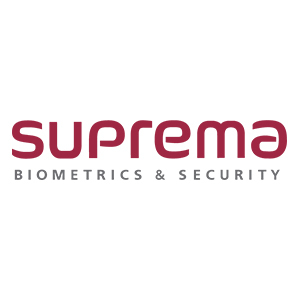 17F Parkview Tower, 248, Jeongjail-ro, Bundang-gu, Seongnam, Gyeonggi, 13554, Korea (South)
+82 31 783 4502
Suprema Overview:
Suprema is a global leader in biometrics and securities technology. By combining world renowned biometric algorithms with superior engineering, Suprema is able to continually develop and manufacture reliable industry leading products. Suprema's extensive portfolio of products include biometric access control systems, time & attendance devices, fingerprint/live scanners and embedded fingerprint modules.
Suprema supports world wide sales network that spans across more than 133 countries around the world and was the first biometrics company listed on Korea's stock market (KOSDAQ 094840)
Company Certifications
ISO14001
ISO9001
FBI IQS Appendix F for live-scanners
UL certification for access control products
CE/FCC certifications for all access control products
Products
Access Control
Time Attendance
PC/Network Security Solution
Live Scanning Systems
ePassport Readers
Fingerprint Modules
Industries
General
Commercial
Government
Administration
Education/Academic
Food and Beverage
Healthcare
Law Enforcement
Finance
Suprema news
Suprema to introduce FaceStation F2 Fusion Multimodal Terminal at live sessions of Suprema Connect 2020
Suprema, a globally renowned provider of access control, biometrics and time and attendance solutions, invites industry members to the "Fusion Face Recognition" live session scheduled on September 17th, where it will introduce the new FaceStation F2 Fusion Multimodal Terminal. The live session is part of Suprema Connect 2020, Suprema's first virtual event, designed to compensate for traditional security conferences, most of which were cancelled due to COVID-19. At the Fusion Face Recognition live sessions, which will be held twice on the 17th (at 12AM and 4PM GMT+9) to accommodate for time difference, a Suprema expert will go over the features and technology of FaceStation F2 in detail. FaceStation F2 is Suprema's 3rd generation face recognition terminal that provides exceptional authentication accuracy and anti-spoofing performance by combining visual and IR face recognition technology. Mask and temperature detection These live sessions, which will also be held twice each day, will introduce Suprema's relevant solutions in detail It is equipped with untact photo enrollment feature as well as mask and temperature detection, meeting the needs of the post-pandemic world. On September 22nd and 24th, more live sessions are planned on the topics of "Mobile Access Solution" and "Access Control Solution." These live sessions, which will also be held twice each day, will introduce Suprema's relevant solutions in detail. Hosts will open up the floor for Q&A and discussions at the end and Suprema will select participants with the best questions to award Suprema Airfob Patches with credits. In-depth technical trainings In addition to the live sessions, over thirty on-demand videos on customer applications and in-depth technical trainings will be available on Suprema Connect 2020 website from the opening day (Septmeber 15th) for one month until the end of the event. Suprema encourages everyone to sign up on the Suprema Connect 2020 website to view the detailed schedule and receive updates and reminders about the event.
Suprema to introduce Fusion Face Recognition solution and outline its portfolio during Suprema Connect 2020
Due to the worldwide spread of new threats to public health, 'contactless' has become more and more important as a preventive measure and this has spurred change in the security industry. Recognising this trend long before the onset of the COVID-19 pandemic, Suprema is already experienced in offering flexible contactless solutions. Suprema R&D has developed a new Facial Recognition solution that provides a fusion of infrared and visual imaging methods coupled with a deep learning AI algorithm and skin temperature detection that delivers the best balance of security and convenience. During Suprema Connect 2020, Suprema experts will detail the new Fusion Face Recognition solution and outline the solution portfolio. This pioneering technology will establish a new baseline for contactless solutions in the industry. In addition, during the session, the company will announce new products to be introduced soon, so they look forward to the participants' interest and expectations.
Suprema releases FaceStation F2 Fusion Multimodal Terminal that offers exceptional authentication results
Suprema, a globally renowned company in access control, time and attendance and biometric solutions, has announced the introduction of the FaceStation F2 Fusion Multimodal Terminal. The new multimodal biometric solution delivers exceptional authentication accuracy and anti-spoofing performance by the fusion of visual and infrared face recognition technology. FaceStation F2 Fusion Multimodal Terminal The FaceStation F2 can also be combined with Suprema Thermal Camera to detect users with high skin temperature, and features mask detection capabilities to help prevent the spread of infectious viruses such as COVID-19. "Suprema continues to develop new and innovative identification and authentication solutions that address emerging challenges affecting the overall security and health of personnel and business operations," said Young S. Moon, Chief Executive Officer (CEO) of Suprema Inc., adding "Our new FaceStation F2 provides the mission critical identity management, and health and safety capabilities that organisations need today to get employees back to workplaces." Optimises IR and visual face recognition FaceStation F2 Fusion Multimodal Terminal optimises IR and visual face recognition FaceStation F2 Fusion Multimodal Terminal optimises IR and visual face recognition to produce exceptional authentication results, achieving extremely low false acceptance rate (FAR) of 1 in 10 billion. FaceStation F2's unique deep-learning fusion algorithm provides industry-renowned face recognition and anti-spoofing performance, regardless of user ethnicity and face changes. The innovative multimodal solution offers various means of authentication including contactless facial recognition, mobile credential, fingerprint and card. The new Fusion Multimodal Terminal also supports Access-on-Card feature that enables identification with biometric data saved on cards. With massive memory capacity, FaceStation F2 can register up to 100,000 users' fingerprints or 50,000 users' face data. Integration with Suprema Thermal Camera To meet the increasing global demand for hygiene safety and protection, FaceStation F2 can be combined with Suprema's Thermal Camera to detect and identify individuals with elevated skin temperature. The unit's on-board analytics can also automatically screen and notify when an individual is not wearing a mask in areas where facial masks are mandatory. This screening feature can be used in conjunction with face recognition as FaceStation F2 is able to recognise faces with masks without sacrificing accuracy. FaceStation F2 also offers remote enrollment that allows user registration by uploading profile photos, reducing physical contact, improving convenience and safety. The new FaceStation F2 is built on the highly secure Android platform and encrypts all biometric credentials to help best protect individual's personal information from cyber theft.