Suprema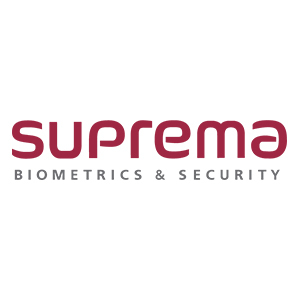 17F Parkview Tower, 248, Jeongjail-ro, Bundang-gu, Seongnam, Gyeonggi, 13554, Korea (South)
+82 31 783 4502
Suprema Overview:
Suprema is a global leader in biometrics and securities technology. By combining world renowned biometric algorithms with superior engineering, Suprema is able to continually develop and manufacture reliable industry leading products. Suprema's extensive portfolio of products include biometric access control systems, time & attendance devices, fingerprint/live scanners and embedded fingerprint modules.
Suprema supports world wide sales network that spans across more than 133 countries around the world and was the first biometrics company listed on Korea's stock market (KOSDAQ 094840)
Company Certifications
ISO14001
ISO9001
FBI IQS Appendix F for live-scanners
UL certification for access control products
CE/FCC certifications for all access control products
Products
Access Control
Time Attendance
PC/Network Security Solution
Live Scanning Systems
ePassport Readers
Fingerprint Modules
Industries
General
Commercial
Government
Administration
Education/Academic
Food and Beverage
Healthcare
Law Enforcement
Finance
Suprema news
Suprema introduces FaceStation 2 Smart Face Recognition Terminal and Mobile Access
Suprema, a global provider of access control, time & attendance and biometric solutions, recognised the trend towards contactless, biometric and mobile credentialing long before the onset of the COVID-19 pandemic. The company's premier biometrics solution, FaceStation 2 Smart Face Recognition Terminal, employs intelligent facial recognition ensuring highly accurate personal identification and authentication for improved overall security with contactless operation. Mobile Access, Suprema's contactless credentialing solution, eliminates the need for costly access cards and proximity devices by utilising iOS and Android smartphones as a secure personal access credential. Face Recognition "Suprema has been pioneering contactless access control solutions long before the COVID-19 pandemic and heightened market demand for safer and more secure access control solutions," said Young S. Moon, CEO of Suprema Inc. "Our FaceStation 2 Smart Face Recognition Terminal and Mobile Access contactless solutions seamlessly integrate with our BioStar integrated security platform to deliver comprehensive functionality for the most demanding security and workforce management applications." Suprema FaceStation 2 Smart Face Recognition Terminal delivers outstanding performance including: up to 3,000 matches per second; a memory capacity capable of accommodating up to 30,000 users, 50,000 image logs and 5 million text logs; live face detection with IR-based fake face blocking (anti-spoofing) technology; and multi-band RF reading technology to support the latest RFID standards for multi-modal credentialing when required. Suprema Mobile Access contactless solution The ergonomically designed and highly aesthetic device features an Android-based intuitive touchscreen LCD providing ease of use that requires little to no training for both users and system administrators. Suprema Mobile Access turns virtually any iOS or Android smartphone into a highly secure contactless access credentialing device, eliminating the cost associated with issuing access cards and proximity devices. FaceStation 2 will soon become compatible with Suprema Mobile Access, providing a seamlessly convenient and fast operation. Users can simply tap their smartphone on an RFID reader to gain access from distances within 10cm without the need to wake the host smartphone.
Suprema to offer fully integrated access control solutions for physical security in the post-pandemic situation
Suprema, a provider of access control and biometrics, is refocusing its efforts to offer fully integrated access control solutions for physical security and time and attendance applications in the post-pandemic world. With comprehensive end-to-end access control and workforce management system capabilities employing various touchless credentialing solutions such as facial recognition, RFID, and remote and contactless mobile devices, Suprema provides the extreme levels of versatility, proven performance, reliability and cost-efficiency that security professionals need more now than ever. Enterprise level technologies "As access control and workforce management solutions have continued to inch higher and higher on the C-suite's list of enterprise level technologies, the COVID-19 pandemic has quickly elevated these systems to the 'must have' status," said Young S. Moon, CEO of Suprema Inc. "It's no longer an issue of simply controlling individuals' access to a facility, it's now become a health safety issue that directly impacts business operations and liability." It is estimated that over 1 billion people worldwide are currently using Suprema technologies Over the past few years, Suprema has continued to make significant inroads in the professional security market by leveraging the company's twenty-year history of success in the Asian, Middle Eastern and European global markets. In fact, Suprema is currently active in 140 countries worldwide, and holds the #1 market share for biometric access control in the EMEA region. It is estimated that over 1 billion people worldwide are currently using Suprema technologies. Business intelligence systems The Suprema portfolio of access control and workforce management solutions includes perhaps the most comprehensive offering of solutions available, including: facial recognition, RFID and fingerprint readers; management and control software; mobile applications; access controllers; and peripherals – all from a single supplier. This guarantees seamless integration in any configuration, reducing system design, installation time, and costs. In addition, Suprema has partnered with over 80 best in breed solutions from industry providers for holistic enterprise level security and business intelligence systems. The company's recently introduced Suprema G-SDK (Software Development Kit) further enhances the company's integration capabilities utilising unique gRPC open source RPC framework to communicate across different platforms in different programming languages.
Suprema Europe SARL to provide European partners and customers with better localised support
Suprema, a provider of access control and biometrics for physical security, officially announces the formation of Suprema Europe SARL, which has been established to provide partners and customers in the region with better localised support. High demand for RFID solutions Formerly Suprema France SARL, Suprema Europe SARL will provide direct supply products and services to European partners. Suprema Europe has been granted an additional capital and will maintain products in stock and a technical support hotline in Europe. This will help Suprema partners grow further with better services available in Central European Time. Given the global pandemic and increased demand for touchless access solutions, Suprema is experiencing high demand for contactless solutions such as RFID solutions, mobile access cards and facial recognition readers.