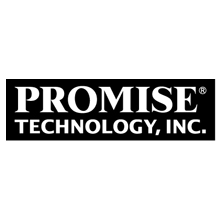 Partnership with AxxonSoft, Milestone Systems, OnSSI and SeeTec simplifies migration to IP-based NVR systems
PROMISE Technology Inc., a recognised global leader in the storage industry, recently announced a partnership with AxxonSoft, Milestone Systems, OnSSI and SeeTec to ship free trial versions of the world's leading Video Management Software (VMS) when customers purchase the PROMISE Vess A2000 Series NVR storage appliance in the EMEA region. The VMS provided are all certified with the Vess A2000 Series, allowing integrators and end users to run the software with their PROMISE video surveillance solution with complete confidence. The VMS trial versions are conveniently shipped on a ready-to-install USB thumb drive with the Vess A2000 Series.
The partnership is ideal for users who have previously deployed analogue DVR systems and are now planning to use an IP-based NVR system. Users can test a range of VMS for free to determine which software solution with the Vess A2000 Series best meets the needs of their deployment. Additionally, the partnership makes it more convenient to use the Vess A2000 Series in security projects while also making it easier for users to switch to IP-based surveillance solutions.
Additional Benefits of the VMS Trial Program with PROMISE's Vess A2000:
Free VMS trials are valid for up to 30 days
VMS trials support 8 to 16 cameras
Vess NVR appliances and VMS solutions have been tested extensively and are fully certified, ensuring interoperability and optimal performance
Users can test which VMS best fits their deployment and then purchase licenses from the VMS vendor
"With video surveillance becoming increasingly important to businesses and organisations, many customers are making the migration from analogue to IP-based solutions to take advantage of better image quality, easier scalability, improved reliability and other benefits," said John van den Elzen, managing director, PROMISE Technology EMEA. "The partnership between PROMISE and many of the top VMS providers reduces the complexity of migrating to IP-based security solutions and makes it easier for customers to deploy a complete solution, including the Vess A2000 NVR appliance and industry-leading software that provides the capabilities to protect what's important to their business."
How it Works
The PROMISE Surveillance Solution Planner helps decide which Vess model to deploy
The order is placed with PROMISE and the NVR appliance is shipped
Users set up the system and boot the machine
Users plug in the USB drive provided and install the VMS of choice – AxxonSoft Axxon Next, Milestone XProtect®, OnSSI Ocularis, or SeeTec Cayuga
Users can purchase more valid camera licenses as needed from the VMS vendor
Download PDF version