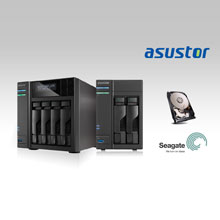 By supporting hard drives, ASUSTOR is able to give its users choice when configuring network attached storage devices
ASUSTOR Inc., a leading innovator and provider of network storage solutions, has announced that all of its NAS products are fully compatible with Seagate's newly launched range of NAS hard drives. These hard drives come in 2TB, 3TB and 4TB models with their model numbers being ST2000VN000, ST3000VN000 and ST4000VN000. By supporting these hard drives, ASUSTOR is able to give its users greater flexibility and choice when configuring their network attached storage devices.
ASUSTOR NAS are the first NAS devices in the world to be designed entirely around an App-based concept. Built on a stable and high performance hardware platform, ASUSTOR NAS devices provides users with an intuitive UI that closely resembles the simplicity enjoyed on most tablet computers. After installing hard drives onto the NAS device, users will be able to set up their very own personal cloud server in just a few easy steps. Additionally, users can download any NAS Apps of their choice from ASUSTOR's App Central, expanding functionality and creating a customised device for themselves.
ASUSTOR NAS devices are suitable for use with 2.5" and 3.5" hard drives from a wide range of world-renowned brands. For a complete list of compatible hard drives please visit the official ASUSTOR website: http://www.asustor.com
Download PDF version