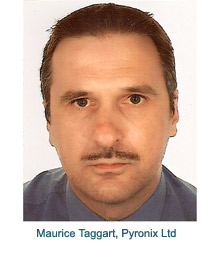 Pyronix Ltd is pleased to announce the appointment of Maurice Taggart as Account Manager for Northern Ireland and the Republic of Ireland.
Maurice brings 25 years experience in the security industry with him and has worked in all sectors, starting with installation companies, and then moving into the intruder manufacturer sector as Sales Manager in Ireland, helping to substantially grow the Irish market by introducing new products. More recently, he was an Area Manager with distributor Gardiner Security in Belfast.
Maurice says of his appointment: "I am excited to be working for one of the leading global companies within the intruder market and feel that with my extensive experience combined with having a real understanding of the Irish market, I can help Pyronix to grow further in this area." Maurice continues: "I will be working extremely closely with current Pyronix distributors as they give fantastic support and we realise that this is the best way for us to service the professional installers."
Maurice is actively meeting as many professional installers as possible with details of the new control panels launched this month. To contact him, click here.
Download PDF version