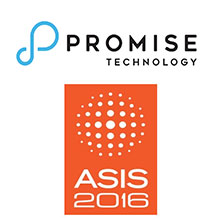 At ASIS, Promise Technology will be highlighting their newest NVRs, Vess A2330 and Vess A3340
Promise Technology announced that it will showcase its newest line of Vess network video recorders (NVRs) and external storage solutions at ASIS International in Orlando, Florida in hands-on demos with the leading video management software (VMS) and IP camera vendors.
In addition, Promise's booth will host the company's Presentation Theater, an informative seminar programme that provides visitors with access to the latest intelligence in topics ranging from video management software, IP cameras, recording and storage technologies, and much more.

Surveillance partner ecosystem

As the developer of the open storage platform, creating a large and close ecosystem of partners is important to Promise as it offers customers a wide range of integration possibilities that have been tested and validated. Promise's partner ecosystem includes the leading software and hardware vendors in the industry who are committed to working together to deliver high-performance video surveillance solutions that help business and organisations deter crime, identify suspects, improve productivity, reduce losses, and much more. At ASIS, Promise will partner with Aimetis, Axis, AxxonSoft, Digifort, Genetec, Milestone, OnSSI and Toshiba in hands-on demonstrations showcasing the unique values each integrated solution offers to customers in a range of industries.

Promise Presentation Theater

The Promise Presentation Theater provides access to the most relevant and informative tradeshow seminar program for security professionals. Join the top video surveillance companies and influencers at the Promise booth to learn more about the latest trends and technologies that are shaping the industry. Plus, after every 30 minute presentation, Promise will be giving away a fantastic prize to a lucky audience member.
"Recording and storage
are vital components of
a successful surveillance
solution"
NVRs and storage optimised for video surveillance

With the raw capacity of video surveillance data expected to grow by 48% in 2016, there is an increasing importance placed on solutions that help ensure surveillance data is recorded and stored safely no matter the retention period. Vess NVRs and external storage solutions are purpose-built for IP video surveillance and Promise is able to provide a solution for deployments of any size—from standalone NVR appliances to scale-out storage solutions for large deployments and video surveillance cloud services.
Vess A2330 and Vess A3340

At ASIS, Promise will be highlighting its newest NVRs, Vess A2330 and Vess A3340. Vess A2330 is ideal for entry-level installations requiring a scalable, cost-effective solution that offers low latency recording, reliability, and the flexibility to design your solution with any of the leading VMS and IP cameras. Vess A3340 is a more powerful, all-in-one network video recorder (NVR) optimised to meet even the most stringent project requirements. Reliable, cost-effective, and easy to deploy and maintain, Vess A3340 is perfect for mid-sized to large scale installations with high performance demands.

"Video surveillance solutions are key to the security strategy of business and organisations as they help deter crime, identify suspects, improve productivity and reduce losses, however, designing a successful solution for any given project is no simple task," said John van den Elzen, General Manager, Surveillance Business Unit, Promise Technology. "Recording and storage are vital components of a successful surveillance solution and we are excited at ASIS to showcase why customers around the world rely on Promise."
Save
Save
Save
Save
Download PDF version