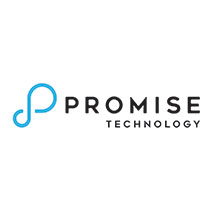 Promise will demonstrate a range of solutions that will speed the media workflow
At this week's BroadcastAsia2016 in Singapore, Promise Technology will showcase its enhanced portfolio of products for professionals creating high resolution video and rich media content. Promise will demonstrate a range of solutions that bring speed to the entire rich media workflow, from ingest and editing to delivery and long term archiving. Highlights of Promise's display include new solutions built around the recently released Thunderbolt 3™ interface, Pegasus3 and SANLink3, in addition to the new VTrak E5000 16G Fibre Channel storage array and VTrak A5000 shared SAN appliance.
Ingesting, Editing, Delivery and Long Term Archiving
Promise will feature solutions for single editors to large post-production houses in demonstrations dedicated for each stage of the rich media workflow. Pegasus3 will be highlighted in the 'Ingesting' workstation where the power of Thunderbolt 3, which offers 40 Gbps (twice the bandwidth of its predecessor, Thunderbolt 2) in full display. The 'Editing' demonstration includes the Promise Vess R2600 PRO, which is ideal for mid-sized businesses requiring a rich media NAS solution that delivers enterprise RAID reliability and performance, and SANLink3 which allows fast data speeds to be realised from Thunderbolt 3 enabled workstations and laptops.
For large post-production studios, Promise will showcase the new 16G Fibre Channel VTrak A5000 shared SAN appliance with the VTrak E5000 array and VTrak J5000 12G SAS JBOD expansion unit as part of its 'Delivery' and 'Long Term Archiving' demonstrations. The new enterprise solutions deliver outstanding performance for multi-user workflows with high resolution (4K, 5K, 6K, 8K) footage for Post-Production and Broadcasting, House of Worship, Sports and Education environments.
Simplification And Acceleration Of Workflow
"Promise designs fast post-production tools that simplify and accelerate the workflow of creative professionals," said HC Chang, General Manager, Promise Technology APAC (excluding China). "From incredible Thunderbolt 3 bandwidth capabilities to robust enterprise storage systems, we are excited to showcase such a wide array of new solutions for the entire rich media workflow that enable faster access, editing, sharing and distribution of all file sizes and formats."
Promise will demonstrate its range of solutions, including its complete shared storage solution featuring Thunderbolt 3 for 4K environments through its Pegasus3, SANLink 3 and VTrak A-Class offerings.
Download PDF version