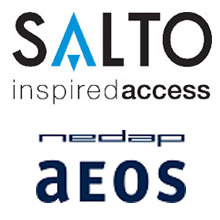 Salto and Nedap aim to promote integrated access control solutions
NEDAP
and
SALTO
present a unique off-the-shelf integration between NEDAP AEOS and SALTO off line readers. The integration provides customers with a seamless single management platform for their entire access control needs, increasing cost effectiveness and flexibility. With this integration, NEDAP extends the advanced access control capabilities of AEOS to off line, unwired doors. After a period of intensive collaboration in the field of research and development, both companies have announced recently that they will extend their collaboration aimed at promoting integrated access control solutions.
Marc Handels of SALTO says: "I am extremely pleased with the system integration between NEDAP and SALTO. NEDAP is a trend leading access control solution provider, which through this integration has achieved a real convergence between the on line and off line access control worlds.
This integration provides increased value for existing NEDAP and SALTO customers as well as for new customers. SALTO is extremely comfortable to partner with a company that shares similar values regarding the use of cutting edge technology and customer oriented solutions. We are sure this integration will deliver commercial success."
Joffry Maltha of NEDAP says: "We are very pleased with this cooperation. The benefits of electronic access control systems are so obvious. Especially if you compare the inconvenience, the security risks and the costs of replacing lost or stolen keys associated with traditional keys to access cards. Now we can offer one single platform to manage both the doors that are wired and need to be continuously monitored and the doors that cannot be wired. We strongly believe in 'best-in-class' integrations. SALTO fits perfectly in that strategy. The company has proven to be a leading manufacturer of Data-on-Card solutions with battery operated electronic locks."
Download PDF version
Download PDF version