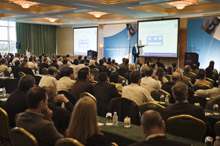 Milestone proved to be number one for open platform IP video management in the 'software only' category worldwide
Milestone Systems held its bi-annual 'MIPS' event last week: the Milestone Integration Platform Symposium. Several hundred international security industry professionals gathered to learn the latest in digital surveillance solutions, and one of the first presentations from IMS Research announced that Milestone is the number one 'software only' supplier of IP video management software, according to their 2008 report due out soon.

Twice a year the Milestone Integration Platform Symposium (MIPS) gathers the IP elite to hear industry speakers, interact in workshops, participate in training and certifications, see exhibitions from manufacturers and solution partners, and network with some of the most successful IP video systems integrators, resellers, distributors and hardware producers. These conferences have become important focal points for the ever-growing Milestone eco-system to ramp up expertise, share knowledge, brainstorm for new innovations, and learn about the latest solutions in IP video technology.

Almost 300 people attended the conference held in Copenhagen over several days, including training sessions for many systems integration partners. Thirty countries were represented. Exhibitors included such Milestone alliance hardware and solution partners as ACTi, Agent VI, Axis, Cernium, CNL, IQinVision, JVC, Keeneo, Mate, Mobotix, OPAX, Panasonic, Samsung Electronics, Sanyo, Sony, Technology Associates, UDP Technology, Via:sys, and Vidient.

IP video surveillance market trends and forecasts
James McManus from IMS Research revealed advance highlights from their upcoming 2007 market analysis of the video surveillance industry, including the announcement that Milestone proved to be number one for open platform IP video management in the 'software only' category worldwide (for vendors of pure IP video software solutions independent of hardware). Other market analyses were presented by Thomas Kalling, PhD at Lund University, and Jeff Kessler, Managing Director of Imperial Capital.

John Honovich, consultant and founder of the internet site IPvideomarket gave his insights on video analytics and how open platform IP video is the way to win. Keven Marier, founder of IPVS, described the importance of training to move the convergence of IP forward in the security industry through greater education and expertise.

Martin Gren, Co-Founder of Axis Communications, discussed the future of network cameras with new compression standards, de-centralized storage, analytics at the edge, and the Open Network Video Interface Forum (ONVIF) for global industry hardware standards, an initiative spearheaded by Axis, Bosch and Sony that can help expand the IP surveillance market.

Arnaud Ganaye, Head of the NeXt Surveillance project at Orange Technocenter (a division of France Telecom) proposed hosted video surveillance solutions through telecommunications providers as a new business opportunity.

Customer presentations illustrate IP technology in practice
James Milton, Founder of Milton Technologies, detailed the use of thermal imaging and analytics to manage challenges in metals recycling, and Sherman Hall from the Atherton, California, police showed how Milestone IP video improves community safety and response to alerts. The University of East Anglia in the UK also illustrated how large and complex campus environments benefit from Milestone IP video surveillance software.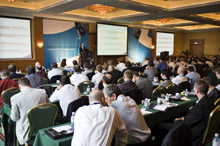 Almost 300 people attended the conference held in Copenhagen over several days


Milestone Partner Awards distinguish leaders in IP video
Milestone Partner of the Year 2008 awards were given out with much fanfare. For outstanding distribution, project sales and system integrator installations, these partners were honored: CAMSECURE of South Africa, Com-Scan of Norway, Digitalcom Limited of Thailand, Elmat SPA of Italy, Infosec Communications of Dubai, John Lay Electronics of Switzerland, RUSLAN Communications of Russia, Secured by Web of the Netherlands, SmartGuard of Denmark, SM Technology of the UK, and Solytron of Bulgaria.

Milestone Manufacturer Alliance Partner of the Year 2008 was announced to be JVC Professional, whose close collaboration covers both support of their network cameras and JVC VR-N1600U Network Video Recorders embedded with Milestone XProtect™ video management software.

The Milestone Solution Partner of the Year 2008 is Cernium, a Frost & Sullivan 'Emerging Company of the Year in Video Surveillance' for intelligent analytics. Their Perceptrak® solutions for incident detection and greater operational flexibility lower the cost and add value to integrated Milestone IP video management implementations.

The next Milestone Integration Platform Symposium will be held the second week in February 2009 at the Red Rock Resort, Las Vegas, Nevada.
Download PDF version
Download PDF version