Partners
3xLOGIC
Tel: +1 303-430-1969
E-mail: sales@3xlogic.com
Website: http://www.3xlogic.com/

Aimetis Corp.
Tel: +1 519-746-8888 (North America),
+86(21)588 9496 (China)
E-mail: info@aimetis.com
Website: http://www.aimetis.com/

ALNET SYSTEMS Inc.
Tel: +48-58-735-76-57/61
E-mail: pl@alnetsystems.com
Website: http://www.alnetsystems.com/

ARGOS Technologies
Tel: +01-69021436
E-mail: info@argosvision.com
Website: http://www.argosvision.com/

ASUSTOR
Tel: +886 2 77370888
E-mail: sales@asustor.com
Website: http://www.asustor.com/

Aventura Technologies Inc.
Tel: +1-631-300-4000
E-mail: info@ati247.com
Website: http://www.ati247.com/

AVerMedia Information Inc.
Tel: +886-2-2226-3630
E-mail: nvd.info@avermedia.com
Website: http://www.avermedia.com

Avigilon
Tel: +800.45678988, +1.604.629.5182
E-mail: sales@avigilon.com
Website: http://www.avigilon.com

Axxonsoft
Tel: +7 (495) 775-61-61
E-mail: Support@axxonsoft.com
Website: http://www.axxonsoft.com

Bold Communications
Tel: +44 (0) 1925 713 224
E-mail: info@boldcommunications.co.uk
Website: http://www.boldcommunications.co.uk

Bold Technologies
Tel: 1-800-255-BOLD
E-mail: btsales@boldgroup.com
Website: http://www.boldgroup.com/

Bosch Security Systems
Tel: +49896290-0
Website: http://www.boschsecurity.com/

Camera Manager
Tel: +31(0)880068450
E-mail: sales@cameramanager.com
Website: http://www.cameramanager.com/

Cathexis Solutions
Tel: +27312400800, +27828929334
E-mail: info@cat.co.za, gusb@cat.co.za
Website: http://www.cathexis.co.za/

CDVI Americas
Tel: +450-682-7945
E-mail: sales@cdvi.ca
Website: http://www.cdvi.ca/

Cyberview Inc. Ltd.
Tel: +852 8198-1072
E-mail: info@cyberview.com.hk
Website: http://www.cyberview.com.hk/

DELOPT
Tel: +91 80 2666 8489, +91 80 2666 8286,
+91 80 2666 5649
E-mail: info@delopt.co.in
Website: http://www.delopt.co.in

Detec AS
Tel: +47 23 23 22 80
E-mail: post@detec.no
Website: http://www.detec.no/

Digifort
Tel: +55 11 4226.2386
E-mail: contato@digifort.com.br
Website: http://www.digifort.com.br/

Digivod gmbh
Tel: +49 21 59 / 52 00 - 0
E-mail: info@digivod.de
Website: http://www.digivod.de/

DSSL
Tel: +7(495) 921-39-96
E-mail: info@DSSL.ru
Website: http://www.dssl.ru/

DVTEL, Inc.
Tel: +1 201-708-9800
E-mail: info@dvtel.com
Website: http://www.dvtel.com/

Dynacolor Inc.
Tel: +886 2-2659-8898
E-mail: info@dynacolor.com.tw
Website: http://www.dynacolor.com.tw/

ESIFrance
Tel: +886 2-2659-8898
E-mail: info@esifrance.net
Website: http://www.esifrance.net/

eSurv
Tel: +39.02.87188341
E-mail: info@esurv.it
Website: www.esurv.it/en

Exacq Technologies
Tel: +317 845 5710
E-mail: info@exacq.com
Website: http://www.exacq.com/

FaceFirst
Tel: +1 805-482-8428
E-mail: jsaad@facefirst.com
Website: http://www.facefirst.com/

FOXSTREAM
Tel: +33 (0)4 27 11 80 30
E-mail: contact@foxstream.fr
Website: http://www.foxstream.fr/

Freedom VMS
Tel: +61 39543 4344
E-mail: info@freedomvms.com
Website: www.freedomvms.com


Genetec
Tel: +1 514 332 4000
E-mail: info@genetec.com
Website: http://www.genetec.com/

Genius Vision Digital (GVD)
Tel: +886-2-2516-6001
E-mail:sales@gvdigital.com,
support@gvdigital.com
Website: http://www.gvdigital.com/

Geovision Inc.
Tel: +886-2-8797-8376
E-mail: sales@geovision.com.tw
Website: http://www.geovision.com.tw

GEUTEBRUCK
Tel: +49 (0)2645 137 - 0
E-mail: info@geutebrueck.com
Website: http://www.geutebrueck.de

IFTER
Tel: 48 605 048 184
E-mail: ifter@ifter.com.pl
Website: http://www.ifter.com.pl

INDANET AG
Tel: +49 89 748862-0
E-mail: info@indanet.de
Website: http://www.indanet.de

Instek Digital
Tel: +886 2 2914-1839
E-mail: info@instekdigital.com Website:http://www.instekdigital.com/

Intelligent Security Systems (ISS)
Tel: +1 (732) 855-1111
E-mail: info@isscctv.com
Website: www.isscctv.com

ipConfigure
Tel: +1-877-207-1112
E-mail: sales@ipconfigure.com
Website: http://www.ipconfigure.com/

iProcess SAS
Tel: +33-4-94-10-24-90
E-mail: support@iprocess.fr
Website:

IPS Intelligent Video Analytics
Tel: +49 89 451590-0
E-mail: info@ips-analytics.com
Website: www.ips-analytics.com

Kentima Solutions AB
Tel: +46 46 25 30 40
E-mail: info@kentima.com
Website: http://www.kentima.com/

Kinesense
Tel: +44 (0) 207 056 1550
E-mail: info@kinesense-vca.com
Website: http://www.kinesense-vca.com/

"LuxRiot" A&H Software House, Inc.
Tel: +371 67315324
E-mail: info@luxriot.com
Website: http://www.luxriot.com/

Matrox Graphics
Tel: +1-800-361-1408
E-mail: dwcsupport@matrox.com
Website: http://www.matrox.com/

Milestone Systems
Tel: +45-88-300-300
E-mail: info@milestonesys.com
Website: http://www.milestonesys.com/

Mirasys Ltd.
Tel: +358-9-2533-3300
E-mail: sales@mirasys.com
Website: http://www.mirasys.com/

Monitorsoft
Tel: +44 845 051 1153
E-mail: sales@monitorsoft.com
Website: http://www.monitorsoft.com/

NeoVSP
Tel: +972-3-5619770
E-mail: info@neovsp.com
Website: http://www.neovsp.com/

NETAVIS Software GmbH
Tel: +43 (1) 503 17 22
E-mail: info@netavis.com
Website: http://www.netavis.net/en/

Network Optix
Tel: +1 (818) 855-8151
E-mail: info@networkoptix.com
Website: http://www.networkoptix.com/

Next Level Security Systems
Tel: +760-444-1410
E-mail: info@nlss.com
Website: http://www.nlss.com/

NICE Security
Tel: +972 9 775 3777
E-mail: support@nice.com
Website: http://www.nice.com/

NovoSun Technology Ltd.
Tel: +853 28520276
E-mail: sales@novosun.com
Website: http://www.novosun.com/

NUUO Inc.
Tel:+886 2236 22260
E-mail: marketing@nuuo.com
Website:http://www.nuuo.com/

Odyssey Technologies, Inc.
Tel: +301 256-0000
E-mail: sales@remoteeyes.com
Website: http://www.remoteeyes.com/

On-Net Surveillance systems, Inc. (OnSSI)
Tel: +1 845-732-7900
E-mail: info@onssi.com
Website: http://www.onssi.com

Pacom Systems Pty Ltd
Tel: +61 2 8858 1700
E-mail: info@pacom.com
Website: http://www.pacom.com

Proline
Tel: +90 (216) 528 62 00 (Istanbul Office)
E-mail: posta@pro-line.com.tr
Website: www.pro-line.com.tr

QNAP Security
Tel: +886 2 8698 2000
E-mail: nvr@qnap.com
Website: http://www.qnapsecurity.com




S2 Security
Tel:+1 (508) 663-2500
E-mail: sales@S2sys.com
Website: http://s2sys.com/

Salient Systems
Tel: +1 512-617-4800
E-mail: sales@salientsys.com
Website: http://www.salientsys.com

SEB Systemhouse AG
Tel: +49 (941) / 59 52 0-12
E-mail: peter.lewald@lewald.com
Website: http://www.lewald.com

SECURITY ONE ARGENTINA
Tel: +54-11-4555-1594/6528
E-mail: info@securityone.com.ar
Website: http://www.securityone.com.ar/

SEEnergy Corp.
Tel: +866-2-87681518
E-mail: sales@seenergy.com.tw
Website: www.seenergy.com.tw

SeeTec AG
Tel: +49 (0) 7256 8086 0
E-mail: info@seetec.eu
Website: http://www.seetec.eu/

Seventh LTDA
Tel: +55 48 3239-0200
E-mail: contato@seventh.com.br
Website: http://www.seventh.com.br

SOFTGUARD TECHNOLOGIES CORP.
Tel: +1-786-866-2138
E-mail: info@softguard.com
Website: http://www.softguard.com/

Space Hellas SA
Tel: +30210 6504100
E-mail: info@space.gr
Website: http://www.space.gr/

Spectator Video Technology
Tel: +31-162-677747
E-mail: seemore@spectator-video.com
Website: http://www.spectator-video.com/

SureView Systems
Tel: +1 (877) 712-8766
E-mail:
Website: http://www.sureviewsystems.com

Synology Inc.
Tel: +886 2 2552 1814
E-mail:
Website: http://www.synology.com/

Teleste Corporation
Tel: +358 2 260 5611
E-mail: info.vn@teleste.com
Website: www.teleste.com

Unisight Digital Technologies, Inc.
Tel: +1 303 680 6629
E-mail: inquiries@unisight.net
Website: http://www.unisight.net/

Veracity
Tel: +44 1292 264967
E-mail: info@veracityuk.com
Website: http://www.veracityglobal.com/

VeViTec
Tel: +49 2163 888-56-0
E-mail: info@vevitec.de
Website: http://www.vevitec.de/

Video Insight
Tel: +49 2163 888-56-0
E-mail: sales@video-insight.com
Website: http://www.video-insight.com



Virtual Eye
Tel: +603 4270 2228
E-mail: sales@ipocketsolution.com



Voloforce
Tel: +1 877-836-4901
E-mail: paul@voloforce.com
Website: http://www.voloforce.com

Access Control Partners

DDS Ltd.
Tel: +972 2 6788264
E-mail: nadine@dds-security.com
Website: http://www.dds-security.com

DSX Access Systems, Inc.
Tel: +1 888-419-8353
E-mail: sales@dsxinc.com
Website: http://www.dsxinc.com

Inner Range
Tel: +61 3 9780 4300
E-mail: admin@innerrange.com
Website: http://www.innerrange.com

Keyking Group Ltd.
Tel: +1-70 4 464 6493
E-mail: info@key-king.com
Website: http://www.key-king.com

Lenel Systems International Inc
Tel: +1-585-248-9720
E-mail: keziah@lenel.com
Website: http://www.lenel.com/

MAXXESS Systems EMEA
Tel: +44 (0) 1344 440083
E-mail: lcopland@maxxess-systems.com
Website: http://www.maxxess-systems.com/

Paxton
Tel: +44 (0) 127 381 1011
E-mail: support@paxton.co.uk
Website: http://www.paxton.co.uk

Roger
Tel: +48 55 272 0132
E-mail: roger@roger.pl
Website: http://www.roger.pl/

Rosslare Security Products
Tel: +1 866-632-1101
E-mail: jerel.fields@rosslaresecurity.com
Website: http://www.rosslaresecurity.com/

Platform Partners

©Intel Corporation
Tel: +408-765-8080
E-mail: http://edc.intel.com/Get-Help/external/
Website: http://www.intel.com/p/en_US/embedded

I-View Now
Tel: +1 702.896.4643
E-mail: info@i-viewnow.com
Website: http://www.i-viewnow.com

Prysm Software
Tel:
E-mail:
Website: http://www.prysm-software.com

Seventh LTDA
Tel: +55 48 3239-0200
E-mail: contato@seventh.com.br
Website: http://www.seventh.com.br

Solink
Tel: +1-844-635-7305
E-mail: sales@solinkcorp.com
Website: http://www.solinkcorp.com

Texas Instruments
Tel: +1 972 644 5580
E-mail: support@ti.com
Website: http://www.ti.com/video

Vigitron, Inc.
Tel: +1 (888)-574-8942
E-mail: info@vigitron.com
Website: http://www.vigitron.com

Storage Partners

Hewlett-Packard Company
Tel: +65 6275 3888
Website: http://www.hp.com

Pivot3
Tel: +1-281-516-6000
E-mail: sales@pivot3.com
Website: www.pivot3.com

Seagate Technology
Tel: +1 831 438 6550 (Americas),
+33 14186 1000 (Europe)
Website: http://www.seagate.com

Western Digital Technologies, Inc
Tel: +949-672-7300
Website: http://www.westerndigital.com

HEOP Partners

A.I. Tech
Tel: +39 089 963005
E-mail: sales@aitech.vision
Website: www.aitech.vision

Ivideon
Tel: (888) 683-8950
E-mail: partners@ivideon.com
Website: http://www.ivideon.com/

RetailFlux Inc.
Tel: +47 951 49 885
E-mail: info@retailflux.com
Website: http://www.retailflux.com/
HEOP (Hikvision Embedded Open Platform)
Hikvision Embedded Open Platform, or HEOP for short, is open for running third-party applications in Hikvision network cameras, allowing the third party applications to be downloaded and installed on Hikvision network cameras.
The platform allows integrators to adopt their confidential protocol for product development without providing the protocol to Hikvision. Furthermore, integrators can also control the integration progress by themselves.
Hikvision Embedded Open Platform makes it possible for integrators, resellers and end users to select the most suitable intelligent application or cloud service application due to their specific needs for their Hikvision network video products.
The platform makes it possible for integrators to construct their own webpage/web component without the help of Hikvision.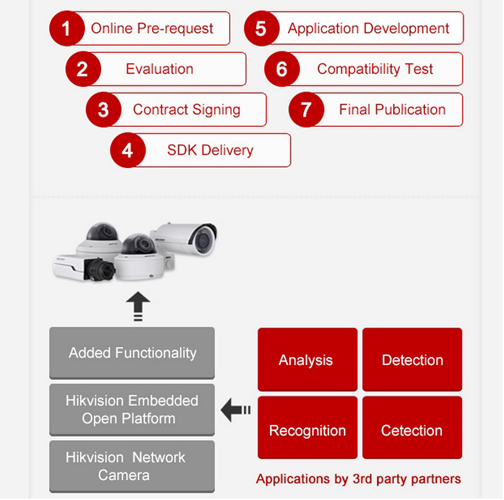 Contacts
Headquarters:
Hikvision Digital Technology Co., Ltd.
No.555, Qianmo Road, Binjiang District
Hangzhou 310052
China
+86 571 8807 5998
+86 571 8993 5635
overseasbusiness@hikvision.com
sales@hikvision.com
www.hikvision.com

Hikvision USA
+1 909 895 0400
Toll free: +1 866 200 6690
(U.S. only)
salesusa@hikvision.com

Hikvision Europe
+31 23 5542770
saleseuro@hikvision.com

Hikvision Middle East
+971-4-8848766
salesme@hikvision.com

Hikvision India
+91-22-28469900
sales@pramahikvision.com
Hikvision Russia
+7-812 313 19 63
salesru@hikvision.com
Hikvision Africa
+27 (10) -35 1172
sale.africa@hikvision.com
support.africa@hikvision.com
Hikvision Canada
+1 866 200 6690 (toll free)
+1 909 595 2788
techsupport.ca@hikvision.com
sales.canada@hikvision.com
Hikvision France


+33 (0) 1 85 330 450


+33 (0) 1 85 330 443


info.fr@hikvision.com


support.fr@hikvision.com

Hikvision Hong Kong


852 2151 1761


info.hk@hikvision.com


support@hikvision.com

Hikvision Italy
+39 0438 6902
info.it@hikvision.com

Hikvision Korea
+82 (0) 31 731 8817
korea@hikvision.com

Hikvision Latin America
latam.sales@hikvision.com
latam.support@hikvision.com