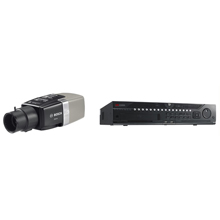 The collaboration offers seamless integration of Bosch HD cameras and Hikvision's NVR
Recently, Bosch launched the Integration Partner Program (IPP) in China, which aims to improve product interoperability and provide the best product mix and solutions to customers, stirring a new heat of integration cooperation in the industry.
Bosch and Hikvision have reached a collaboration agreement through the Integration Partner Program. A long-term, strategic partnership has been set up through a deep level of integration and compatibility between HD cameras from Bosch and Hikvision's Network Video Recorder. This goes beyond basic functionality and integrates the latest technological innovations and sophisticated products from both companies. The result is an ideal integrated solution for vertical applications such as commercial buildings, transportation, medical and corporate campuses.
"With our cooperation, the integration of our products can achieve powerful functionality and provides optimal solutions and combinations for integrators, consultants, design firms and end users. And Bosch will keep improving the innovation in our products as well as third-party compatibility, aiming to offer more integration possibilities," said Chen Chuang, Manager of the IPP, Bosch Security Systems China.
"We've seen a continual transition in the overall security industry from analogue to IP. This cooperation with Bosch is an excellent example of two leading technology providers working together to provide highly effective IP video monitoring and recording solutions. Both parties' sophisticated vertical applications will increase," noted Keen Yao, International Marketing Director at Hikvision.
Bosch is dedicated to developing integration-friendly products. All IP cameras and encoders are ONVIF conformant and run one firmware, allowing partners to support several dozens of products at the same time and with ease. And now, Bosch is presenting its technology in an even more transparent way with the launch of the Integration Partner Program.
Download PDF version
Download PDF version