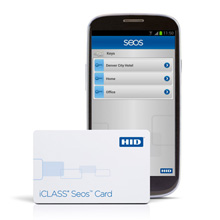 The showcase highlights the use of secure digital keys and identity credentials for mobile access
HID Global, a worldwide leader in secure identity solutions, recently announced it will showcase its secure digital keys and identity credentials for powering mobile access together with parent company ASSA ABLOY at this week's Mobile World Congress in Barcelona. The company will be demonstrating its award-winning Seos digital credentials that can be embedded in Near Field Communications (NFC) enabled smartphones for mobile access control, along with its iCLASS SE readers, and Seos-enabled locks from ASSA ABLOY and its group companies Yale Locks and VingCard Elsafe. The showcase will highlight the use of digital keys to open doors to commercial buildings, offices, universities, hospitals, hotels and homes.
HID Global will demonstrate its mobile access solutions from February 25-28 in the NFC Center at ASSA ABLOY's Pod #1 during Mobile World Congress held at Fira Gran Via. The NFC Center is located in the heart of Congress Square and will showcase NFC-enabled handsets and their capabilities as well as information on the NFC ecosystem.
Additional Congress activities that reinforce HID Global and ASSA ABLOY's leadership in mobile access technologies, products, solutions and global service provider relationships include:
GSMA in conjunction with ASSA ABLOY and other companies will showcase an integrated range of mobile NFC services that allow attendees with NFC-enabled handsets to take advantage of NFC technology at locations throughout the Fira Gran Via and in Barcelona.
Yale Real Living locks will be demonstrated in the GSMA Connected City, a real city street that explores how intelligent wireless connections are driving innovation in order to deliver successful products, customer value and new business opportunities.
Oberthur Technologies will demonstrate Seos on an Oberthur Technologies dragonFly NFC SIM card with Essence by VingCard electronic lock from VingCard Elsafe locks in the Oberthur Technologies stand #6C81, Hall 6. Seos-enabled locks from VingCard Elsafe will be used in the GSMA Connected City to provide conference attendees' access to different meeting rooms.
During this year's Mobile World Congress, 20 GSMA staff members will also be using their Seos enabled NFC-capable smartphones and ASSA ABLOY's Seos digital keys application to access their rooms at Hotel Santos Porta Fira. After staff members check in to the hotel using their handsets, they will receive their room keys straight to their phone via the Seos applet. To enter their hotel rooms, staff members just touch their handset on the NFC compatible Signature RFID hotel door lock from VingCard Elsafe. The ASSA ABLOY Seos ecosystem consists of interoperable electromechanical locks and readers, mobile phone applications, a secure digital key delivery mechanism and a Trusted Service Manager.
Download PDF version
Download PDF version