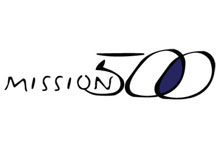 Mission 500 is hosting a 5K charity run at ISC West on March 25, 2010
Mission 500, a charity organisation formed strictly to engage security professionals in supporting the goal of sponsoring 500 children in need, is hosting a 5K charity run at
ISC West
on March 25, 2010. This first of a kind event at an ISC Expo was conceived to engage new corporate sponsors as well as individuals within the industry.
Altronix Corporation
,
HID
, LRG Marketing Communications and
Morse Watchmans
are charter sponsors to date supporting the Security 5K / Mission 500 Race at the 2010 ISC West Expo in Las Vegas.
The Security 5K / Mission 500 Race is a joint collaboration between United Publications, publishers of Security Systems News and Security Director News; Reed Exhibitions, proprietors of ISC Expos; and Mission 500.
"The Security 5K / Mission 500 Race offers a great opportunity for the industry to provide direct support to needy children around the world. We hope to engage as many exhibitors and attendees as possible to lace up their running shoes and participate," said George Fletcher, Advisory Council Member/Volunteer, Mission 500. "We felt this charity race is perfect for the Las Vegas venue, and provides the ideal platform to build a greater sense of community and social responsibility within the professional security industry. More important, one hundred percent of the funds raised will be channelled directly to World Vision."
Runners can register for the race for a nominal fee of $30.00, which will go directly to the charity. Additionally, all visitors who pre-register online for the ISC West Expo will receive notification of the Race and be asked if they would like to participate. A reception and Awards Ceremony for the Security 5K / Mission 500 Race will be hosted by the organising sponsors and by the Mission 500 organisation on the evening of March 25 at the Sands Expo and Convention Centre.
"
Our stock in trade is security, but nowhere is the concept of security more relevant than in the life of a child,
" added Alan Forman, President, Altronix Corporation and member of the Mission 500 Advisory Council. "
Food, clothing and a roof over their heads are basic needs that no child should be denied.
"
Download PDF version
Download PDF version