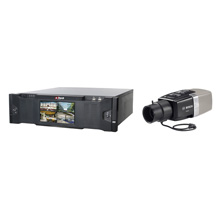 The collaboration offers seamless integration of Dahua HD cameras and Bosch's NVR and VMS
Recently, Bosch launched the Integration Partner Program (IPP) in China, which aims to improve product interoperability and integration cooperation between security manufacturers.
Through the Integration Partner Program, Dahua and Bosch have set up a long-term, strategic partnership and achieved compatibility between HD cameras from Dahua and Bosch's Network Video Recorder or VMS. Dahua's powerful 128 Channel Super NVR can record up to 128 network cameras and is designed to satisfy the most demanding projects. Aiming to meet high-capacity storage needs, Dahua's 6000 series NVRs are ideal for wide location such as ports, power plants and airports. The result is a seamless integration of industry-leading products to deliver customers a powerful option for video integration.
"The collaboration with Dahua allows customers to leverage the technology from both our companies for their critical video projects." said Chen Chuang, Manager of the IPP, Bosch Security Systems China. 'Customers can now access the cutting edge features from Bosch IP video cameras together with the security and flexibility of Dahua NVR technology.'
"Thanks to both parties' great efforts, we now integrate products from both sides," said Michael Chen, Vice President of Dahua Technology Co., Ltd. "We put IP search, video encoding, video/audio, auto re-connection, encoding configuration, motion detection, PTZ control and more into real integration, allowing our customers to enjoy a feature-rich integrated solution. Already we have seen our integrated products installed in projects. This has made our customers eager to see what else can be achieved under this IPP partnership."
Bosch is dedicated to developing integration-friendly products. All IP cameras and encoders are ONVIF conformant and run one firmware, allowing partners to support several dozens of products at the same time and with ease. And now, Bosch is presenting its technology in an even more transparent way with the launch of the Integration Partner Program.
Download PDF version
Download PDF version