Aperio® – Wireless lock technology
Aperio® enables cost effective expansions of access control systems made by any manufacturer
Available on the global market place, ASSA ABLOY's Aperio® Technology now enables a wide range of access control providers to cost-effectively integrate non-wired doors with mechanical locks into access control systems.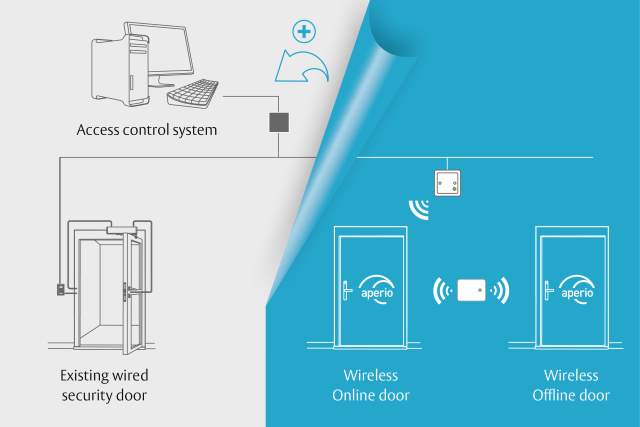 An access control system is standard equipment for companies and public administrations and provides buildings with a very high standard of security. However, installing access control doors is very expensive due to the extensive wiring required. This is why access control systems often only cover doors with very high security requirements.
All other doors feature mechanical locks and therefore cannot be monitored and managed and if a master key is lost there can be a major security risk, not a satisfactory set of circumstances for security officers, so this is where Aperio® Technology comes in. Doors will merely need to be equipped with electronic Aperio® locking cylinders or escutcheons with RFID readers and linked to the access control system via a communications hub.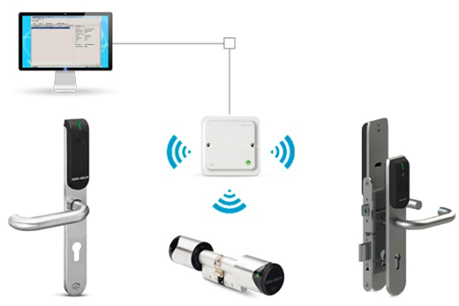 "ASSA ABLOY`s Aperio® Technology allows security and facility managers to conveniently and cost effectively increase the number of doors that can be monitored," explains Chris Bone, ASSA ABLOY Vice-President Access Control EMEA.

The HID Genuine certified Aperio® Technology is suitable for integration with HID technologies and controllers and supports in addition to high frequency RFID technologies iCLASS, MIFARE and DESFire now 125 kHz Proximity (HID PROX/ EM410). There is generally no need to replace the existing RFID cards or transponders as these can also be used for wireless Aperio® doors.
As Aperio® Technology is based on an open standard, it can be integrated into access control systems made by any manufacturer.


ASSA ABLOY EMEA case studies
ASSA ABLOY EMEA white papers
Contacts
ASSA ABLOY EMEA
Duke Street
Woking
Surrey GU21 5BH
United Kingdom
Phone: +44 (0) 148 371 2940
Email: thomas.schulz@assaabloy.com
Website: www.assaabloy.com/aperio