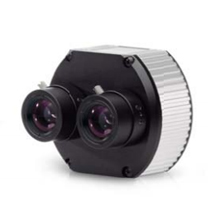 Arecont's new camera combines colour 3-MP image sensor with WDR and monochrome 1.2MP image sensor
Arecont Vision, the industry leader in IP-based megapixel camera technology, introduced its advanced MegaVideo Compact Dual Sensor Day/Night camera at ISC West (booth #8045). The unique megapixel camera combines a colour 3-megapixel (MP) image sensor with Wide Dynamic Range (WDR) and a highly optimised monochrome 1.2MP image sensor with superior low light performance in a single compact unit. The dual sensor configuration captures highly detailed images in changing lighting conditions by switching from colour WDR to monochrome imaging when light levels fall below a specified threshold, or by streaming images from both sensors simultaneously.
"Our MegaVideo Compact Dual Sensor Day/Night camera solves the longstanding challenge of providing continuous high-quality surveillance in changing lighting conditions," said Raul Calderon, Senior Vice President, Arecont Vision. "By combining the benefits of WDR technology during daylight hours with superior night-time sensitivity, our MegaVideo Compact Dual Sensor camera offers an extremely cost-effective, high-performance surveillance solution in a very small package."
Arecont Vision's WDR technology delivers a dynamic range of up to 100dB at full resolution without lowering frame rates. By combining long and short exposures in the same field of view, WDR maximises the amount of detail in both bright and dark areas of a scene.
Arecont Vision's new Compact Dual Sensor Day/Night camera features dual H.264 (MPEG-4 Part 10) and MJPEG encoders, fast frame rates, up-scaling of the 1.2MP monochrome sensor to 3MP to support video management systems (VMS), bit rate control, multi-streaming, forensic zooming and PoE.
Download PDF version