BCDVideo Video Servers (IP Transmission) / Video Encoders
(26)
Browse Video Servers (IP Transmission) / Video Encoders
Video server (IP transmission) products updated recently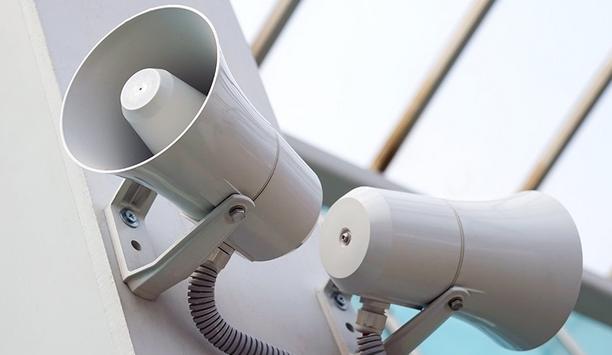 What changes has COVID-19 bought to the installation of VA/PA Systems?
TOA Corporation (UK) Ltd discuss what changes COVID-19 has bought to the installation of VA/PA Systems and how the integration of IP has impacted on that. With a year and a half of global uncertainty, we have seen huge changes in what VA/PA systems will need to deliver in order to provide safe and robust solutions with advanced zone and directional messaging. The impact of COVID has pushed installers to re-think what end-users need long-term to manage any future changes in guidelines especially for large events and complex applications such as travel hubs and how the integration of IP will assist with installing safe systems in the future. Providing public announcements PA/VA has been one of the few parts of our industry that has remained consistent and buoyant during the lockdown. It has been the ideal time for public buildings to upgrade as restrictions did not apply to the construction industry and many installations were actually fast-tracked in the hope that when restrictions lifted commercial properties could open as quickly as possible. PA/VA has been one of the few parts of our industry that has remained consistent This was coupled with the knowledge that changes would have to be made to address the increased demand in providing public announcements outside the standard evacuation messages that most VA/PA have been traditionally used for and enable the impact of having to be flexible to deliver multiple messages. Flexible system management So what is changing? Leading in VA/PA is the availability of IP which enables more flexible system management. It allows installation/solution management engineers to offer remote access to complex systems from a central control room meaning that they can maintain and control systems from one hub and operate for multiple areas on large complex sites such as an airport or stadiums. This provides not only a better level of technical coverage across a whole site but also allows an engineer to monitor and fault find without the delay of waiting to being able to access a specific area. This is especially important for vulnerable applications such as schools and health facilities as it enables them to control and reduce the amount of interaction with engineers they need to give physical access to – therefore reducing risk. Potentially less maintenance This makes it more financially viable for both the end-user and the maintenance provider Long-term, IP also makes these systems much more cost-effective. For example, one engineer can manage a hub of multiple locations with potentially less maintenance call-out costs. This makes it more financially viable for both the end-user and the maintenance provider to justify the initial investment. With these systems being paramount to people's safety remote intervention allows for swift fault finding and problem resolution in a more effective response time and cost-effective way. To enable this the biggest development has been the integration between product manufacturers and software developers. They have been able to collaborate greatly to get products such a horn speakers to connect via industrial standard network protocols giving much greater flexibility in remote system management. Multi-rack systems The technology involved in VA/PA, especially integrating with IP, has seen huge growth recently and we are involved in projects that involve multi-rack systems to enable controlled zone management and evacuation options with greater collaboration between integrators to get the systems to work effectively. VA/PA systems must be at the forefront of long term solutions and sustainability As more people are allowed to gather in larger numbers public-facing buildings need to address their evacuation and voice announcement procedures in order to be compliant. They need to be able to deliver clear and effective messages to their visitors in order to remain open whenever guidelines change. VA/PA systems must be at the forefront of long-term solutions and sustainability. The other area of VA/PA that has changed immensely in the last 18 months is the vast difference in messaging requirements that organisations need. Public safety announcements Systems that have been used infrequently for emergency situations only are now delivering daily messages with public safety announcements. In reality, although we all hope that we will never go back to the peak of lockdown, installations must be robust to cope with any situation in the future. Many smaller spaces that wouldn't have thought they would need a PA system at all now understand that they too have an obligation to deliver public information and guidance and on a regular daily basis and this will lead to system designs being scaled up and down to meet the broadening array of applications that require VA/PA and how this is managed in the event that new protocols have to be introduced. Detailed technical plans Systems should be certified on the European Standard EN 54-16 and should be expertly designed Design and planning should be key when sourcing the right solution. Systems should be certified on the European Standard EN 54-16 and should be expertly designed to specification with detailed technical plans and tailor-made to the requirements of the end-user. With people's safety in your hands, you cannot get these systems wrong so it is important that installers are able to draw on the expert technical team resources that we, as a manufacturer, offer in adhering to this standard and for us to be able to provide a commissioning service to sign off on these important safety systems. Compared with traditional lights and sounders systems we believe the future of evacuation will be voice-based. In our ever-increasing culturally diverse world we have to embrace systems that need to be multi-lingual or be able to dedicate a message to a specific target audience and be able to be drilled down to zones and give much more directional information. Multi-zoned academies As office buildings get taller, health facilities become super hospitals or schools upgrade into multi-zoned academies we have to be able to evacuate or hold back evacuation to enable safe crowd control. In order to facilitate this VA will have to replace traditional systems or work in tandem with them. We must point out that in residential high-rise properties the primary method of evacuation, to comply to BS 8629, would still be traditional lights and sounders even if you install a separate VA system. Voice Alarm and Public Address is a long-term investment, especially as the global situation may take many years to recover, and as manufacturers working with our integrators and software developers we must continue to lead in the development of the best systems to ensure we can keep everyone safe.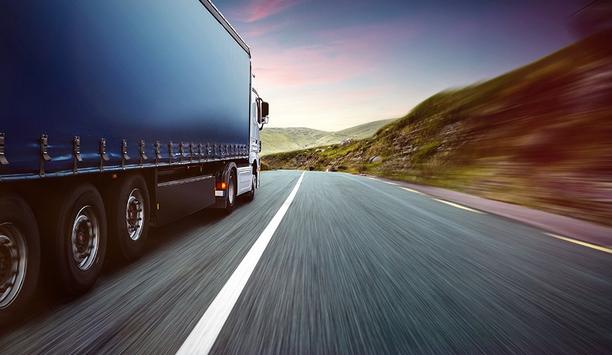 Securing mobile vehicles: The cloud and solving transportation industry challenges
Securing Intelligent Transportation Systems (ITS) in the transportation industry is multi-faceted for a multitude of reasons. Pressures build for transit industry players to modernise their security systems, while also mitigating the vulnerabilities, risks, and growth-restrictions associated with proprietary as well as integrated solutions. There are the usual physical security obstacles when it comes to increasingly integrated solutions and retrofitting updated technologies into legacy systems. Starting with edge devices like cameras and intelligent sensors acquiring video, analytics and beyond, these edge devices are now found in almost all public transportation like buses, trains, subways, airplanes, cruise lines, and so much more. You can even find them in the world's last manually operated cable car systems in San Francisco. The next layer to consider is the infrastructure and networks that support these edge devices and connect them to centralized monitoring stations or a VMS. Without this layer, all efforts at the edge or stations are in vain as you lose the connection between the two. And the final layer to consider when building a comprehensive transit solution is the software, recording devices, or viewing stations themselves that capture and report the video. The challenge of mobility However, the transportation industry in particular has a very unique challenge that many others do not – mobility. As other industries become more connected and integrated, they don't usually have to consider going in and out or bouncing between networks as edge devices physically move. Obviously in the nature of transportation, this is key. Have you ever had a bad experience with your cellular, broadband or Wi-Fi at your home or office? You are not alone. The transportation industry in particular has a very unique challenge that many others do not – mobility Can you trust these same environments to record your surveillance video to the Cloud without losing any frames, non-stop 24 hours a day, 7 days a week, 365 days a year? To add to the complexity – how do you not only provide a reliable and secure solution when it's mobile, travelling at varying speeds, and can be in/out of coverage using various wireless technologies? Waiting to upload video from a transport vehicle when it comes into port, the station, or any centralised location is a reactive approach that simply will not do any longer. Transit operations require a more proactive approach today and the ability to constantly know what is going on at any given time on their mobile vehicles, and escalate that information to headquarters, authorities, or law enforcement if needed; which can only occur with real-time monitoring. This is the ultimate question when it comes to collecting, analysing, and sharing data from mobile vehicles – how to get the video from public transportation vehicles alike to headquarters in real time! Managing video data In order to answer this question, let's get back to basics. The management and nature of video data differs greatly from conventional (IT) data. Not only is video conducted of large frames, but there are specific and important relationships among the frames and the timing between them. This relationship can easily get lost in translation if not handled properly. This is why it's critical to consider the proper way to transmit large frames while under unstable or variable networks. The Internet and its protocols were designed more than two decades ago and purposed for conventional data. Although the Internet itself has not changed, today's network environments run a lot faster, expand to further ranges, and support a variety of different types of data. Because the internet is more reliable and affordable than in the past some might think it can handle anything. However, it is good for data, but not for video. This combination makes it the perfect time to convert video recording to the Cloud! Video transmission protocol One of the main issues with today's technology is the degradation of video quality when transmitting video over the Internet. ITS are in dire need for reliable transmission of real-time video recording. To address this need a radical, yet proven, video transmission protocol has recently been introduced to the market. It uses AI technology and to adapt to different environments in order to always deliver high quality, complete video frames. This protocol, when equipped with encryption and authentication, enables video to be transmitted reliably and securely over the Internet in a cloud environment. One of the main issues with today's technology is the degradation of video quality when transmitting video over the Internet Finally, transportation industry has a video recording Cloud solution that is designed for (massive) video that can handle networks that might be experiencing high error rate. Such a protocol will not only answer the current challenges of the transportation industry, but also make the previously risky Cloud environment safe for even the most reserved environments and entities. With revolutionary transmission protocols, the time is now to consider adopting private Cloud for your transportation operations.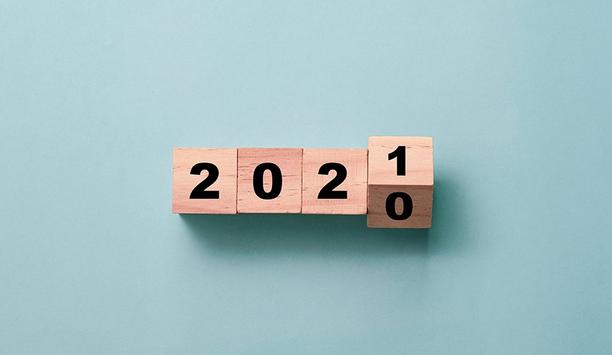 Trends and challenges we will see in the AI-driven security space in 2021
For decades, the nature of global safety has been evolving. From physical security threats like large-scale terrorist attacks and lone actor stabbings to chemical threats such as the Salisbury poisonings and even microbiological threats such as COVID-19, new challenges are constantly arising and the threat landscape we operate in today is constantly changing. Compounding the complexity of the security issues is the complexity and nature of attacks. With the economic downturn, there is the traditional rise in theft, violence and other crimes. Compound this with unmanned businesses and work-at-home staff, and there is a perfect storm for a rise in security threats. Artificial intelligence (AI) and specifically the branch of AI known as machine learning (ML), was already causing widespread disruption in many industries, including the security industry. AI has been a driving force to replace labour-based business models with integrated data and actionable intelligence that is context-aware. It has become apparent that AI will play a big part in the ongoing fight against both pandemics such as COVID-19, as well as other threats that we may face in the future. With all of this in mind, 2021 is poised to be a big year for AI growth. While AI is going to continue to impact our lives in dozens of ways, from smart sensors to face mask compliance detection, the following reflects a few top trends and challenges that I have my eye on for 2021 as we close out this year. The rise of smart city investments One such example is the increasing development of smart cities and how AI can be leveraged to build safe communities. To date, we've seen an increase in the number of smart city programmes around the globe; cities that are beginning to deploy innovative technologies for the management and ease of life services. Compounding the complexity of the security issues is the complexity and nature of attacks Typical development of a city includes standard infrastructure - roads, schools, power, water, transportation. Now, internet, data and AI capabilities are part of the standard infrastructure requirements for all new developments. AI promises to deliver increased efficiencies with the infrastructure that will accommodate growing populations while reducing our impact on the environment, resources, and communities. Global cities now account for more than half of the world's population, and the United Nations projects the number to balloon to 68% by mid-century. Owing to both demographic shifts and overall population growth, that means that around 2.5 billion people could be added to urban areas by the middle of the century, predicts the UN Department of Economic and Social Affairs (DESA). With an increase in population has come an increase in global spending on smart city initiatives to drive down the impact of growing urban concentration. Global spending on smart city initiatives is expected to total nearly $124 billion this year, an increase of 18.9% over 2019, according to IDC's Worldwide Semiannual Smart Cities Spending Guide, while Singapore, Tokyo, London and New York as the big spenders - expected to spend more than $1 billion in 2020. Using AI-driven technology to create safer public and private spaces Today, security solutions driven by AI are being developed and can be covertly deployed across a range of physical environments to protect the population in a more efficient, and accurate manner. As we look ahead to the future of public safety, it's clear that new AI technology can dramatically improve the effectiveness of today's physical security space. One such deployment is the use of video object recognition/computer vision software that can be integrated into existing video monitoring security (VMS) systems. These enhanced VMS systems can be deployed both inside and outside of buildings to identify risks and flag threats, such weapons, aggressive behaviours, theft, and safety compliance. This helps to minimise the impact of a breach by an early alert to onsite security in real-time to the location and nature of the potential threat, allowing them to intervene before a loss occurs. These same AI-enabled video solutions can similarly be used to provide advanced business operations in retail, logistics, and manufacturing organisations. Multi-sensor security solutions Also, targeted magnetic and radar sensor technologies, concealed in everyday objects like planter boxes or inside walls, can now scan individuals and bags entering a building for concealed threat objects. Using AI/machine learning, these two sensor solutions combined can identify metal content on the body and bag and match the item to a catalogue of threat items, such as guns, rifles, knives and bombs. Security solutions driven by AI are being developed and can be covertly deployed across a range of physical environments Without this advanced multi-sensor solution, it becomes nearly impossible to discover a weapon on a person's body before it appears in an assailant's hands. This multi-sensor solution allows for touchless, unobtrusive access to a building, but allows for immediate notification to onsite security when a concealed threat is detected. The hidden technology thus empowers security staff to intercept threats before they evolve into a wider scale attack, while also maintaining the privacy and civil liberties of the public, unless, of course, they are carrying a concealed weapon or pose a physical threat. With the advent of sophisticated surveillance and technological innovation, a level of caution must be exerted. Despite the ongoing global debate, there remains little regulation about the use of AI technologies in today's physical security space. One thing is certain; it must be deployed in the right place, at the right time, with the right privacy and civil liberty protection objectives. People don't want to be protected by omnipresent, obstructive and overbearing security systems that infringe on their privacy and civil liberties. They want a proper balance between security and their current way of life, one that must be fused together. Technology and tracing COVID-19 Machine learning-based technologies are playing a substantial role in the response to the COVID-19 pandemic. Traditionally, the key purpose of surveillance systems has been to detect and deter threats, including the detection of visible and hidden weapons and abnormal behaviour. While this, of course, remains a primary focus, today we are seeing how surveillance systems defend against new invisible threats, as well as rapidly automate the process of contact-tracing to capture and contain a virus before it spreads. Again, the ability to track and trace through parsing algorithms that can manage through enormous amounts of data provides a highly scalable and rapid response mechanism to control the spread of threats. AI has demonstrated potential for identifying those displaying symptoms of infectious diseases, without requiring physical human contact Although the threat may not be visible, it is just as destructive. By incorporating AI into existing technologies, government, healthcare and security professionals can monitor public spaces and environments through the combined use of digital and thermal video surveillance cameras and video management systems); just one of the solutions being explored. AI has demonstrated potential for identifying those displaying symptoms of infectious diseases, without requiring physical human contact. By Using AI-powered video analytic software, businesses can monitor face masks, social distancing and large gathering compliance and also detect elevated body temperature. Critically, technology must be capable of both identifying and tracking the virus but also be unobtrusive. An unobtrusive system that is adaptable enough to be deployed across a range of environments where the public gathers in enclosed spaces is necessary to be effective. Security in 2021 Technology has proven itself to be a valuable ally in times of crisis. For smart cities, the use of innovative AI/machine learning technologies will help optimise security solutions in areas that are brimming with potential. As we look ahead to the future of security in a world that is impacted by such a wide range of threats, from physical to chemical to microbiological, it's clear that new technologies, specifically AI can dramatically improve the effectiveness of security systems and help us to better defend against a wide spectrum of threats. Technology has a huge role to play in making our communities safe in 2021 and beyond, but for security systems to be effective, they must not be oppressive or obstructive. This will ensure they have the full support of the public - the key to success.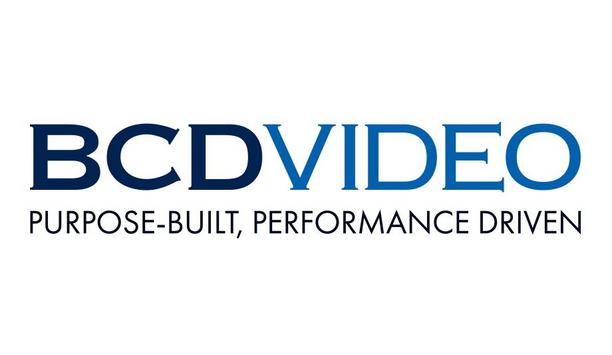 BCDVideo appoints Fredy Issa as Managing Director of MERAT region and hires four other new team members
BCDVideo, the global video data infrastructure solutions company, announced the appointment of Fredy Issa as Managing Director of the Middle East, Russia, Africa, and Turkey (MERAT) region. With 15 years of security industry experience, Issa is an internationally respected expert in IT, telecommunications, and security. He will continue to expand the aggressive growth ambitions for BCDVideo in the region. "I believe in the vision of BCDVideo and am excited to join the team to help expand their business, influence and success in the Middle East, Russia, Africa and Turkey region," said Fredy Issa, adding "When it comes to data storage for video surveillance, no one can do it better than BCD." Customised video data infrastructure solutions Issa adds, "Their customised video data infrastructure solutions, fast delivery of products, impressive network of partners, longstanding partnership with Dell Technologies, and reputation as a trusted advisor across the industry, truly distinguish BCD from the rest. These are just some of the reasons why I decided to join this globally renowned company." "I am delighted to welcome Fredy Issa as our new Managing Director of the Middle East, Russia, Africa and Turkey region," said Jeff Burgess, the Chief Executive Officer (CEO) at BCDVideo. Sales expert Fredy is a strategic, proactive business leader with practical and proven abilities to optimise sales performance" Jeff adds, "Fredy is a strategic, proactive business leader with practical and proven abilities to optimise sales performance, across an international scale. Fredy, along with Rami Fakhreddine, Gurhan Yildiz, Wael Noureddine, and Hassan Makki will be a great asset to the BCD team." Fredy Issa comes to BCDVideo from Dell Technologies, where he held the position of General Manager of the Surveillance, IoT and Smart/Digital Cities business for MERAT region. He led a team that delivered impressive, profitable growth and hundreds of millions of dollars of annual revenue. Vast industry experience Prior to that, he worked as District Manager, Digital Security & CCTV at Dell EMC in Dubai and at GE Healthcare in France as Regional Sales Manager. In addition to Fredy Issa's hire, BCDVideo is also welcoming to the team, four former Dell employees. The following individuals join BCD under these appointed roles: Rami Fakhreddine, Regional Sales Manager for Qatar, and Gulf States Gurhan Yildiz, Regional Sales Manager for Turkey, and CIS Wael Noureddine, Regional Sales Director for Saudi Arabia Hassan Makki, Regional Sales Manager for the United Arab Emirates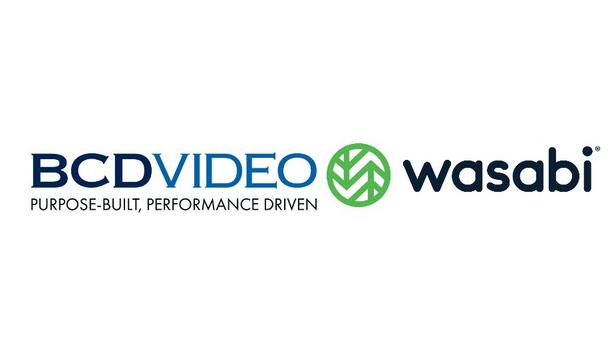 BCDVideo partners with Wasabi to provide on-premises storage options and cloud storage solutions to their users
BCDVideo, the pioneer in video data infrastructure, announces that it has partnered with Wasabi, the hot cloud storage company for video surveillance storage in the cloud. In an industry moving rapidly toward a hybrid-cloud model, this partnership expands the ability for both manufacturers to offer their customers a complete package: BCDVideo's purpose-built, on-premises storage options and Wasabi's competitive hot cloud storage solutions. Together, these two companies deliver a hybrid cloud solution that takes advantage of existing infrastructure, as well as next-generation cloud storage technology, to secure high volumes of video efficiently and affordably. Surveillance security market "We are thrilled about the opportunities this partnership will open up," said Jeff Burgess, CEO at BCD International. "Wasabi's cloud technology is already optimised for the video surveillance cloud storage space, which makes it a perfect extension for our purpose-built on-premises devices — working together is a no-brainer." Building on more than two decades of experience manufacturing video appliances in the surveillance security market, BCD is committed to offering customers the best user experience and value. Marrying Wasabi hot cloud storage with BCDVideo's Harmonize Bridge enables BCD and Video Storage Solutions (VSS) appliances to interact with Wasabi cloud storage and allows BCD to deliver on that commitment. With a cloud storage option that is one-fifth the price and faster than the competition, with no additional egress fees or API request charges, Wasabi is a game-changing, cloud technology provider. Together, these companies are moving the industry forward. Video surveillance storage Wasabi has a goal to make cloud storage a simple commodity and utility" "We see video surveillance storage requirements growing quickly and outpacing the capacities of on-premises storage alone. By adding affordable, high-performance cloud storage to the equation with BCD's on-premises storage, you get the best of both worlds," said David Friend, CEO of Wasabi. "Wasabi has a goal to make cloud storage a simple commodity and utility, just like electricity, so together with BCD, we make video surveillance storage simple and affordable in high volumes." Because Wasabi's cloud offering integrates with video surveillance vendors, customers can operate surveillance systems using anywhere from one to 1,000 cameras with varying storage needs, all with plenty of room to scale. Wasabi offers existing BCD customers flexibility as well, allowing users to use as much or as little cloud storage as works best for their system. Surveillance storage systems Using cloud storage as part of surveillance solutions allows customers to take advantage of bottomless storage while reducing the close and build-time required for hardware overhauls. Not to mention, with 11x9s of data durability (99.999999999% reliability), Wasabi hot cloud storage is a powerful addition to the BCD suite of appliances. As video is mission-critical, it is crucial to build surveillance storage systems that can archive older data at a lower cost, free up on-premises storage, and reduce the need for new CapEx spending in the meantime. Bringing BCDVideo and Wasabi together achieves that goal and paves an important path forward.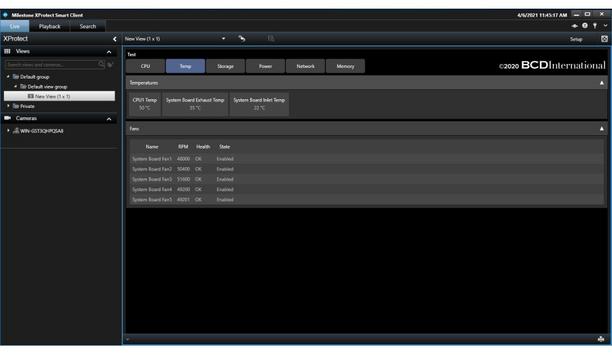 BCD International debuts Harmonize iDRAC plug-in with Milestone Systems XProtect Video Management Software
BCD International, the global video data infrastructure manufacturer comprised of BCDVideo, Video Storage Solutions (VSS), and BCDOEM, announced its Harmonize iDRAC plug-in integration with Milestone Systems XProtect® video management software (VMS). iDRAC, which stands for Integrated Dell Remote Access Controller, is a health monitoring agent for secure remote and local server management, powered by Dell Technologies, that resides on BCD servers and appliances. BCD has taken the iDRAC service and tightly integrated it with XProtect® so that hardware events, notifications and alarms are now presented within the VMS. Now, end-users and system integrators can monitor iDRAC features, such as hard disk status, temperatures, fan speed and power supplies, through XProtect®. BCDVideo and VSS appliances will be available with the Harmonize iDRAC plug-in with XProtect® beginning May 2021. BCD Harmonize iDRAC API Continuing to expand its technological prowess from its foundation in 1999 as a provider of high-availability IT servers to Fortune 500 companies to the pioneering provider of purpose-built video appliances in the surveillance security market, BCD remains committed to delivering the best user experience and value to its customer base. BCD achieves this by adding integrations that are available only through BCD's purpose-built appliances, as standard features on all of its related appliances. The Harmonize iDRAC plug-in for XProtect® is just one of the notable offerings under BCD's Harmonize portfolio of software solutions. How the integration works is BCD's Harmonize software suite ingests the iDRAC API and listens for specific events, such as drive failure, and shares this critical system information in real-time to operators. The integration ultimately empowers end-users and system integrators to be ahead of failures and proactively manage any server crashes that may happen. It also gives them insight as to how well or poor the server resources are being utilised by being able to monitor central processing unit (CPU) and random access memory (RAM) consumption. Milestone's XProtect This has been the missing link for the complete visibility of the health of the Milestone solution" "The BCD Harmonize iDRAC plug-in with Milestone's XProtect® software is a game changer," said Andrew Hubble, Managing Director, APAC at BCD International. "BCD's unique innovation completes the integrated relationship of the BCD appliance and the XProtect® software to provide the ability to receive alarms from both BCD's appliance and Milestone's software via the XProtect® graphic user interface." "This has been the missing link for the complete visibility of the health of the Milestone solution. Additionally, the Harmonize iDRAC plug-in now gives users basic configuration of the BCD appliance along with Milestone's software, providing better return on investment, competitiveness, and user experience for customers and their supporting system integrators." As video is mission critical, there has been strong demand for remote server management and health monitoring technologies from a single application across the industry. Any issue that arises from the video surveillance platform should be handled with the same importance as a camera tamper event, a door forced the issue in an access control system, or complex analytics setting. Those events are immediately pushed to an operator. With the Harmonize iDRAC plug-in, operators using XProtect® will now be able to immediately see and respond to storage issues before failure or other catastrophic events occur via the same screen as they are live viewing the site.
Related white papers
Choosing the right storage technology for video surveillance
Delivering a smart, secure and healthy workplace with cloud
Security investments retailers should consider for their 2021 budget