MOBOTIX CCTV Switchers & Switches
(1)
Browse CCTV Switchers & Switches
CCTV switcher products updated recently
Surge protection for security installations: 2017 saw increased investment
In 2017, DITEK saw how power surges from the many natural disasters that took place damaged many businesses. In a natural disaster, or even everyday business operations, a facility's entire investment in security, life safety and surveillance systems technology can be disabled or rendered useless in a few seconds. Surge protection solutions can mitigate those risks and protect security investments. Proactive approach to risk mitigation Throughout 2017, we also witnessed a change in how enterprises view surge protection, which included how investments are being made in surge protection to protect valuable security, life safety and surveillance systems, while also reducing downtime, manpower costs, liability vulnerabilities, and possibly compliance issues that can force businesses to actually cease operations. Effective security management is about mitigating risks. But risks cannot be mitigated without a proactive approach. Enterprises and integrators, who take the time to assess risk and to develop a strategy to incorporate effective detection, deter and response criteria to protect physical assets will be successful in 2018. 2018 and beyond That strategy includes designing surge protection into new security systems, while also adding surge protection to existing systems. Enterprises and security integrators who implement a surge protection strategy during security planning processes – or after – will be exercising prevention and mitigation, and they will be successful in 2018 and beyond. Surge protection devices have an untapped potential for enterprise surveillance and security systems In 2017, Ditek continued to offer security end users a solid surge protection solution. We also successfully educated system integrators, who are seeking value-added products or services to incorporate into their portfolios, on the importance of surge protection devices. Educating security integrators We believe that surge protection devices have an untapped potential for enterprise video surveillance and security systems, because they can and do meet safety and security challenges that have been rarely identified in the past. We are looking forward to 2018, when we will continue to develop new surge protection products – including a new product engineered to protect up to twelve individual fuel dispensers, which is critical to the financial operation of convenience stores. We will also continue to educate security integrators about the importance of including surge protection in the design/build RFP, to not only secure an enterprise's valuable security equipment, but also to help integrators to differentiate their capabilities and knowledge from the competition.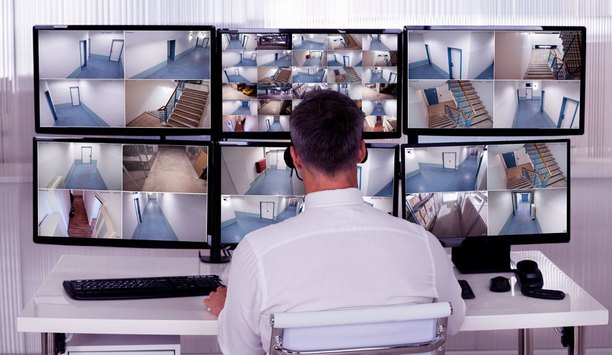 Technology evolution leads to changes in security control room furniture
Technology is changing the look and function of today's security control rooms. Old-school CRT (cathode-ray tube) monitors are giving way to the thinner, flat screen monitors in the control room environment, but the transition is gradual. Randy Smith of Winsted still sees many control rooms that need to make the conversion, which is a boon to his company's business. Furniture today is designed differently to accommodate the thinner monitors, often with larger screens. Need for integrated rack systems With the increase of IP-based systems comes the need for integrated rack systems that include advanced functionality such as cable management, adds Jim Coleman, National Sales Manager, AFC Industries. Server rooms are environmentally controlled by cooling systems and power systems monitored on the IP network. Low-profile flat screens allow centres to utilise space vertically, thus creating a smaller footprint for the consoles. Additionally, with IP-based systems, workstations will have a smaller footprint because there is less cumbersome equipment. In most cases the servers are stored in a secured, climate controlled environment to eliminate overheating of the servers and maintain their security, says Coleman. This environment also helps with cable and power management. AFC builds technical furniture racks that adhere to the precise needs of computer network server room operators. The company designs and fabricates LAN workbenches with versatile functionalities, and server room workstation racks that are scalable. There is a complete line of IT workbenches, IT computer racks and computer server rack mounts with flexible mounting options. In most cases the servers are stored in a secured, climate controlled environment to eliminate overheating of the servers and maintain their security Flexible control room designs Matko Papic, Chief Technology Officer of Evans Consoles, says the transition from bulky CRT equipment to flat-screen (lower profile) monitors was a major disruption in control room design; it changed the whole dynamic. Another evolution is the use of IP video streaming, which allows more flexibility in manipulation of audio-video content, and requires more flexible control room designs. Another shift, driven by larger, higher-definition monitors, is a shift to fewer monitors that display more information. Instead of a smaller monitor for each information stream, larger monitors now consolidate that information into "dashboard" displays. Looking ahead, control rooms will need to be more flexible, both in the initial design and the ability to adapt to changing technology, says Papic. Legacy customers who are currently using PCs may be moving to more remote applications. Sit-stand equipment will continue to be increasingly prevalent. "There will be more emphasis on flexibility, technology integration, and the ability to change over the life of the system," says Papic. Consolidation of multiple operations into a single system A trend in security is consolidation of multiple physical operations into a single system, says Papic. As a result, more customers are taking more interest in alarm management and situational awareness. How is the technology being used in terms of alarm triggers? How can the systems react rapidly and provide information to a larger audience in the control room? These questions impact how control rooms are designed, and Evans Consoles can adapt lessons learned from other markets to these trends in the security arena. Greater use of technology is inevitable, says Coleman of AFC Industries. "It is virtually impossible for humans to monitor all security data at the street level in our cities," he says. "As computers become more powerful and their programs more all-encompassing, we will see a greater shift to robotic and technology uses that will provide enhanced monitoring capabilities and safety Read our Control Rooms series here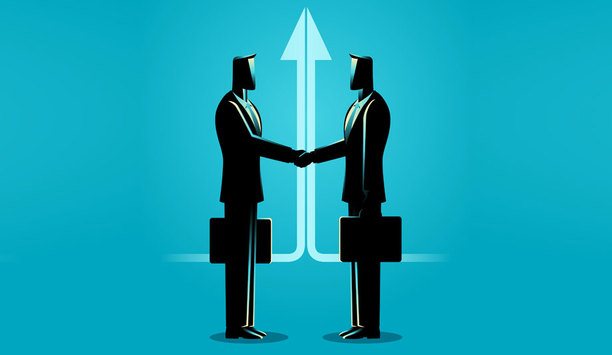 Will security industry consolidation stifle innovation?
The security industry will continue to see consolidation through acquisition in 2017. At the advent of IP camera adoption, we saw a great decline in large vertically integrated companies, which spurred a new era of innovation within smaller IP camera manufacturers, VMS providers and other hardware companies for storage and managed switches. We are now living in a new era of consolidation that is taking us full-circle back to vertical integration. Ultimately, the industry as a whole suffers because this consolidation will stifle innovation until the next big technology disruption takes shape. Interoperability across different verticals This time last year, we noted that the marketplace was moving toward converged technologies and the need for alarm management across multiple platforms into a common interface, turned out to be a popular request. If anything, we are only seeing just the beginning phases of this transition. The biggest surprise is that interoperability is not only confined to security technology, but also extends to parallel systems such as building automation, safety and environmental controls, and even Enterprise Resource Planning (ERP) software. Using Video Event Management Software (VEMS) alongside these intelligent platforms proves to be a valuable verification process for many new and exciting vertical markets. Arteco plans to continue the revenue growth and brand awareness achieved in 2016 Event-based video security software At Arteco, our highest growth sectors tend to be slightly insulated from economic fluctuation in the sense that we focus on securing critical infrastructure (electrical utilities and communications) as well as corporate and education campuses. Unfortunately, the continued growth in active shooter incidents have made physical security concerns top of mind for many organisations regardless of economic impact. The unexpected repercussions are that many new security technologies are emerging that cater to real-time event notification on both the macro and micro level. The exciting part of this trend is that users are leveraging a layered approach with multiple autonomous applications working together toward a common goal to improve security, which will hopefully ensure a high level of protection. Business growth and challenges Business has continued to grow year-over-year, and 2016 was a huge step forward for Arteco not only in terms of revenue growth, but also increased brand awareness in the United States and abroad. Our biggest challenge continues to be the crowded VMS market, which is filled with lower cost or even free substitute products. We are making great strides in overcoming this challenge by having a wonderful team of people, both on the technical and sales side of the organisation, who are focused on finding new and innovative ways to advance intuitive, open and affordable event-based and intelligent video security software into 2017. See the full coverage of 2016/2017 Review and Forecast articles here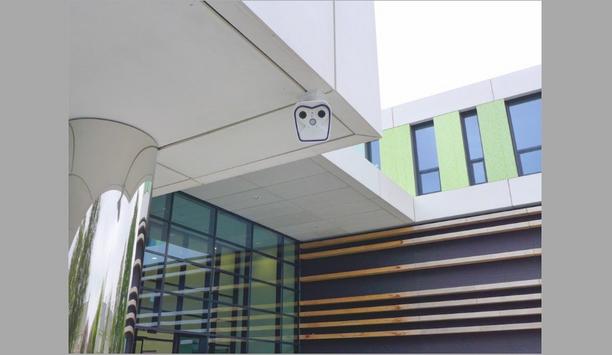 MOBOTIX video technology considered the standard for video security solutions in education & science sectors
Security at educational institutions is a highly sensitive issue. No matter whether it is a kindergarten, school, university or private learning institute, concentrated learning requires a harmonious environment to focus on the essentials. High-end video technology can make a decisive contribution to protecting students from any kind of disturbance or untoward incident. Safeguarding schools In the past, schools and universities have repeatedly been the target of active shooter and terrorist attacks. The primary goal of educational institutions, owing to this constant threat, is to prevent 'unauthorised access' to the school grounds and to allow only authorised visitors. Further potential danger exists internally, such as cases of vandalism, bullying and violence by or among students, which are issues that may arise sometimes in school life. Of course, early smoke and fire detection are also important components for a safe learning and living environment. MOBOTIX video security solutions MOBOTIX has video security solutions for the education & science sector in its portfolio" In addition, the COVID-19 pandemic has brought new health protection requirements into focus. Video technology can provide reliable support in all these scenarios. "MOBOTIX has video security solutions for the education & science sector in its portfolio that makes school, learning and studying safe. These solutions are already in use around the world and have proven themselves to be very effective," said Thomas Lausten, Chief Executive Officer (CEO) of MOBOTIX AG. With its unique product portfolio consisting of hardware, software, services and intelligent partner solutions, MOBOTIX can precisely map the requirements of various industries. The latest technologies can be used to protect people, facilities and infrastructure in schools, universities or private educational institutions. Access and entry control Video technology from MOBOTIX helps to prevent unauthorised access and regulate access to buildings, or individual areas in a targeted manner. In addition, doors can be opened totally contactlessly, for example using RFID chip cards, access codes and identification of authorised personnel, based on face recognition technology. An overview in real time is possible and also helps in emergency situations, e.g. during evacuations to find out whether and which persons are where. At entrances and parking lots, vehicles can be automatically registered via the license plate and compared with databases. The identifying video technology can thus, efficiently restrict access to authorised vehicles or persons. MOBOTIX 7 open video system platform Using the new open video system platform, MOBOTIX 7, numerous camera apps can be used for intelligent video analysis. Among other things, the applications can register, for example, ownerless luggage, stolen furnishings, can track down suspicious persons, count people, recognise overcrowding situations or alert when one or more virtual blocking lines are crossed for burglary protection. The robustness of the MOBOTIX hardware also protects the video technology of MOBOTIX itself against vandalism. The use of thermal imaging cameras is also recommended in special areas. For example, an email can be sent to the building maintenance department if the system, which reacts to invisible heat radiation, detects increasing overheating in an IT server room before a dangerous fire breaks out. Campus security and perimeter protection The MOBOTIX M16 and M73 offer several simultaneous sensors in a robust, weatherproof design For outdoor applications, the MOBOTIX M16 and M73 offer several simultaneous sensors in a robust, weatherproof design. The wide range of interchangeable sensor modules can be configured to meet the exact requirements of the educational institution in question, with the aim to detect danger or any untoward incident in time and thus, effectively thwart them. For example, a floodlight could automatically shine if an unauthorized person enters the campus outside of opening hours. If desired, this could also be combined with an acoustic warning. Cyber-secure MOBOTIX video technology While the communication infrastructure in the education sector constantly improving, there are usually few resources (personnel, know-how) available for the maintenance of the technology. For this reason, the systems used must be stable and, if possible, maintenance-free and also protected against physical and digital attacks. MOBOTIX video systems are made in Germany. With an above-average 'Mean Time Between Failures' (MTBF) of more than 80,000 hours, the follow-up costs of a MOBOTIX system are reduced to a minimum. Resources for technology support can be saved. Due to their durability and robustness, they are predestined for use in education and science. "Particularly in the educational sector, the security of pupils, students, teaching staff, but also of equipment and facilities is of particular importance, real and digital. MOBOTIX has optimal solutions that are robust, reliable and cyber-secure. Solutions that help to make our educational institutions more convenient and secure," concludes Thomas Lausten.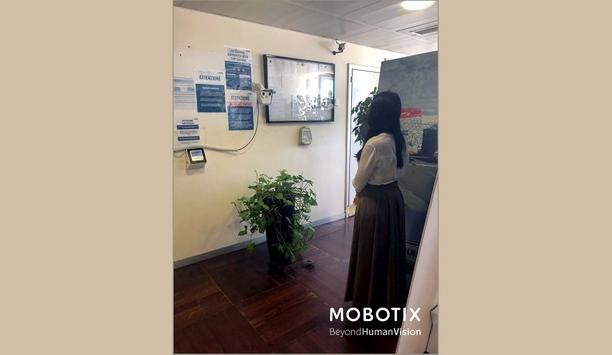 Alha Group integrates MOBOTIX thermal technology for enhanced security at Malpensa Airport in Milan, Italy
On an average, approximately 400,000 tons of cargo passes through Malpensa Airport every year, located in Milan, Italy. The Alha Group is the major cargo handling agent at the 25,000-square-meter site, which houses 32 airlines, with 34 large cargo aircrafts. Handling cargo at Malpensa Airport In 2012, Malpensa Cargo became a certified competence and administration centre for air cargo and road transport, especially for premium-quality small goods, such as smartphones, tablets, designer clothing and accessories. The Alha Group chose a system from MOBOTIX AG, a renowned manufacturer of cameras in Germany Since then, passenger transport in Malpensa has increased exponentially, which has driven the Alha Group to procure a video surveillance system that offers the very highest level of protection. The Alha Group chose a system from MOBOTIX AG, which has been manufacturing cameras in Germany for over 20 years. MOBOTIX thermal imaging cameras "We have installed nine MOBOTIX thermal imaging cameras at our sites in Malpensa, Rome Fiumicino, Segrate, Pioltello, Verona and Prato to strategically cover the key traffic areas," said Marco Alesi, Security Manager at the Alha Group. The MOBOTIX thermal systems were installed by Alha's business partner, Trium at the beginning of March 2020, in response to the COVID-19 pandemic. Alha can now reliably control access to its offices and warehouses. Virtual security cage The project also saw the construction of a 'Virtual security cage' that Alha uses to protect the valuable goods of its customers that are being transshipped against theft. An infrared alarm system delineates a defined area and the video-based system triggers an alarm, as soon as an intruder enters this area. With the help of live images from the camera, the uninvited guest can be identified and stopped immediately. The Alha Group has consequently replaced an expensive conventional locking system with an advanced digital video solution and sped up routine work processes at the same time. The MOBOTIX cameras are integrated into the burglar alarm system, which is controlled using security badges. A detailed log is kept to track when the system is deactivated. Integrated thermal imaging solution "We were, and still are, extremely satisfied with the MOBOTIX cameras we installed previously," emphasizes Marco Alesi, adding "Not only because of their high quality and durability, but also because of the numerous integration and development options we've been able to make use of over time. This is a huge advantage, and one that applies to our most recent installation too." The timesheet system has an integrated thermal imaging camera that is activated, every time an employee signs in The timesheet system has an integrated thermal imaging camera that is activated, every time an employee in the warehouse and office access area signs in. A recorded message asks the employee to look into the camera and remove any glasses or head coverings that they may be wearing for proper identification. If the camera measures their body temperature as being 37.5 degrees Celsius or less, a green LED on the camera flashes to allow access to the cargo bay. If the temperature measured is higher than 37.5 degrees Celsius, a flashing red light and another recorded message informs the employee to wait for a specialist member of staff to take their temperature using a clinical thermometer. VoIP intercom system At the same time, the system sends an email with a dated camera screenshot, stored personnel data and the measured temperature. The VoIP intercom system integrated into the camera enables Alha security staff to immediately communicate with employees who were temporarily stopped when entering the company building. "The extra checks are making us all safer during this crisis. We see the ability to contact someone immediately after they receive negative results for a preliminary test as an intrinsic part of our duty of care toward our employees," explains Alesi.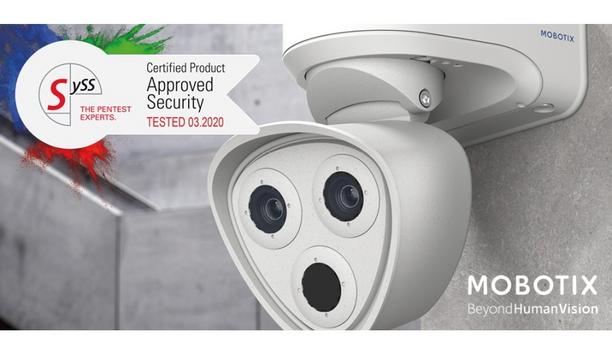 MOBOTIX M73 video camera receives security certificate from SySS IT
The M73, MOBOTIX's new high-performance camera based on Artificial Intelligence (AI), is the latest in MOBOTIX's lineup to have received the SySS IT security certificate. After completing multiple tests, SySS GmbH now attests that the entire MOBOTIX IoT camera series has a particularly high level of cyber security. In addition to the M73, the M16, representing the entire Mx6 series, also has earned the SySS certificate. This is a continuation of the MOBOTIX Cactus Concept which stands for a reliable, end-to-end video system protection against hacker attacks. In several scenarios, the hardware and software components of the M73 were subjected to simulated state-of-the-art hacker attacks. The penetration testers at SySS GmbH are very familiar with attack methods on IT systems and are researching new ways and means of preventing intrusion into digital infrastructures. With this extensive know-how, SySS GmbH is the penetration test provider in Germany as they test IT landscapes, looking for both common and unique weaknesses and other security vulnerabilities. Enhanced cyber security for cameras "With the SySS certification of our new M73 video system, we are proving that MOBOTIX continuously strives for the best possible cyber security for all of our camera series," emphasises MOBOTIX CEO, Thomas Lausten. "Our Mx6 range is one of the market-leading systems for classic security camera applications and is the first choice for many of our customers. The robustness and durability of the power-saving system is in line with the classic MOBOTIX DNA and is ONVIF-compliant despite the decentralised approach." "The SySS certification of the new, open MOBOTIX 7 platform and the M73 proves that we have achieved the goal of highest data and cyber security even with our most powerful camera series," says Lausten. "This also applies to the Certified Apps that are integrated in the firmware, which comprehensively extend the modularity of our systems. " The MOBOTIX Apps based on Deep Learning and solutions from renowned partners are explicitly verified and certified by MOBOTIX. Users can use exactly the apps in their video systems that they need for their requirements.
Featured white papers
6 questions to ask when choosing a security system
Download
Boosting on-site safety and security
Download
Optimise your business with analytics and AI
Download