MOBOTIX CCTV Camera lighting
(6)
Browse CCTV Camera lighting
CCTV camera lighting products updated recently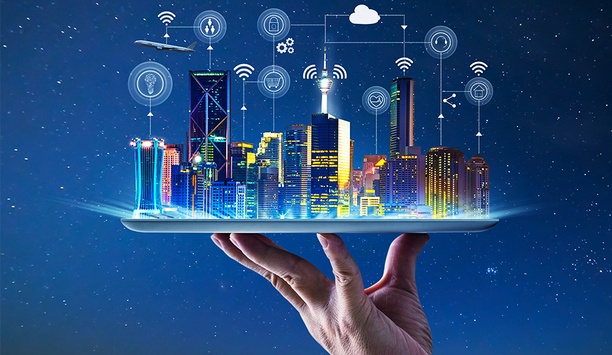 Security and safety drive smart building strategies for the future
Johnson Controls recently unveiled the findings of its 2018 Energy Efficiency Indicator (EEI) survey that examined the current and planned investments and key drivers to improve energy efficiency and building systems integration in facilities. Systems integration was identified as one of the top technologies expected to have the biggest impact on the implementation in smart buildings over the next five years, with respondents planning to invest in security, fire and life-safety integrations more so than any other systems integration in the next year. As advanced, connected technologies drive the evolution of smart buildings, security and safety technologies are at the center of more intelligent strategies as they attribute to overall building operations and efficiencies. SourceSecurity.com spoke with Johnson Controls, Building Solutions, North America, VP of Marketing, Hank Monaco, and Senior National Director of Municipal Infrastructure and Smart Cities, Lisa Brown, about the results of the study, smart technology investments and the benefits of a holistic building strategy that integrates security and fire and life-safety systems with core building systems. Q: What is the most striking result from the survey, and what does it mean in the context of a building's safety and security systems? The results show an increased understanding about the value of integrating safety and security systems with other building systems Hank Monaco: Investment in building system integration increased 23 percent in 2019 compared to 2018, the largest increase of any measure in the survey. When respondents were asked more specifically what systems they we planning to invest in over the next year, fire and life safety integration (61%) and security system integration (58%) were the top two priorities for organisations. The results show an increased understanding about the value of integrating safety and security systems with other building systems to improve overall operations and bolster capabilities beyond the intended function of an individual system. Q: The survey covers integration of fire, life safety and security systems as part of "smart building" systems. How do smarter buildings increase the effectiveness of security and life safety systems? Hank Monaco: A true "smart building" integrates all building systems – security, fire and life-safety, HVAC, lighting etc. – to create a connected, digital infrastructure that enables individual technologies to be more intelligent and perform more advanced functions beyond what they can do on their own. For example, when sensors and video surveillance are integrated with lighting systems, if abnormal activity is detected on the building premise, key stakeholders can be automatically alerted to increase emergency response time. With integrated video surveillance, they also gain the ability to access surveillance footage remotely to assess the situation. When sensors and video surveillance are integrated with lighting systems abnormal activity on the premise can automatically be detected Q: How can integrated security and life safety systems contribute to greater energy efficiency in a smart building environment? Hank Monaco: Security, fire and life-safety systems can help to inform other building systems about how a facility is used, high-trafficked areas and the flow of occupants within a building. Integrated building solutions produce a myriad of data that can be leveraged to increase operational efficiencies. From an energy efficiency standpoint, actionable insights are particularly useful for areas that are not frequently occupied or off-peak hours as you wouldn't want to heat or cool an entire building for just one person coming in on the weekend. When video surveillance is integrated with HVAC and lighting systems, it can monitor occupancy in a room or hallway. The video analytics can then control the dimming of lights and the temperature depending on occupant levels in a specific vicinity. Similarly, when access control systems are integrated with these same systems, once a card is presented to the reader, it can signal the lights or HVAC system to turn on. In this example, systems integration can ultimately help enable energy savings in the long run. Security and life safety systems contribute to help enable greater energy efficiency and energy savings in the long run Q: What other benefits of integration are there (beyond the core security and life safety functions)? Hank Monaco: Beyond increased security, fire and life-safety functions, the benefits of systems integration include: Increased data and analytics to garner a holistic, streamlined understanding of how systems function and how to improve productivity Ability to track usage to increase efficiency and reduce operational costs Enhanced occupant experience and comfort Increased productivity and workflow to support business objectives Smart-ready, connected environment that can support future technology advancements Q: What lesson or action point should a building owner/operator take from the survey? How can the owner of an existing building leverage the benefits of the smart building environment incrementally and absent a complete overhaul? Lisa Brown: Johnson Controls Energy Efficiency Indicator found that 77% of organisations plan to make investments in energy efficiency and smarter building technology this year. This percentage demonstrates an increased understanding of the benefits of smart buildings and highlights the proactive efforts building owners are taking to adopt advanced technologies. There is an increased understanding that buildings operate more effectively when different building systems are connected As smart buildings continue to evolve, more facilities are beginning to explore opportunities to advance their own spaces. A complete overhaul of legacy systems is not necessary as small investments today can help position a facility to more easily adopt technologies at scale in the future. As a first step, it's important for building owners to conduct an assessment and establish a strategy that defines a comprehensive set of requirements and prioritises use-cases and implementations. From there, incremental investments and updates can be made over a realistic timeline. Q: What is the ROI of smart buildings? Lisa Brown: As demonstrated by our survey, there is an increased understanding that buildings operate more effectively when different building systems are connected. The advanced analytics and more streamlined data that is gathered through systems integration can provide the building-performance metrics to help better understand the return on investment (ROI) of the building systems. This data is used to better understand the environment and make assessments and improvements overtime to increase efficiencies. Moreover, analytics and data provide valuable insights into where action is needed and what type of return can be expected from key investments.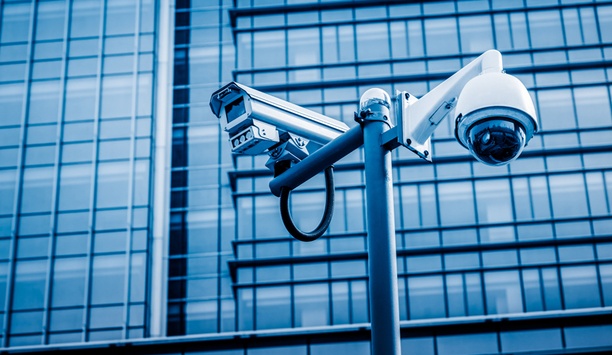 How to enhance IoT applications with network video surveillance
Remember the old adage "The whole is greater than the sum of its parts?" Nowhere is that truism more evident than when you add network video to the current generation of Internet of Things (IoT) solutions. Whether we're talking about industrial IoT applications, "Smart – X" (city, building, parking etc.) or retail operations, integrating network video into the solution provides value far beyond simple situational awareness. Optimising sophisticated video technology When video systems first moved from analogue to digital and then became part of the IoT world, they were primarily used to provide visual validation of sensor-detected events. For instance, if an industrial controller sensed an environmental issue such as a temperature exceeding set threshold maximum limits, the sensor would trigger the management software to notify the operator that this event had occurred. The operator could then pull up the video feed of the closest camera and observe the area remotely. While this application is simple, it shows how video enhances sensor management. As edge devices, such as sensors and network video become more intelligent, the interactions between systems are growing in sophistication and generating even greater value than each system could provide on its own. To appreciate how these smart applications are being used to improve overall efficiencies and profitability, let's delve into three areas where they're being deployed: intelligent buildings, smart cities, and smart retailing. By overlaying intelligent operational sensors with intelligent video, it's now possible to automate lighting levels based on motion detection Video-based operational analytics Applying intelligent monitoring to environmental equipment (HVAC) makes it easy for building owners and property managers to determine existing operating costs based on current equipment performance. They can then compare that amount to the cost of upgrades and potential cost savings over time. Lighting is another significant operating cost within building management. By overlaying intelligent operational sensors with intelligent video (light sensors), it's now possible to automate lighting levels based on motion detection. Lights can automatically turn on or off, brighten or dimmed, to eliminate wasteful energy consumption. With the addition of occupancy analytics via intelligent video, property managers can determine what caused the motion and learn other operational details such as occupancy counts. Did someone walk through and area causing lighting to turn on or up? Did they dwell in this area? These specifics can help managers efficiently optimise lighting controls and reduce the overall operating cost of the property. Businesses are also using smart applications to optimise allocation of desk space and conference areas. For instance, intelligent video can determine conference room occupancy (in use, number of people in room, free space even though showing booked) far better than stand-alone motion sensors. When tied to automated room assignment systems, the additional statistics provided by video analytics might suggest room changes based on room size and number of attendees through back-office applications such as Microsoft Outlook. These examples are just a few of a growing list of available video-based operational analytics currently on the market. Video analytics in smart cities Initial forays into smart city technologies such as smart lighting, smart grid, smart parking and so on relied on standalone sensor technologies. Their capabilities were good but limited. Smart Lighting for instance would use basic light detectors to turn street lighting. Smart Parking and traffic systems would use weight sensors to trigger vehicle counts, traffic signal changes or determine if a parking space was in use and paid for. Augmenting these applications with intelligent video and analytics, however, opens up a whole new world of additional details. In Smart Lighting, the video sensor can now trigger a change in lighting based on rules such as vehicular and pedestrian events. Video analytics can yield additional metadata such as vehicle type (commercial versus public use). Smart Parking becomes much more effective when you can begin to provide vehicle detail such as vehicle type or other information based on licence plate recognition. These additional details can help parking lots operate more efficiently and offer value-added services like space reservation and open space location notifications. Augmenting smart city applications with intelligent video and analytics opens up a whole new world of additional details Smart Grid offers some less obvious but equally valuable system augmentation capabilities. We often associate Smart Grid with simple automated meter reading but these systems also traverse critical power infrastructure. Solution providers in this arena are now offering heightened asset and perimeter protection via integration of network-based radar detection with video and audio analytics. This strategic mix of technologies can be used to minimise false detection alarms, turn on/off or change lighting levels and point cameras to areas of interest for extremely effective and cost-effective perimeter security. Network video for retail intelligence Retailing was one of the earliest adopters of smart device integration with network video and video analytics to support loss prevention and customer safety. They've been using video to analyse customer traffic and behaviour in order to improve product placement, increase product sales, as well as cross-sell related items. Adding programmable "Digital Signage" to the mix created new opportunities to display targeted messages based on viewer demographics about additional products and services of potential interest. Integrating network video with point-of-sale terminals to reconcile cash register receipts, adding heat mapping analytics to study customer foot traffic patterns, measuring check out wait times to increase employee productivity and efficiency as well as improve the customer experience are just some of the ways retailers have applied the principles of IoT to their advantage. Overlay intelligent building controls and you can see the exponential power of integrating intelligent video with other IoT devices and systems. Retailing was one of the earliest adopters of smart device integration with network video and video analytics to support loss prevention and customer safety Minimising metadata overload Smart application integration produces an enormous amount of metadata. Collecting, transporting and synthesising this data into meaningful business intelligence can be daunting. It requires disciplined use of resources from the network infrastructure transporting the data locally to the various cloud technologies (private cloud, hybrid cloud, public cloud) storing and disseminating it securely. Generally smart sensor data is fairly light weight in terms of actual data transmitted. Adding video elements can significantly increase bit-rate (bandwidth and storage) requirements. This highlights the need for the video to be more intelligent and interactive with the intelligent sensor and edge device technologies so that resources can be used more efficiently. Smart applications let you do that. You can fine tune video rules and optimise transmission based on retention value. You can program the video to sensor triggers or events, transmitting lower frame rate and resolution video for less interesting video and increasing the video settings when higher quality video is more relevant and valuable based on these sensor triggers. The back-end collectors of sensor metadata are becoming more mainstream and easier to operate. In many sectors, service providers are offering management of this sensor output "As a Service." As smart IoT technology continues to mature, the benefits of integration between network video systems and other network solutions will only get better. We're already seeing greater efficiency in operations as well as higher quantifiable returns on investment through cost savings and more in-depth, usable business intelligence.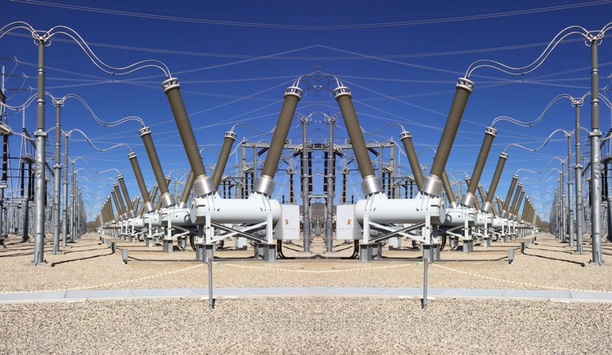 Increased power grid security tackles natural and man-made threats
Utility security staff have a responsibility to ensure they can identify risks associated with security threats Protecting North America's power grid is a thankless job. Day in and day out, the good citizens of the United States and Canada wake up with the assumption that when they get out of bed each morning and flip on the lights, the room will illuminate, the coffee pot will come to life and their mobile phone will have been fully charged. After all, we live in a modern First World society, where we have come to depend on timely and efficient power at our fingertips. In reality, that reliable electricity that we all enjoy has many people working around the clock to ensure its reliability, resiliency and security. Today's grid operators are inundated with natural and man-made threats. As utilities tackle the monster of the moment, which is the evolving cybersecurity threat, we must not take our eyes off the more primitive threat. Security threats to US grid Electricity is perhaps the most vital of the critical infrastructures and key resources that support our society. The mission of the North American Electric Reliability Corporation (NERC) is to ensure the reliability of the North American bulk power system (BPS). While electric utility companies are responsible for administering the day-to-day operations of the electric grid, regulators such as NERC and the Federal Energy Regulatory Commission (FERC) are charged with the overall responsibility of ensuring reliability and security. NERC develops and enforces Reliability Standards, annually assesses seasonal and long?term reliability, monitors the bulk power system through system awareness, operates the Electricity Information Sharing and Analysis Center (E-ISAC) and educates, trains and certifies industry personnel. Normal everyday operations of the system are the responsibility of utility owners and operators. Currently, the most significant reliability threat to the U.S. grid is associated with squirrels and balloons, and not religiously inspired terrorists During emergencies, NERC supports industry actions to respond, mitigate and restore the BPS to normal operation by facilitating effective information sharing and communication with and between NERC registered entities, government agencies and the media. This information is not focused on operational decision making; but instead provides utilities data, best practices and mitigation strategies to help recover from crisis. Obviously as a regulatory body, NERC must stay out of emergency response until the utility has best mitigated the threat or reliability issue. Currently, the most significant reliability threat to the U.S. grid is associated with squirrels and balloons, and not religiously inspired terrorists. However – and more applicable to grid operators – we have recently seen noteworthy interest in disabling or destroying critical infrastructure. Coordinated attacks specifically targeting the grid are rare, but an attack by a disgruntled former employee, ideologically motivated activist, or a criminal stumbling across a "soft target", could inflict significant damage. With an interconnected grid of over 450,000 miles of high voltage transmission lines (100 kV and higher) and over 55,000 substations (100 kV and larger), the targets of opportunity are endless. An attack by a disgruntled former employee, ideologically motivated activist, or a criminal stumbling across a "soft target", could inflict significant damage Critical infrastructure protection Critical infrastructure protection is a cyclical process incorporating prevention, detection, mitigation, response and recovery. The key to this protection is the identification of credible threats, which will assist energy companies in assessing risks and potential vulnerabilities (weaknesses) of their facilities. Once a threat has been thoroughly analysed, it is then possible to institute preventative measures to deter, detect and delay an attack. Of course, critical infrastructure protection planning must always include mitigation, response and recovery actions in the event an attacker is successful. While the security of the grid is a shared responsibility between the government and the private sector, the primary responsibility rests with utility owners and operators. Utility security staff have a responsibility to ensure they are able to receive and act upon criminal intelligence and be prepared to identify risks and vulnerabilities associated with security threats. Any protection programme that is developed must be as efficient and cost-effective as possible, as budgets are limited and ratepayers are sensitive to wasteful spending. Effective security programmes rely on risk management principles and associated tools to establish priorities, allocate budget dollars and harden infrastructure sites. Physical security protection encompasses defensive mechanisms to prevent, deter and detect physical threats of various kinds. Specifically, these measures are undertaken to protect personnel, equipment and property against anticipated threats. Properly conceived and implemented security policies, programmes and technologies are essential to ensure a facility's resistance to threats while meeting demand, reliability and performance objectives. Unfortunately, many do not realise the amount of reports, guidelines, standards and assessments that have been developed for use Electricity industry physical security standards Significant progress has been made in the electricity industry surrounding the issue of security. Unfortunately, many do not realise the amount of reports, guidelines, standards and assessments that have been developed for use. The industry has gone through multiple iterations of mandatory Critical Infrastructure Protection (CIP) Standards that focus on security protections. The CIP Standards, while not perfect, may be an example for other sectors to immolate. These standards are a minimum baseline for compliance and utilities should not assume that because they have a good compliance programme they are somehow immune from attack. In addition, many electric utilities undergo a sector-wide Grid Security Exercise (GridEx) every two years to hone their skills and provide updates to their security practices and policies. This is in addition to annual exercises mandated by the cyber standards. It is fair to say that the industry has been very responsive to the evolving security threat and the mandatory requirements found within CIP compliance. As a result of the 2013 California substation attack that destroyed $15 million dollars in infrastructure, industry now has a physical security standard. This standard was created to protect the most critical transmission substations and control centres in North America. While protections vary, many utilities have upgraded their security measures to include concrete or non-scalable perimeters, robust access control, cameras, lighting and armed guards. It is highly likely that we will one day see similar standards put in place to better protect non-nuclear generation facilities, but only time will tell. Many utilities have upgraded security measures to include concrete perimeters, robust access control, cameras, lighting and armed guards The piece that the industry continues to struggle with is information sharing and the ability to quickly obtain actionable threat intelligence; an issue which has been combatted head-on through the sharing of security information amongst utility partners. Large utilities with the manpower and resources to address this initiative are changing the security model from reactive to proactive. If you understand your adversary's tactics, intent, and capabilities, you can develop strategies to combat their attacks and better plan for future threats. Better, more proactive security, can be achieved through information sharing agreements and partnerships with other utilities, regulatory agencies and intelligence partners. Many utilities do not have the dedicated resources to dissect and aggregate this data and are thus unable to react appropriately, or wind up drawing inaccurate conclusions. As a result, the electricity sector is demanding more access to actionable intelligence and threat streams. With this added intelligence, utilities can better pinpoint threats to specific systems and focus efforts on system recovery and restoration. This will undoubtedly drive better, more informed responses to security incidents. The FBI, DHS and the DOE have made considerable strides in improving information sharing, and giving classified access to intelligence products Improving information sharing Over the past few years, the FBI, DHS and the DOE have made considerable strides in improving information sharing and giving classified access to intelligence products such as bulletins, alerts and secret level briefings. These products have been used to mitigate threats, reduce risk and update internal security policies. Additionally, this data flow has enhanced communications between security teams, management and board members by providing authoritative threat warnings. This ultimately drives better investment strategies by more directly connecting security priorities with business risk management priorities. Unfortunately, utilities still see risks in sharing information with federal partners. Recently, the Washington Post released an article with a salacious headline falsely suggesting that the grid was hacked via Russian malware. Even after correcting the story, the question remains: who leaked the information to the Washington Post? Utilities all over the country were witnessing an information sharing failure. We must assume that at some point in the future a North American utility will suffer from a planned and coordinated attack against electrical infrastructure. Have we looked at credible threats closely enough and did we prepare our people to respond, recover and communicate? As an industry, we will be judged and hard questions will be asked about how seriously we considered the threats and what we did to mitigate future attacks. Success will be determined by how quickly we are able to respond and the swiftness of system recovery. There is no doubt that security is an "all hands" approach by everyone involved.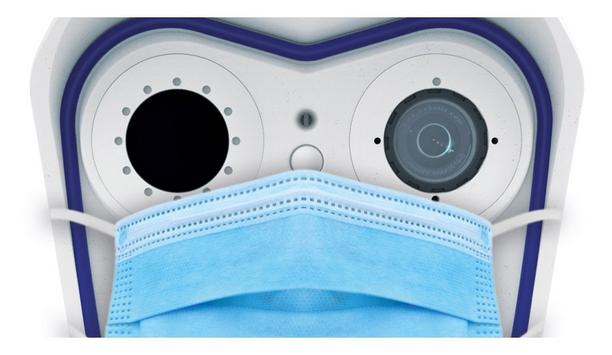 MOBOTIX supports its customers with intelligent video technology on their way "back to the new normal"
The world has changed with the COVID-19 pandemic. There are many new challenges and regulations. MOBOTIX's intelligent video technology can support companies, institutions, public as well as private facilities during the crisis and in the restart after the lockdown. MOBOTIX has bundled the available "back-on-track video technology solutions" for its partners and customers to help get them up and running quickly and effectively. This makes it easier for industries and sectors such as retail, restaurants, airports, train stations, municipalities, industrial, service companies and educational institutions to "get back on track." MOBOTIX automates the "back-to-business restart" with professional analysis and thermal imaging technology, with an array of optional apps in the latest MOBOTIX 7 generation cameras and specially-developed add-on solutions from MOBOTIX's global Partner Community. Highest cyber security Only the consistent adherence to rules and regulations will drive further improvements in this pandemic" The hardware and software of MOBOTIX can be adapted and converted at any time for numerous alternative industry-specific tasks, always with the highest cyber security. "Only the consistent adherence to rules and regulations will drive further improvements in this pandemic. By doing so we will hopefully move together successfully towards 'normal life and work.' It is a good feeling when we can support and accelerate this with our technology," says MOBOTIX CEO, Thomas Lausten. Entrance control system In many shops, schools and public buildings there are updated capacity limits for the number of visitors, customers or employees. To determine the current numbers, all entrances and exits must be checked. MOBOTIX video technology can do this reliably, automatically, and effectively - without the need for additional personnel. An entrance control system can be installed indoors or outdoors, for example, using a traffic light system or an automatic door control system. The MOBOTIX video analysis technology also allows the cumulative recording of the current number of people in complex and multi-story buildings using all cameras installed at the entrances and exits. Supporting Social Distancing "Social Distancing" is a widely used term. It describes the observance of minimum distances and is intended to reduce the risk of infection. MOBOTIX technology can also provide support here. Face mask detection In addition, sensitive zones, such as sterile zones in hospitals and nursing homes, can be better monitored and protected It does not monitor whether the minimum distance is maintained in all areas, but rather checks whether it could be maintained in general within heavily frequented areas. For example, video technology can detect overcrowding - e.g. in waiting areas or at checkouts - and resolve it by means of visual and acoustic warnings. The capacity and crowding of people are not the only concerns, of course. In many public areas, face masks are also required. It must be ensured that proper protection is worn. Partner solutions that rely on MOBOTIX technology can detect when face masks are worn and trigger alarms or warnings if violations occur. In addition, sensitive zones, such as sterile zones in hospitals and nursing homes, can be better monitored and protected. Recognising temperature abnormalities MOBOTIX TR (Thermal Radiometry) technology makes it possible to measure thermal radiation - even from people. Although MOBOTIX thermal technology does not replace medical devices, they can help analyse critical situations in order to escalate to further measures. It allows anomalies to be detected and reported. Identified persons can then be subjected to further examination and referred to medical personnel. "Our technology helps customers not only in times of crisis. MOBOTIX video security systems are valuable to our customers well beyond the crisis," says Lausten. "The high-end video systems can be used, adapted or converted at any time for numerous additional and new industry specific tasks. Our intelligent solutions cover much more than just security applications. For example, they offer outstanding potential in process optimisation or improving a service organisation. The investment in MOBOTIX video technology is and remains future-proof," says the MOBOTIX CEO.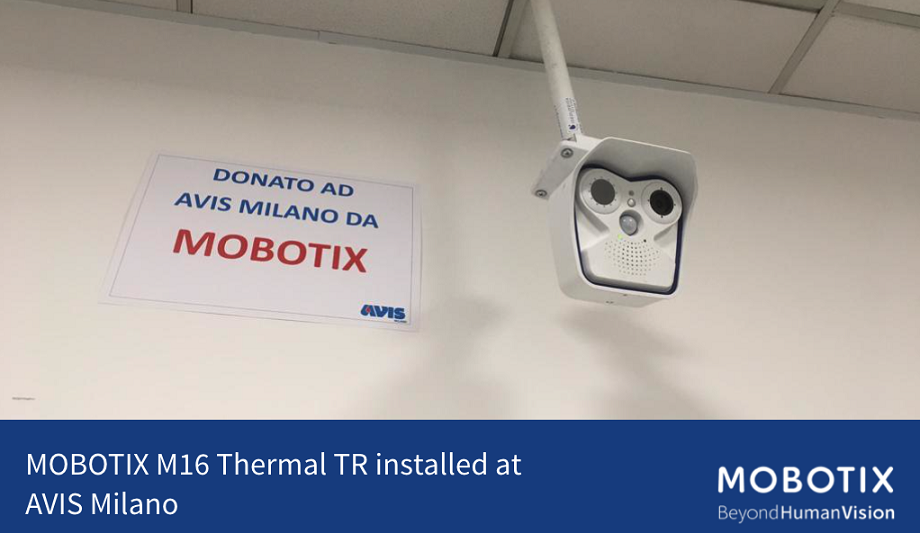 MOBOTIX donates Thermal TR imaging camera to blood bank association AVIS Milano in Italy
Lombardy is one of the regions most affected by the COVID-19 epidemic. Due to the emergency, hospitals remain overcapacity, surgeries postponed, and staff continue to work fatigued because of what they've had to sustain over the past few months. In addition to this already critical situation, the Milanese capital suffers from a major blood scarcity. Decrease in blood donation collection In recent months, the Ministry of Health has intervened several times with recommendations to prevent possible interruption or decrease in blood donation collections within the region. This was targeted to improve processes at the donation centre in order to aide in the management of blood components and raise awareness of transfusion needs. Many donations made were due to the appeals launched by AVIS Milano. Due to the responses of citizens, even non-periodic donors, who went to the Lambrate headquarters in recent weeks was of generous help. Donors' security The donation candidate with a potentially higher temperature is then escorted to another location To ensure donors' security and to avoid crowding in the waiting rooms, regulating access and managing the flow became extremely important. AVIS Milano has immediately taken necessary measures. Thanks to MOBOTIX's donation and the completely free installation by Bergamo-based company, Ideologica, the association is now able to provide a high level of protection before a potential donor is accepted. A MOBOTIX Thermal TR imaging camera has been installed in the room where donors are processed and wait for access to donor acceptance protocols. Radiometric thermal sensor The camera, which is equipped with a radiometric thermal sensor, is able to detect variations in temperature of those present in the access room. It was integrated into AVIS Milano's existing system by Ideologica in just one afternoon, and was programmed to detect any temperature rise above 37.5 degrees Celsius (as required by law to allow the donation), with an accuracy level of 0.3 degree. We were able to identify the person potentially at risk of COVID-19 through the temperature symptom" If a donation candidate displays any change from this value, an immediate auditory alarm is triggered. The donation candidate with a potentially higher temperature is then escorted to another location and informed of the reasons for their donation refusal and is encouraged to visit his or her attending physician for further investigation. Medical staff immediately receives a report In respect of privacy, the system has not been set up to be viewed remotely with a video image on any external PC. The medical staff immediately receives a report that a person with a temperature above 37.5 degrees centigrade has appeared in the entrance hall. "Thanks to the contribution of MOBOTIX technology, we were able to identify the person potentially at risk of COVID-19 through the temperature symptom from the moment of entry, avoid contact with other donors present and advise the individual on an immediate follow-up with their doctor," commented Sergio Casartelli, General Manager of AVIS Milan. Facilitate solutions with MOBOTIX Technology "Technology should always be seen as positive improvement in any application regardless of how it is used, either to facilitate or to provide a final solution. We as MOBOTIX are committed to promoting and providing through our solutions and our partners as many benefits and opportunities as possible." "We are extremely proud and humbled that we could collaborate with AVIS and that our technology could support the work AVIS has done to ensure availability of blood in Milan." "This is one of the most important actions any organisation could have taken to provide support at this critical time," concluded Phillip Antoniou, Vice President Sales Europe South / West & MEAPAC.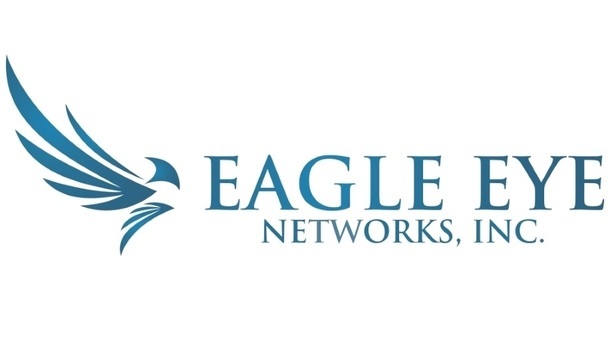 Eagle Eye Networks launches cloud-based, turnkey elevated temperature screening system
Eagle Eye Networks, the global renowned provider of cloud video surveillance, has announced the availability of a passive elevated temperature screening solution with the Eagle Eye Cloud Video Management Systems (VMS). Eagle Eye Networks will be providing a complete system via its reseller partners which includes a thermal camera, blackbody calibration unit, cloud-based recording subscriptions, and real-time notifications. Calibration unit The calibration unit is recommended by the FDA for these applications to increase accuracy The calibration unit is recommended by the FDA for these applications to increase accuracy. Eagle Eye resellers can offer solutions to restaurants, factories, warehouses, office, retailers, hotels, health care, fitness, and other industries in order to provide passive temperature screening as business resumes. "Elevated temperature screening, although not fully proven, is a potential tool to enhance people's safety as the world resumes business. The desire to measure everyone's temperature when entering a facility is new, but the technology was quickly integrated into the open Eagle Eye Video API platform, providing an excellent example of why an open platform is superior," said Dean Drako, Chief Executive Officer (CEO) of Eagle Eye Networks. Eagle Eye Cloud VMS Dean adds, "You cannot accurately predict all your security system needs as the world and technology changes so rapidly. You really must have an open platform, like the Eagle Eye Cloud VMS, to be prepared." Applications which require around-the-clock monitoring, such as passive elevated temperature screening, are best accomplished using a cloud video surveillance solution. Leveraging the cloud avoids the need for an attendant to be present, helps in maintaining proper records, and provides for quick deployment in global multi-location situations. Eagle Eye elevated temperature screening system The turnkey Eagle Eye elevated temperature screening system includes all the necessary components for efficient functioning. The integrated cameras are manufactured by overseas third-party companies. To address cyber security concerns, Eagle Eye Networks utilises its Cyber Lockdown feature to ensure all cameras are cyber secure at all times. Eagle Eye also supports thermal cameras from Sunell, HikVision, Dahua, Mobotix, FLIR, and other companies. Joshua Baer, Chief Executive Officer (CEO) of Capital Factory, the globally renowned start-up incubator in Austin, Texas, US said, "As we look to re-open our facilities in the near future we want to make sure the environment is as safe as possible for our members and entrepreneurs." Joshua Baer adds, "We see passive thermal elevated temperature measurement as a powerful tool to make sure we are doing what we can to keep everyone safe. The fact that it is fully passive and does not require any action by the members or require attendance by a staff member is critical to us." Eagle Eye Cloud VMS integration with thermal camera Existing Eagle Eye Cloud VMS customers can easily add a thermal camera to their existing system Existing Eagle Eye Cloud VMS customers can easily add a thermal camera to their existing system and perform elevated temperature measurement. "We all want to do what we can to battle COVID-19," continues Dean Drako, adding "As a cloud video surveillance company we have been working on integrating, testing, and validating thermal cameras for elevated temperature screening." Complete turnkey system Darko further said, "Our results have indicated that these solutions, while not perfect, can be a useful tool as we strive to return to a more normal workplace. A number of our partners and customers have asked us to provide a complete turnkey system." Passive Elevated Temperature screening is a new technology that comes with a complete set of new challenges. Eagle Eye Networks will continue the development on these thermal screening systems to reduce costs, increase accuracy, and improve robustness.
Featured white papers
Automatic vehicle identification: State of the industry 2020
Download
How analytics engines mitigate risk, ensure compliance and reduce cost
Download
11 considerations for embedded system RFID readers
Download