MOBOTIX CCTV Camera lighting
(6)
Browse CCTV Camera lighting
CCTV camera lighting products updated recently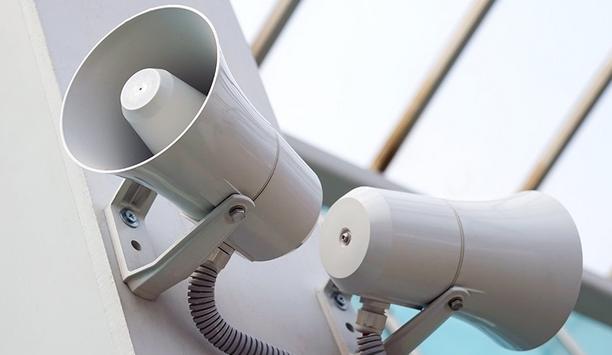 What changes has COVID-19 bought to the installation of VA/PA Systems?
TOA Corporation (UK) Ltd discuss what changes COVID-19 has bought to the installation of VA/PA Systems and how the integration of IP has impacted on that. With a year and a half of global uncertainty, we have seen huge changes in what VA/PA systems will need to deliver in order to provide safe and robust solutions with advanced zone and directional messaging. The impact of COVID has pushed installers to re-think what end-users need long-term to manage any future changes in guidelines especially for large events and complex applications such as travel hubs and how the integration of IP will assist with installing safe systems in the future. Providing public announcements PA/VA has been one of the few parts of our industry that has remained consistent and buoyant during the lockdown. It has been the ideal time for public buildings to upgrade as restrictions did not apply to the construction industry and many installations were actually fast-tracked in the hope that when restrictions lifted commercial properties could open as quickly as possible. PA/VA has been one of the few parts of our industry that has remained consistent This was coupled with the knowledge that changes would have to be made to address the increased demand in providing public announcements outside the standard evacuation messages that most VA/PA have been traditionally used for and enable the impact of having to be flexible to deliver multiple messages. Flexible system management So what is changing? Leading in VA/PA is the availability of IP which enables more flexible system management. It allows installation/solution management engineers to offer remote access to complex systems from a central control room meaning that they can maintain and control systems from one hub and operate for multiple areas on large complex sites such as an airport or stadiums. This provides not only a better level of technical coverage across a whole site but also allows an engineer to monitor and fault find without the delay of waiting to being able to access a specific area. This is especially important for vulnerable applications such as schools and health facilities as it enables them to control and reduce the amount of interaction with engineers they need to give physical access to – therefore reducing risk. Potentially less maintenance This makes it more financially viable for both the end-user and the maintenance provider Long-term, IP also makes these systems much more cost-effective. For example, one engineer can manage a hub of multiple locations with potentially less maintenance call-out costs. This makes it more financially viable for both the end-user and the maintenance provider to justify the initial investment. With these systems being paramount to people's safety remote intervention allows for swift fault finding and problem resolution in a more effective response time and cost-effective way. To enable this the biggest development has been the integration between product manufacturers and software developers. They have been able to collaborate greatly to get products such a horn speakers to connect via industrial standard network protocols giving much greater flexibility in remote system management. Multi-rack systems The technology involved in VA/PA, especially integrating with IP, has seen huge growth recently and we are involved in projects that involve multi-rack systems to enable controlled zone management and evacuation options with greater collaboration between integrators to get the systems to work effectively. VA/PA systems must be at the forefront of long term solutions and sustainability As more people are allowed to gather in larger numbers public-facing buildings need to address their evacuation and voice announcement procedures in order to be compliant. They need to be able to deliver clear and effective messages to their visitors in order to remain open whenever guidelines change. VA/PA systems must be at the forefront of long-term solutions and sustainability. The other area of VA/PA that has changed immensely in the last 18 months is the vast difference in messaging requirements that organisations need. Public safety announcements Systems that have been used infrequently for emergency situations only are now delivering daily messages with public safety announcements. In reality, although we all hope that we will never go back to the peak of lockdown, installations must be robust to cope with any situation in the future. Many smaller spaces that wouldn't have thought they would need a PA system at all now understand that they too have an obligation to deliver public information and guidance and on a regular daily basis and this will lead to system designs being scaled up and down to meet the broadening array of applications that require VA/PA and how this is managed in the event that new protocols have to be introduced. Detailed technical plans Systems should be certified on the European Standard EN 54-16 and should be expertly designed Design and planning should be key when sourcing the right solution. Systems should be certified on the European Standard EN 54-16 and should be expertly designed to specification with detailed technical plans and tailor-made to the requirements of the end-user. With people's safety in your hands, you cannot get these systems wrong so it is important that installers are able to draw on the expert technical team resources that we, as a manufacturer, offer in adhering to this standard and for us to be able to provide a commissioning service to sign off on these important safety systems. Compared with traditional lights and sounders systems we believe the future of evacuation will be voice-based. In our ever-increasing culturally diverse world we have to embrace systems that need to be multi-lingual or be able to dedicate a message to a specific target audience and be able to be drilled down to zones and give much more directional information. Multi-zoned academies As office buildings get taller, health facilities become super hospitals or schools upgrade into multi-zoned academies we have to be able to evacuate or hold back evacuation to enable safe crowd control. In order to facilitate this VA will have to replace traditional systems or work in tandem with them. We must point out that in residential high-rise properties the primary method of evacuation, to comply to BS 8629, would still be traditional lights and sounders even if you install a separate VA system. Voice Alarm and Public Address is a long-term investment, especially as the global situation may take many years to recover, and as manufacturers working with our integrators and software developers we must continue to lead in the development of the best systems to ensure we can keep everyone safe.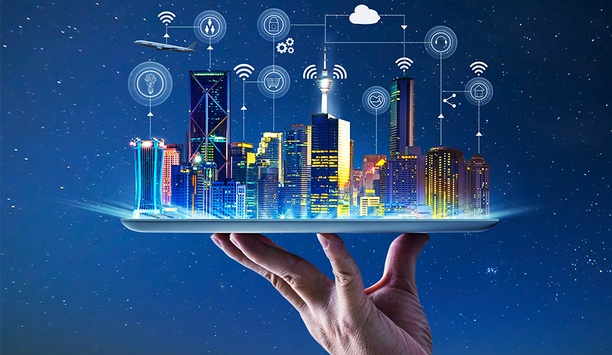 Security and safety drive smart building strategies for the future
Johnson Controls recently unveiled the findings of its 2018 Energy Efficiency Indicator (EEI) survey that examined the current and planned investments and key drivers to improve energy efficiency and building systems integration in facilities. Systems integration was identified as one of the top technologies expected to have the biggest impact on the implementation in smart buildings over the next five years, with respondents planning to invest in security, fire and life-safety integrations more so than any other systems integration in the next year. As advanced, connected technologies drive the evolution of smart buildings, security and safety technologies are at the center of more intelligent strategies as they attribute to overall building operations and efficiencies. SourceSecurity.com spoke with Johnson Controls, Building Solutions, North America, VP of Marketing, Hank Monaco, and Senior National Director of Municipal Infrastructure and Smart Cities, Lisa Brown, about the results of the study, smart technology investments and the benefits of a holistic building strategy that integrates security and fire and life-safety systems with core building systems. Q: What is the most striking result from the survey, and what does it mean in the context of a building's safety and security systems? The results show an increased understanding about the value of integrating safety and security systems with other building systems Hank Monaco: Investment in building system integration increased 23 percent in 2019 compared to 2018, the largest increase of any measure in the survey. When respondents were asked more specifically what systems they we planning to invest in over the next year, fire and life safety integration (61%) and security system integration (58%) were the top two priorities for organisations. The results show an increased understanding about the value of integrating safety and security systems with other building systems to improve overall operations and bolster capabilities beyond the intended function of an individual system. Q: The survey covers integration of fire, life safety and security systems as part of "smart building" systems. How do smarter buildings increase the effectiveness of security and life safety systems? Hank Monaco: A true "smart building" integrates all building systems – security, fire and life-safety, HVAC, lighting etc. – to create a connected, digital infrastructure that enables individual technologies to be more intelligent and perform more advanced functions beyond what they can do on their own. For example, when sensors and video surveillance are integrated with lighting systems, if abnormal activity is detected on the building premise, key stakeholders can be automatically alerted to increase emergency response time. With integrated video surveillance, they also gain the ability to access surveillance footage remotely to assess the situation. When sensors and video surveillance are integrated with lighting systems abnormal activity on the premise can automatically be detected Q: How can integrated security and life safety systems contribute to greater energy efficiency in a smart building environment? Hank Monaco: Security, fire and life-safety systems can help to inform other building systems about how a facility is used, high-trafficked areas and the flow of occupants within a building. Integrated building solutions produce a myriad of data that can be leveraged to increase operational efficiencies. From an energy efficiency standpoint, actionable insights are particularly useful for areas that are not frequently occupied or off-peak hours as you wouldn't want to heat or cool an entire building for just one person coming in on the weekend. When video surveillance is integrated with HVAC and lighting systems, it can monitor occupancy in a room or hallway. The video analytics can then control the dimming of lights and the temperature depending on occupant levels in a specific vicinity. Similarly, when access control systems are integrated with these same systems, once a card is presented to the reader, it can signal the lights or HVAC system to turn on. In this example, systems integration can ultimately help enable energy savings in the long run. Security and life safety systems contribute to help enable greater energy efficiency and energy savings in the long run Q: What other benefits of integration are there (beyond the core security and life safety functions)? Hank Monaco: Beyond increased security, fire and life-safety functions, the benefits of systems integration include: Increased data and analytics to garner a holistic, streamlined understanding of how systems function and how to improve productivity Ability to track usage to increase efficiency and reduce operational costs Enhanced occupant experience and comfort Increased productivity and workflow to support business objectives Smart-ready, connected environment that can support future technology advancements Q: What lesson or action point should a building owner/operator take from the survey? How can the owner of an existing building leverage the benefits of the smart building environment incrementally and absent a complete overhaul? Lisa Brown: Johnson Controls Energy Efficiency Indicator found that 77% of organisations plan to make investments in energy efficiency and smarter building technology this year. This percentage demonstrates an increased understanding of the benefits of smart buildings and highlights the proactive efforts building owners are taking to adopt advanced technologies. There is an increased understanding that buildings operate more effectively when different building systems are connected As smart buildings continue to evolve, more facilities are beginning to explore opportunities to advance their own spaces. A complete overhaul of legacy systems is not necessary as small investments today can help position a facility to more easily adopt technologies at scale in the future. As a first step, it's important for building owners to conduct an assessment and establish a strategy that defines a comprehensive set of requirements and prioritises use-cases and implementations. From there, incremental investments and updates can be made over a realistic timeline. Q: What is the ROI of smart buildings? Lisa Brown: As demonstrated by our survey, there is an increased understanding that buildings operate more effectively when different building systems are connected. The advanced analytics and more streamlined data that is gathered through systems integration can provide the building-performance metrics to help better understand the return on investment (ROI) of the building systems. This data is used to better understand the environment and make assessments and improvements overtime to increase efficiencies. Moreover, analytics and data provide valuable insights into where action is needed and what type of return can be expected from key investments.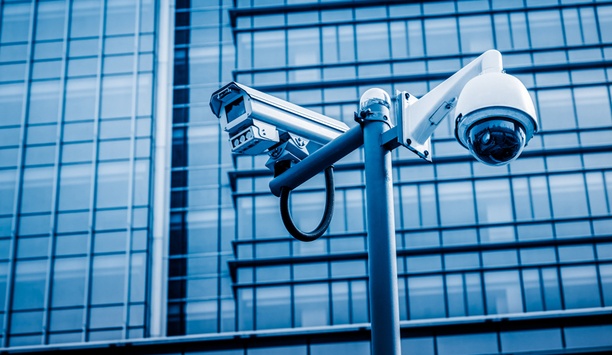 How to enhance IoT applications with network video surveillance
Remember the old adage "The whole is greater than the sum of its parts?" Nowhere is that truism more evident than when you add network video to the current generation of Internet of Things (IoT) solutions. Whether we're talking about industrial IoT applications, "Smart – X" (city, building, parking etc.) or retail operations, integrating network video into the solution provides value far beyond simple situational awareness. Optimising sophisticated video technology When video systems first moved from analogue to digital and then became part of the IoT world, they were primarily used to provide visual validation of sensor-detected events. For instance, if an industrial controller sensed an environmental issue such as a temperature exceeding set threshold maximum limits, the sensor would trigger the management software to notify the operator that this event had occurred. The operator could then pull up the video feed of the closest camera and observe the area remotely. While this application is simple, it shows how video enhances sensor management. As edge devices, such as sensors and network video become more intelligent, the interactions between systems are growing in sophistication and generating even greater value than each system could provide on its own. To appreciate how these smart applications are being used to improve overall efficiencies and profitability, let's delve into three areas where they're being deployed: intelligent buildings, smart cities, and smart retailing. By overlaying intelligent operational sensors with intelligent video, it's now possible to automate lighting levels based on motion detection Video-based operational analytics Applying intelligent monitoring to environmental equipment (HVAC) makes it easy for building owners and property managers to determine existing operating costs based on current equipment performance. They can then compare that amount to the cost of upgrades and potential cost savings over time. Lighting is another significant operating cost within building management. By overlaying intelligent operational sensors with intelligent video (light sensors), it's now possible to automate lighting levels based on motion detection. Lights can automatically turn on or off, brighten or dimmed, to eliminate wasteful energy consumption. With the addition of occupancy analytics via intelligent video, property managers can determine what caused the motion and learn other operational details such as occupancy counts. Did someone walk through and area causing lighting to turn on or up? Did they dwell in this area? These specifics can help managers efficiently optimise lighting controls and reduce the overall operating cost of the property. Businesses are also using smart applications to optimise allocation of desk space and conference areas. For instance, intelligent video can determine conference room occupancy (in use, number of people in room, free space even though showing booked) far better than stand-alone motion sensors. When tied to automated room assignment systems, the additional statistics provided by video analytics might suggest room changes based on room size and number of attendees through back-office applications such as Microsoft Outlook. These examples are just a few of a growing list of available video-based operational analytics currently on the market. Video analytics in smart cities Initial forays into smart city technologies such as smart lighting, smart grid, smart parking and so on relied on standalone sensor technologies. Their capabilities were good but limited. Smart Lighting for instance would use basic light detectors to turn street lighting. Smart Parking and traffic systems would use weight sensors to trigger vehicle counts, traffic signal changes or determine if a parking space was in use and paid for. Augmenting these applications with intelligent video and analytics, however, opens up a whole new world of additional details. In Smart Lighting, the video sensor can now trigger a change in lighting based on rules such as vehicular and pedestrian events. Video analytics can yield additional metadata such as vehicle type (commercial versus public use). Smart Parking becomes much more effective when you can begin to provide vehicle detail such as vehicle type or other information based on licence plate recognition. These additional details can help parking lots operate more efficiently and offer value-added services like space reservation and open space location notifications. Augmenting smart city applications with intelligent video and analytics opens up a whole new world of additional details Smart Grid offers some less obvious but equally valuable system augmentation capabilities. We often associate Smart Grid with simple automated meter reading but these systems also traverse critical power infrastructure. Solution providers in this arena are now offering heightened asset and perimeter protection via integration of network-based radar detection with video and audio analytics. This strategic mix of technologies can be used to minimise false detection alarms, turn on/off or change lighting levels and point cameras to areas of interest for extremely effective and cost-effective perimeter security. Network video for retail intelligence Retailing was one of the earliest adopters of smart device integration with network video and video analytics to support loss prevention and customer safety. They've been using video to analyse customer traffic and behaviour in order to improve product placement, increase product sales, as well as cross-sell related items. Adding programmable "Digital Signage" to the mix created new opportunities to display targeted messages based on viewer demographics about additional products and services of potential interest. Integrating network video with point-of-sale terminals to reconcile cash register receipts, adding heat mapping analytics to study customer foot traffic patterns, measuring check out wait times to increase employee productivity and efficiency as well as improve the customer experience are just some of the ways retailers have applied the principles of IoT to their advantage. Overlay intelligent building controls and you can see the exponential power of integrating intelligent video with other IoT devices and systems. Retailing was one of the earliest adopters of smart device integration with network video and video analytics to support loss prevention and customer safety Minimising metadata overload Smart application integration produces an enormous amount of metadata. Collecting, transporting and synthesising this data into meaningful business intelligence can be daunting. It requires disciplined use of resources from the network infrastructure transporting the data locally to the various cloud technologies (private cloud, hybrid cloud, public cloud) storing and disseminating it securely. Generally smart sensor data is fairly light weight in terms of actual data transmitted. Adding video elements can significantly increase bit-rate (bandwidth and storage) requirements. This highlights the need for the video to be more intelligent and interactive with the intelligent sensor and edge device technologies so that resources can be used more efficiently. Smart applications let you do that. You can fine tune video rules and optimise transmission based on retention value. You can program the video to sensor triggers or events, transmitting lower frame rate and resolution video for less interesting video and increasing the video settings when higher quality video is more relevant and valuable based on these sensor triggers. The back-end collectors of sensor metadata are becoming more mainstream and easier to operate. In many sectors, service providers are offering management of this sensor output "As a Service." As smart IoT technology continues to mature, the benefits of integration between network video systems and other network solutions will only get better. We're already seeing greater efficiency in operations as well as higher quantifiable returns on investment through cost savings and more in-depth, usable business intelligence.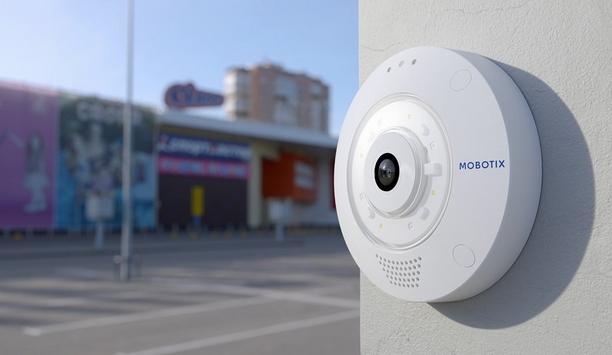 MOBOTIX launches 18 new products for intelligent video technology at once
With its major global Innovation Splash in November, MOBOTIX AG is placing 18 new hardware and software solutions on the market at once. New products The first hemispherical camera that combines infrared and LED white light in a single system is a major highlight. In addition, there is a new convenient dome camera, hemispherical modules, and Thermal CIF modules specially designed for perimeter protection for the MOBOTIX7 cameras with up to 105° wide angle of view (FoV). A fiber optic extension system now makes it possible to place the lenses of a single camera (S74) up to 60 meters apart. New intelligent apps and software developments expand the application possibilities of the MOBOTIX7 HighEnd video systems. And last but not least, three new cameras from the MOBOTIX entry-level MOVE series have been added to the portfolio, which for the first time feature a water-repellent nano-coating for the best view even in the rain. Video technology MOBOTIX can solve every conceivable video technology project worldwide in the future- and cyber-proof manner" "This comprehensive launch is visible proof of our strategy, which we have been stringently pursuing since the introduction of the open MOBOTIX 7 platform. MOBOTIX is now able to solve every conceivable video technology project worldwide in the future- and cyber-proof manner - regardless of size, the number of locations, requirements, or industry," explained Thomas Lausten, CEO of MOBOTIX AG. "The launch of the MOBOTIX HUB video management system (VMS) in May 2021 was already an important building block. We can now offer both the hardware - i.e., the camera itself - and the software and applications, including VMS for all project sizes from a single source and at our extremely high MOBOTIX security level, as a convincing all-around solution provider." Variety of innovations ensures a new launch format Whether hardware or software, all innovations will be presented to partners and customers on a central launch website. From there, visitors have the opportunity to delve into the versatile in-depth information in detail. "Ultimately, all these individual components of this product release combine with the existing portfolio to create customised solutions for our customers. Through the individual and effective combination of this vast potential, we can meet almost every need of our customers," explains Hartmut Sprave, MOBOTIX CTO." MOBOTIX - Once again, a pioneer in hemispheric technology Germany's video security experts are combining infrared and LED white light in a 360 omnidirectional camera MOBOTIX introduced hemispheric technology to the video security market back in 2008. Now, Germany's video security experts are again playing a pioneering role in the market by combining infrared and LED white light in a 360 omnidirectional camera for the first time. This makes it possible to create colour recordings even at night, allowing, for example, the reliable detection of the colour of clothing or vehicles. The second, new IoT video system, a classic dome camera, also impresses with its innovations. For example, the manual adjustability has been extended by the third level for more convenience and accuracy. Of course, both video security systems are integrated into the MOBOTIX7 platform, which allows the use of the individual camera-integrated analysis software (apps). High flexible tools: new apps & updates The MOBOTIX7 platform continues to grow. The current Innovation Splash includes four new apps, some from new software partners. This creates more and more innovative solutions for individual requirements. New intelligent apps and updates to existing apps make video analysis ever more flexible, precise and powerful. By the way, all available Certified camera apps can be used free of charge for 30 days for testing at MOBOTIX. If a customer can`t serve an application with the existing app portfolio, MOBOTIX will work with them to develop the perfect application for their particular requirements. MOBOTIX move breaks up raindrops Several new models, some with integrated video analysis, were also released in the MOBOTIX MOVE camera series, an attractively priced entry-level solution for smaller systems and selective additions to more complex projects. One highlight stands out: The new, groundbreaking MOBOTIX EverClear coating uses a special nano-technology that transforms water drops into an ultra-thin water film immediately upon impact. This ensures the best image quality, even in the rain. Flexibility and cybersecurity as core values MOBOTIX7 video system can face challenges, and the installation of suitable apps, without having to install new cameras" "We see more and more confirmation of our overall strategy. Companies or authorities are always facing new challenges to protect people, machines, or areas and in the course of process optimisation. An existing MOBOTIX7 video system can flexibly cover these tasks, and the installation of suitable apps, without necessarily having to install new cameras," sums up Lausten. "This is a flexible, highly intelligent, future-proof, and sustainable solution at the same time. And last but not least, it is highly cyber-secure." This is also evidenced, among other things, by the certification of the leading institute for penetration tests in Germany from June 2021, which once again confirmed the best possible cyber security of MOBOTIX products and solutions. Pure security was once - video technology can do much more Security remains a core competence of video technology. Supported by Deep Learning and Artificial Intelligence, MOBOTIX cameras can now do much more than that. They support and improve production processes in the industry. Cameras relieve personnel in healthcare. They increase service effectiveness in public institutions and improve security in schools. Retailers improve the shopping experience for their customers and increase their sales potential in the process. And last but not least, camera technology in transportation - keyword "smart city" - offers the best opportunities for safe, relaxed, and sustainable travel. "Video technology has the potential to make our lives safer and, above all, easier in the long term," concludes Thomas Lausten.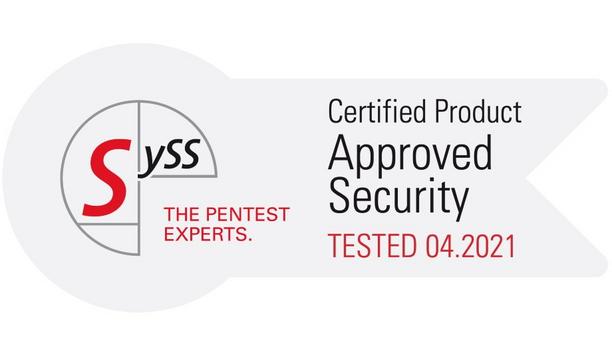 MOBOTIX 7 video platform and Mx6 series security cameras get certification from SySS GmbH for advanced cyber security
The manufacturer-independent IT solutions firm, SySS GmbH has tested and certified the security of the MOBOTIX 7 intelligent video platform and MOBOTIX Mx6 security cameras. As a result, the renowned institute for penetration tests in Germany has confirmed the best possible cyber security of MOBOTIX products and solutions. SySS GmbH testing certified During the tests, hardware and software components are subjected to simulated hacker attacks in several scenarios. These correspond to the current cyber-attacks, which have recently led to data tapping and data hijacking worldwide. The testers of SySS GmbH are familiar with the recent attack methods on IT systems and research how to prevent the intrusion into digital infrastructures. With this exclusive know-how, SySS GmbH tests IT landscapes and looks for weaknesses and security vulnerabilities. MOBOTIX 7 intelligent video platform and Mx6 cameras We only offer our customers video systems and solutions that provide the best possible protection" "The renewal of the SySS certificate for our MOBOTIX 7 platform and our Mx6 camera series confirms our continuous acting. We only offer our customers video systems and solutions that provide the best possible protection - not only for people, facilities, goods, grounds, or buildings but also for the data that our recordings collect," emphasizes MOBOTIX's Chief Technology Officer (CTO), Hartmut Sprave. With MOBOTIX, customers can be sure that they will continue to be protected against cyber threats. The MOBOTIX 7 platform and the Mx6 security camera series from MOBOTIX are among the market-renowned systems in IoT camera applications. ONVIF and H.264 compliant They are appreciated worldwide for their robustness, durability, and energy-efficient solutions. Despite the decentralised approach, the system is ONVIF and H.264 compliant. Furthermore, all MOBOTIX products and solutions are integrated into the comprehensive cyber security strategy, whose overall measures are bundled in the MOBOTIX Cactus Concept. Hartmut Sprave concludes, "From the high-end video system to our software and app offering in the comprehensive video management solutions, we are the reliable, convincing and cyber-secure solution provider in the video surveillance market, with the stringent high demand for best quality."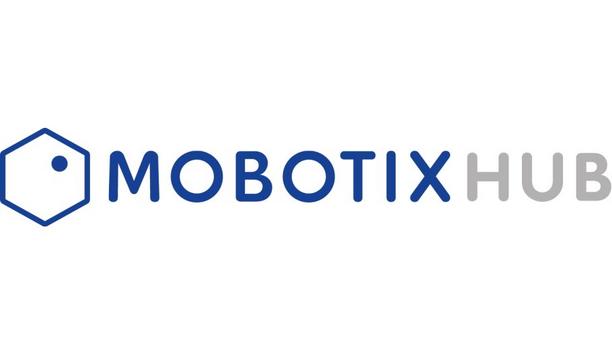 MOBOTIX opens up new options with the MOBOTIX HUB open video management platform
With MOBOTIX HUB, MOBOTIX AG is expanding its offering in the field of video management software. From a few local cameras to thousands of devices distributed worldwide, the company from Langmeil in Rhineland-Palatinate now offers complete system solutions for almost any requirement of specific vertical markets. For example, the open video management platform MOBOTIX HUB can integrate all ONVIF-enabled MOBOTIX video systems and more than 10,000 additional cameras and devices at a wide variety of locations worldwide. In addition, the highly performant platform maps the constantly growing variety of intelligent video analysis tools and other functions. While the cameras continue to form the basis of each system, the use of supplementary event and analysis software based on deep learning and artificial intelligence opens up versatile protection, optimisation, and security functions. Workflow, business, and production processes can thus be made more efficient and secure. MOBOTIX ManagementCenter MOBOTIX HUB provides the user with a central node and control point that connects all network components. All video and security systems are easy to control, giving the user the best possible overview. MOBOTIX thus offers its customers - in addition to the MOBOTIX CLOUD and the MOBOTIX ManagementCenter - three video management solutions covering the complete range of requirements, from small applications to the largest, highly security-oriented multi-site projects. In addition, customers using only MOVE cameras can use MOBOTIX MOVE NVR as an integrated storage and management solution. With MOBOTIX HUB, we have expanded our bandwidth in such a way that we can serve any company" "We want to offer our customers and partners product solutions that are a perfect fit," emphasises MOBOTIX CTO Hartmut Sprave. "With MOBOTIX HUB, we have expanded our bandwidth in such a way that we can serve any company of our focused vertical market. All requirements for the function and performance of video security systems can now be supported with proprietary MOBOTIX video management software products." Video management platform MOBOTIX HUB is an open video management platform (VMP) for companies of all types and sizes. It integrates all elements of modern video systems - even in highly complex structures and across any number of locations. The platform combines security and analytics cameras, access control systems, security equipment, environmental sensors, software and hardware interfaces to industrial equipment, and much more in a common control and user interface - centralised, transparent, and user-friendly. Through the intelligent use of collected data, MOBOTIX HUB helps to effectively protect people and property and analyse behaviour. It also provides users with new information that can be used to optimise business processes and workflows. Video Wall MOBOTIX provides five different levels of the MOBOTIX HUB: from the free L1 system for small, local applications with up to eight cameras to the MOBOTIX HUB L5, which is suitable for extremely large, enormously security-oriented applications - with an unlimited number of cameras and devices installed at a wide variety of locations worldwide. Flexible access to the video system can be provided via the Mobile, Web, or Desk Client. The Video Wall, accessible for the two most potent levels L4 and L5, provides the user with a completely transparent overview in an all-round control centre. The video management platform can continuously connect additional video equipment and new techniques Every solution is different. Every industry and every company has its requirements. MOBOTIX HUB will grow with future hardware and software developments in the video security market. As an open system with ONVIF compatibility, the video management platform can continuously connect additional video equipment and new techniques. It can independently assign alarms and trigger any functions. MOBOTIX HUB is almost arbitrary expandable. With three product updates per year, MOBOTIX ensures that the system is always up-to-date. Cybersecurity "Video technology has evolved beyond pure security requirements. Providing data for optimisation, marketing, and integration into other systems is an absolute necessity today," says Thomas Lausten, CEO of MOBOTIX AG. "MOBOTIX HUB is an important part of this, and we will continue to support integration with other VMS partners. We are a solution provider. Our goal is to always guarantee our customers the best fitting solution, according to their current and future requirements," said Lausten. Like all MOBOTIX solutions, MOBOTIX HUB is designed to enable secure end-to-end communication to protect data and the entire network. Cybersecurity measures are constantly being developed to be dynamically armed against cyberattacks permanently. The MOBOTIX HUB VMP software offers a whole matrix of security mechanisms. Tiered administrator and user permissions enforced on the server-side, combined with the use of strict IT security procedures, make MOBOTIX HUB the first choice for security-sensitive companies and organisations.
Related white papers
Ensuring cybersecurity of video
Making sense of today's security camera options