Geutebruck CCTV Housings
(13)
CCTV camera housing products updated recently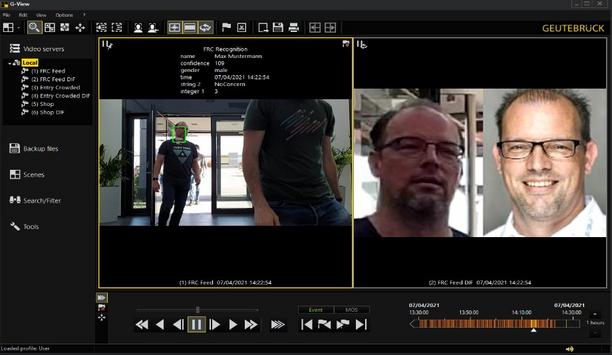 SAFR Facial Recognition for live video integrated with Geutebrück VMS
SAFR from RealNetworks, Inc. announced that its SAFR facial recognition system for live video is now integrated with the Geutebrück G-Core VMS (Video Management System). SAFR for Geutebrück is an AI layer that runs on top of the G-Core VMS which provides advanced video analytics that saves time and increases the efficiency of surveillance operations. The best-in-class integration features live video overlays that display event details, streamlined enrolment of individuals appearing on the Geutebrück VMS directly into the SAFR identity database, and custom alarms and notifications that notify security personnel of SAFR events directly within the VMS. Face matching in live video feeds With so many cameras deployed, it's impossible for security staff to monitor them effectively. SAFR matches faces appearing in live video feeds against watchlist images more effectively (99.87%), and with less bias, than humans. This enables security personnel to prioritize feeds that require review while providing them the key information they need to respond to persons of interest more quickly. SAFR also recognises individuals wearing masks with remarkable accuracy (98.85%). The enroled or reference image is displayed side by side with the face detected in the VMS video. Operators have instant access to the enrolled person's face image to confirm match events. Automated identification The integration automatically enrol faces into the SAFR database via Geutebrück G-Core VMS "Manual monitoring is expensive and inefficient. AI can perform real-time, automated identification of persons of interest, and identify previous offenders the moment they return and before they cause new incidents," said Brad Donaldson, VP, Computer Vision & GM, SAFR. "Our powerful API and plugin architecture makes industry leading integrations such as the one achieved with Geutebrück possible." Integration benefits The tight integration enables operators to automatically enrol faces into the SAFR database by simply drawing a marquee around a face in the Geutebrück G-Core VMS. Operators can use SAFR's information overlays within the VMS video feeds, making it easy to quickly and accurately separate unknown people and potential threats from authorised personnel. System admins can easily configure which face recognition information is captured and recorded in the VMS. Additionally, operators have the ability to search Geutebrück video feeds for alerts using a person's name, watchlist name, or ID class (threat, no concern, concern, stranger). Effortless experience "As a world class provider of video security software solutions in mission critical environments, we are thrilled to offer SAFR's superior technology for face recognition as part of a comprehensive solution." "The seamless integration of SAFR's AI-powered analytics together with Geutebrück's ultra-robust video management software makes day-to-day operational tasks an effortless experience with the highest reliability," comments Norbert Herzer, Product Manager, Geutebrück.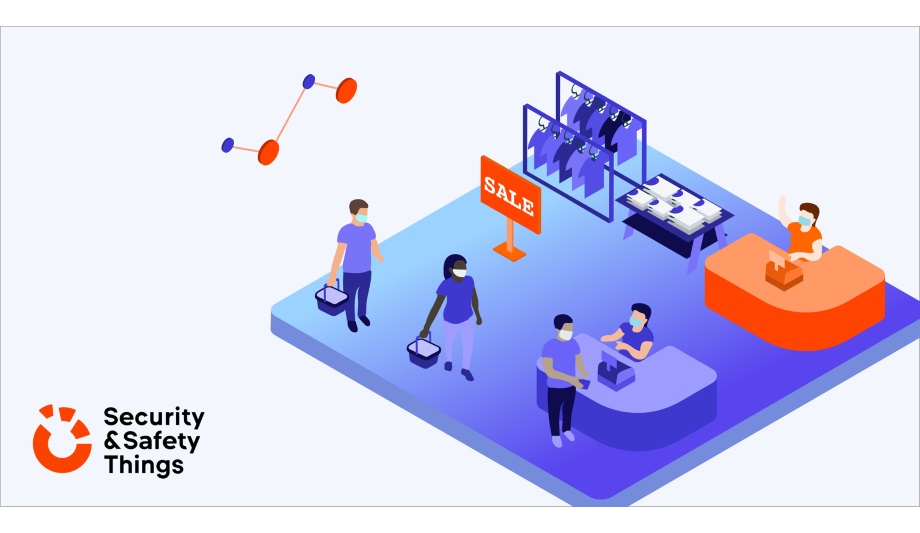 Security & Safety Things partners with Link Analytix, SAIMOS and CVEDIA to provide video analytics solutions for retailers
Security & Safety Things GmbH (S&ST), together with its partners, is offering packages of smart security cameras and video analytic solutions designed to provide retailers with immediate solutions to practical challenges from the COVID-19 pandemic. AI tech on cameras in retail stores In an effort to assist retailers operating their shops in compliance with COVID-19 regulations, these packages will include test cameras running the S&ST operating system. Integrators and end-customers can choose and deploy AI applications on these cameras to address operational challenges related to the COVID-19 pandemic. These apps are offered by S&ST's development partners. Uses for applications include: Occupancy management Face mask detection Social distancing monitoring Real-time occupancy and face mask detection solutions A face mask detection app, offered by Geutebrück, enables efficient monitoring of people Security & Safety Things' developer partners include Link Analytix, which is offering Retail Flux, a real-time occupancy solution designed to limit risk of infection for both shoppers and employees. SAIMOS has developed the SAIMOS Counting app, which can be used to monitor multiple entrances and exits to track occupancy in real-time and manage visitor access through automated displays at entry points. A face mask detection app, offered by Geutebrück, enables efficient monitoring of people to ensure compliance with prescribed hygiene concepts. This solution is able to recognise if an individual is wearing a protective mask and instantly notifies unprotected persons to onsite staff or remote operators via a connected Video Management System. SAIMOS also offers a feature for face mask detection in their counting app. Talos Social Distancing app CVEDIA's Talos Social Distancing app features a foot traffic algorithm designed to detect and analyse at-risk areas for physical distancing in corporate or public spaces. This app detects people and the distances between them, while providing additional visual analytics that allow companies to improve current COVID-19 practices.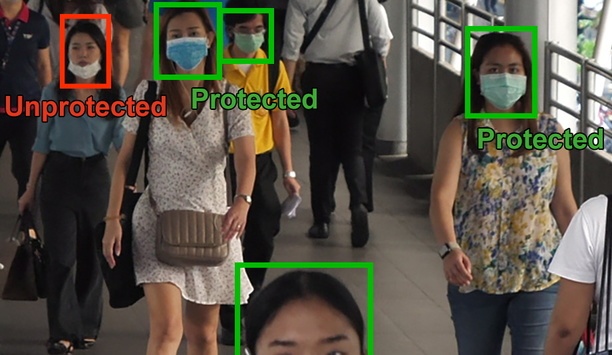 Geutebrück brings contactless real-time face-mask detection, body temperature video security solution
Body temperature measurement, detection of face masks and the counting of visitor flows - Geutebrück has expanded its portfolio to enable the retail trade, public authorities and operators of public transport and industry to adjust their protective measures to the current situation. Without having to resort to biometric data, the intelligent and highly available video security systems process images in real time. This way, both customers and personnel are being protected, and compliance with official regulations or prescribed hygiene measures is being controlled and documented. Contactless measurement of body temperature When measuring body temperature people are automatically screened. Fields of application are where many people come together, e.g. in companies, manufacturing plants, train stations, at airports, in public or private institutions. The automated face mask detection verifies compliance with such precautions and can - when connected to an access control system - allow or block entry to a building. Suitable for any facility with public access. Visitor management for restricting number of visitors Visitor counting and routing is of particular interest to shop owners, who need to ensure that the number of customers in their premises is kept below the maximum. As with all Geutebrück solutions, the most recent developments are GDPR-compliant and protect the privacy and personal rights of all those involved. "Our clients are facing unknown challenges in the current situation. Our solutions can help in many fields to overcome such challenges by means of visualisation and automatisation - yet without reaching capacity limits", says Christine Heger-Essig, Chief Technology Officer.