Dahua Technology CCTV Housings
(11)
Browse CCTV Housings
CCTV camera housing products updated recently


IFSEC International 2019: packed with technologies and opportunities to learn
The focus of the global security industry will shift to London this month for IFSEC International, Europe's 'integrated' security event focusing on the latest technologies and the opportunity to learn from the industry's top leaders and experts. IFSEC will be held from 18-20 June, 2019, at ExCel London, welcoming 27,000 security directors and managers, installers, integrators and distributors. The exhibition at IFSEC may not be as large as previous years, and several big players are conspicuously absent. Even so, there will be plenty of innovation on display, including big exhibitors such as Avigilon, Axis, Dahua, dormakaba, FLIR, Genetec, Hanwha Techwin, HID Global, Hikvision, IDIS, and Uniview. Exhibitions will likely reflect a continuing shift in emphasis away from individual products and toward integrated solutions, including some end-to-end solutions provided by single manufacturers. Also, likely to be abundantly evident at IFSEC will be a trend toward manufacturers who partner together to provide integrated solutions. For example, look for some manufacturers to host other manufacturers at kiosks within their stands. Texecom will explain the value of training and digital services and their impact on the future of the industryValue of security training Emphasis will continue to be on the practical aspects of using technology: Throughout the show floor, designated technicians wearing 'Show Me How' badges will provide demonstrations of products and solutions on display at the various stands. Texecom will explain the value of training and digital services and their impact on the future of the industry. The Loss Prevention Certification Board (LPCB) Attack Testing Zone features LPCB's security experts conducting live attack tests on a range of perimeter and façade security products, as well as safes, security enclosures and padlocks. More than 35 hours of seminar sessions will cover timely topics such as 'Future Proof your CCTV Networks', 'Social Media and Internet Security' and 'AI and Machine Learning for Security'. Security topics at the Keynote Arena This year, topics will include video analytics, AI, machine learning, GDPR, Brexit and security in smart citiesThe new programme will replicate last year's successful changes. The Keynote Arena will again be placed at the heart of IFSEC, sponsored by Western Digital. The Keynote Arena will host influential speakers and real-life case studies to inspire attendees. Topical issues will take front and centre, from cybersecurity to ethical and legal challenges to extremism. This year, topics will also include video analytics, AI, machine learning, GDPR, Brexit and security in smart cities. The Future of Security Theatre will present CPD-accredited sessions and presentations that share a vision of the industry's future and answer burning questions about critical topics, technologies and issues. Education partner Tavcom will present the programme of education dedicated to the ideas, products and innovations driving the industry's development. The Converged Security Theatre will highlight new approaches that combine cyber and physical defences to tackle dangerous security threats. Included will be real-time technical solutions enhanced by artificial intelligence, powered by Vidsys and partners. Participation by government organisations The Government Pavilion will feature representatives from government bodies such as JSaRC, DIT, and DSOFor the third consecutive year, The Government Pavilion will feature representatives from government bodies such as JSaRC (Home Office & Counter Terror Unit), the Department of International Trade (DIT), and the Defence & Security Organization (DSO). New this year will be participation by the British Transport Police. IFSEC 2019 will again present a snapshot of how manufacturers from across video, access control and intrusion detection are continuing to innovate and collaborate to stay competitive in the challenging market. Innovations first unveiled in the spring at the ISC West 2019 show in the United States will be promoted anew for the European and global markets. IFSEC will be co-locating with FIREX International, a dedicated fire safety event that attracts 18,000 fire prevention and protection professionals; the FACILITIES Show highlighting building management and workplace technologies; and the Safety & Health Expo, dedicated to innovative health and safety products. IFSEC attendees can access the Smart Buildings Expo, the Workplace Wellbeing Show, and the Sprinkler & Suppression Presentation Area within the co-located events.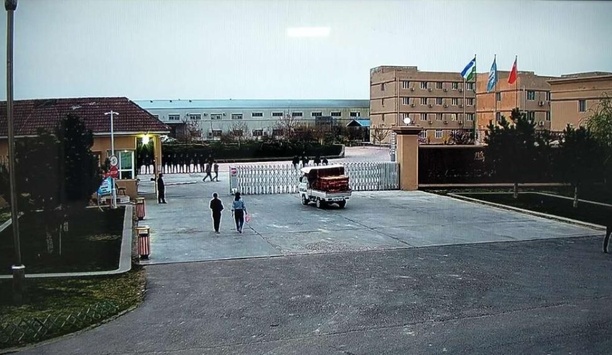 Dahua delivers customised monitoring solution for Pengsheng Industrial Park in Uzbekistan
Pengsheng Industrial Park is the first investment project by a Chinese private enterprise in Uzbekistan that has been acknowledged and ratified by the governments of the two countries. Located in Uzbekistan's Sirdaryo state, the Pengsheng Industrial Park is the biggest non-energy cooperation project between China and the Central Asian country. At present, there are over 10 workshops covering various fields with a total number of more than 1,500 employees. As a model project of China-Uzbekistan cooperation, it has contributed to a large number of job opportunities and high output value for local economic development. High-end monitoring system The expansion of the production scale of the park brought inconvenience to management and the current simple front-end camera plus back-end storage video surveillance system cannot meet the growing production management and modern monitoring needs any more. Dahua provided the park with a complete, high-end monitoring system that contain over 500 HD cameras, 100 IP camerasDahua provided the park with a customised complete, high-end monitoring system that contain over 500 HD cameras, 100 IP cameras, central management, central storage, third-party contact as well as display and control system all around factory, fence, outdoor and indoor areas to protect the whole park. To better secure the access between the network of video surveillance system, the data is gathered from front-end devices by PON transmission to establish looped network for video surveillance and to ensure reliability. Advanced technology solutions This project is the first general contracted project with great significance in Uzbekistan. Dahua is not only the supplier of the equipment, but also responsible for the whole project life cycle including construction, delivery, system documentation, technical support, operation training and long-term maintenance. The solutions have effectively reduced the difficulty during production process, which greatly improved the management efficiency for customers. In the future, Dahua will continue to provide more advanced technology solutions such as face recognition, personnel and vehicle management IT systems, industrial machine vision, etc. for the Peng Sheng industrial Park.
Dahua partners with JMG Security Systems to support Boys & Girls Clubs through charity golf tournament
Dahua Technology, a video-centric smart IoT solution and service provider, is teaming up with JMG Security Systems and Pacific Premier Bank, along with other sponsors, to support the Boys & Girls Clubs of Huntington Valley, Calif. The 24th annual benefit golf tournament aims to raise more than $100,000 for the Boys & Girls Clubs this year. Dahua Technology is serving as a platinum-level sponsor and three Dahua team members will be participating in the event. "Dahua is honoured to support a renowned charity that is making a profound impact on the lives of young people," remarked Tim Wang, president and CEO of Dahua Technology USA. "Our commitment to national and local non-profits strengthens the Dahua team and makes the community stronger as well." Making a positive difference in children's lives The golf tournament, which takes place on May 15, will help the Boys & Girls Clubs make a positive difference in the lives of over 11,000 at-risk children and teenagers in Fountain Valley, Huntington Beach, and more than 60 surrounding Southern California communities. Among the services and facilities provided by the Boys & Girls Clubs are preschools, recreation centres, a performing arts and fitness centre, year-round basketball and soccer leagues, and family support programs. JMG Security Systems began the golf tournament in 1995 as a way to provide access for kids of all ages, from six weeks old through high school, to youth development programs that help them succeed in school and in life. Donations from the event, including Dahua Technology's donation, will provide support for students throughout the entire school year, including meals, tutoring, and hands-on programs for sports, art, STEM, and leadership development.
Featured white papers
5 steps to finding the right access control system for you
Download
Why outdated access control systems are a big problem
Download
Five things to consider for AI with video technology
Download