MOBOTIX CCTV Brackets
(7)
CCTV camera bracket products updated recently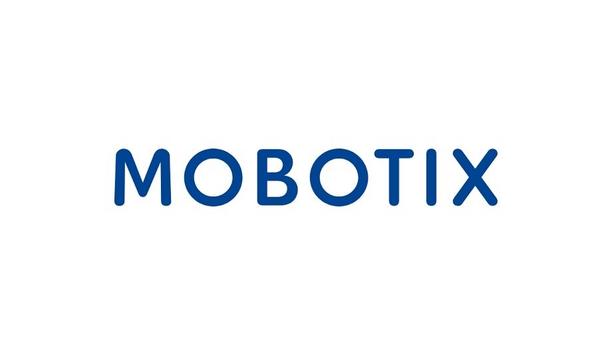 MOBOTIX thermal solution M16 EST complies with the strict specifications of the U.S. Food and Drug Administration
MOBOTIX AG has developed the M16 EST Thermal Camera as a special thermal solution for the for zero-contact detection of temperature fluctuations of the body surface (EST: Elevated Surface Temperature). The M16 EST thermal camera complies with the specifications of the U.S. Food and Drug Administration (FDA), which enables and enforces its use and distribution in the United States. The thermal solution precisely satisfies the requirements of the COVID-19 Emergency Use Authorization (EUA) by the FDA's enforcement policy for tele-thermographic systems. This means that the MOBOTIX M16 EST solution can be utilised by following FDA regulations for determining body temperature within the duration of the public health emergency that was declared by the Secretary of Health and Human Services (HHS). Thermal camera solution Examples of suitable locations for this solution include, but are not limited to: healthcare facilities, schools, government institutions and retail environments. Meeting FDA requirements under the emergency order is an essential step for MOBOTIX sales in the growing US market. However, utilisation of the MOBOTIX M16 EST solution within the healthcare sector in countries outside the US may require further product releases and approvals to satisfy the specific needs of various national laws. Regardless, with all FDA specifications met, the highly-esteemed German manufacturing quality within this professional thermal solution will undoubtedly extend into other countries and markets. The measurement system, which complies with FDA specifications, consists of two components, the MOBOTIX M16 EST thermal camera, and a black body radiator. The black body radiator is used to create an area with a reference temperature for the MOBOTIX M16 EST thermal camera. Recording body temperature Recording body temperature with the MOBOTIX M16 EST thermal camera is an effective tool for risk detection Non-contact temperature detection is used primarily by healthcare professionals to screen and potentially identify (COVID-19) infected people. The thermal camera solution can be used in healthcare facilities or non-medical areas, such as airports or building access gates. Recording body temperature with the MOBOTIX M16 EST thermal camera is an effective tool for risk detection. Of course, the MOBOTIX solution should not be used exclusively or primarily for diagnosing or ruling out COVID-19 as well as any other disease. Elevated body temperatures associated with the use of this solution should always be confirmed with secondary evaluation methods such as non-contact infrared thermometer (NCIT) or clinical grade contact thermometer. The MOBOTIX M16 EST thermal camera should only be used to record a single person's temperature at a time. Reference body temperature The distance between the person and the camera must be the same as the distance between the person and the black body radiator. The MOBOTIX M16 EST thermal camera measures the difference between the reference temperature of the calibrated black body radiator and the temperature of the hottest point within the measuring range of the uncovered face of a person. Usually, this is the inner canthus (tear duct) of the eye.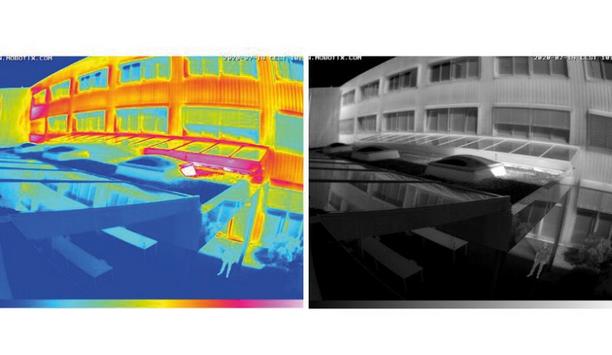 MOBOTIX releases a description of the various functions of their intelligent cyber secure camera systems
Since the beginning of the Corona pandemic, MOBOTIX thermal cameras have been increasingly used in the healthcare sector, as well as airports, train stations, public authorities, and companies, to detect temperature anomalies in people without contact and thus contain the spread of the virus. However, this aspect is only one area for which MOBOTIX technology is currently providing special services. The MOBOTIX 7 Platform, with its intelligent and cyber secure camera systems M73 and S74, predestined MOBOTIX video technology even before the pandemic to ensure comprehensive, digital support in healthcare clinics and the care of the elderly and disabled. The reliable, high-quality video systems made in Germany reduce hospital and nursing staff's workload, provide digital care for patients and residents, and optimise care and workflow processes. Parking lot management Basic safety and pandemic protection in healthcare Also, during the pandemic, a special duty of care applies to employees, patients, and residents as a risk or high-risk group. MOBOTIX video technology is used in numerous clinics, retirement, and care facilities worldwide to ensure that patients, residents, and employees have a carefree stay and can work safely. Dangers and sources of risk are detected, and the intelligent systems warn, report, or directly initiate assistance and rescue measures. With the MOBOTIX 7 platform and the versatile apps, MOBOTIX offers exceptional application possibilities This allows staff to concentrate on their work, while hospital patients and nursing home residents can recover more quickly and get the rest they need. MOBOTIX video technology is also used for early fire detection and access control, mainly to protect sensitive areas such as sterile rooms, operating theatres, or medication depots. MOBOTIX also offers the right solutions for intrusion and theft protection, securing outdoor spaces, or access monitoring and parking lot management. With the MOBOTIX 7 platform and the versatile apps, MOBOTIX offers exceptional application possibilities: Temperature-sensitive people are detected as soon as they enter the facility and can be immediately sent for further examination. Crowding is avoided, and social distancing can be supported. MOBOTIX video systems detect when no mask is being worn and trigger an alarm or an information announcement. Cyber security and data protection Cyber security and data protection "Made in Germany" Particularly in the healthcare sector, cyber security and data protection must be given the highest priority. After all, it is a matter of protecting lives. But it is also about sensitive, personal data that must not fall into the wrong hands under any circumstances. MOBOTIX video systems consist of high-quality components. Developed, produced, and comprehensively tested at the company's German headquarters in Langmeil/Rhineland-Palatinate, the company creates products and solutions that are impressive not only because of their outstanding image quality - even in the most challenging lighting conditions. One hundred percent DSGV-compliant, the decentralised MOBOTIX systems stand for the highest possible cyber security and comprehensive data protection. Unauthorised persons cannot read the stored data. Intelligent video technology Relieving the workload of hospital and nursing staff with "digital care" Using intelligent video technology from MOBOTIX can significantly reduce the hospital and nursing staff's workload Hospital and nursing staff often work at the breaking point. Using intelligent video technology from MOBOTIX can significantly reduce the hospital and nursing staff's workload. For example, adequate video support can be used to carry out control rounds digitally. On the one hand, this creates free space that can be used for personal care and nursing, while on the other hand, emergencies are reported directly at the time they occur - and thus, the staff does not lose critical time. Effective signaling and calling systems targeted alarm differentiation, and the avoidance of false alarms keep staff motivation high and reduce alarm fatigue. Incorporating audio systems Digital and discreet care for patients and those in need of care MOBOTIX provides discreet video support for round-the-clock security without anyone feeling they are being watched. The video surveillance systems in healthcare facilities are discreetly and unobtrusively installed; they also detect and alert only when defined events occur to keep recordings to a minimum. At the same time, patients and residents can be sure that help will arrive quickly in an emergency. Even at night, helpless individuals are detected immediately, ensuring their safety and preserving their independence. By incorporating audio systems, MOBOTIX video solutions for healthcare also enable patients to be addressed and communicated directly with. Licence plate recognition Optimise hospital and care processes Smooth organisation of routines helps hospitals and retirement and care facilities be efficient and profitable Smooth organisation of important routines helps hospitals and retirement and care facilities be efficient and profitable. Numerous processes can be automated and optimised with MOBOTIX video technology, from the facility's journey to check-out. For example, professional parking management with licence plate recognition can ensure that only authorised vehicles can access specified areas. In this way, ambulance access routes can be kept free, or parking fees can be billed in a straightforward, fast, and accurate manner. Queues in registration or examination areas can be avoided, and smooth administration and medical and care areas can be enabled. University hospitals or teaching institutions can use high-resolution camera systems, e.g., in operating theaters, to fulfill their teaching and training mission without disruptions. Customers can develop further apps that enable completely individual solutions themselves or have them created by MOBOTIX and its technology partners and certified concerning cyber security. Advanced video technology Comprehensive solutions with the best return on investment Healthcare is a market that is extremely important to MOBOTIX. The high level of solution expertise digitises processes and work steps in everyday hospital and home life, using intelligent and future-proof video technology. Thus, simplifying work and making it safer also relieves the healthcare budgets' pressure and increases profitability (ROI).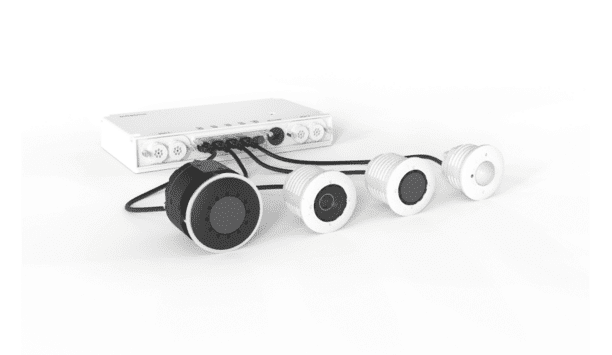 Konica Minolta expands video solution usage by launching the MOBOTIX S74 high-end video system
With the new MOBOTIX S74 video system, Konica Minolta is significantly expanding the usage options for Intelligent Video Solutions delivered using its MOBOTIX 7 platform. The new model is a high-performance IoT camera featuring up to four different types of sensor (two visual, one thermal and one movement/sound), which allows for more flexibility than any other MOBOTIX video system. Exceptionally discreet thanks to its concealed camera housing, the S74 can also access camera apps that have already been integrated, for almost indefinite expansion. This makes the video system universally suitable for any imaginable requirement in even the most diverse industrial applications. Identifying vehicles or people To supplement its already well-known 4K UHD modules in numerous lens opening angles, Konica Minolta is presenting a real world-first with the MOBOTIX S74: The Ultra LowLight 4MP Day & Night sensor module with automatic day/night switching. The Ultra LowLight technology can produce brilliant images with faithfully reproduced colours, even in low-light conditions. This is an important feature for applications such as identifying vehicles or people, even in the darkest of areas. The excellent signal-to-noise ratio of 0.19 demonstrates the impressive brilliance of the Ultra LowLight sensors The modules also have shorter exposure times, significantly increasing the sharpness of the object moving through the twilight image. The excellent signal-to-noise ratio (SRV) of 0.19 demonstrates the impressive brilliance of the Ultra LowLight sensors. That corresponds to a light sensitivity that is four-times higher than a 4K UHD module. The camera also has potent backlighting technology. VGA thermal technology Thanks to the optimised Wide Dynamic Range (WDR) function, all MOBOTIX 7 generation cameras can easily cope with challenging light conditions. WDR simultaneously combines different images with different exposure times into one image, automatically brightening areas that are too dark and preventing areas that are too bright. The result is a more accurate, detailed image in all areas. The excellent image quality also applies in thermal applications. With VGA thermal technology and an extended image angle of up to 90° x 69°, even the smallest details can be recognised. Large areas (perimeter protection) and temperature differences can also be captured from great distances. The S74 integrates perfectly into the open MOBOTIX 7 platform, which offers a wide range of MOBOTIX Certified Apps based on Artificial Intelligence and Deep Learning to support security and workflow processes. Specific use cases Customers can use existing apps from the platform instead of installing apps in their own infrastructure, which they would have to manage and continuously update. The pre-installed apps can be trialled free of charge for 30 days and then activated individually using a licence, if this is required. However, customers can also develop their own apps for specific use cases and these can be integrated into the open platform. This means they can create "their own" camera to fulfil their specific requirements - giving them the full flexibility and modularity they need. In this way, new camera app solutions are continually being created with unlimited possibilities. Only high-quality professional market and partner solutions are integrated, tested, and certified by MOBOTIX to meet the high demands of quality and cyber security. Additional network cameras The S74 video system exclusively consists of rugged, high-quality components, which are made in Germany As image processors and storage are embedded within the IoT camera and the camera operates completely autonomously, there is no extra hardware or software such as servers or recording systems - only the camera itself is required. This intelligent video solution therefore enables customers to reduce server load and storage volume, lowering both capital and operating costs. If the system is expanded with additional network cameras, only additional storage is required. Robustness, reliability, and data security are also core values in the S74. The S74 video system exclusively consists of rugged, high-quality components, which are made in Germany. The camera housing is made of powder-coated aluminium and features weatherproof USB-C sockets. The S74 also provides end-to-end protection against cyber-attacks by hackers and prevents unauthorised entry into the company's network. AI-supported video technology Gary Fletcher-Moore, Head of Sales - Intelligent Video Solutions at Konica Minolta Business Solutions (UK) Ltd states, "With the MOBOTIX S74, we are setting new standards in AI-supported video technology. The system will impress customers thanks to its performance, image quality, robustness and cyber security."