VIVOTEK CCTV Brackets
(15)
CCTV camera bracket products updated recently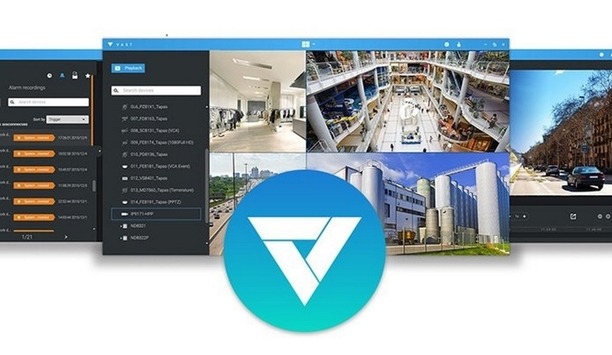 VIVOTEK introduces its advanced video management software VAST 2 for business management
In the new version update of VIVOTEK's video management software VAST 2, several advanced user-centered functionalities will be unveiled. The new features include the Deep-Learning Technology Smart Search II, Cyber security Management Solution, and License Plate Recognition Integration. With this update, users can enjoy the intuitive interface of VAST 2 while achieving a higher level of management efficiency. Video Content Analytics Three new user-oriented benefits will be highlighted in VAST 2 : Smart Search II Building on Deep-Learning Video Content Analytics, the Smart Search II of VAST 2 allows users to quickly search for specific objects and people in the specified region. While enabling People Detection feature, only people-based activities will serve as event triggers. The security operator no longer needs to search through extensive footage for critical videos, thus improving both efficiency and effectiveness. Cyber security Management Solution Offering the complete end-to-end cyber security protection, the new VAST 2 is fully integrated with VIVOTEK cameras and NVRs and becomes a powerful cyber security central management site. The protection includes Instant Alert Notifications, allowing users to receive notifications automatically, and the Cyber Risk Dashboard to visually identify common types of cyber-attacks. In addition, users can filter attack logs according to a range of criteria, making it quicker to find abnormal events and take necessary actions to minimise risks. License plate data License Plate Recognition Integration Now, the new VAST 2 is fully integrated with VIVOTEK's LPR/ Automatic Number-Plate Recognition (ANPR) camera, IB9387-LPR. Users can see the live images with selected information, such as confidence level or black list status, which can in turn become a trigger source in Alarm Management, making it easy to intelligently manage license plate data.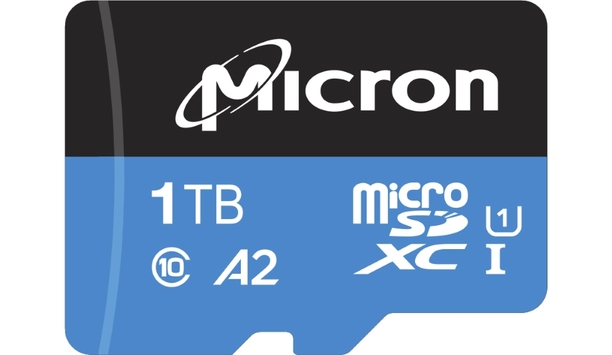 Micron launches world's first 1TB industrial-grade microSD card to replace Network Video Recorders with Cloud-Managed Video Surveillance
Micron Technology, Inc., unveiled the world's highest-capacity industrial microSD card — Micron® i300 1TB3 microSDXC UHS-I — to address the edge storage needs of the video surveillance market and other industrial applications. The new Micron® i300 1TB microSD card is based on Micron's advanced 96-layer 3D quad-level cell (QLC) NAND technology, now making it cheaper for small- to medium-sized deployments to have primary storage in the camera compared to a centralised storage architecture. The i300 microSD card enables users of video surveillance systems to capture and store more than three months of high-quality video footage on-device and at the edge. Cloud-based service models "Micron's i300 industrial-grade microSD cards for edge storage open the possibility for a broad range of video surveillance as a service deployments that no longer require local network video recorders," said Amit Gattani, senior director of Segment Marketing in Micron's Embedded Business Unit. "Micron's 96-layer 3D QLC NAND is instrumental in helping us deliver 1TB of storage in a microSD form factor and at a breakthrough price point to accelerate edge storage and cloud-based service models." Users of video surveillance systems can now store large amounts of video footage on-device VSaaS systems are increasingly integrating artificial intelligence-based and higher-resolution cameras that require more storage at the edge. The Micron i300 1TB microSDXC card allows 24/7 continuous capture and storage of up to 1TBof high-quality video in the camera. Users of video surveillance systems can now store large amounts of video footage on-device, opening a broader set of uses for cloud-managed solutions. Intelligence at the Edge "Demand for commercial surveillance cameras continues to grow at a rapid pace," said Jeff Janukowicz, research vice president at International Data Corporation (IDC). "Smart cameras, artificial intelligence, machine learning and threat detection are being driven to the edge for real-time responsiveness, making Micron's 1TB microSD card an invaluable solution for differentiation and innovation." The VSaaS market is projected to reach $6 billion in 2022, corresponding to a growth of 22% compound annual growth rate between 2017 and 2022.4 The rising adoption of VSaaS by small to medium businesses and enterprises is attributed to lower overhead costs achieved through ease of installation and elimination of the need for on-site NVRs and DVRs. The ability to store large video footage files in the camera and at the edge reduces the demand for network bandwidth and expenditure associated with continuous cloud storage. Cloud-based implementation models These savings contribute to lowering the overall cost of ownership for businesses while bringing flexibility and scalability associated with cloud-based implementation models. Micron's microSD portfolio is designed to endure harsh environments in which surveillance systems are deployed "The video surveillance market is quickly shifting toward hybrid cloud architectures that store video footage on-camera, allowing secure access via cloud-based software," said Raj Misra, director of Hardware Engineering at Verkada. "Enterprise customers are choosing hybrid cloud offerings to reduce operational costs, simplify installation and management, and gain from powerful video analytics. Micron extending its range of reliable industrial-grade microSD cards to 1TB enables us to provide our customers with industry-leading data retention, security and video resolution options at very cost-effective price points." Micron's industrial-grade microSD portfolio is designed to endure the harsh environments in which surveillance systems are deployed. Flexibility, scalability and maintenance efficiency The Micron i300 1TB microSDXC card minimises frame drops in a 24/7, 30 frames per second (FPS) recording environment, offering twice the reliability of hard disk drives at 2 million hours mean time to failure. The card features a smart tool for monitoring the health of devices. "VIVOTEK has launched a series of edge-computing network cameras and successfully deployed Micron's high-quality industrial-grade microSD cards," said Shengfu Cheng, director of Marketing and Product Development Division, VIVOTEK Inc. "Micron's portfolio of industrial microSD cards up to 1TB equips us to deliver greater flexibility, scalability and maintenance efficiency to our customers, all of which contribute to a better return on investment." The Micron i300 microSDXC UHS-I card is offered in 128GB to 1TB capacities, which are available for ordering. The entire industrial-grade portfolio includes capacities ranging from 32GB to 1TB.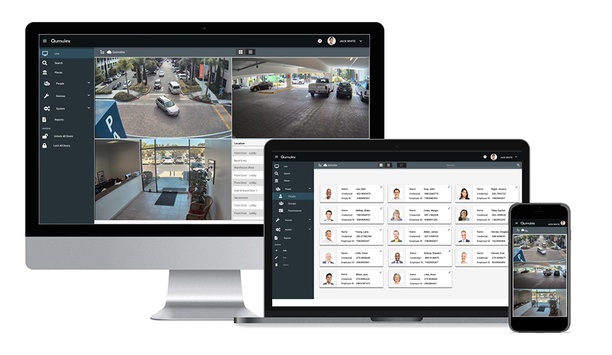 Qumulex seeks to simplify the integrator community's transition to the cloud
Qumulex is a new startup with a mission to provide physical security integrators a transition path to embrace the technology of the cloud and a subscription-based business model. Qumulex's products seek to provide capabilities to embrace the cloud without an integrator having to turn their back completely on the 'transactional revenue' of installing new systems. As the transition happens, Qumulex offers a product line that supports any mix of systems from on-premises to the cloud. The flexible deployment model – enabling a cloud installation, an on-premise installation or any combination – is one of the ways Qumulex seeks to differentiate itself in the market. Installing fully on-premise system The Qumulex cloud-based platform uses a gateway device located on-premises to which local cameras are connected The system is designed so that an integrator can install a fully on-premise system and then later 'flip a switch' and transition to a cloud model, says Tom Buckley, VP Sales and Marketing. The Qumulex initial 1.0 system launch is currently entering its final beta test. Full commercial availability is expected in the first quarter of 2020, which the company will highlight in a bigger 20x20 booth at ISC West next year. The Qumulex cloud-based platform uses a gateway device located on-premises to which local cameras are connected. Ensuring cybersecurity, the gateway provides a 'firewall' of sorts to avoid any cybersecurity threat from entering an enterprise through a vulnerable IP camera. The system is designed to be 'cloud-agnostic' and to work with any public or private cloud, using Docker software and 'containers,' a standard unit of software that packages code and all its dependencies so an application runs quickly and reliably from one computing environment to another. At launch, the Qumulex system will use the Google cloud. Greater situational awareness The open platform approach will enable users to assemble best-of-breed solutions Another point of differentiation for the new platform is a unified access control and video surveillance environment – both are part of the same program. Access control can drive video events and vice versa for greater situational awareness. A unified system avoids having to integrate separate systems. A big emphasis for Qumulex is ease of use. They have designed the user interface to be as simple and intuitive as possible, using consumer-oriented systems such as Nest and the Ring Doorbell as a model of simplicity. Finally, the open platform approach will enable users to assemble best-of-breed solutions. Keeping it simple, the system offers native integration with only the major camera manufacturers that represent most of the market: Axis, Hanwha, Arecont, Panasonic, Vivotek and Sony. Longer-term storage Other cameras can be included using the ONVIF interface. On the access control side, the system will initially be compatible with Axis door controllers, Allegion wireless door locks and ASSA ABLOY Aperio wireless door locks. Future versions of the software will seek to integrate HID Edge and Vertx and eventually Mercury panels. The gateway device may incorporate only a solid-state drive (SSD) for buffering Qumulex is taking a 'mobile-first' approach. The software is designed as a 'progressive web app,' which means is it is adaptable to – and fully functioning in – any smart phone, mobile device, laptop, or on a desktop computer with multiple monitors. The gateway device may incorporate only a solid-state drive (SSD) for buffering, or as many hard drives as the customer wants for storage. Short-term storage is available in the cloud, but local hard drives may be used for longer-term storage which can get expensive given the monthly fees of cloud storage. Using third-party server To manage the variety of scenarios, Qumulex will offer a line of gateways and recorders, or a customer can use a third-party server along with Qumulex, which is an open system. Qumulex will use a manufacturer's representative sales model and has already signed up 11 rep firms covering the United States (the initial target of the launch). The company has been spreading the word among integrators, too, first at the ISC West show last spring, when 98 integrators saw demonstrations of the system at a suite in the Palazzo. Another 48 integrators saw the system at ESX in Indianapolis in June. At the recent GSX show in Chicago, Qumulex had a booth on the show floor, where they scanned 450 badges that yielded 176 unique integrators. Entering the physical security market Qumulex just closed a second round of funding, which does not include any 'institutional' money Buckley estimates there are around 10,000 total security integrators in the United States that sell products similar to theirs at their price point. They are working to build their database to reach out to those integrators. (Exacq had more than 4,500 dealer/integrators before it was sold to Tyco/Johnson Controls.) Qumulex is the third company to enter the physical security market by the same team that launched two other successful startups in the last 20 years: Exacq Technologies (sold to Tyco in 2013) and Integral Technologies (sold to Andover Controls in 2000). Both previous companies were built around a need to help the integrator community transition to newer technologies. Qumulex just closed a second round of funding, which does not include any 'institutional' money. The first round of investment involved only the founders, and the second round added some 'angel' investors to the mix. The funding allows more flexibility and control over the company's timeline and the evolution of the product's feature set, free of outside mandates, says Buckley.
Featured white papers
Understanding the trade-off between image resolution and field of view
Download
A blind spot in governance, risk and compliance
Download
H.265 High Efficiency Coding: Video compression for security applications
Download