Lenel Access Control Readers
(19)
Browse Access Control Readers
Access control reader products updated recently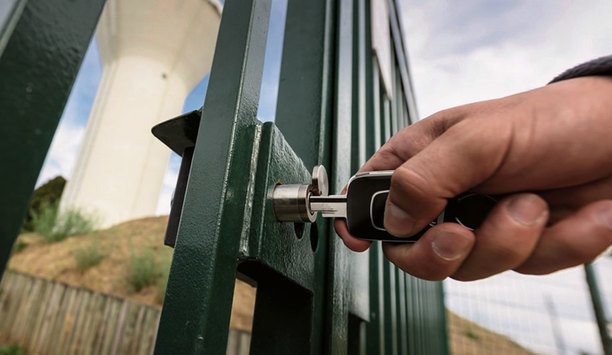 Smart access control is essential to the future of smart cities
Throughout the UK there are many examples of smart city transformation, with key industries including transport, energy, water and waste becoming increasingly 'smart'. A smart city is a one that uses information and communication technologies to increase operational efficiency, share information with the public and improve both the quality of government services and resident welfare. Smart access is an important step forward in providing technologically advanced security management and access solutions to support the ambitions of smart cities and their respectively smart industries. Explaining smart access If we used the standard definition of smart, it would be to use technology to monitor, control and manage access, but the technology must be adapted to both the physical and management characteristics of smart cities. Smart access is an important step forward in providing advanced security management and access solutions to support the ambitions of smart cities For example, it would not make sense to install an iris biometric sensor at an isolated water storage tank, which is out in the open and may not even have electrical power. Nor would a permissions management system work, one that does not let you update permissions simply and easily and cannot be customised. With high volumes of people entering and exiting different areas of the city, it is important to be able to trace who has been where, when and for how long. Advanced software suites can provide access to all operations performed by users, including a complete audit trail. This information is often used by business owners or managers for audits, improvements or compliance. When initiating a new access control system it is important that the supplier and customer work together to understand: Who can enter a secure area Where in the building each individual has access to When an individual can enter a secure area How an individual will gain access to a secure area This information can be crucial in the event of a security breach, enabling investigators to find out who was the last known key holder in the building and what their movements were whilst there. Installing an electronic lock does not require electrical power or batteries, much less a connection to send information Modernising locks and keys Installing an electronic lock does not require electrical power or batteries, much less a connection to send information, which means that it can be installed on any door as you would a mechanical lock without maintenance requirements. Permissions are stored within an intelligent key. If you have authorisation for that lock, it will open. If you don't, you won't be allowed to enter and all of the activity carried out by the key will be recorded. You can update permissions from a computer or using an app on a mobile phone at the time of access, which will update the key's permissions via Bluetooth. This allows shortened validity periods, constrains movements to be in line with company access policy and removes travel and fixed authoriser costs. This then delivers increased flexibility and higher levels of security. Remote access control utilities Access rights can be set at any time and on any day, and if required can allow access on just one specific occasion Using an app improves access control by updating access rights in real time with the Bluetooth key. It also provides notification of lost keys, joint management of access schedules, protection of isolated workers and much more. Combined with new technological solutions, an app allows contextual information to be sent, such as on-site presence, duration of an operation, authorisations and reporting of anomalies. Access rights can be set at any time and on any day, and if required can allow access on just one specific occasion, for example to repair a failure. Access can be restricted to enable entry only during working hours, for example. Permissions can be granted for the amount of time required, which means that if permission is requested to access a site using a mobile app, the company should be able to access it, for example, in the next five minutes. Once this time has passed, the permission expires and, if a key is lost or it is stolen, they will not be able to access the site. The rules for granting permissions are infinite and easily customisable, and the system is very efficient when they are applied; as a result, the system is flexible and adapted to suit company processes and infrastructures. Using an app improves access control by updating access rights in real time with the Bluetooth key Finding applications to create solutions In many cases, companies themselves find new applications for the solution, such as the need to obtain access using two different keys simultaneously to prevent a lone worker from accessing a dangerous area. The software that manages access makes it smart. It can be used from a web-based access manager or through personalised software that is integrated within a company's existing software solution, to automatically include information, such as the employee's contractual status, occupational risk prevention and the existence of work orders. In some companies, the access management system will help to further improve service levels by integrating it with the customer information system, allowing to link it for instance with alarms managers, intrusion managers or HR processes. With over one million access points currently secured worldwide, this simple and flexible solution will play a strategic role in the future of security.
Losing the one-size-fits-all mentality surrounding entrance control systems in 2018
The optical speed lane and turnstile sector of the security market has had a very busy 2017. Growth in commercial construction has provided more opportunity. Innovations in technology have given speed lane manufacturers an opportunity to deliver a better product. Orion sales increase and company growth Orion Entrance Control, Inc., had a great 2017 as sales increased and our company grew. We attribute our success to the unique approach we have taken since day one: providing customised products that offer customers more than a "one-size-fits-all" solution. We offer the line of turnstiles that you would expect from any reputable manufacturer in the marketplace, but we know that when dealing with lobby security or entrance control, one size definitely does not fit all. By providing various options to supplement our core line, we give our customers a solution that best suits their needs.The ability for security technologies and their manufacturers to work together is becoming increasingly more important to our customers One area that we will continue to build upon in the development of our products is in technology integrations. The ability for security technologies and their manufacturers to work together is becoming increasingly more important to our customers. The manufacturers that can future proof their products to allow the addition of new technologies and to protect a client's investment from obsolescence will be the big winners in 2018 and beyond. Integration in entrance control Orion ECI's products are built with technology and designs that have this vision for the future. For example, we work with the leaders in biometrics and Point of Sale (POS) solutions to integrate these systems into our entrance control products. Oftentimes, with just a wave of the hand or the right credential, approved users can enter with no hassle or even ring up a purchase. From a business standpoint, Orion ECI experienced a year of continued process improvement and design in 2017. We reached record sales revenues as we continued to receive orders from our existing enterprise clients and new customers. For 2018, we plan to add personnel in key growth areas. This will include additional inside and outside sales positions and product production and engineering roles.
Top 10 mergers and acquisitions in the security industry for 2017
Rapid changes in the physical security market this year have largely overshadowed one arena where change has slowed down in 2017 – mergers and acquisitions (M&A). Although there were no "mega-mergers" as in years past (such as Axis-Canon and Johnson Controls-Tyco, M&A activity still made headlines last year on SourceSecurity.com. In 2017, we wrote about M&A news involving companies such as HID Global, Eagle Eye Networks, ADT, and Honeywell. Here's a look at the Top 10 M&A stories in 2016, as reported by SourceSecurity.com: 1. HID Global acquires Mercury Security HID Global, a subsidiary of ASSA ABLOY specialising in trusted identity solutions, agreed in 2017 to acquire Mercury Security, an OEM supplier of controllers for physical access control. Mercury Security has over three million controllers installed at tens of thousands of sites worldwide, including at more than 90 of the Fortune 100 companies. Mercury's intelligent controllers, interface boards and software complement HID Global's readers, smart cards and mobile IDs for opening doors. 2. ASSA ABLOY acquires August Home Smart Locks ASSA ABLOY signed an agreement to acquire August Home, a leading smart lock business in the United States, reinforcing the company's position in the residential smart door market. The acquisition includes expansion into complementary smart locks, video doorbells and comprehensive solutions for home delivery. August was founded in 2013. It is headquartered in San Francisco, California. 3. Eagle Eye Networks buys Panasonic CameraManager One of the largest companies in the cloud video sector, Eagle Eye Networks, aggressively expanded its offerings to the fast-growing market, and its geographic reach, with acquisition this year of Panasonic's cloud-based video business, including the CameraManager and NuboCam brands. The acquisition expands Eagle Eye Networks' coverage in the European region, where the CameraManager system is popular, and will include two additional data centres, to be added to EagleEye Network's existing global network of seven data centres. The acquisition also includes existing CameraManager coverage in Latin America and Asia. 4. dormakaba acquires Stanley Black & Decker's Mechanical Security Stanley Black & Decker agreed to sell the majority of its Mechanical Security businesses to dormakaba for $725 million in cash. The sale included the commercial hardware brands of BEST Access, phi Precision and GMT. The remaining part of the Mechanical Security businesses, Sargent and Greenleaf, was not included in the sale. 5. ADT Acquisitions include cybersecurity firm ADT, provider of security and automation solutions for homes and businesses in North America, announced the acquisition of DATASHIELD, one of the country's fastest growing cybersecurity companies. Now operating under the brand ADT Cybersecurity, this service is positioned to provide Enterprise and Mid-Market businesses with Managed Detection and Response (MDR) services to combat advanced cyber threats in real time. The acquisition in November closed out a busy year for ADT on the M&A front, including acquisition of commercial security systems integrators Protec in the Pacific Northwest, Gaston Security in Emporia, Va., and MSE Corporate Security in Branchburg, N.J. 6. Honeywell acquires Nextnine Another big player making a move in the cybersecurity sector was Honeywell, which completed acquisition of Nextnine Ltd., a privately held provider of industrial cyber security solutions. The business is being integrated into Honeywell's Industrial Cyber Security group and will strengthen Honeywell's capability to offer multi-vendor, multi-site secure remote access, monitoring and support to protect industrial control systems and critical infrastructure against a growing threat of cyber-attacks. 7. HID Global buys Arjo Systems In addition to buying Mercury Security, HID Global also expanded its business in physical and digital identity solutions for secure government ID applications in 2017 with the acquisition of Arjo Systems. The move gives HID Global broader capabilities to deploy electronic identification (eID) and ePassport solutions for government programs. The acquisition also brings together complementary strategies, customer bases and offerings that have strong synergies to support continued innovation for government-to-citizen ID customers. 8. Allied Universal acquires ALERT Protective Services Allied Universal further expanded its footprint in North America with the acquisition of ALERT Protective Services, a residential community security firm based in Sarasota, Florida. Like Allied Universal, ALERT Protective Services offers integrated security systems and uniformed security professionals to work in tandem with a complete security program at community gatehouses, concierge desks, or security command centres. 9. Veracity buys iComply software company Veracity, a provider of transmission, storage, and display solutions for IP video, announced in 2017 the acquisition of iComply, a software provider of integrated command and control security solutions. The agreement includes all operational staff, software, intellectual property, ongoing business, and also iComply's sales and support subsidiary in India. Veracity will maintain iComply as a separate business and expand its operations. Veracity planned to sell software based on icomply's technology under the Veracity brand in the U.S. market, but will keep the separate brands in the United Kingdom, where icomply is better known. 10. Robotic Assistance Devices acquired by On the Move Systems Robots came on the security scene in a high-profile way in 2017. On the M&A front, Robotic Assistance Devices (RAD), north American master distributor for SMP featuring exclusive power and other special technology, and a North American distributor for SMP Robotics, announced its acquisition by On the Move Systems (OMVS). The merger with OMVS allows RAD access to capital to scale its product portfolio and further increase its market position as a leader in the robotic guard market.
Featured white papers
Powerful video surveillance protects Red Bull Racing
Download
Making your surveillance cyber secure
Download
Modern, flexible access control secures HafenCity University
Download