Anviz Access Control Readers
(6)
Browse Access Control Readers
Access control reader products updated recently


Looking to the future with edge computing
Edge devices (and edge computing) are the future. Although, this does seem a little cliché, it is the truth. The edge computing industry is growing as quickly as technology can support it and it looks like we will need it to. IoT global market The IoT (Internet of Things) industry alone will have put 15 billion new IoT devices into operation by the year 2020 according to a recent Forbes article titled, "10 Charts That Will Challenge Your Perspective of IoT's growth". IoT devices are not the only edge devices we have to deal with as the total number of connected edge devices includes the likes of devices like security devices, phones, sensors, retail sales devices, and industrial and home automation devices. The IoT (Internet of Things) industry alone will have put 15 billion new IoT devices into operation by the year 2020 The sheer number of devices begins to bring thoughts of possible security and bandwidth implications into perspective. The amount of data that will need to be passed and processed with all of these devices will be massive. There needs to be consideration taken by all business owners and automation engineers into how this amount of data and processing will be conducted. Ever-expanding edge devices market As the number of edge devices in the marketplace and their use among consumers and businesses rises, the need to be able to handle the data from all of these devices is no longer going to be suitable for central server architectures. We are talking about hundreds of billions and even trillions of devices. According to IHS Markit researchers' study, there were 245 million CCTV cameras worldwide. One has to imagine there are at least 25% of that many access control devices (61.25 million devices) based on a $344 million market cap also calculated by IHS Markit's researchers. If all the other edge devices mentioned earlier are considered then one can see that trying to route them all through servers for processing is going to start to become difficult if it hasn't already, -which arguably it already has, as is evidenced by the popularity of cloud-based solutions amongst those businesses that already use a lot of edge devices or are processing a lot of information on a constant basis. Cloud computing The question is whether cloud computing the most effective and efficient solution as the IoT industry grows The question is this; is cloud computing the most effective and efficient solution as the IoT industry grows and the amount of edge devices becomes so numerous? My belief is that it is not. Taking the example of a $399 USD device that is just larger than the size of a pack of cards and runs a CPU benchmarked at the same level as a mid-size desktop. This device has 8GB RAM and 64GB EMMC built-in and a GPU that can comfortably support a 4K signal at 60Hz with support for NVMe SSDs for add-on storage. This would have been unbelievable five years ago. As the price of edge computing goes down, which it has done in a dramatic way over the last 10 years (as can be seen with my recent purchase), the price to maintain a central server that can perform the processing required for all of the new devices being introduced to the world (due to the low cost of entry for edge device manufacturers) becomes more expensive. This introduces the guarantee that there will be a point where it will be less expensive for businesses, and consumers alike, to do the bulk of their processing at the edge as opposed to in central server architectures. Cloud computing is now being overtaken by edge computing, the method of processing data at the edge of the network in the devices themselves Edge computing There are a plethora of articles discussing and detailing the opposition between the two sides of the computing technology coin, cloud computing and edge computing. The gist of it is that "cloud computing" was the hot new buzzword three years ago and is now being overtaken by "edge computing." The truth is that cloud computing is a central server architecture hosted at someone else's location. Edge computing is going to be a necessary development in the technology industry Edge computing is the method of processing data at the edge of the network (in the devices themselves) and allowing for less resources required at a central location. There is certainly a use case for both, however the shift to edge computing amongst the general public and small to mid-sized businesses will not be a surprise to those players, who have been paying attention. One article titled, "Next Big Thing In Cloud Computing Puts Amazon And Its Peers On The Edge" by Investor's Business Daily takes the stance that edge computing is going to completely displace centralised cloud computing and even coins the phrase, "Cloud computing, decentralised" to explain edge computing. It speaks for the stance that most experts in technology seem to be taking, including Amazon Web Services' VP of Technology, Marco Argenti according to the same article. We know that edge computing is going to be a necessary development in the technology industry, and it is happening as I write this, and quickly at that. Cost efficiency of edge processing As time goes on, the intersection between the prices of network bandwidth, edge processing and maintaining super powerful central servers will cause edge processing to be the most efficient and cost-effective way to maintain a scalable network in any environment, including datacenters. Owning a central server or utilising edge computing become the better options As it currently stands, most residential users can only achieve a 1Gbps WAN (internet) connection, and small to medium-sized business can't get much more but seem to get much less, based on my personal experience. When more than 1Gbps needs to be processed, cloud computing becomes very expensive at which point, owning a central server or utilising edge computing become the better options. Then you look a total cost of ownership and when the cost of edge computing is less expensive than the cost of maintaining central server architectures, edge computing becomes the single best option. So, I'll say it again, edge devices (and edge computing) are the future.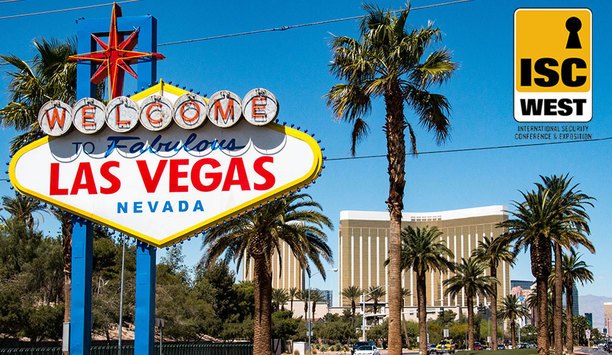 ISC West 2019: what's new in physical security's biggest global tradeshow?
ISC West continues to innovate and adapt to the changing needs of the security marketplace. In 2019, there will be 200 new exhibitors, 100 new speakers and an expanding mix of attendees that includes more end users and international attendees. The International Security Conference & Exposition (ISC West) will be held April 10-12 at the Sands Expo in Las Vegas. Among the more than 200 new exhibitors on the show floor will be Dell Technologies, Resideo, SAST (a Bosch IoT startup), Belkin International, NetApp, Lenovo, Kingston Technology and many others. The event continues to see more and more solutions in the area of IoT/connected security, a surge in barrier/bollards exhibitors, an increased number of start-up companies, and an emphasis this year on stadium/major events security. Plus, the new exhibit area of ISC West, Venetian Ballroom, will include a mix of solutions from mid-sized domestic and international companies, and is the home of the Emerging Technology Zone – back for its second year with 50-plus start-up companies expected. The International Security Conference & Exposition (ISC West) will be held April 10-12 at the Sands Expo in Las Vegas "ISC West is no longer just about video cameras, access control systems and alarms," says Will Wise, Group Vice President, Security Portfolio for Reed Exhibitions, which produces and manages ISC West. Embracing and stimulating the market dynamic of comprehensive security for a safer, connected world, solutions on display at the show reflect convergence across physical security, IT (information technology) and OT (operational technology). The ISC West expo floor includes specialised featured areas such Connected Home, Public Safety & Security, Connected Security, Unmanned Security Expo and the Emerging Technology Zone. Plus, complimentary education sessions in the Unmanned Security Expo theatre will include topics such as drones, counter-drone solutions, ground robotics and regulations/policies that support autonomous technology. This year's event will feature more than 1,000 products and brands covering everything from video surveillance, access control and alarms/alerts, to IoT, IT/cybersecurity convergence, AI, embedded systems, drones and robotics, smart homes, smart cities, public safety and more. The ISC West expo floor includes specialised featured areas such Connected Home and the Emerging Technology Zone Elevating the Keynote Series Over the past few years, ISC West has elevated its Keynote Series (open to all attendee types) to include more speakers and dynamic content covering relevant topics. Attendees should be sure to head to the Keynote room Wednesday and Thursday mornings at 8:30 a.m. before the expo floor opens at 10 a.m. Relating to attendance, ISC West continues to diversify and grow the attendee universe by attracting additional enterprise government end-users across physical and IT/OT responsibilities. The show also continues to attract and grow the channel audience, and there will be an increasing number of International attendees. "Years ago, ISC West was known exclusively as a dealer/integrator/installer show, but not anymore," says Wise. "Today, the demographic mix continues to evolve as the event diversifies its product and educational offerings, embracing the current market reality of collaboration among integrators/dealers/installers, end-user decision-makers, and public safety and security professionals." When planning for the show, be sure to view the list of special events and take advantage of the additional connection-making opportunities Within the SIA Education@ISC West conference program, there are over 100 new speakers. Through ISC West's strong partnership with the Security Industry Association (SIA, the Premier Sponsor of ISC), the SIA Education@ISC West program has expanded and become increasingly dynamic and diverse over the last three years. In addition, ISC West and SIA are hosting a Women in Security breakfast on Friday morning April 12th. Women in Security is a new track for the education program. "Our attendance data reflects the demand for a mix of physical security integrator and end-user content, a balance of technical and management/strategic topics, and diverse topics incorporating IoT and cybersecurity/physical security convergence, and analytics expertise," says Wise. "Last year was a record year for conference program attendance, and 2019 will yet again set new benchmarks." Mobile apps, information desks and ease of registration ISC West is also focusing on the attendee experience. Need advice on what exhibitors are a fit for your business needs and interests? The Information Desk adjacent to the main expo entrance will provide customised recommendations based on the information attendees provided during the registration process. Attendees can download the official ISC West mobile app and create a MyShow account through the ISC West website Attendees can download the official ISC West mobile app and create a MyShow account through the ISC West website to research exhibitors and product categories, receive exhibitor recommendations that best fit business needs, review complimentary educational opportunities as well as 85-plus sessions from the paid SIA Education@ISC program. There are many networking opportunities being offered at the show this year. When planning for the show, be sure to view the list of special events and take advantage of the additional connection-making opportunities. Whether attendees want to network with peers or customers at an awards ceremony (Sammy Awards, Fast 50, New Product Showcase Awards), Charity event (AIREF Golf Classic, Mission 500 Security 5K-2K Run/Walk), or an industry party (SIA Market Leaders Reception, ISC West Customer Appreciation Party at Tao), there are a variety of special events offered, all designed to help you make new connections. Make sure to check out the ISC West website for all the Special Events taking place at ISC West.
Open Supervised Data Protocol (OSDP): the gold standard for access control installations
Today's security industry technology standards create a common framework for achieving predictable performance. Systems are made more secure and easier to install, use and integrate with other devices. Standards are also intended to be living documents, open to continual refinements to benefit manufacturers, integrators and end users. An excellent example is the Open Supervised Data Protocol (OSDP), which is now the industry's gold standard for physical access control installations. It was designed to offer a higher level of security with more flexible options than the aging defacto Weigand wiring standard. Updating OSDP-readers simultaneously One recent addition enables end users to push firmware and software updates to thousands of OSDP-enabled card readers simultaneouslyOSDP, first introduced in 2011 by the Security Industry Association (SIA), continues to evolve with significant manufacturer input. One recent addition enables end users to push firmware and/or software updates to a few or thousands of OSDP-enabled card readers simultaneously. Weigand technology requires updates to be made one at a time at each reader. Regularly changing reader encryption keys is an excellent way to enhance facility security. It's easy using the OSDP file transfer capability and the latest DESFire EV2 credentials containing multiple encryption keys. You can transfer the next code on the card to all readers and the job is done. And there's no need to create a new card for each user or reprogram each individual reader. AES-128 encryption ensures cybersecurity It's time to migrate entirely away from Weigand technology. If greater security, convenience and reduced labour from the latest OSDP updates isn't reason enough, here are a few more things to consider. The 40-year-old Weigand protocol provides no signal encryption, making it easy for hackers to capture the raw data transmitted between cards and readers. OSDP readers support AES-128 encryption while providing continuous monitoring of wires to guard against cybercriminals. Weigand reader installations require homerun cable pulls from the control panel to each peripheral device. OSDP readers can be daisy chained, providing additional savings on cabling and installation time. Weigand technology is simply too slow to work with today's most versatile and secure card technologies. OSDP readers work with virtually all modern access control cards. The OSDP standard also works with biometric devices; Weigand does not. Meeting requirements of FICAM guidelines SIA is pushing to make the latest OSDP version a standard recognised by the ANSI, a move to enhance the global competitiveness of U.S. security businessesAlso, OSDP is becoming a must-have standard for organisations demanding the highest security levels. The standard meets requirements of the Federal Identity, Credential and Access Management (FICAM) guidelines that affect how the access control industry does business with the federal government. SIA is pushing to make the latest OSDP version a standard recognised by the American National Standard Institute (ANSI), a move to enhance the global competitiveness of U.S. security businesses. There's still a large worldwide reader installation base that works solely with the Weigand protocol. Admittedly, changing them all at one time may be prohibitively expensive; however, standards should be viewed as a journey, not a destination. That's why a measured migration is the right choice for many organisations. Begin by securing the perimeter. Replace only the outside-facing Weigand readers. As long as the walls are secured, the inside can remain a softer target until OSDP-compatible readers can be added indoors. The case for moving to OSDP as a standard is compelling. It offers our industry the opportunity to design access control software and products that provide what end users want most – greater security, flexibility and convenience. Mexico Government's SEMARNAT branches select ANVIZ biometric solution to control building access
Anviz OA1000 Mercury Pro provides fast, accurate verification of fingerprint and Mifare card SEMARNAT (Mexico Government institution, Secretariat of Environment and Natural Resources) Mexico's environment ministry is charged with the mission of protecting, restoring, and conserving the ecosystems, natural resources, assets and environmental services of Mexico with the goal of fostering sustainable development. DR Security is a company highly recognised in the field of solutions, integrations and services in the field of security technology, concentrating on new technologies, achieving and maintaining the highest quality. It is always maintaining an ethical interaction between customers, companies and employees within it. Solution offices SEMARNAT has 40 branches and 2000 employees nationally. The principal office is located in Mexico City that manages 40 branches in other cities. And more than 2000 users need to access their different branch buildings everyday, so there are two identification modes required on the integrated system consisting of the visitor only with card identification mode and employee with card and FP identification mode. Every two OA1000 Mercury Pro controls one Single Lane Flap Barrier. When employees punch card and place the FP to get access granted, the single lane flap barrier will open. OA1000 Mercury Pro with FP identification function increases the security level, and makes it the ideal choice to build intelligent and secure Access Control Application System. Anviz OA1000 Mercury Pro DR Security integrated Anviz OA1000 Mercury Pro after strict testing and evaluation with ANVIZ R&D professional support team. Due to its highest quality and performance of OA1000 Mercury Pro with very fast, accurate verification of fingerprint and Mifare card, also high quality Mercury Sensor from Lumidigm USA, finally they chose this solution as the best solution. OA1000 Mercury Pro is one of Anviz fingerprint flagship models, based on the Linux operating system, with features of dual-core high-speed CPU; large memory support; and 1: 30000 matching high speed in less than 0.5 seconds. Multiple communication modes are available: TCP/IP, WIFI & 3G optional. Its built-in webserver allows fast, easy access to the device settings and record searching. Benefits of the Anviz solution After the installation of OA1000 Mercury Pro integrated with the single lane flap barrier, Mexico government SEMARNAT had received users' positive feedback and realised real-time monitoring the employees or visitors' entry/exit buildings, improved office security level, saved labour cost to maximum. Meanwhile, other institutions of Mexico government are interested in this and wish to apply this security system.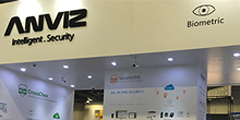 Anviz showcases SecurityONE intelligent security system at ISC West 2016 in Las Vegas
Anviz also introduced a new generation of device-P7, the smallest PoE fingerprint pin and RFID standard alone access control The International Security Conference West 2016 (ISC West) event was a tremendous success for the organisers, exhibitors and attendees held from April 6-8 at the Sands Expo Convention Center in Las Vegas. Anviz announced the latest innovation at the show with an Intelligent Security System SecurityONE, which provides a building with the functions of access control, video surveillance, fire & smoke alarm, intrusion detection and visitor management. Anviz new technologies and products Anviz also introduced a new generation of access control device-P7, which is one of the smallest PoE fingerprint pin and RFID standard alone access control in the world. IP cameras were also showed, and one essential part of Anviz surveillance system. TopView series is a vandal-resistant high-performance fixed HD network camera, up to 5MP. The embedded RVI (Real time Video Intelligence) algorithm ensures the functions of behavioural analysis, anomaly detection, intelligent recognition etc. It is suitable for monitoring indoor or outdoor areas. For Anviz, the exhibition provides not only a platform to present new technologies and products, but also a chance to exchange experience with peers and experts. Anviz expresses deep thanks to all those who stopped by its booth. Save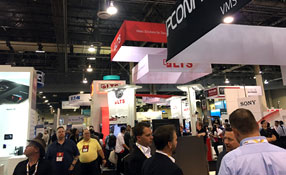 ISC West 2016: Physical security industry focuses on incorporating audio, video and other safeguards in an integrated approach
Access control now includes a strong focus on the data integration side ofthe business, as showcased at this year's ISC West When the category of physical security emerged many decades ago, it was literally all about locks, hardware and creating barriers such as fences to keep people out. Fast forward to ISC West 2016 in Las Vegas this week, where the focus is on intelligent solutions, smart data, cloud-based access control and incorporating audio, video and a wide range of safeguards in a total, integrated approach. LE-802 Intelligent Audio Analytic System Louroe Electronics, Van Nuys, California, is one of the original pioneers of audio technologies, and as systems continue to merge and converge, the element of sound provides a much-needed added dimension to fortifying physical security applications. Louroe Electronics is unveiling the LE-802 Intelligent Audio Analytic System, offering a robust and easy-to-install application for unattended audio monitoring on specific events analysing the presence of gunshots, aggressive speech, glass breaking and car alarms. The system is a complete hardware and software solution housed in a weather- and vandal-resistant enclosure for outdoor applications. It also integrates with most video management and monitoring systems and works as a standalone edge solution analysing sounds in real time, according to Chris Gaunt, Manager of North American Sales. Connecting audio to video surveillance "Audio security gives you another piece of the puzzle and makes what was a silent movie come to life," he says, adding that the bread and butter for the company is tying audio to video surveillance, as an attachment to cameras or nearby as an enhancement to surveillance. "For example, in schools, some 80 percent of verbal encounters lead to something aggressive, and now we can do something with preventative audio software," he says. The company partnered with an analytics company to build the additional audio capabilities into its product, which also fits markets such as public safety, commercial and law enforcement, in addition to education. It also brought to market the Verifact® a gunshot detector for active shooter incidents. Louroe Electronics demonstrated the Verifact® Gunshot Detector at ISC West Data builds intelligent processes A common theme of data and added intelligence was front and centre at the show – getting more from physical security. Vanderbilt Industries, Parsippany, New Jersey, introduced Vanderbilt VI Connect at the show, a custom-configurable data management system that integrates Vanderbilt's security management system (SMS), with third party, disparate systems of any size to automate business workflow. Automation for error reduction Mitchell Kane, President of Vanderbilt Industries, says the process of access control has changed and now includes a strong focus on the data integration side of the business. "Automating workflow makes the process less labour-intensive and eliminates user error in programming permissions and schedules. The entire process is automated and performed through web interfaces and hosting. Everything we automate means one less thing to do and one less chance of doing something wrong." VI Connect establishes rules engines and also can provide the systems integrator with detailed security audits and reports for the end user. For example, the solution can be used in higher education environments where student data — demographic information, enrolled courses, housing information and badging settings — can be processed and manipulated through the VI Connect system, ensuring that a student is only allowed to gain access to campus buildings that are relevant to that particular student's major. CrossChex time attendance and access control management system Anviz, an intelligent security provider with roots in biometric and RFID applications, is making its move to the cloud with the CrossChex Time Attendance and Access Control Management System. The company offers three different levels to expand the scope of specification possibilities: Desktop for small and medium businesses; Professional designed for enterprise web-based management; and Cloud for global enterprise applications. Brian Fazio, Director of Global Sales, Shanghai, China, says the three different versions provide a full solution for every type of user and their specific time and attendance applications. "CrossChex satisfies the time and attendance and access control requirements in different, complicated environments," he says, and it also provides report management and a mobile application function that can be applied and accessed via smartphones. The lines of typical product categories continue to blur. The focus is on integrating a wide range of solutions to meet the challenges and issues of the end-user customer.
Featured white papers
5 steps to finding the right access control system for you
Download
Why outdated access control systems are a big problem
Download
Five things to consider for AI with video technology
Download