ControlSoft Access Control Cards, Tags & Fobs
(11)
Browse Access Control Cards, Tags & Fobs
Access control card/ tag/ fob products updated recently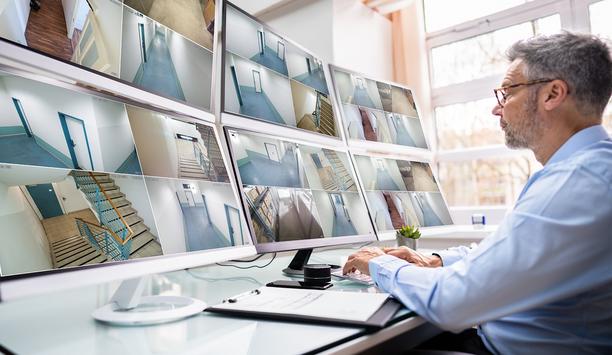 How are new management systems innovating the hospitality industry?
Technology has certainly become an intrinsic part of our day-to-day lives, from the retail industry, to food and beverage outlets, and even within the health and fitness industry. It's all around us, in varying formats, making processes more efficient. It has refined some of our older approaches, and in the hospitality industry, this is certainly true. Technological advances are leading the way forward for the future of hotels, and with the sector now free from COVID-19 restrictions, venues are looking for ways to improve the guest experience with technology. A staggering recent statistic has suggested that 75 percent of activities in hospitality could one day become automated — so where exactly are we heading on this journey into the future of hotels? Join Cairn Collection, owner of The Stirling Highland, and explore a whole host of innovations that are changing the face of hotel management systems. The 21st-century check-in desk The breadth of technology that is slowly becoming more widely available is transforming the hospitality industry The digital age is constantly finding new ways to innovate and prove its value and worth for modern consumers, and the breadth of technology that is slowly becoming more widely available is transforming the hospitality industry. In the past, connotations of a check-in desk were long queues and excessive pieces of paper — from room service menus to a mini catalogue of highlights of the local area. Technological innovations such as face recognition are one of the major ways that this process is changing. Using artificial intelligence A handful of hotels have already trialled or introduced artificial intelligence (AI) into their daily running, and it looks set to become far more mainstream by 2025. From paying the bill by using biometrics to allowing hotel managers to handle data more efficiently, AI looks set to be welcomed with the potential for it to reduce costs by 13 percent. The entire hotel check-in process could become automated, making one of the most established parts of the hotel experience redundant — but staff could be freed up to engage with customers, allowing them to get into their rooms quicker in the meantime. Many venues have even gone fully paperless when it comes to checking in, choosing instead to upload the process to cloud computing systems where information can be stored and viewed by connected devices. Convenience is the key More hotels operate their room unlocking facilities through mobile phone-connected technology, NFC After having checked in to a hotel, guests will want to explore the room that they've booked. Doing so has never been easier, and the classic magstripe locks which were once the most commonly used method of accessing hotel rooms are being progressively phased out. More and more hotels now operate their room unlocking facilities through mobile phone-connected technology, near-field communication (NFC). This technology allows for data transfer at up to 424 kb per second, and it is enabled when connected devices come into contact with each other. Mobile key systems Most mobile key systems require guests to download and activate a key through the hotel's digital app, and upon arrival, they can use the activated key to unlock the door to their hotel room. Combined with online/digital check-in services, guests can use the e-key to check in early or at a time that suits them best, knowing that they don't have to wait around to pick up a physical key. Small touches like this build a sense of brand familiarity for customers, as well as streamline their hotel experience, and this distinguishes them from competitors. Hotel management systems Hotel management systems need to account for the experience that guests have while staying at the venue Of course, hotel management systems also need to account for the experience that guests have while staying at the venue and technology can do a lot to enhance this. Hotels have to innovate the spaces that they are presenting to their customers and technology has become a valuable asset to help enhance customer satisfaction, as the hotel room is certainly not simply a place for rest anymore. Voice-enabled devices Voice-enabled devices are becoming common features in rooms, with popular models such as Google Assistant, Apple's Siri, and Amazon Echo providing guests with information on the local area — if you're looking for the perfect backdrop to the business dinner you're attending, just ask Alexa! Hotels could even record and distribute their personalised voice messaging to help reinforce the brand presence into the technology. Technology can help you attract and retain customers by offering services above and beyond what they'd usually receive A room and then some As the generational switch to millennials and Gen Z continues, the need for an experience has grown and, through a mixture of technology, hotels can cater to these revised consumer needs. From setting up messaging platforms to providing a remote control that monitors absolutely everything in the room — from atmospheric mood lighting to music streaming services and more, a hotel room can be whatever the user wants, and the experience is therefore generated by the customer. Technology doesn't stop advancing, and there are constantly new, refined approaches to hotel management systems that have marked a stark departure from ways of the past. With guests returning after over a year of COVID-19 restrictions, competition for their business is even tougher. Technology can help you attract and retain customers by offering services above and beyond what they'd usually receive.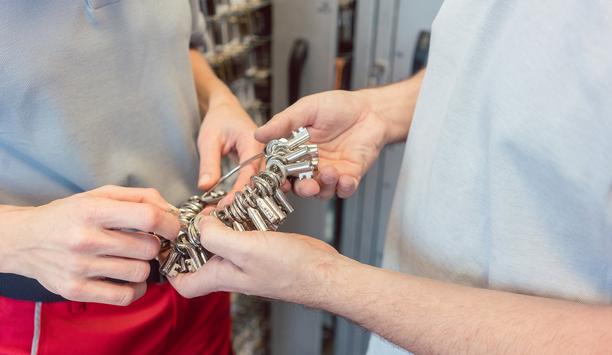 Why is key management so important?
More and more business security practices are going digital. Mechanical keys are still the backbone of most corporate security plans, and it can be very expensive for companies to switch to electronic access control on a large scale. Therefore, enterprises need to choose the most suitable access control system. What is key management? Key management is the process of protecting, tracking, and scheduling mechanical keys. Why is this important? Because the key carries access to sensitive locations and assets within the organisation, when you increase the security of the key, you can enhance the security of these valuable resources. The key management system also controls the cost of using physical keys. The system reduces the overhead caused by key loss or security breaches. Some smaller companies may be able to adopt a paper-and-pencil key management protocol. Larger companies, or those who want to better understand and control keys, usually choose to use an electronic key management system. Key management systems can store and assign keys securely and increase the efficiency of organisation Why use a key management system? The key management system can become the cornerstone of your key control process. At the most basic level, key management systems can accomplish two things that paper and pen systems cannot: they store and assign keys securely, and they increase the efficiency of your organisation's use of keys through automation and analysis. What can key management systems do? 1) Improve access control By better protecting the keys, you can improve the access control to the spaces and devices unlocked by these keys. You can use your key management to simplify the process of providing temporary employees with one-time-key access. In addition, the system can record all their key access records, so that everyone's behavior can be traced. 2) Enhanced accountability traceability The software is a good key management system that can generate reports on key usage, user access requests, access exceptions, and loss. In addition, you can track and audit key usage in real-time. Combined with a comprehensive key control strategy, you will implement better accountability for key use to meet any industry or risk management compliance standards. 3) Reduce costs and prevent losses When an employee loses a key, you will incur direct costs for a replacement key or relocking it when it is lost When an employee loses a key, you will incur direct costs, including purchasing a replacement key or relocking it when it is lost. However, the indirect cost of key loss is usually more significant. This is because employees first spend time looking for the lost key and then process the replacement request, all of which time is not spent on production work. 4) Improve workflow As we discussed, keys are often used in important workflows. The key management system allows you to better control these workflows. A passive electronic lock system, also known as a key-centric access control system, has outstanding advantages in key management. Compared with the electronic access control system, the passive electronic lock system's "passive" characteristics have reduced the update cost for many enterprises.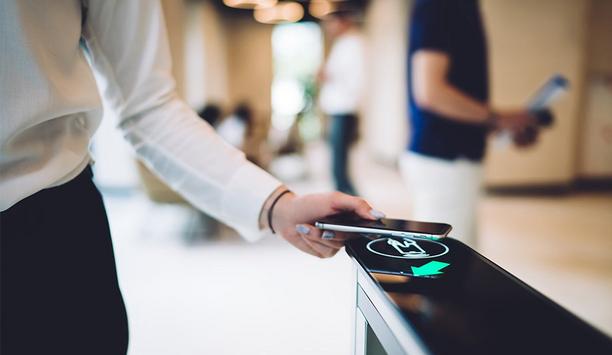 Smart Offices: How is mobile ID changing the way we access the office?
If you're a security or facilities manager, you may already be aware of the quiet revolution that's taking place across businesses and organisations up and down the country. By the end of 2020, 20% of all ID and access control systems featured mobile capability, and this is set to increase by a further 34% over the next three years. There's no doubt that using a smartphone or mobile device in place of traditional credential and access control is a growing trend that's only been sped up by the pandemic. It's true that many businesses are still very much focused on remote working, although many are now starting to implement new-and-improved strategies that are better suited to protect the workforce moving forward. Mobile ID systems As the next normal becomes clearer, businesses will be reviewing procedures such as access control, occupancy monitoring, reducing touch points and tracking visitors. Mobile ID systems are ideally suited to this task. But what are the key reasons for considering such a setup in 2021? But why is this new technology so well-suited to future-proof your physical access system, and why is it becoming so popular? Eradicating outdated legacy credentials Have you seen just how vulnerable outdated Proximity card technology can be? Low-frequency 125kHz cards can be cloned in a matter of seconds with the use of cheap, readily available tools. Despite their weaknesses, they are still used by a huge majority of businesses – big and small. All smartphones include two industry-standard features that make them perfect for operating a secure, contactless credential Replacing such a system with a mobile-enabled system is one of the best ways to increase security ten-fold. Thanks to a cloud-based infrastructure, mobile ID offers best-in-class security and cryptography. All smartphones include two industry-standard features that make them perfect for operating a secure, contactless credential. Bluetooth Smart and NFC (Near Field Communication) make them the best product to operate such a credential via a secure app. If you're looking for best-in-class security in 2021, mobile access is most definitely the way forward. Removing touch points across the business Reducing touch points and the adoption of touchless facilities has become a key priority for businesses in the wake of COVID-19. Even as businesses start to return to the office and operate a home/office split, it will be imperative that unnecessary contact is kept to an absolute minimum between staff. The traditional issuance of identification and access control credentials can pose problems in this regard. Facility and security managers who are responsible for onboarding and processing ID have done the process face to face. Mobile access makes it possible to carry this process out without people coming into direct content. First, the security manager has access to a secure portal, allowing them to create, manage and edit credentials anywhere. They can upload and remotely transfer mobile ID and access control credentials directly to users' smartphones over the air. Via the secure app, users can view and see their credentials and immediately begin using it for ID and access control by simply placing their smartphone over card readers. Enabling a more flexible way of working The way in which we work has changed for good. Even as people more people return to the office in 2021, a majority of businesses will be operating a home/office split indefinitely. This once again reinforces the need for a smarter, more adaptable onboarding system. Implementing mobile ID is the perfect way of doing this: over-the-air delivery of credentials and security data is now a given, helping businesses create the perfect balance between the home and the office. No longer do people have to come into the office for the onboarding process. Increasing convenience and user experience More often businesses are realising the value mobile ID can have for enhancing the work experience as well as security Ok, so mobile ID is the perfect way of increasing security and adapting workplaces to a post-COVID way of working. And we've not even touched on the most obvious advantage yet: Convenience. How many times have you forgotten your ID card? We're sure it's more times than you forget your smartphone. These powerful processors have become intertwined with the way we carry out tasks on a daily basis. They're so vital that people will soon notice if they've forgotten it. From an employee's perspective, mobile ID and access control is simple, convenient and extremely user-friendly. More and more businesses are realising the value mobile ID can have for enhancing the work experience as well as security. From the employer's perspective, mobile ID means it's easier for administrators to manage access and credentials. Future-proofing access control now will ensure that in the longer term, mobile ID is well worth the investment. The annual expenditure of printing ID cards and purchasing credentials can be vast, while reissuance costs can also quickly add up for larger organisations. These issues are a thing of the past for businesses using mobile ID. Mobile ID perfect tool for 2021 and beyond Until mobile ID, new and improved credentials' main focus was on increasing security. Mobile ID not only delivers that, but it also provides a more convenient way of accessing the office in a way that's perfectly suited to returning to the office in 2021. If there was ever a time to upgrade, now is the time. Summing up, mobile access is changing the way we access the office by: Eliminating weak links in security systems such as outdated legacy card technologies Eradicating the need for touch points across multiple areas of the workplace Enabling a smarter, more flexible approach to onboarding Increasing convenience – for both employers and employees.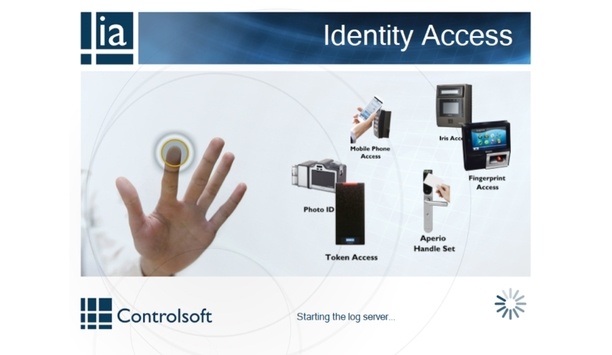 Controlsoft announces total integration of its Identity Access platform with Aperio wireless locking technology
Controlsoft, global developer, manufacturer and distributor of access control solutions, has fully integrated its latest Identity Access platform with the Aperio wireless locking technology from the ASSA ABLOY Door Hardware & Access Control Group. Identity Access platform upgraded By updating and upgrading its Identity Access platform to fully integrate with the Aperio AH30 1-to-8 communication hub, Controlsoft's customers can easily add mechanical doors to their existing access control system. Aperio ensures users require minimal additional hardware to upgrade their premises to wireless access control. A communications hub providing a wireless connection with up to eight doors, the Aperio AH30 operates within a 25-metre transmission range, and has been designed for prompt, cost-effective installation and integration. Suitable for interior doors, the hub is particularly practical for hallways with a number of adjacent corridors. Identity Access security management software Easy to use and intuitive, Controlsoft's Identity Access is a complete security management software Easy to use and intuitive, Controlsoft's Identity Access is a complete security management software. The individual access rights of employees, visitors and contractors can be assigned according to their responsibilities. Individual time restrictions can also be applied for each access control point, and the system offers full auditing and reporting capabilities. The software also includes advanced features such as a lockdown function, which prohibits authorised users from accessing doors, as well as a further function that can allow for multiple levels of lockdown, depending on the scenario. Identity Access can even be integrated with a fire alarm system, so that selected doors automatically open when a fire alarm is activated. Controlsoft access control solutions Jonathan Summers, Managing Director at Controlsoft, said: "We are committed to providing a comprehensive range of access control solutions that are competitively priced, easy to install and highly secure. It is with this commitment in mind that we have fully integrated our Controlsoft access control solution with the Aperio AH30 1-to-8 communications hub from the Door Hardware & Access Control Group." He further said, "The AH30 has an excellent reputation as a reliable, functional and high-performance access control solution, and this integration will help us provide customers with faster, more effective installations." Battery-operated Aperio innovations David Hodgkiss, Director of Access Control at the Door Hardware & Access Control Group, added: "As one of our original Aperio partners, we are delighted to continue our long-standing relationship with Controlsoft and integrate our award-winning technology with its latest access control platform, Identity Access. Battery-operated Aperio innovations are highly reliable, available in a stylish, contemporary design, and offer a quick and easy installation."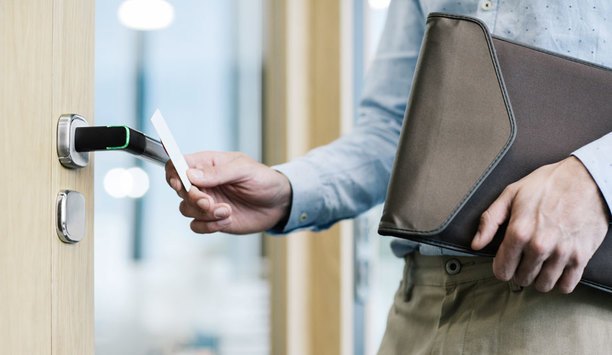 ASSA ABLOY Access Control to unveil Aperio H100 Handle at IFSEC 2017
ASSA ABLOY Access Control, a UK division of ASSA ABLOY, a provider of door opening solutions, will unveil the new Aperio® H100 handle at IFSEC International 2017. Aperio® H100 door handle The contemporary designed Aperio® H100 door handle will be presented at IFSEC 2017, which takes place between June 20-22 at ExCeL London. Integrations with the following OEMs will be shown at the event: Nedap, Maxxess, Controlsoft, RBH, Pacom, Genetec, and HID. The Aperio® H100 is available both online and offline and can be easily retrofitted without drilling. It is suitable for almost any door, whether a wooden, steel or tubular frame between 30-80mm thickness. In addition, the handle can be specified by selecting either left or right-hand models, with the option for a U-handle. The Aperio® H100 is battery-operated and supports iCLASS, iCLASS SEOS, iCLASS SE, ISO14443B UID, Mifare, Mifare Plus, Desfire SE and Desfire EV1 smart card technology.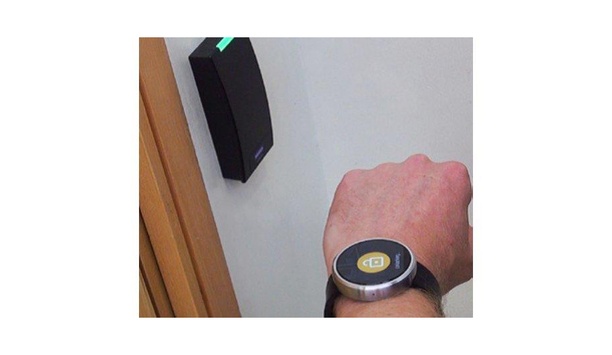 HID Mobile Access Solution provides access control system for CafeX offices globally
HID Global mobile access app holds employee and visitors' digital credential allowing passes to be issued within minutes CafeX Communications, headquartered in New York City, was founded in 2013 and employs approximately 150 staff. The company develops software that helps enterprises transform real-time digital engagement via the Web and mobile applications. Many top global banks, insurers and other industry leaders use CafeX's technology to help employees collaborate with customers, partners and colleagues more easily and effectively. The company has offices in the UK and United States. CafeX was seeking to modernise its existing card-based access control system across multiple sites and offices. Key selection criteria included Centralised mobile access control solution enabled on smartphones and wearables for its international office locations. Scalable and easy to install. Speedy issuance of employee and visitor digital IDs. Mobile access control solution capable of allowing for multiple applications in the future. HID Global was selected based on these stringent criteria and its best-in-class advanced mobile access control solutions. HID Mobile Accessenabled employeesto easily and securelyopen doors usingtheir smartphonesor wearable devices HID Mobile Access In 2016, CafeX implemented HID Mobile Access that has enabled employees to easily and securely open doors using their smartphones or wearable devices, such as the Apple Watch, in their office in the UK in Cardiff and their US offices in New York and Boston. Employees use HID Global's patented 'twist and go' feature or simply tap their smartphone on the HID Global readers that were already installed, to access the building or other sensitive entrances within the offices. HID Global collaborated with regional experts, Controlsoft, a HID Global platinum partner in the UK and US, to meet CafeX's requirements. "HID Global's mobile access control solution was easy to deploy and to integrate into CafeX's credentials management platform. The readers are simple to configure, which made it possible for us to provide CafeX with an identity and access management solution very speedily," said Jonathan Summers, Managing Director with Controlsoft. Centralised digital ID credential issuance The installation on the UK site in Cardiff was very quick and took less than a day to complete, with minimal disruption to the day-to-day functions of the CafeX teams. This was followed by installation for their offices in New York and Boston that was also very easy and simple. With the mobile access control solution centralised in Cardiff, the CafeX IT team can easily issue digital ID credentials to staff in offices both in the UK and US. By downloading the HID Global mobile access app, which holds the digital credential, employee and visitors passes can be issued within minutes. Convenient mobile access control solution CafeX is now able to offer its employees and visitors a secure and convenient mobile access control solution that integrates into their everyday lifestyles in the workplace. Today, everyone in the workforce has a smartphone or a smart device. The ability to use this solution instead of card technology has resulted in positive experiences and feedback on how satisfied employees and visitors are with this new innovative, hassle-free access control solution. It has resulted in employees citing the 'cool factor' for access control. Being able to use wearables such as the Apple Watch to enter the CafeX offices has bolstered this further. It has boosted CafeX 's credibility with its financial customers who visit the offices frequently by issuing visitor passes in a sleek and professional manner with advanced technological capabilities. Furthermore, it has helped CafeX meet compliance requirements of its financial services customers and other Global 2000 companies, which typically require tight security around any sensitive data. HID Global's secure access control solutions are regarded as the best and most well respected in the industry" Reduced administration costs Kevin Glass, Chief Innovation Officer with CafeX said, "Thanks to HID Global, we have been able to offer the very latest mobile access control technology to our employees and visitors. It has resulted in our employees and customers having an enriched customer experience that they are finding very convenient and innovative." It has allowed the company to adhere to access control policies globally and streamline its business processes, thereby reducing administration costs and saving money. This is because it is very simple to issue, manage and revoke Mobile IDs to smartphones and wearables. "HID Global's secure access control solutions are regarded as the best and most well respected in the industry. Our financial customers are very happy to know we have implemented HID Global's access control solutions. We have already recommended HID Global to a number of our clients given our high level of satisfaction," said Kevin Glass, Chief Innovation Officer with CafeX.
Related white papers
10 top insights in access, cloud and more
Protecting dormitory residents and assets
Top 5 ways to ensure visitor safety and security